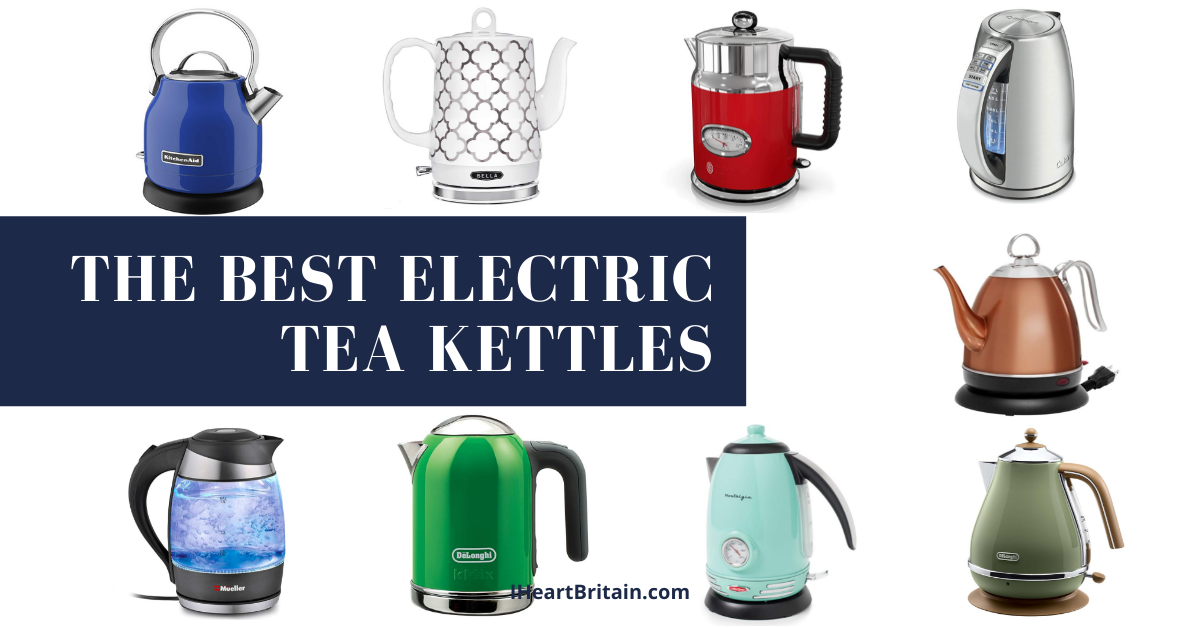 If you've watched much British television, you've no doubt seen an electric tea kettle on more than one countertop. You may have even wondered why they have them. After all, can't you just boil water on the stove or heat it in the microwave? You can, of course, but electric kettles have advantages over both of those methods.
When you heat water in the microwave, it can easily be heated past the point of boiling. When your water is too hot, you can damage the tea, resulting in a bitter flavor. There's also a chance you may not heat the water sufficiently, or that it will heat unevenly. A tea kettle is designed to heat the water quickly and uniformly to roughly 210-212 degrees Fahrenheit (100 degrees Celsius).
So we've ruled out the microwave – but what about stovetop tea kettles? Surely those are just as good as electric tea kettles, right? Not quite. While they're definitely a major improvement on the microwave, electric tea kettles still offer superior temperature control. It's standard for electric tea kettles to stop when they hit the boiling point, which is ideal for most teas. Some have the ability to stop at a pre-determined temperature before the boiling point, which is ideal for more delicate teas like green tea or white tea.
Electric tea kettles also use less energy than a stovetop kettle, and they almost always heat up faster. If you drink a lot of tea, the time savings can really add up.
Side note: We often use the phrase "electric tea kettle" in this post instead of just "kettle" or "electric kettle". That's purely because data suggests that's how most people search for the topic, and it's important to use the phrases people type in if you want people to be able to find your site.
The Best Electric Tea Kettles
If this has convinced you that your home isn't complete without an electric tea kettle, welcome to the club. There are a ton of great – and attractive – choices out there, and I'll start by showcasing the one sitting on the counter here at the I Heart Britain HQ.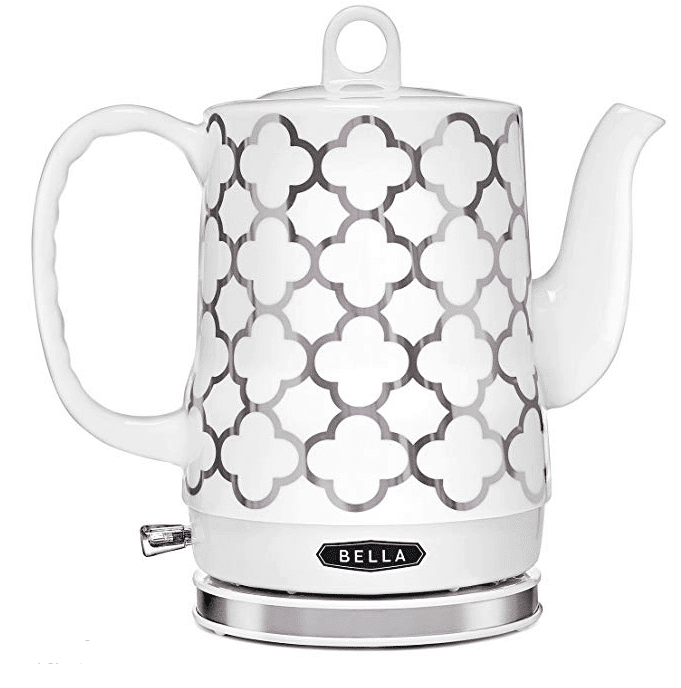 Bella Electric Tea Kettle
This attractive tea kettle is made of lead-free ceramic with a stainless steel heating element. When you turn it on, the little switch turns blue to let you know it's on, and it shuts off automatically when the water reaches the boiling point. Since there's no plastic to come into contact with the heated water, you don't need to worry about weird plastic chemicals getting into your tea and making it taste odd. When off its base, this tea kettle is totally cordless (and easy to wash).
The only real downside to this model is that you can't see the water level without looking inside. I don't find this to be a big deal because I always refill the tea kettle with fresh water when I use it. Stale, reheated water doesn't quite taste the same (though you can always feed your plants with the old water if you don't want to waste clean water).
There's also no temperature gauge, which is a downside if you like to prepare more delicate tea (like green tea) that requires a lower temperature.
I should also mention that this tea kettle is slightly heavier than some others, given that it's ceramic. If you suffer from arthritis or tendinitis or anything else that could make lifting a tea kettle challenging, I would recommend going with a lighter stainless steel electric tea kettle.
We've had ours for roughly 4 years now without any trouble. It's a bit pricey for such a basic kettle, but it looks awfully nice and comes in several different patterns. Get it HERE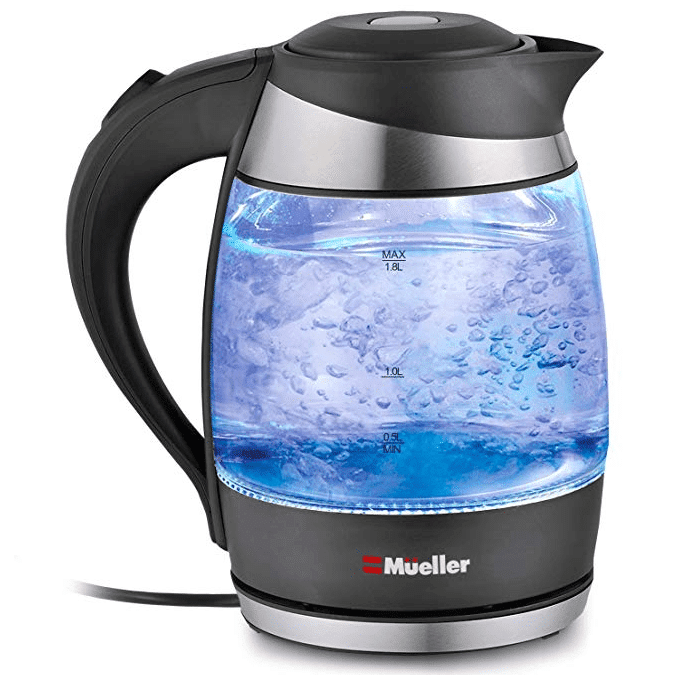 Mueller Austria Electric Tea Kettle
This is a great, very standard sort of tea kettle. Like the Bella model above, it's cordless when off the base, and it shuts off automatically when it hits the boiling point. It doesn't do anything fancy (like offer a time or multiple temperatures), but it's simple and very good at what it does.
It's also clear, which can give you a bit of extra peace of mind about any gunk that might be building up on the inside of the container (like minerals from hard water). The other bonus? A cool LED light that makes it glow as it's heating. Get it HERE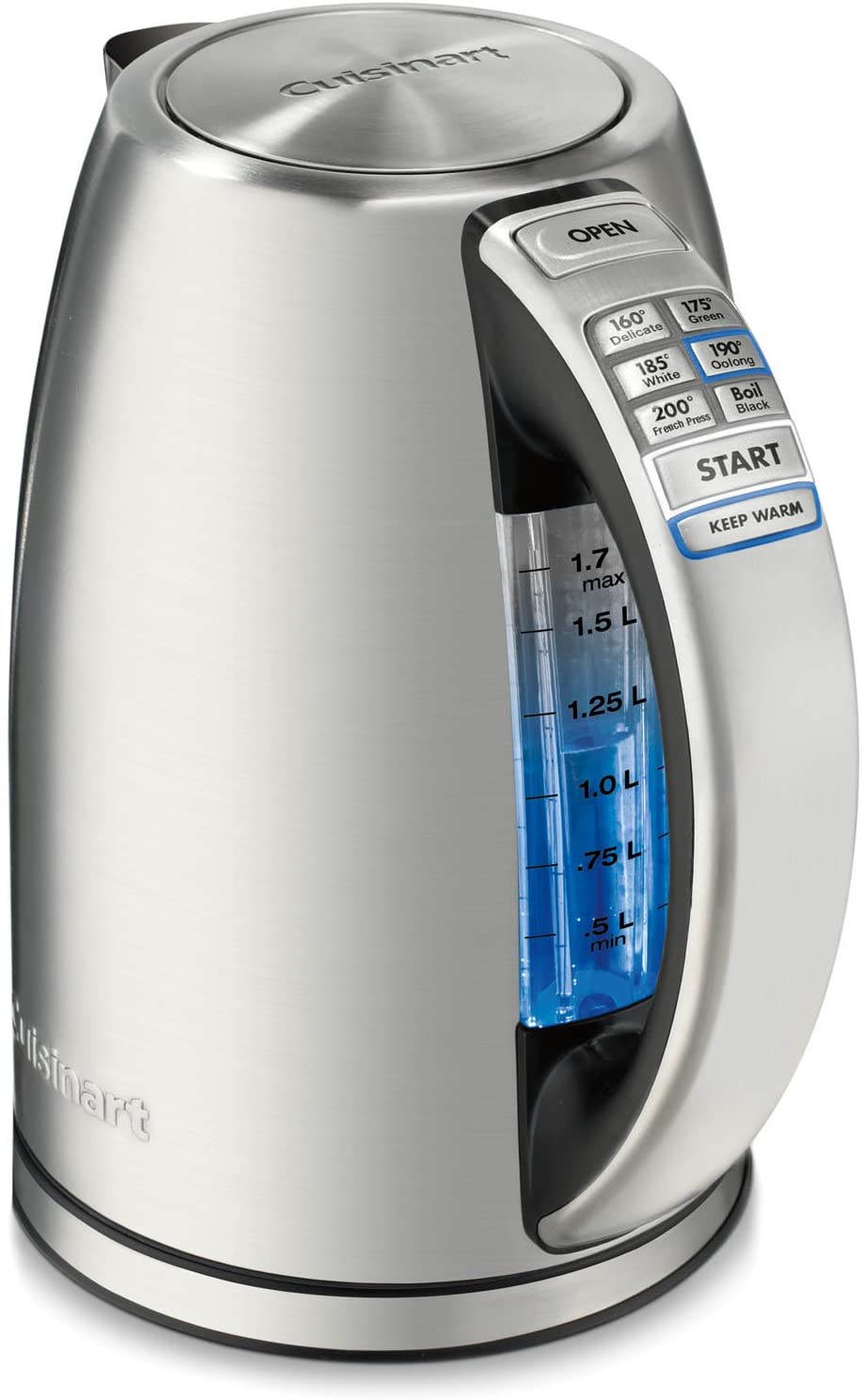 Cuisinart CPK-17AMZ PerfecTemp Cordless Electric Tea Kettle
If you drink a typical black tea or blended black tea (like English Breakfast Tea or Yorkshire Tea), most tea kettles will be just fine for you. On the other hand, if you prefer more delicate teas like green tea or white tea, it's best to get an electric kettle that allows you to set different target temperatures based on the tea you'll be drinking.
In terms of adjustable temperature electric kettles, this Cuisinart models is one of the best for the price. I've seen some that try to accomplish 20 different functions with two or three buttons and you have to try to remember what different things do – but this one is so nicely labeled. You don't even have to remember the exact temperature your tea requires. The kettle tells you. Get it HERE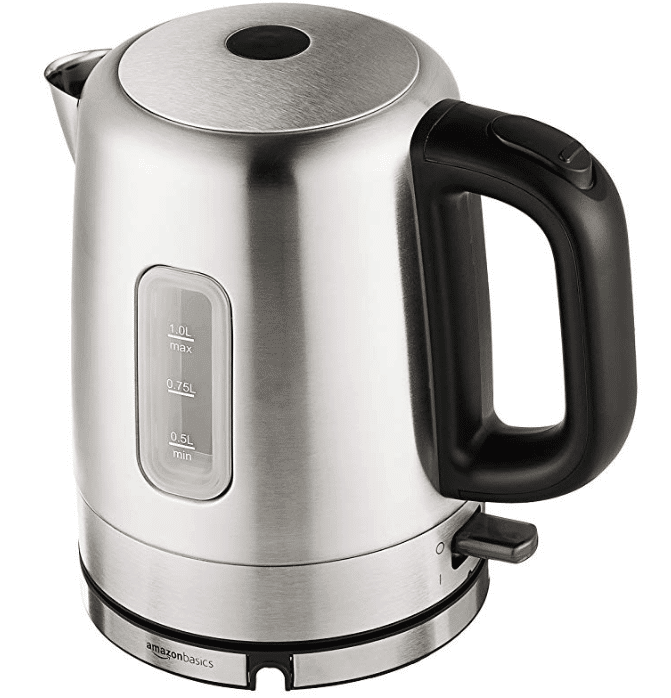 Amazon Basics Electric Tea Kettle
I know some of our readers are older and on a fixed income, so I wanted to include at least one great budget tea kettle. This one is not the absolute cheapest electric kettle, but there's a reason I haven't gone with the cheapest – and that's because most of them are made of plastic. Even when a plastic tea kettle says it's BPA-free, there's no guarantee that something else isn't leeching into the water as you heat it – and many people report very distinct taste differences when they use plastic tea kettles. Some also seem to produce unpleasant smells, and that may be of particular concern if you have a pet bird or human with breathing issues in the house (birds have extremely sensitive respiratory systems, and can't deal with heated Teflon or many other common household lung irritants).
So – that's why I recommend this very affordable, but slightly more expensive than plastic option. It's nothing fancy in terms of looks or function, but it's simple, has a pleasant neutral appearance, and it gets the job done. Get it HERE
The Best-Looking & Most Colorful Electric Tea Kettles
So now that we've covered the basics, let's have a little fun with this. Below, I've gathered some of the most interesting and attractive electric tea kettles. You can click on any of the photos to view more information.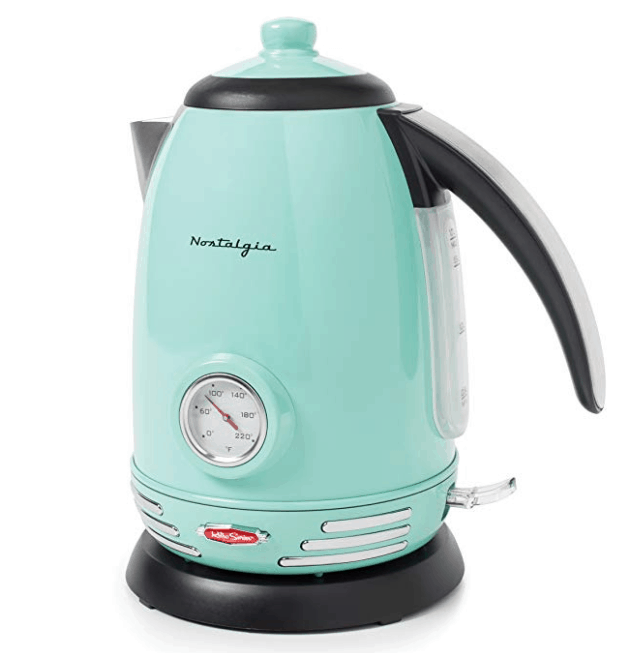 Nostalgia Retro Electric Tea Kettle
This gorgeous, 1950s-inspired tea kettle comes in a pale robin's egg blue or bright candy apple red. Either way, it's gorgeous. The company also makes an entire set of small kitchen appliances to match (microwaves, toasters, etc). Get it HERE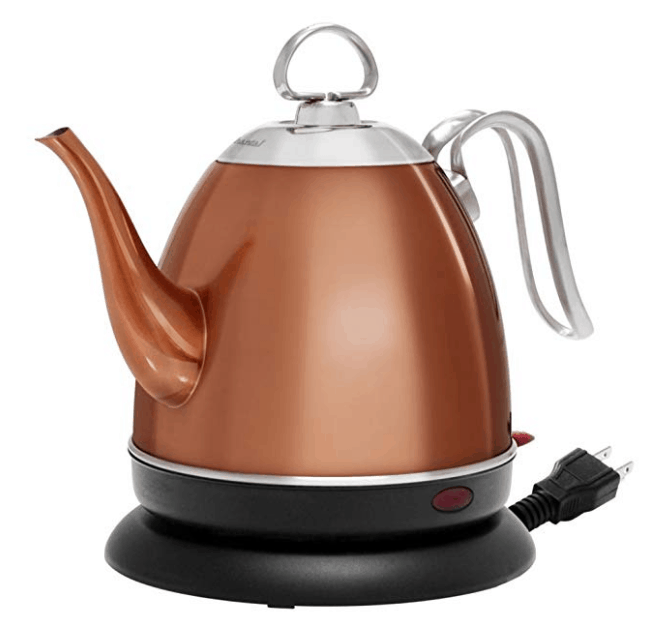 Chantal Copper (Brown) Electric Tea Kettle
This electric tea kettle reminds me of that odd shade of brown they used to use on cars and leather jackets back in the 1970s and 80s (that you hardly see at all today). It's kind of a fun retro look. Get it HERE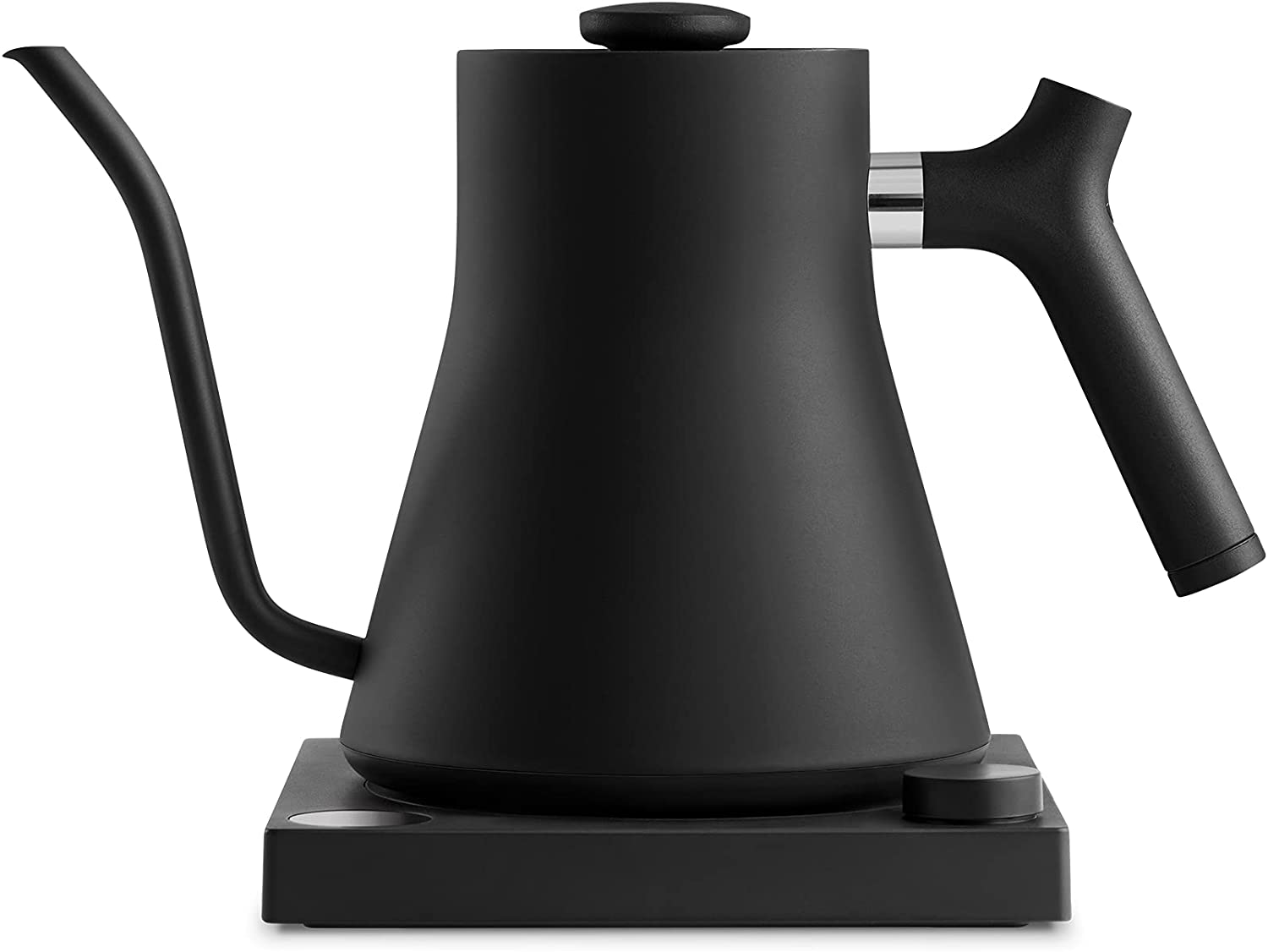 Fellow Stagg Electric Gooseneck Kettle
If you have a sleek, modern kitchen, you'll probably want a sleek, modern kettle to go along with it. While I'm a fan of the "pop of colour" kettles, the Fellow Stagg is sure to appeal to those who love the minimalist monochrome look. This one gives you all the basic electric kettle features + temperature control, a stopwatch function, and a precision-pour spout. Get it HERE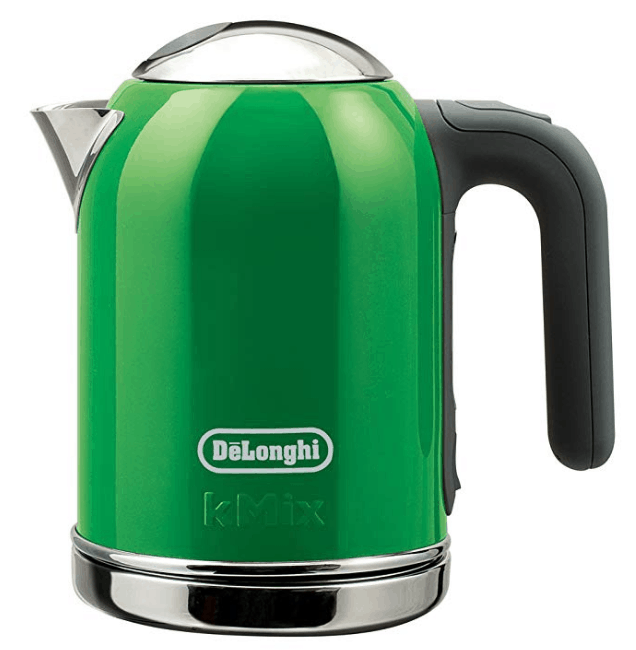 Delonghi Green Electric Tea Kettle
If it's color you want, you'd be hard-pressed to find a more colorful electric tea kettle anywhere. This one can be found in a number of colors (including neon blue and electric pink), and if the tea doesn't wake you, the kettle itself probably will. Get it HERE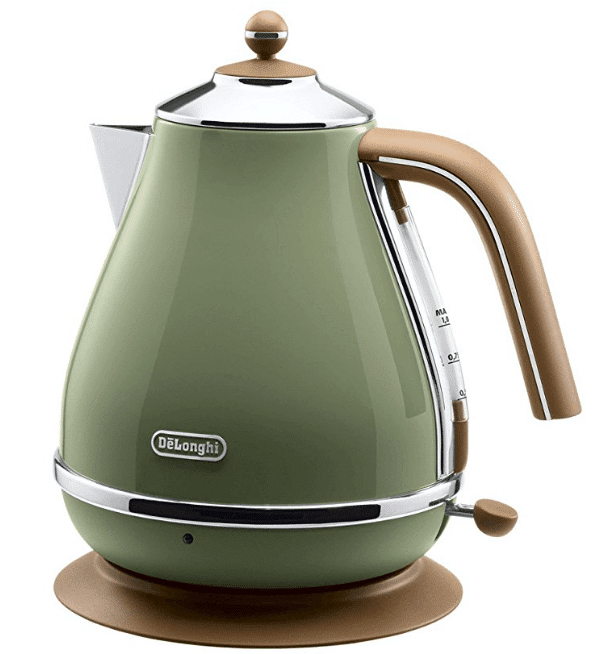 Delonghi Avocado Green Retro Tea Kettle
If you long for the days of avocado green refrigerators, this tea kettle will make you feel all warm and fuzzy. It's from Delonghi's ICONA Vintage Collection, and it comes in a variety of really luxurious retro colors. They also make matching toasters. Get it HERE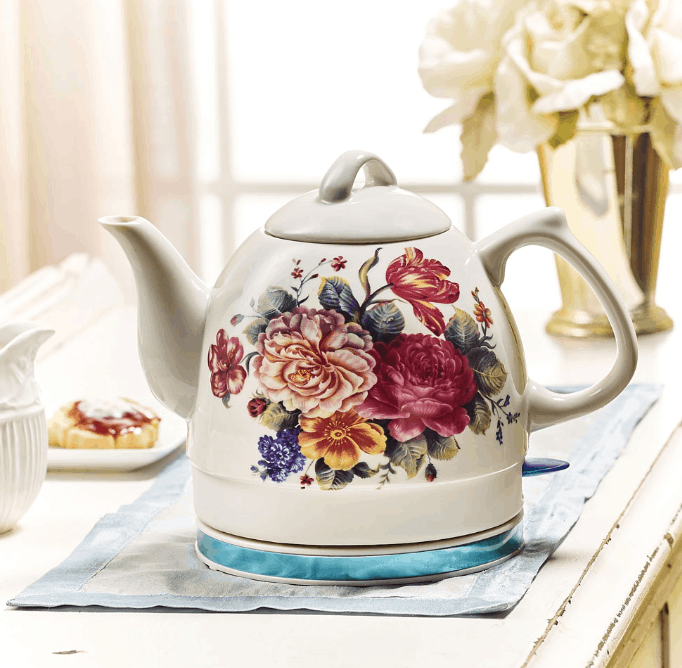 English Garden Electric Tea Kettle
I can just picture this electric tea kettle in the home of Hyacinth and Richard Bucket. It has the look of a classic teapot, but the convenience of an electric tea kettle. Get it HERE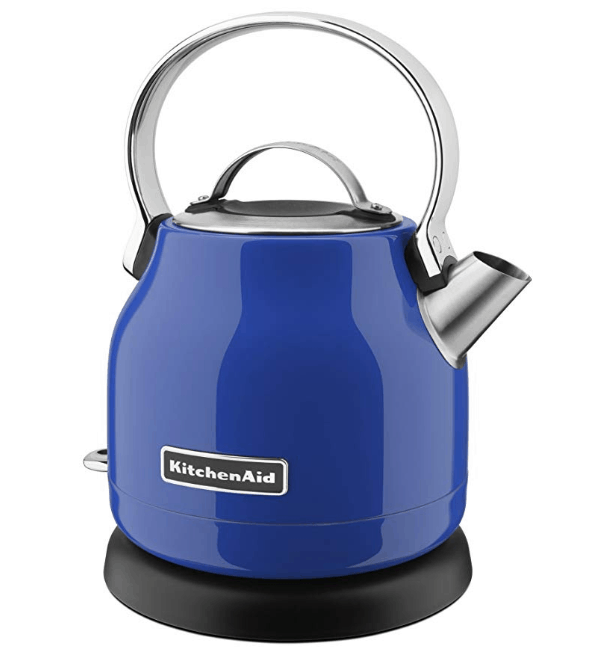 Twilight Blue KitchenAid Electric Tea Kettle
If you're looking for a tea kettle that matches your existing KitchenAid items (like their gorgeous stand mixers), you'll want to check out this line of electric tea kettles from KitchenAid. While I'm partial to the Twilight Blue model above, they come in several colors. Get it HERE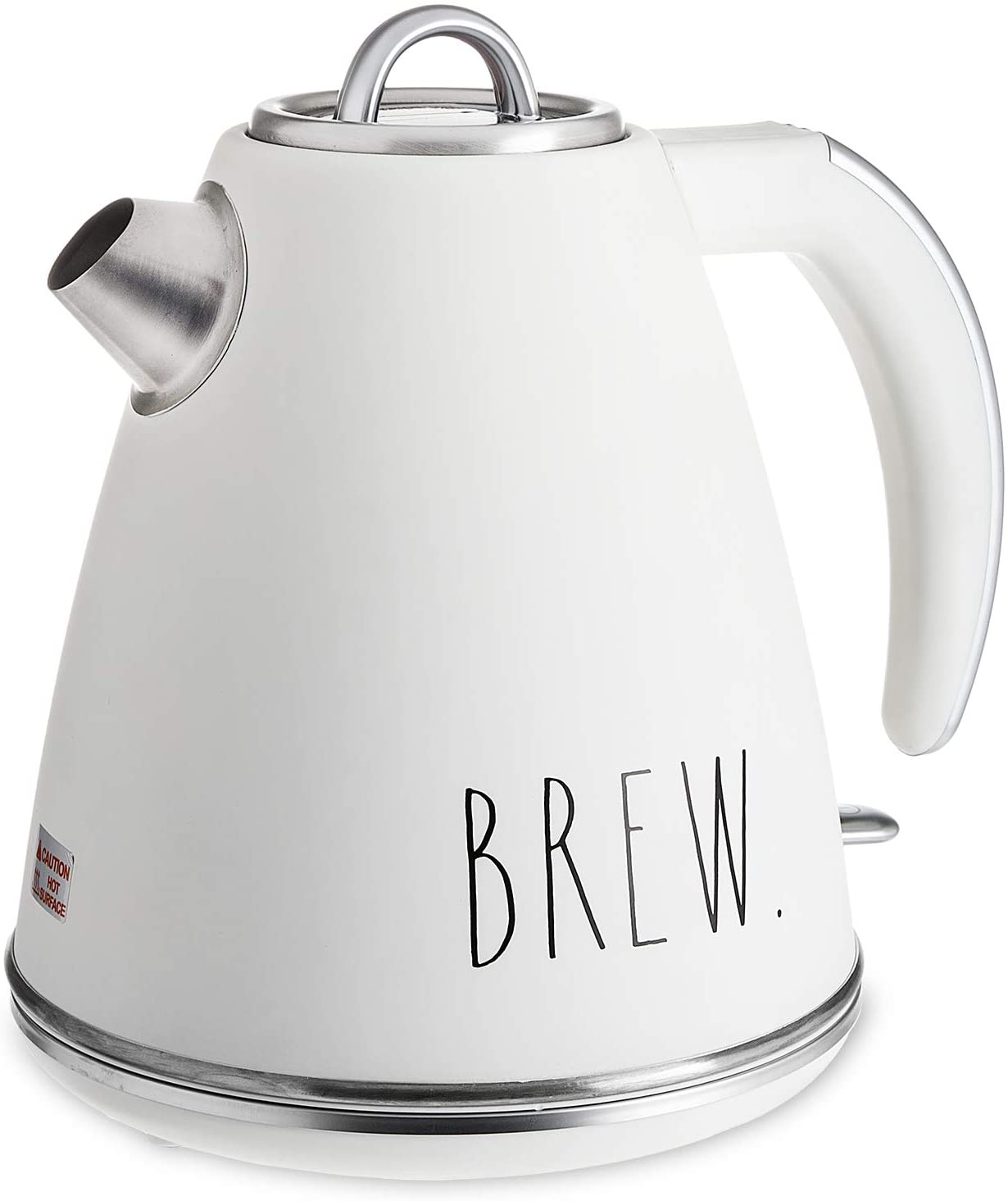 Rae Dunn Electric Water/Tea Kettle
If you're into the Rae Dunn faux-farmhouse fad where you put words on everything, here's another item to add to your home. It's fairly expensive for such a basic kettle, but this isn't one you buy for functionality – it's to fit a certain look. Get it HERE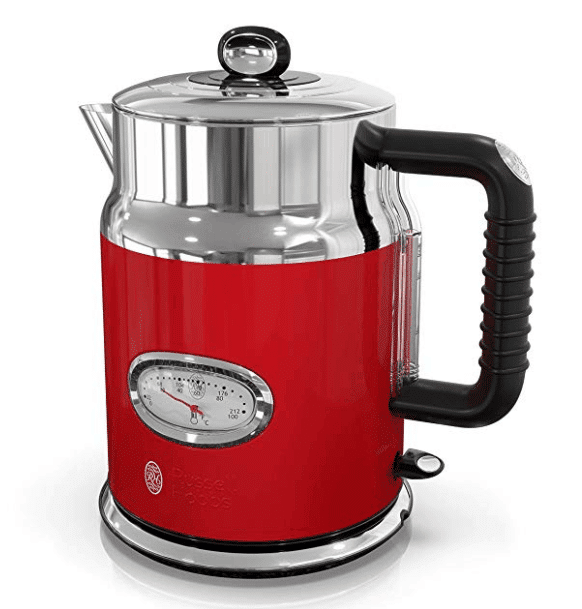 Russell Hobbs Retro Electric Tea Kettle
Russell Hobbs is a well-known British brand based in Greater Manchester, so it's no surprise their kettles have a classic vintage style. This kettle features a removable, washable filter and a handy temperature gauge for those times you don't want to go all the way to boiling. This particular kettle comes in a variety of colors. Get it HERE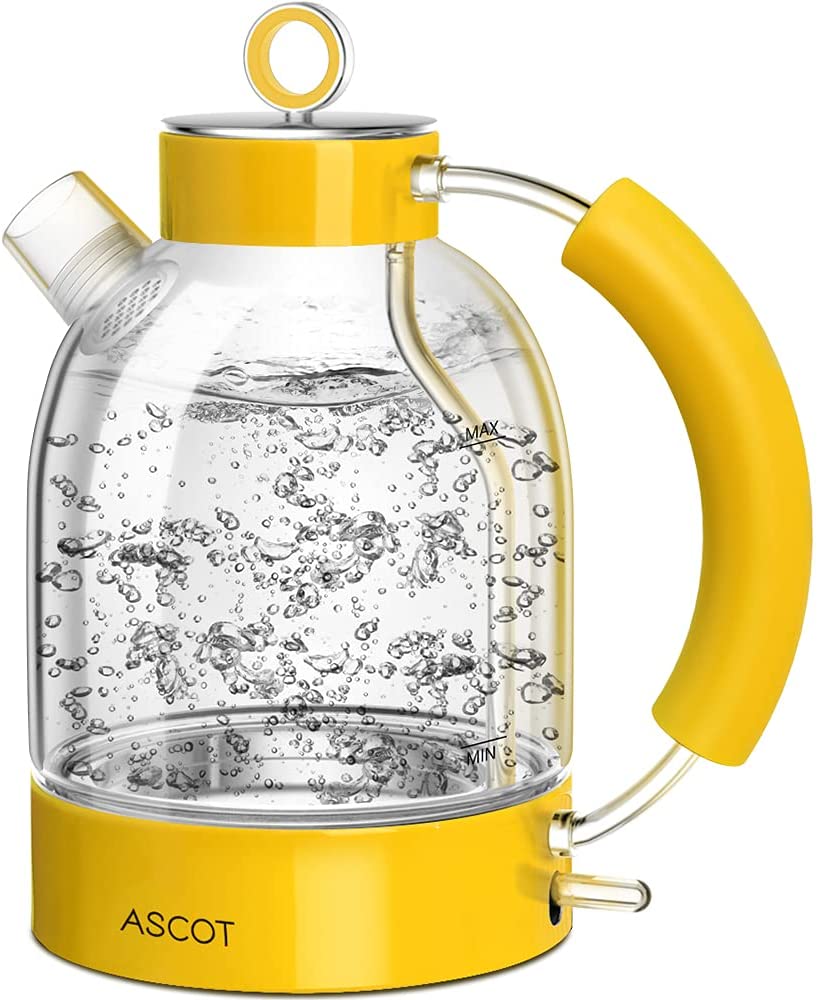 ASCOT Glass Tea Kettle
This bright electric kettle pretty much screams, "It's time to start the day!" It's a bright, perky yellow (or any of a few other colours) that would look great in a variety of homes – but especially against a white minimalist background. It doesn't have temperature controls, but it's BPA-free and has auto shut-off and boil-dry protection. Get it HERE
What Kind of Tea Kettle Do You Use?
What kind of tea kettle's in your kitchen? And what's your favorite tea to make with it? Let us know in the comments!