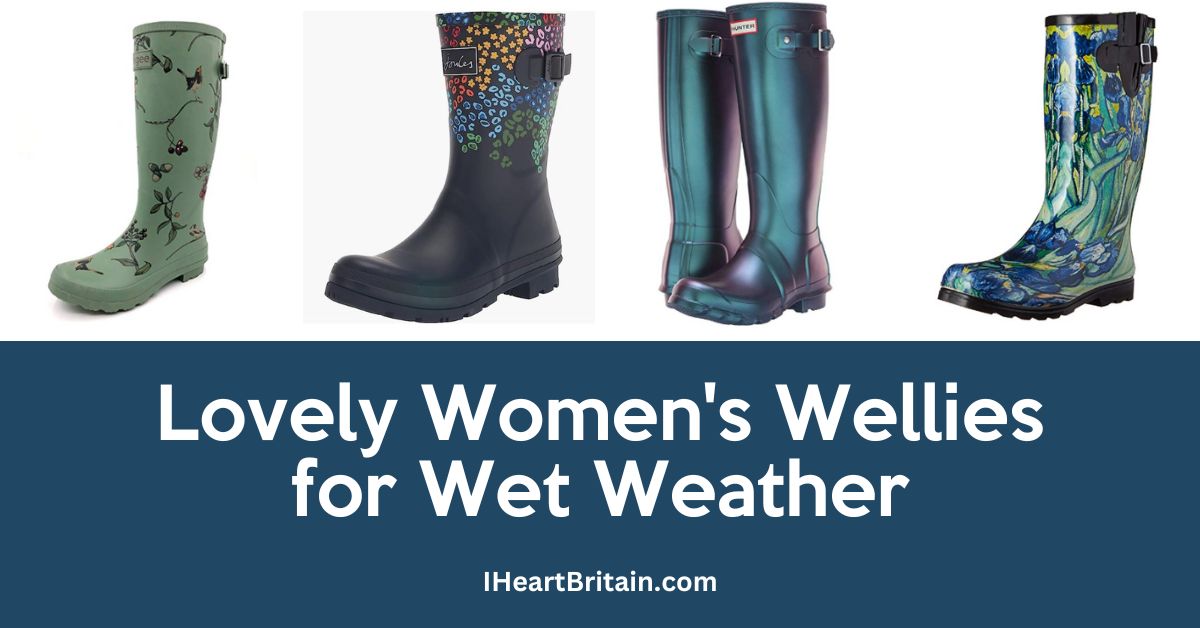 Anyone who knows much about British country life will know about Wellington boots (aka "wellies") – if not by name, then by sight. They were originally made of leather, with the design inspired by Hessian boots and the name inspired when they were popularised by the 1st Duke of Wellington. By the early 19th century, they'd become a popular wardrobe item for middle class and aristocratic Brits living in the often wet and muddy countryside.
Today, most wellies are made from rubber or PVC, and they're no longer limited to standard colors like green and black. You can get them tall or short, and a variety of inserts can make them warmer or more foot-friendly. True, there are purists who suggest that old money means only wearing the standard green, black, or dark blue – but we think if you like pretty boots, you should wear pretty boots.
Pretty Women's Wellies for Wet & Muddy Weather
The Classic Tall Hunter Wellington Boot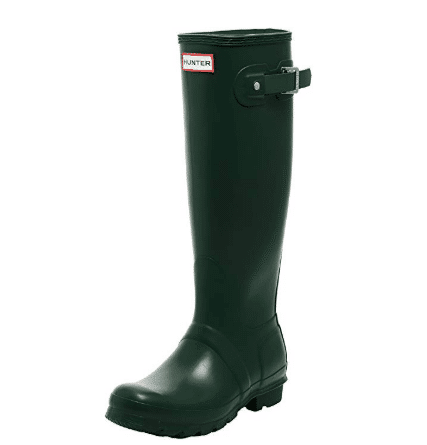 We'll start with the classic Hunter Wellington Boot. While not particularly exciting, Hunter's wellies are known for quality and durability. Unlike cheaper imitations, these wellies are handcrafted from natural vulcanised rubber, and they're fully waterproof. Some families continue to use classic wellies purchased decades ago.
Those not familiar with British country life might be surprised to see gorgeous estates and cottages with a bunch of old black or green rubber boots by the door – but they're exceedingly handy in the country, and many old money types still favour the brutally plain classics. In the early 80s, it wasn't unusual to see Lady Diana in a pair of old green Hunter wellies.
Joules Floral Wellies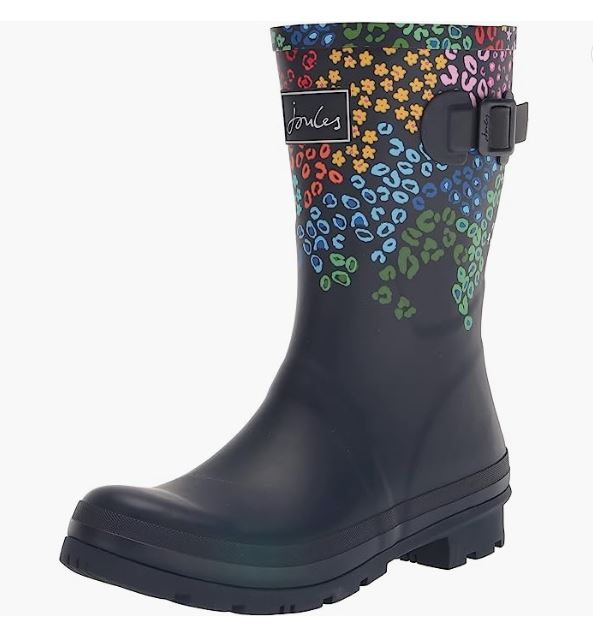 In recent years, Joules has come out with a line of what they call "posh wellies". It's become one of their most successful lines, and they're a favourite of the "yummy mummy" crowd.
American readers may not be too familiar with Joules, but it's a popular high street brand in the UK, with roughly 100 locations spread throughout the country (though a number were closed in a slump following the pandemic). Wellies from Joules are patterned and pretty, the perfect way to lighten up a wet and gloomy day in the English countryside.
Hunter Ankle Height Wellies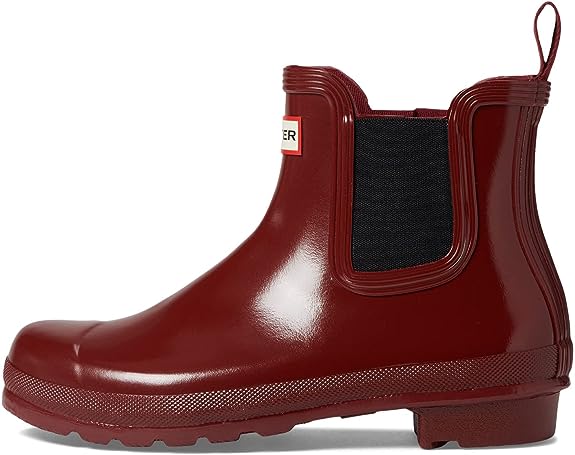 If you're just popping into town to go to the shops, or working in a small garden, you may not need the protection of mid-calf or knee-high wellies. For those times, ankle-high wellies can offer a waterproof and easily cleaned shoe that still gives you a bit of comfort and flexibility.
Nomad Monet Waterlilies Wellies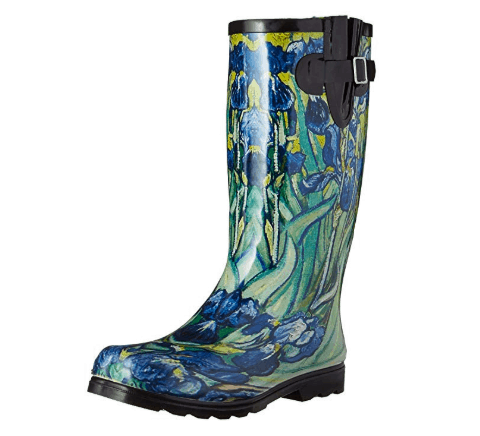 While Joules wellies are pricey and Hunter boots are even moreso, that doesn't mean you can't get the look of classic wellies at a lower price. You'll likely take a hit in quality and longevity, but that may not be a huge concern if you don't need them for regular use. This lovely Van Gogh-inspired pair of wellies is sure to attract the attention of any nearby art lovers.
When it comes to buying less expensive, non-branded wellies, I highly recommend you feel along the seams when you receive them. The boots are intended to be waterproof, but it's often the first place to come apart in a lower-priced boot. Comfort may also take a hit, but that's really in the eye of the wearer, so you may or may not have issues with that.
Chicken Print Wellies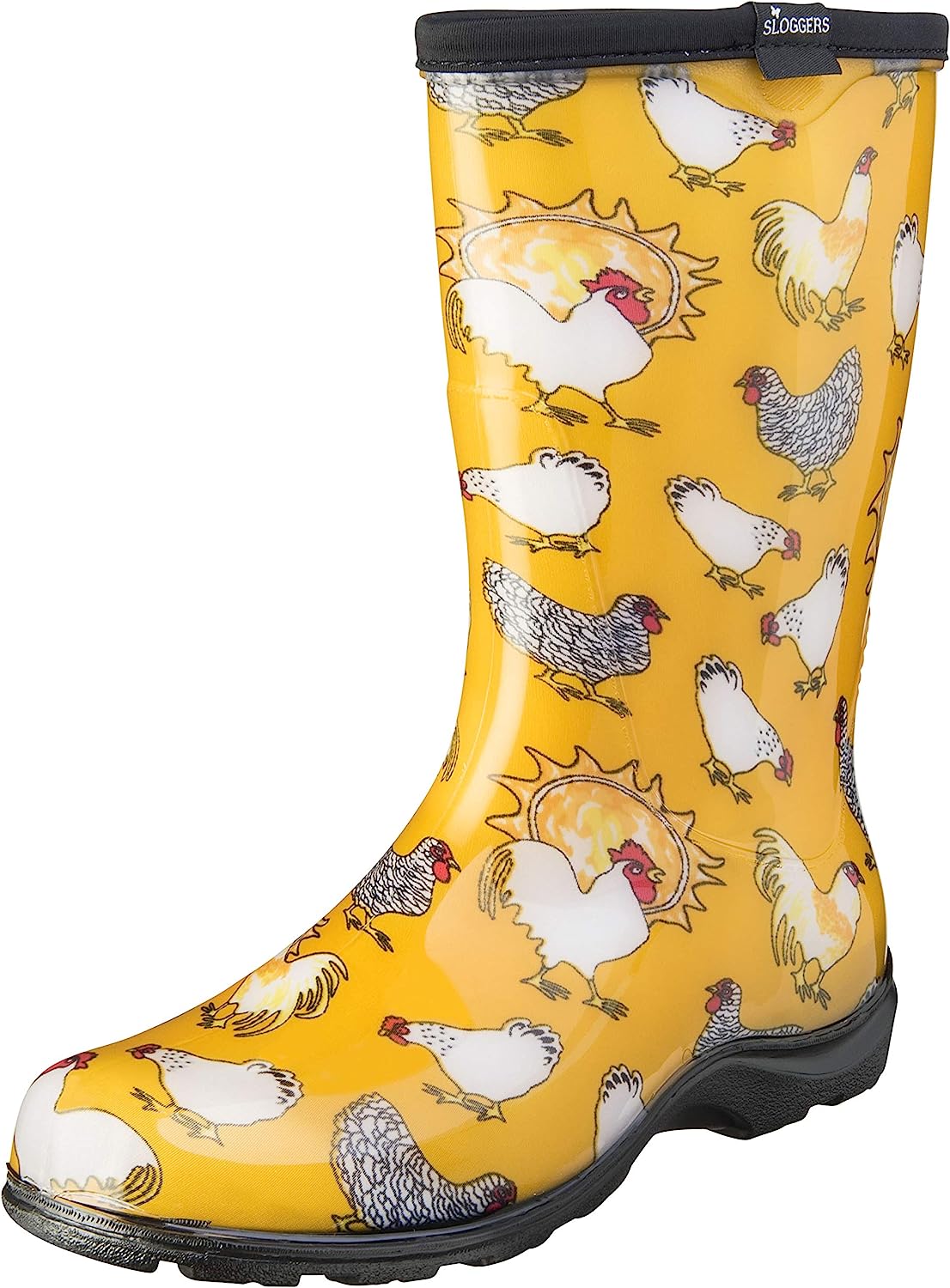 Whether you keep chickens or you just love them, these are a slightly wilder alternative to the traditional Wellington boot. Unlike the usual matte, rubbery look of wellies, they're glossy and bright.
Joules Navy Rainbow Wellies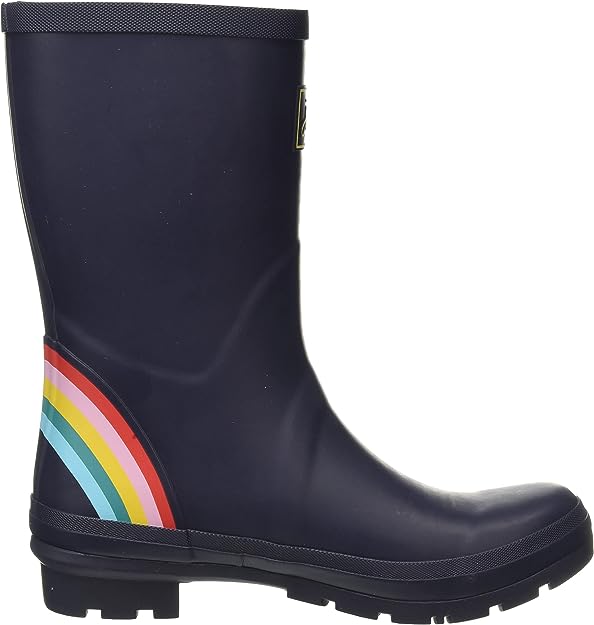 Whether you want to celebrate pride and inclusion or you just love a good rainbow, these boots fit the bill. Classic navy blue from the front, they reveal just a hint of whimsy when you're walking away.
Botanical Bird Wellies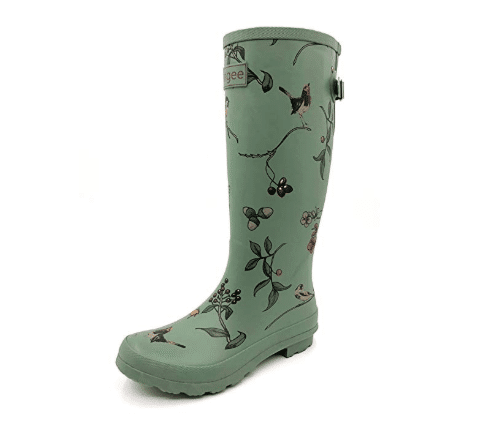 This lovely pair of pale green wellies is adorned with a variety of plants and songbirds, and looks tailor-made for a spot in a beamed Cotswold cottage. The inside of the boots is lined with a red and white striped cotton fabric, and it's lightly cushioned for comfort.
Black & White Botanical Wellies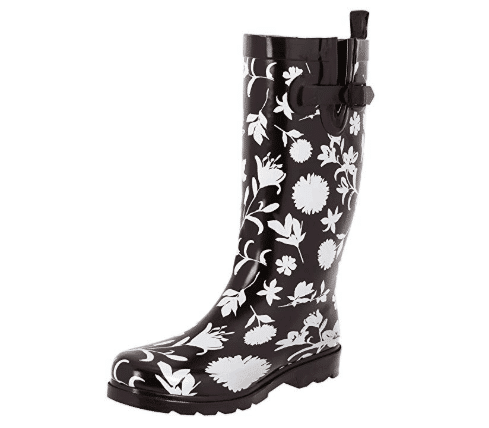 These wellies from Capelli (Capelli's wellies?) are a lovely combination of pretty and not too loud. They're a great alternative for someone who wants something fairly neutral but still a little unique. It's also a nice touch that they've added a loop on the back to help you pull them on easily.
Hunter Nebula Wellies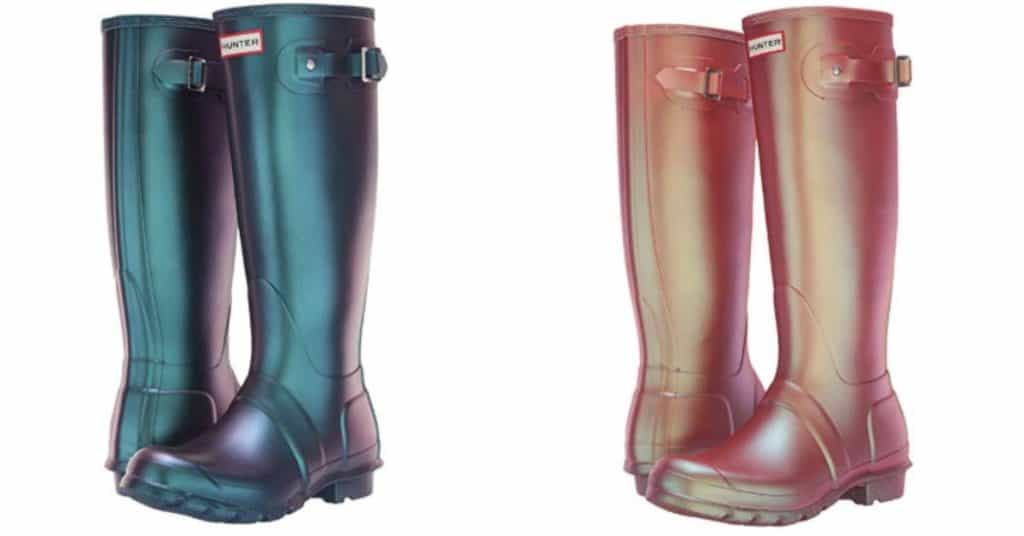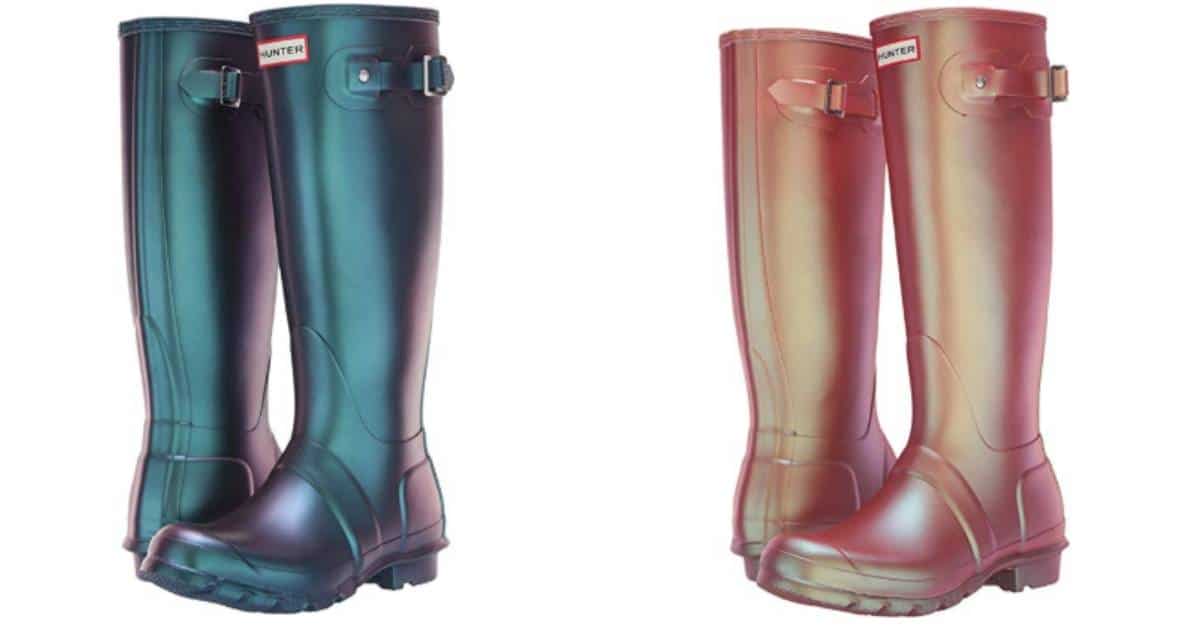 Lest anyone think Hunter ONLY makes boring green and black boots, we had to include their gorgeous Nebula line. These shimmery boots come in a couple different colors, and you can choose between tall or short heights. The pink-ish variety reminds me a bit of a padparadscha sapphire (a very expensive kind of pink-orange sapphire).
Joules French Navy Spot Wellibobs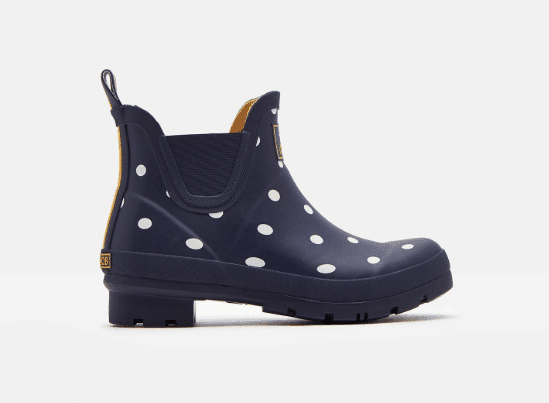 For those times you want just a bit of water protection without a boot halfway up your leg, there are wellibobs. These polka dotted ankle wellies from Joules are functional, but also cute and comfortable enough to wear all over the place on a rainy day.
Hunter Wide Fit Wellies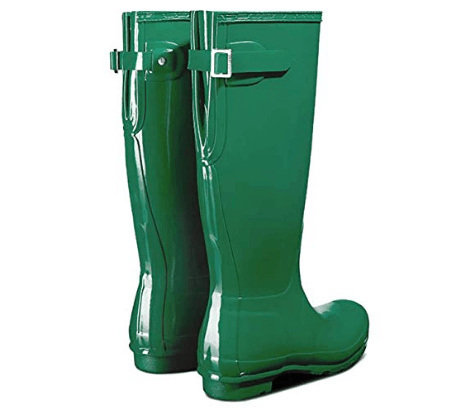 For those with athletic or thick calves, finding the perfect wellies can be a challenge – but it's not impossible to find cute ones. You can either opt for lower styles, or seek out those labelled as "wide calf". You can also look for styles where the adjustable back actually splits open, as opposed to the ones where you can only tighten/loosen a very small amount.
The lovely green wellies above feature the larger adjustable calf, so they're great if you feel a bit constricted in normal wellies.
Which Wellies Are Your Favourites?
Personally, I'm a fan of the classics with a slight twist – so the Hunter Nebula boots are probably my favorite of the bunch, with the Joules floral pattern in a close second. They seem very Hyacinth Bucket to me. Which pair would you get?
Save it on Pinterest!