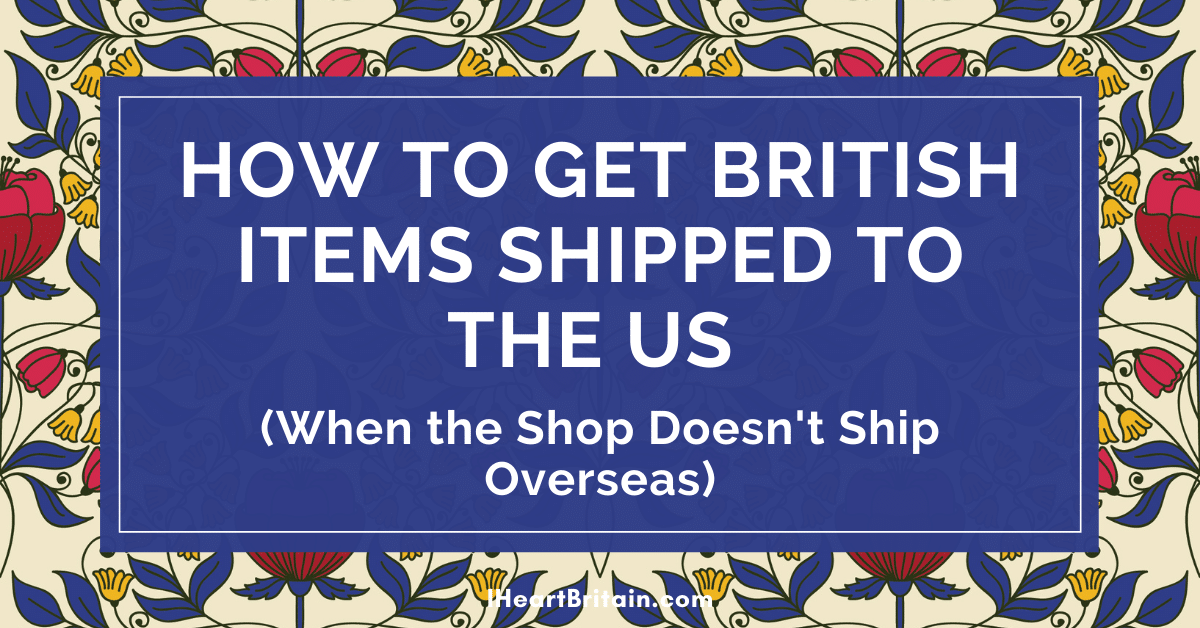 Whether you're an ex-pat missing things from home, a frequent visitor who's fallen in love with British products, or just a devoted Anglophile who wants to buy something from a British business, international shipping can be a headache. Though many shops DO ship to the US or Canada, there are many that don't.
Even when shops are willing to ship to the US, it can get expensive quickly. It may not be bad for one small item from a single merchant, but if you order from several shops, the fees really begin to add up.
That's where mail forwarding becomes very useful. You can get all your items shipped to one place in the UK (often getting free shipping since it's local), then have it all bundled into one package and shipped over in a single, larger parcel.
Shipping for each small item tends to be relatively expensive, but the cost per pound/kilogram comes down dramatically as you combine more items and packages in one.
How to Get British Products Forwarded to the US & Canada
Luckily, there are a number of services that provide mail forwarding between the US, UK, and Canada. They give you a local address in the UK, and you get your items shipped there. From there, they can either forward a single item on, or hold your items as needed until several packages arrive and you're ready to have everything shipped together. Most offer a period of 30-60 days of free storage so you have plenty of time to get several items delivered and bundled together.
Our favourite service is Reship because they offer options for both frequent and occasional shippers. They recently restructured their membership options, and they have a free plan for occasional users, a gold plan for regular users, and a platinum plan for frequent users.
You can sign up for Reship HERE and use our referral code 84A9H0U6 to get a $10 credit towards a future shipment.
An alternative service is MyUKMailbox. Neither company mentioned in this post has paid to be included in this post, but we do get a small credit if you use our referral code to get the $10 credit at Reship.
Cautions About Using Mail Forwarding
While mail forwarding from the UK is fairly simple but, there are a few things you should be aware of.
Use common sense about what you get shipped. Perishable items with extremely short shelf lives are not a good idea. Extremely expensive or fragile items are not a good idea. Items with import/export restrictions are not a good idea. If you're buying Scottish whisky, go directly to a proper whisky specialist that ships to the US. If you're buying an assortment of books, DVDs, gifts, biscuits, sweets, clothing, etc. – a mail forwarder can be great. Seeds and plants are another category that can run into problems.
Remember to factor in the cost of shipping and handling. Mail forwarding isn't completely unreasonable for special purchases, but it isn't exactly cheap, either. Most services will have a shipping calculator + a chart with any applicable handling and membership fees. That said, we've found that once you start adding more weight, the cost doesn't increase by THAT much until it gets really, really large or heavy.
Look for alternatives if they exist. There are tons of British grocery stores (like British Corner Shop) that specialise in shipping pantry items and even perishable or semi-perishable items internationally. Many larger retailers will ship directly – and nearly everything is on Amazon UK these days (though some items won't ship to North America). Mail forwarding is best suited to (a) larger combined shipments, and (b) items from smaller merchants that can't justify the extra paperwork and expense and risk of shipping internationally.
Some of Our Favourite British Shops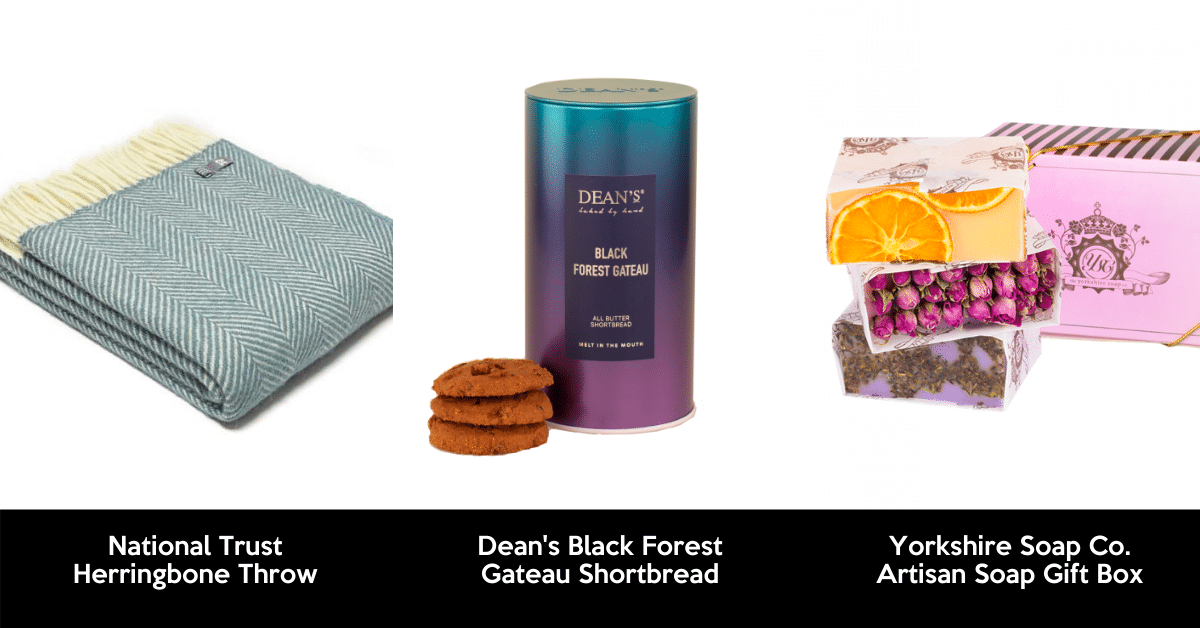 Aside from bundling orders from Amazon UK (which can result in cheaper shipping, especially when buying from a variety of merchants within Amazon), there are a number of shops we love that don't ship to the US.
As always, we recommend using a bit of common sense about what to order. Items like sealed shortbread or biscuits travel fairly well and last quite a while, but something like fresh crumpets or a pie requires careful attention to date and speed – something you just won't get with a package forwarder. We recommend shopping with your favourite expat British grocery shop for those types of items.
Dean's Shortbread – Walkers may be everywhere in the States, but I personally have a slight preference for Dean's. They're virtually impossible to find in the US, and they don't ship directly to the US.
Lottie Shaw's – Based in the Yorkshire Pennines, this shop offers a variety of tasty biscuits and other baked goods.
Yorkshire Soap Co. – If you've wandered the streets of York, you may have found yourself in this lovely little shop. Their products are wonderful and heavy on fragrance, but they don't ship to the US.
The Cabinet of Curiosities – This Haworth-based gift shop offers a variety of unique and occasionally dark items. They've temporarily suspended shipping to North America, but a forwarder can get the products to you.
Dobbies – While this garden centre chain is definitely not a small or local business, they offer a wide variety of home and garden items that are not available to ship directly to the US. Using a forwarder opens up the ability to shop there, but do take care with any kind of plants or seeds – some may have import/export restrictions. Pet, home, clothing, and gift items shouldn't be a problem, though.
Make Industries – This Cornish shop specialises in local products made by local businesses. You can browse products online or click around their 3D virtual store to see what it would be like if you were there shopping in person (minus the salt air and sound of gulls).
National Trust Shop – This online shop supports the National Trust, but unfortunately, they only ship to UK addresses. With shipment forwarding, you can make one of their lovely throws or adorable hedgehog statues your own (among many, many other items).
Barbour products – This isn't a store, but if you've ever visited the UK and shopped for Barbour, you probably noticed it's a lot cheaper there than it is in the US (which makes sense, given that it's a British company). While many shops are willing to ship to the US, they're not supposed to ship Barbour items to the US because those items have different distribution channels in the US. Between the fantastic exchange rate (autumn 2022) and the lower price in the UK, I was able to save almost $200 on a waxed jacket I'd been eyeing.
Bookshops – Again, this isn't a specific shop, but it's worth noting that many books by British authors and publishing houses are either released earlier in the UK than the US, or they aren't properly distributed in the US (Anthony Horowitz's mystery novels are a good example of the first, MW Craven's crime thrillers are a good example of the second). By ordering to a UK address, you can patronise one of the UK's many wonderful indie bookshops AND get books sooner than they would otherwise be sold here in the US.
If you know of other small UK-based businesses that don't ship directly to the US, feel free to share them in the comments and we can update the post to add them.
Save it to Pinterest!