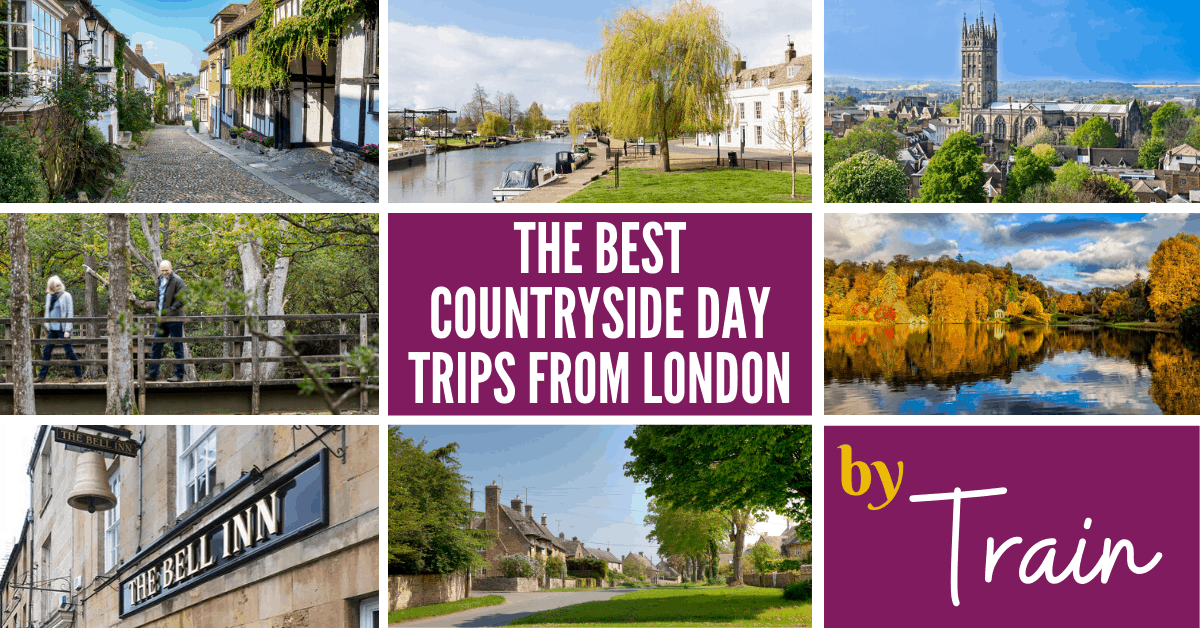 London is a wonderful city, but where England really shines is the in the countryside. That's why if you have the time, we very strongly recommend getting outside the city and soaking up some of the fresh air in one of England's lovely villages or market towns.
We know a lot of our readers don't feel comfortable driving in England, so we've decided to focus on destinations you can reach by train. Adding in bus trips would open up a LOT more, but who really wants to spend half of their day trip transferring between buses? Certainly not us.
So, for those who want fun, simple countryside day trips from London by train, we've put together a list of some of our favourites. Since these ARE day trips, we've limited our recommendations to places you can reach by train in roughly 2 hours or less. The great part? That covers a lot more than you might think.
British Countryside Day Trips from London
Moreton-in-Marsh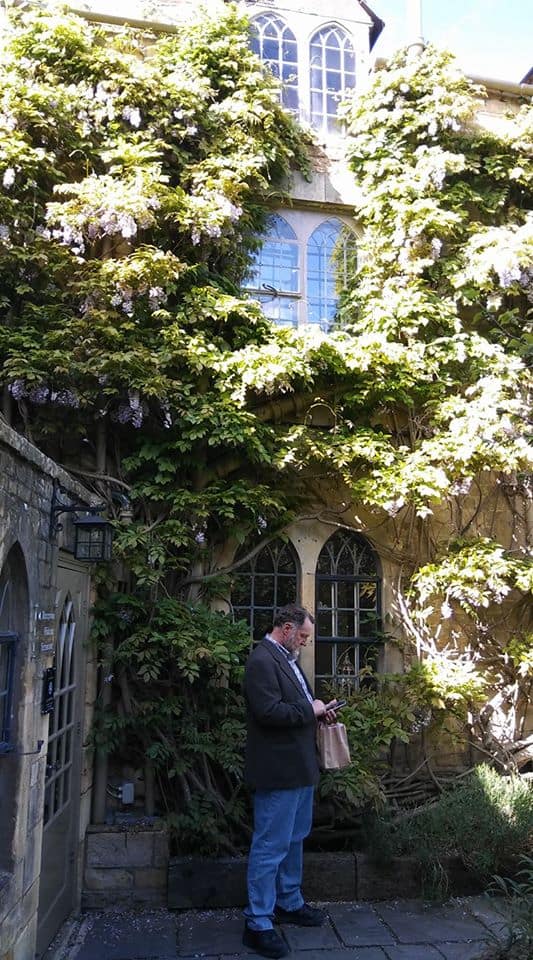 Whether you're looking for a day trip or planning on spending several days in the Cotswolds, Moreton-in-Marsh is an ideal location for anyone who plans on travelling the area without a car. You can get a direct route from London Paddington, and because it's a market town, there's plenty to see and do.
Lovers of literature and lagers can stop in at The Bell Inn, a pub generally considered to be the inspiration for the "Prancing Pony" in Lord of the Rings. J.R.R. Tolkien used to meet his brother there for drinks.
On Tuesdays, Moreton-in-Marsh is home to the largest open-air market in the Cotswolds, where you can browse local merchants like the Cotswold Cheese Company. They produce more than 80 unique cheeses, many of them inspired by famous British figures.
If it's nature you're craving, don't miss The Batsford Arboretum. They have one of Great Britain's largest private tree collections, and their 56 acres of paths and gardens are virtually flawless. It's about a mile and a half from the central village, and there's a scenic footpath, the Monarch's Way, that takes you directly there. You can also reserve a taxi or get a bus.
If your goal is to see MORE of the Cotswolds, consider a tour. This one from Go Cotswolds takes you through Chipping Camden, Broadway Tower, Stow-on-the-Wold, Arlington Row, and Bourton-on-the-Water (with stops to look around). The Secret Cottage is another great option. I sent my parents on that one a couple years ago, and they spoke very highly of it.
Travel Time: As little as 1h 28m
Kingham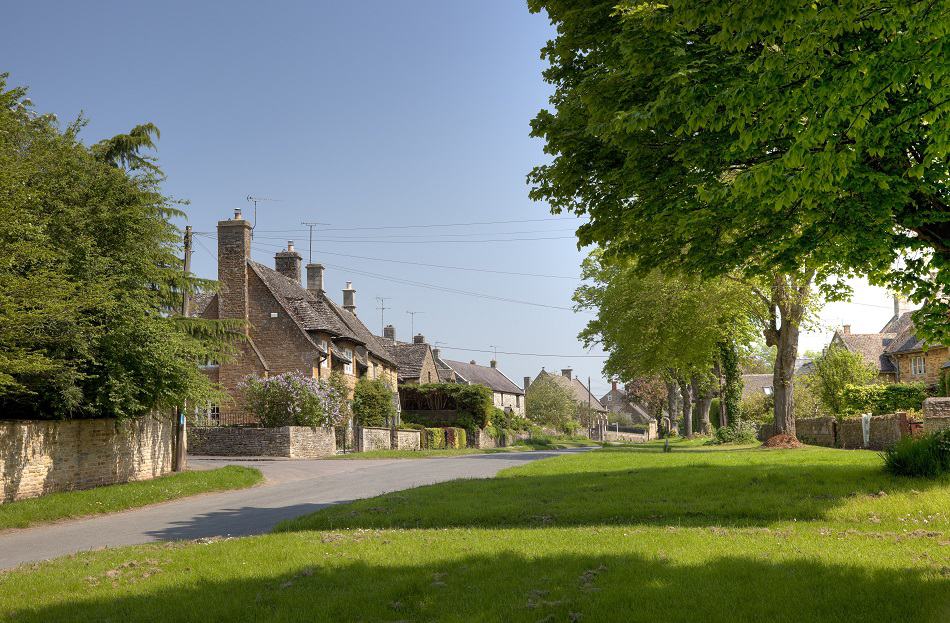 If you're looking for a Cotswold village full of scenes so gorgeous it's not even fair, consider a day trip to Kingham. It was named was named "England's Favorite Village" in 2004.
The village is home to The Wild Rabbit, an inn with a delightful bar and fine dining restaurant. You can snack on small plates and nibbles in the bar, or arrange to have a more formal meal in the restaurant.
Prefer something a bit more casual? Try the Kingham Plough instead.
To really get an appreciation for the lovely countryside, consider a tour with Cotswold Electric Bike Tours. You'll cover 28 miles (remember, the bike is ELECTRIC), and you'll see parts of the countryside that are impossible to view from trains and even cars.
Travel Time: As little as 1h 20m
Rye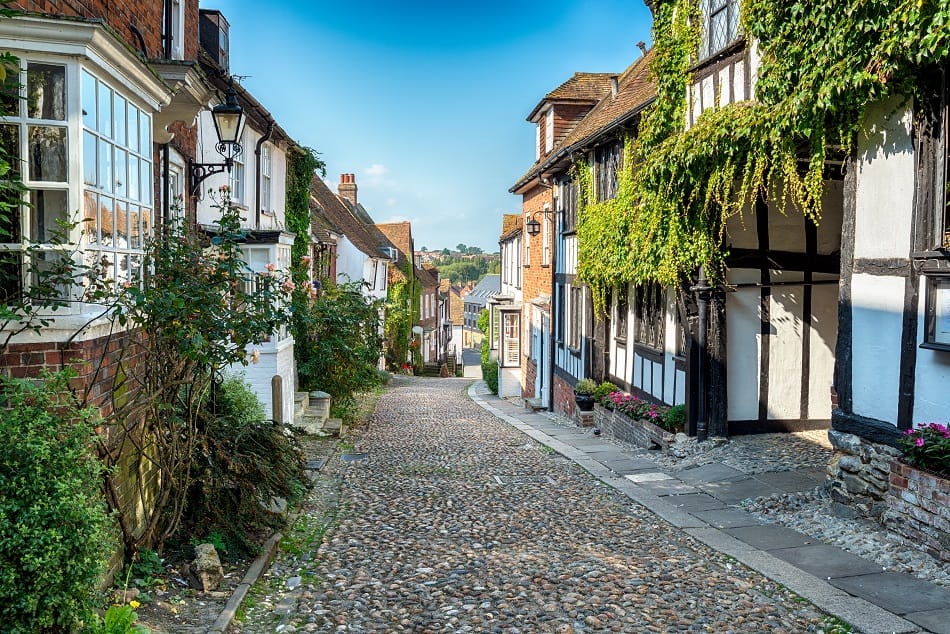 Roughly 2 miles from the southern coast of England in East Sussex, you'll find the lovely historic town of Rye. With its cobblestone streets and old buildings, you could easily mistake it for the set of the BBC's latest period drama. In fact, it WAS actually the filming location for Mapp & Lucia – and there's a Mapp & Lucia tour for the die-hard fans.
Because Rye is very much a tourist town, you'll find loads to do. Shops and restaurants abound, and if you want to get your nature fix, you can walk down towards the coast and Rye Harbour Nature Reserve. It's a Site of Special Scientific Interest, offering important habitat for rare species like the Spangled Button Beatle – and a little sea air is always nice. It's a couple miles down to the actual coast, but there's loads of wetlands scenery along the way.
If you're a literary nut, be sure to get a look at the redbrick Lamb House – former home of authors Henry James and EF Benson. Fans of Harry Potter and other fantasy-oriented stories may enjoy The School of Wizards & Witches. It manages to be both fun and family-friendly at the same time.
Mermaid Street is a must-see part of any stroll through Rye, and you'll definitely want a camera handy. It's one of those classic British scenes, like Gold Hill in Shaftesbury or The Shambles in York.
Castle lovers won't want to miss Rye Castle. Though small, it's mighty – and mighty interesting. Along with a great history lesson, you can also check out some great views and a pretty little herb garden in an enclosed courtyard.
Travel Time: As little as 1h 9m
Brockenhurst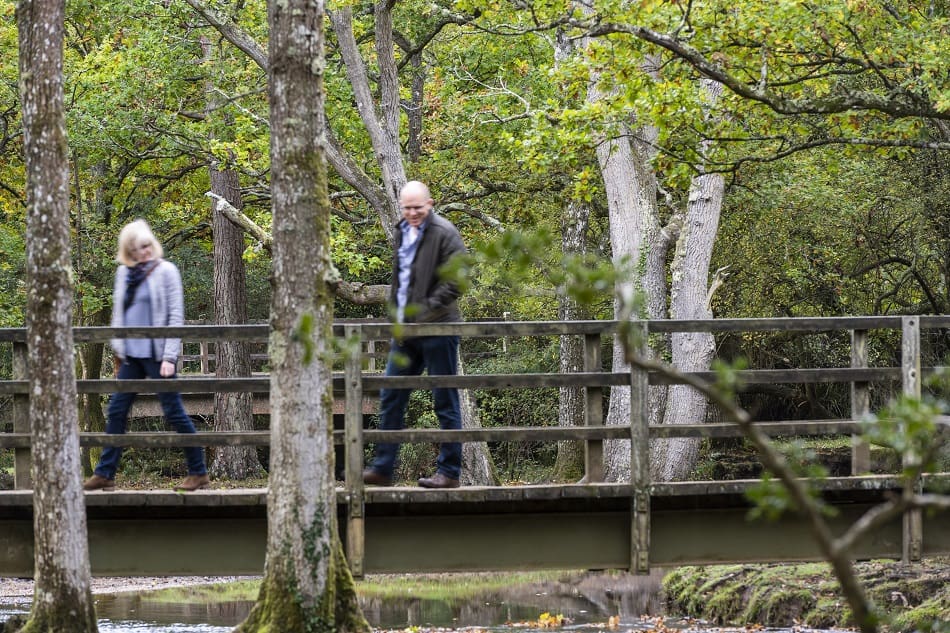 With a population of roughly 3500, Brockenhurst is the largest village in the New Forest National Park in Hampshire. It's also a lovely place to spend a day (or a few of them, if you have the time). It's a great destination for active holidaymakers, with rambling, kayaking, and paddleboarding on offer nearby.
It's possible to have a lively time just walking around the village and browsing, but you may enjoy stopping in at The Beaulieu National Motor Museum, the Beaulieu Palace House, or the Beaulieu Abbey Church.
With an almost ridiculous wealth of local trails, you could easily walk until your feet were black and blue – but know that there are also plenty of great restaurants nearby, should you decide to take a break. We recommend Afternoon Tea at Careys Manor Hotel, a pub lunch at Hare and Hounds, or a light snack at The Bakehouse.
Travel Time: As little as 1h 33m
Warwick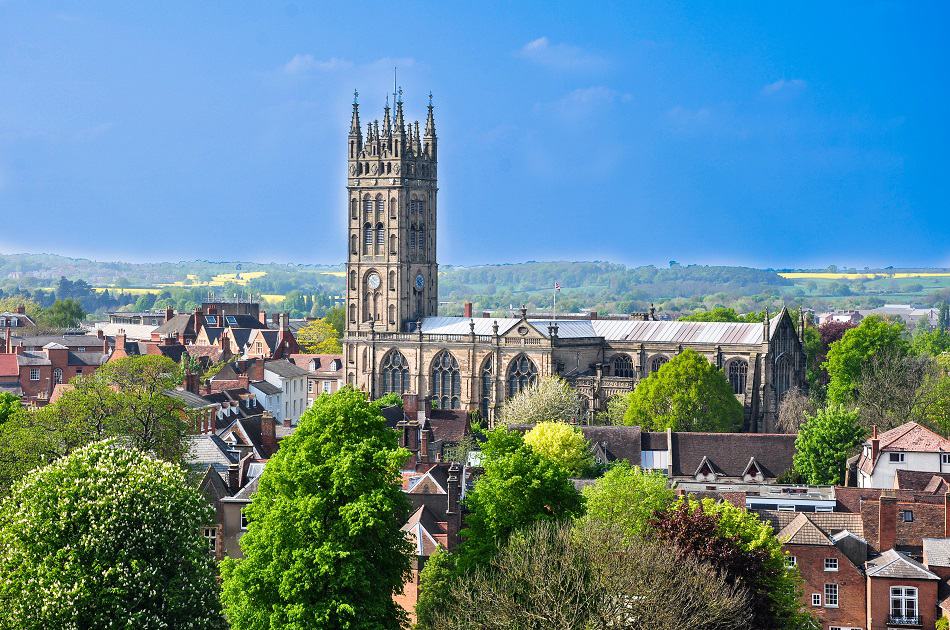 Warwick is a large market town of roughly 31,000, and it makes for a great escape from the urban chaos of London. It's home to the impressive Warwick Castle, and situated along the beautiful River Avon.
For nature and scenery, check out Jephson Gardens, The Mill Garden, and Charlecote Park – or just take a walk along the river. Or, if your countryside dreams involve cream teas and strolling independent shops, point yourself to the high street and just move in whatever direction feels right.
The Market Hall Museum is a great deal more interesting than it might at first sound, and Warwick Market is a fun browse if you're there on a Saturday.
If you're hungry, check out Thomas Oken Tea Rooms, Hatton Locks Cafe (great scenery), or The Tuckery. If you're looking for a chippy, try The Chip Shed.
Travel Time: As little as 1h 18m
Cookham
https://www.instagram.com/p/BvyXMK8BHqg/
Cookham is not the place to go if you want to browse endless shops, stately homes, and attractions. It's a small village along the River Thames with a population of around 5500. In 2011, it was named Britain's second richest village – and it's as lovely as you might expect, given that little bit of information.
The Cookham High Street has a few shops and pubs worth browsing, but the best part of visiting Cookham is just walking and soaking up the atmosphere. You can do the Cookham and Cock Marsh Walk for an easy 4-mile circular trip, or just wander Cookham Moor and watch the wildlife.
Art lovers will enjoy the Stanley Spencer Gallery on the high street, but there's not much else in terms of tourist attractions.
For tapas and traditional pub fare, check out The Old Swan Uppers or The Kings Arms. For something a bit more modern, check out Bel and the Dragon or Boulters Riverside Brasserie.
Travel Time: As little as 48m
Warminster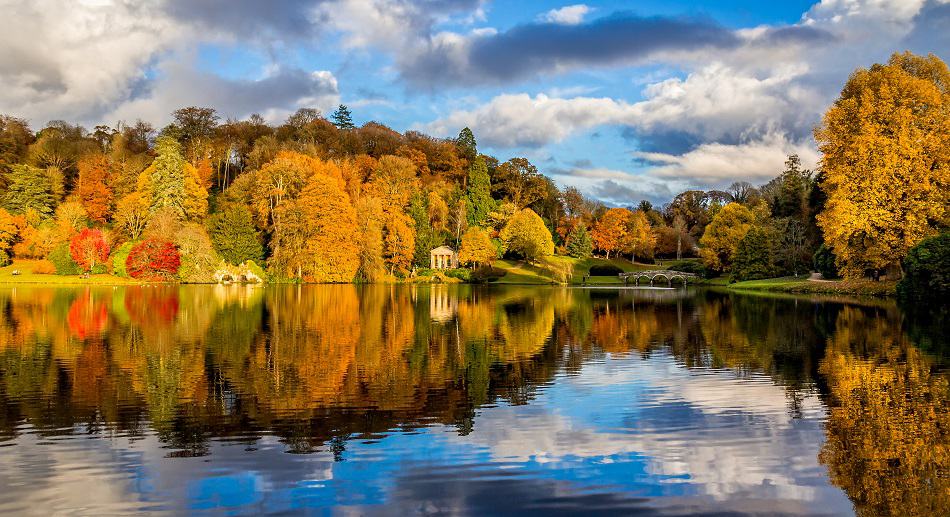 This western Wiltshire town has a population of roughly 17,000, but the quiet countryside is just steps away. If you're not up for a bit of walking, you can also grab a taxi at the station and head just out of town to Stourhead, a lovely National Trust property with a truly incredible 18th-century garden.
For more stately home and garden fun, visit Longleat House…and Safari Park. It's an unlikely combination, but there's no shortage of things to see and do. You could easily spend your entire day there. While the Safari Park portion of the estate is a drive-through experience, they do have a bus tour option.
The town itself isn't quite as charming as some of the others on the list (though please don't interpret that as a dig). It's lovely, and there's plenty of good food to be had, but it doesn't offer the same kind of wandering experience you might get in a place like Rye or Warwick or Moreton-in-Marsh.
Travel Time: As little as 1h 51m
Ely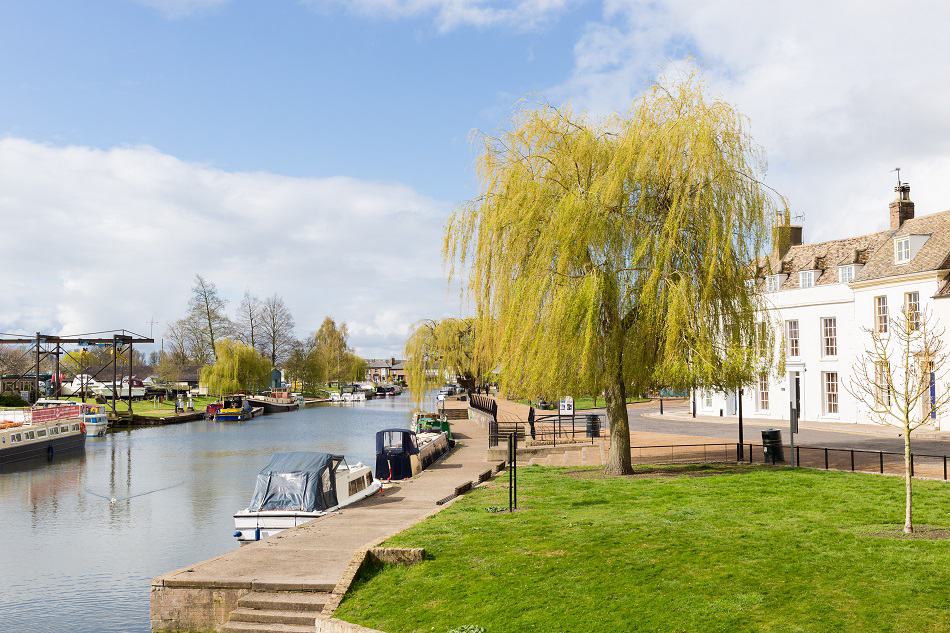 Though technically a cathedral city, Ely is a great place to wander around and soak up some of the lovely Cambridgeshire countryside. It definitely doesn't feel urban. Given that it's a cathedral city, there's a pretty good chance you'll at least give a few passing glances to Ely Cathedral. It's a lovely cathedral with a stained glass museum on an upper level, but be warned – there is a fee for admission.
For a simple, relaxing day, plan a walk around the town and along the canal, along with a simple pub lunch. We recommend The Hereward (great options for vegan, vegetarian, and gluten-free) or The Cutter Inn.
If you're feeling adventurous, check out Truly Scrumptious Vegan Cafe. Their meals are animal-friendly, gluten-free, and surprisingly delicious. For a more traditional afternoon tea, cream tea, or sandwich, try Peacock's Tearoom – which also has vegetarian, vegan, and gluten-free options for those who want them.
Antique lovers will delight in the selection at Waterside Antiques, and nature lovers will enjoy Jubilee Gardens along the River Great Ouse. If you'd like to get out on the water, try Liberty Belle Cruises.
Travel Time: As little as 1h 11m
What's Your Favourite Day Trip Destination from London?
Given a week or two in London, what are your favourite day trip destinations? Let us know in the comments!
Save it to Pinterest!