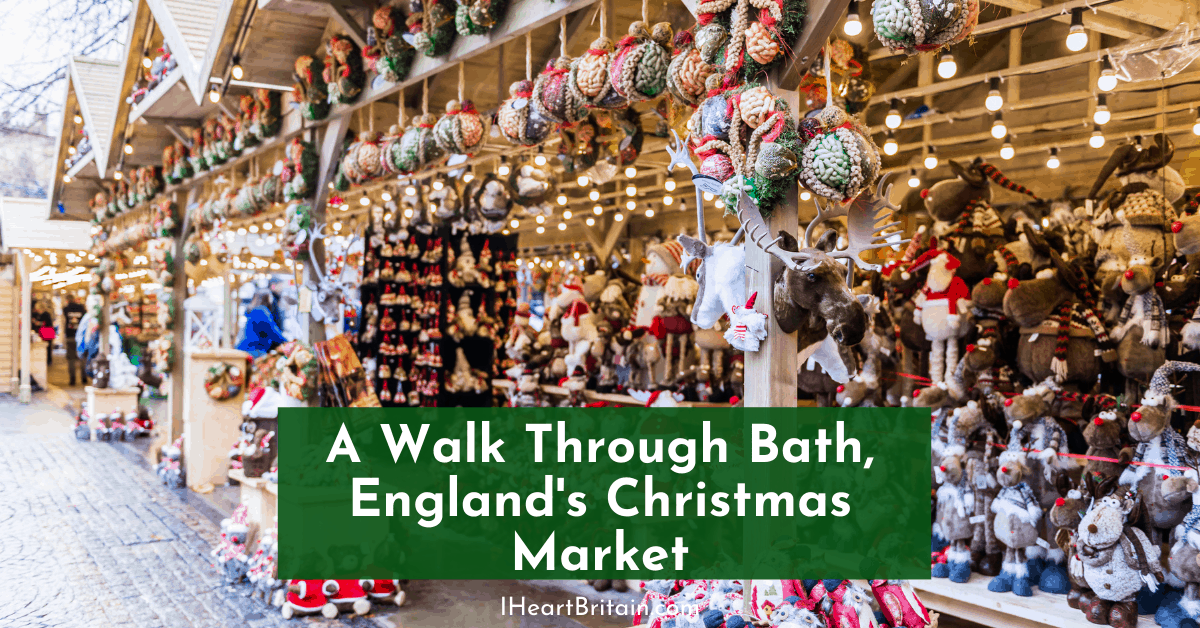 It's been a strange year, and all over the world, Christmas markets have been cancelled. While most of us know it's the right thing to do to help more people survive and prevent hospitals from becoming overloaded, it's certainly not the fun choice.
Instead of moping around, though, we thought we'd take a look at some of the lovely photos from past Christmas markets. This time, we're turning our attention to the Bath Christmas market in Bath, England.
What is the Bath Christmas Market Like?
Bath's Christmas market ranks among the larger Christmas markets in England, with an average of 18 days of celebration and 170 wooden chalets to browse for food, drink, Christmas decorations, toys, and other gifts.
More than 70% of stallholders are businesses from Bath and the surrounding area, with roughly 60% of the goods handmade in the UK. Set in the lovely city of Bath, it's big on atmosphere and not quite as overwhelming as, say, the Edinburgh Christmas Market.
Lovely, Festive Photos of the Bath Christmas Market
We won't waste any more time boring you with facts. Let's move onto the images!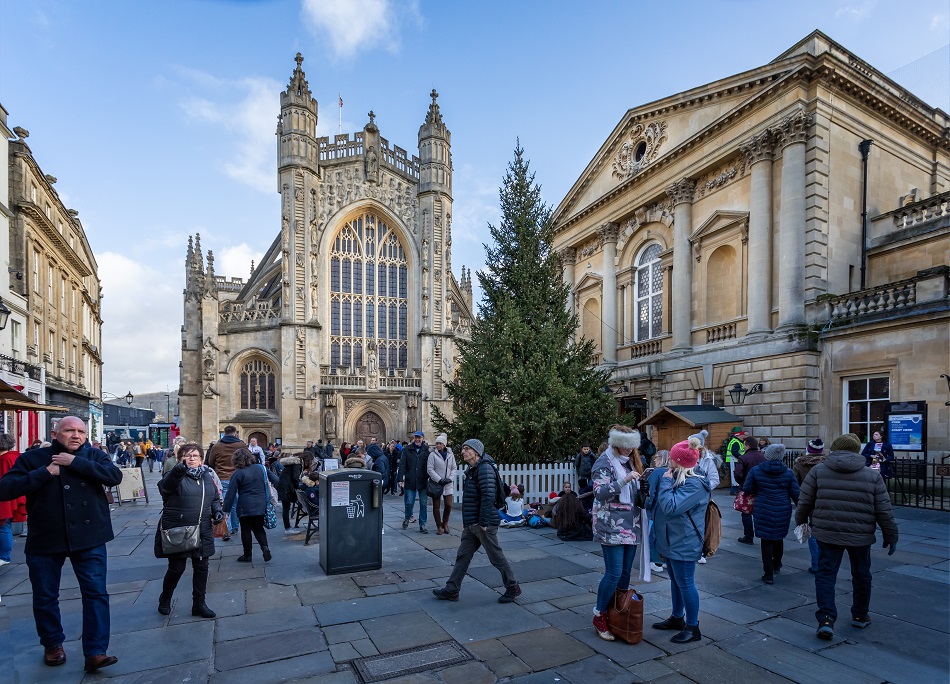 Even before it gets dark, you can feel a festive energy in the market area near Bath Abbey. It's chilly and folks are bundled up, but the sights and sounds of Christmas are never far off.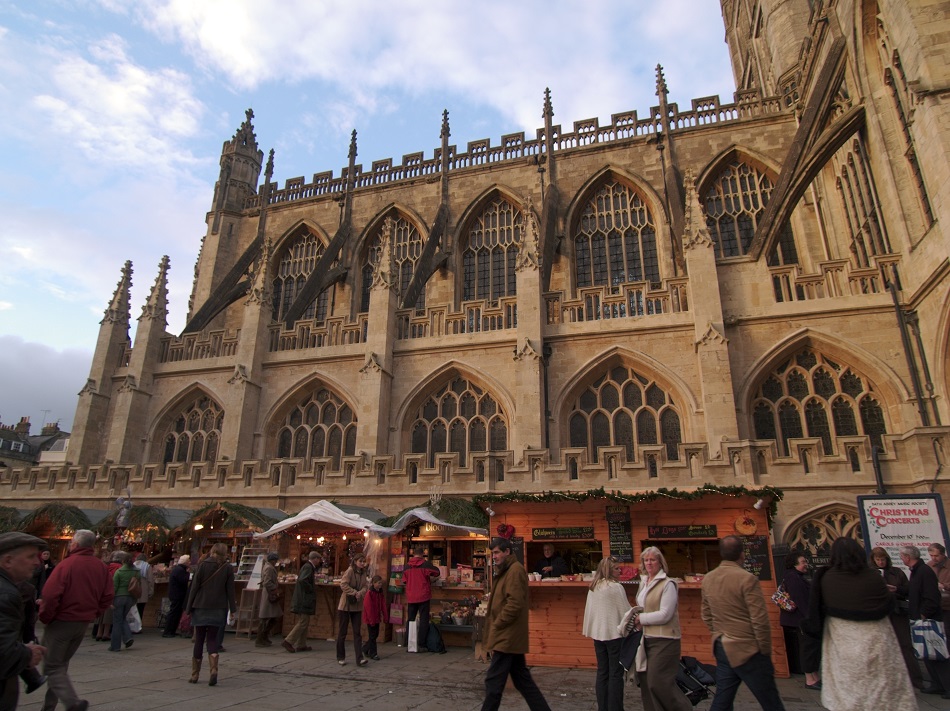 Everywhere you look, friends, families, and happy couples stroll along together, browsing vendors and enjoying warm drinks.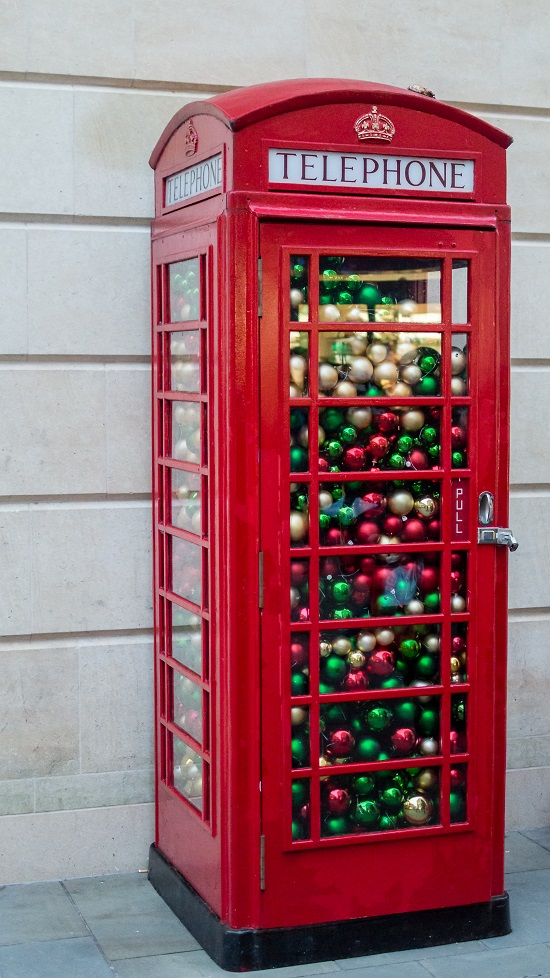 Even the phone boxes get into the Christmas spirit. Hope no one was in there when they added the ornaments…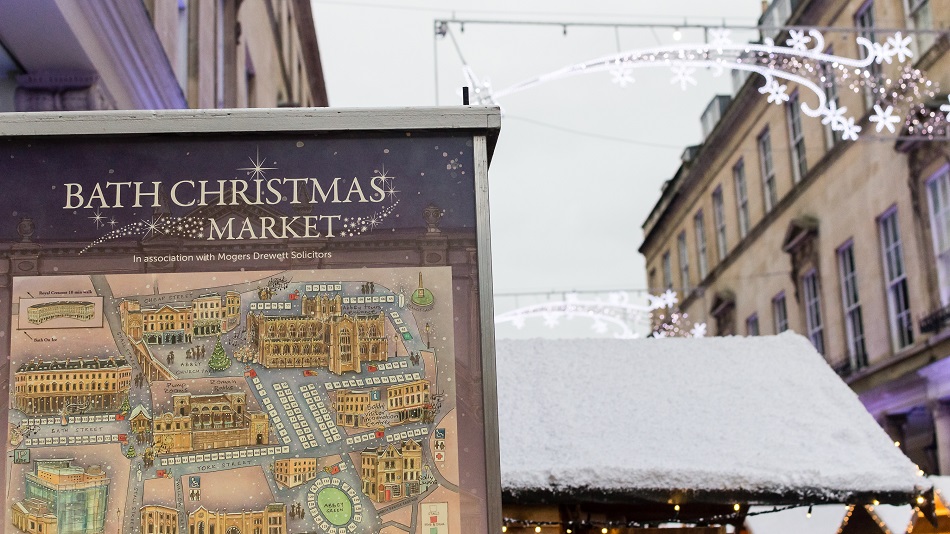 On a busy day, the crowds can make it hard to find what you're looking for – but no worries, there are plenty of maps to guide your way.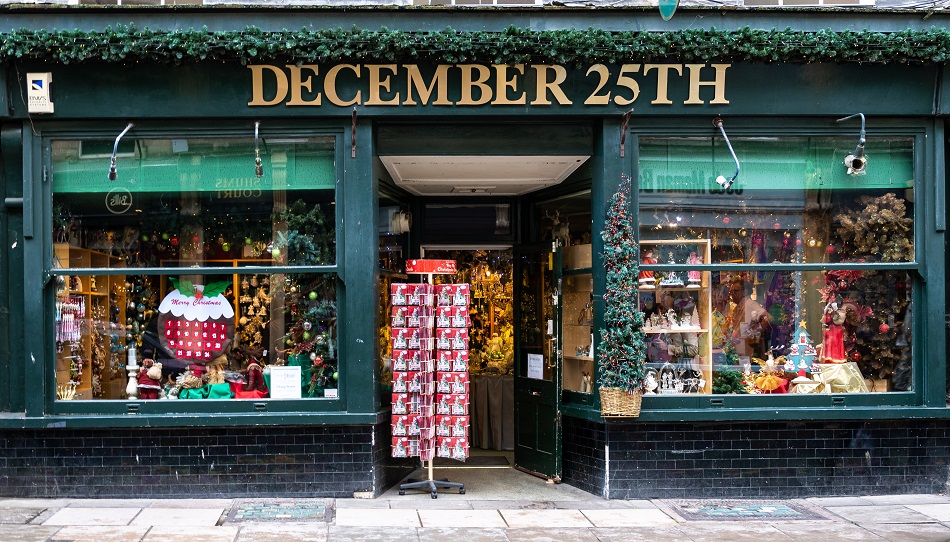 For many years, the December 25th shop was a well-known sight in Shire's Yard (and more recently, Cheap Street). Sadly, it will not open again. One of the managing partners, Graham Tomkiss, passed away this year after a battle with cancer. We wish his partner and any family all the best.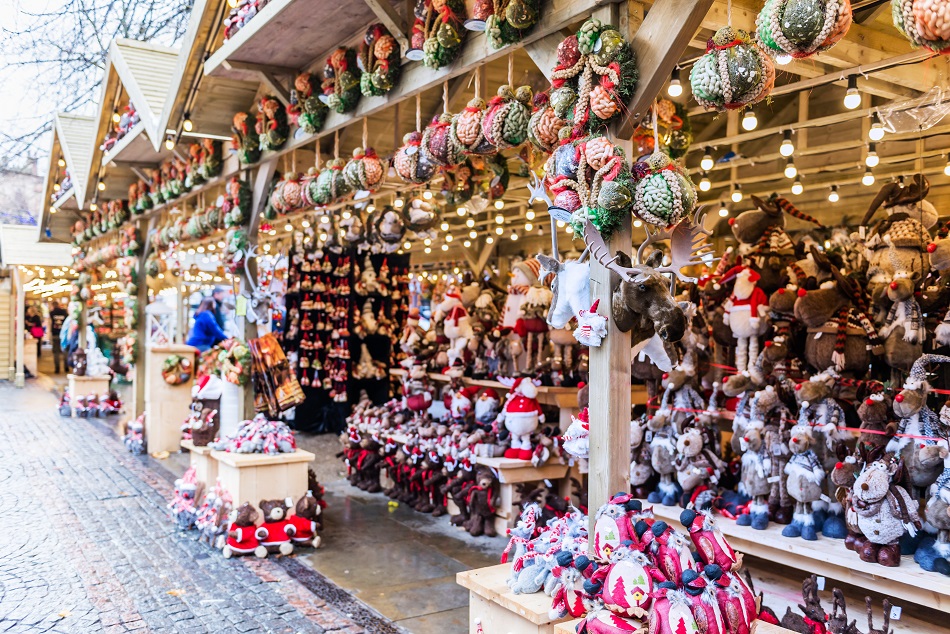 Though the lights are most impressive by night, it's certainly easier to browse with ample daylight. Many stalls feature hand-crafted items, and much of what's on display was made in the UK.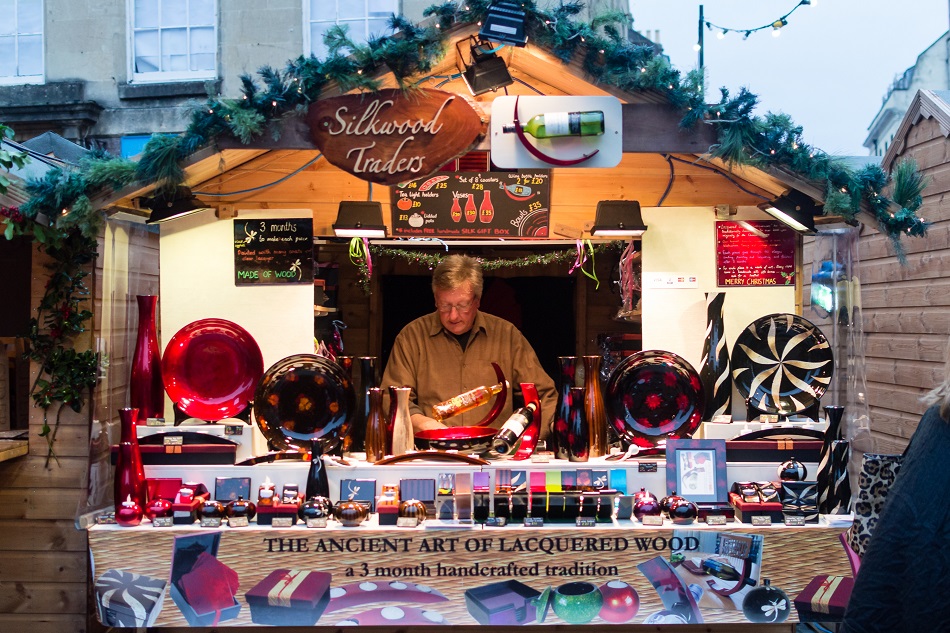 Silkwood Traders is one of many merchants on display at the market. It's a Cornwall-based company specialising in homeware products made of Vietnamese lacquered wood. If that's your kind of thing, you can visit their website HERE online and use the code Bath2020TEN to save 10% off full-price products.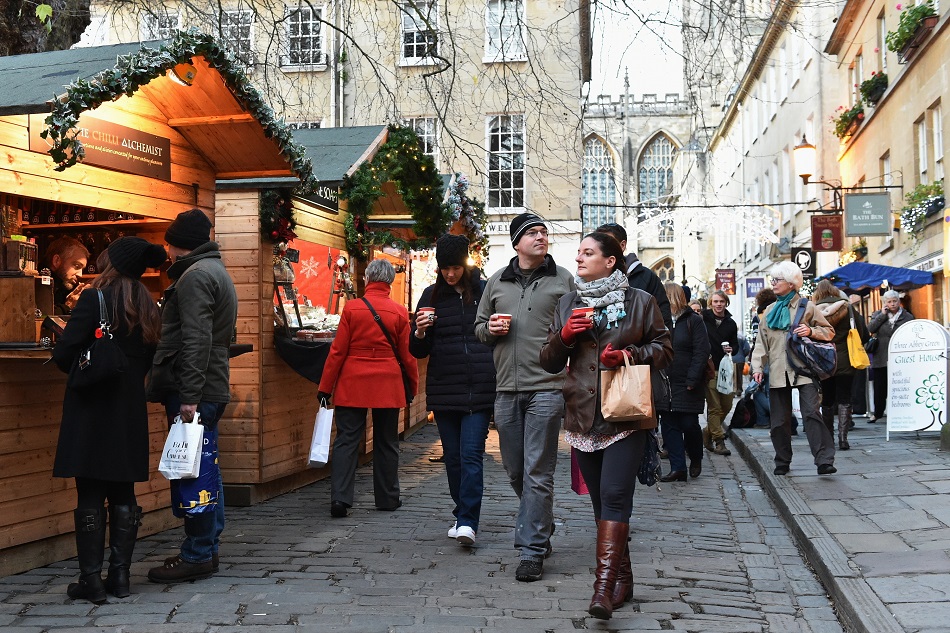 Of course, Silkwood Traders isn't the only merchant around. If you're curious, you can browse many of them online HERE. Many are happy to ship to customers outside the UK (though of course, some items may be restricted in some places).
Many of these businesses are really suffering due to the loss of Christmas markets and in-person shopping. If you're able, please remember to shop small this Christmas season – many of your favourite small businesses won't be around next year if we don't all do our part.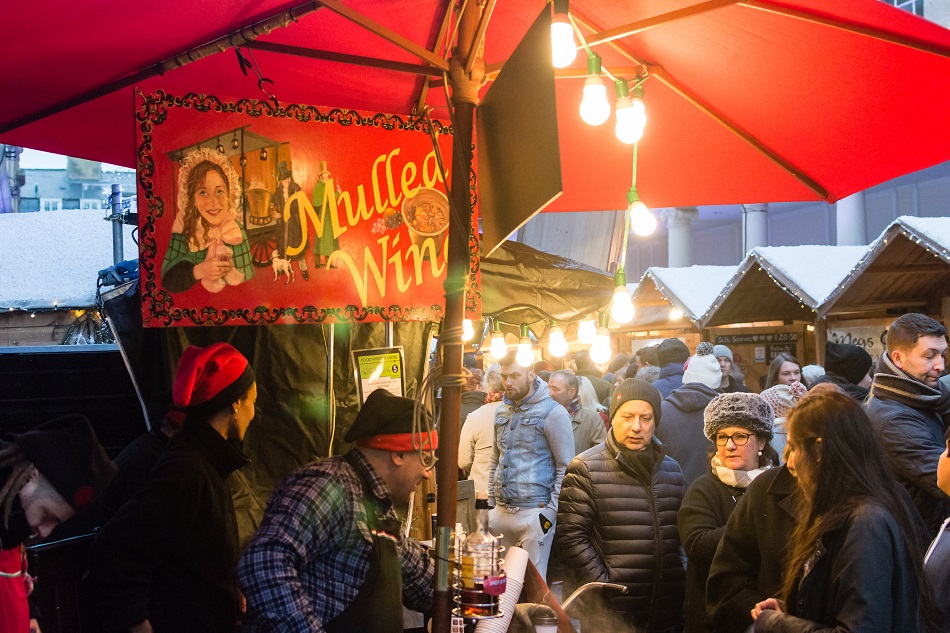 If the crowds are getting you down, a glass or two of mulled wine can help make the evening merry and bright (assuming you don't have a medical or psychological need to abstain, of course).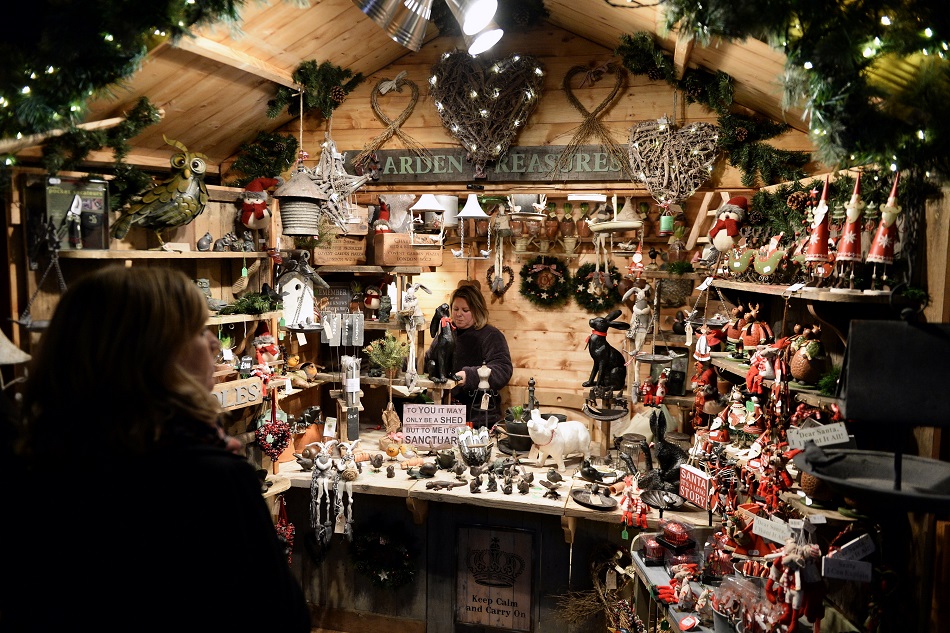 As the sun goes down, the shops take on a more intimate feel. Stepping into the stalls, darkness gives way to light, and lovely products surround you.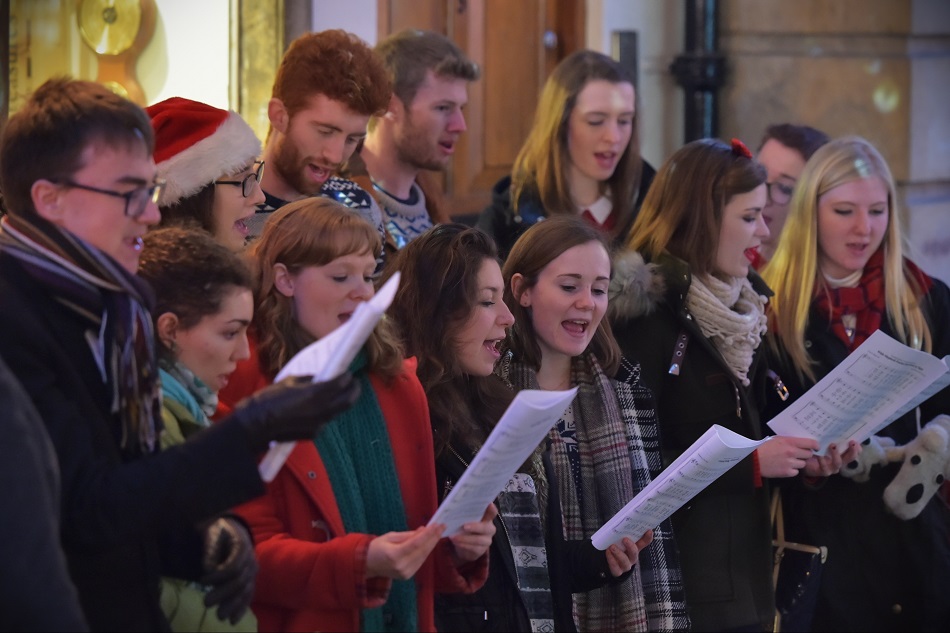 Whether you love or hate carollers at your front door, they certainly add something to the atmosphere of the Christmas market. What's a Christmas without Christmas music?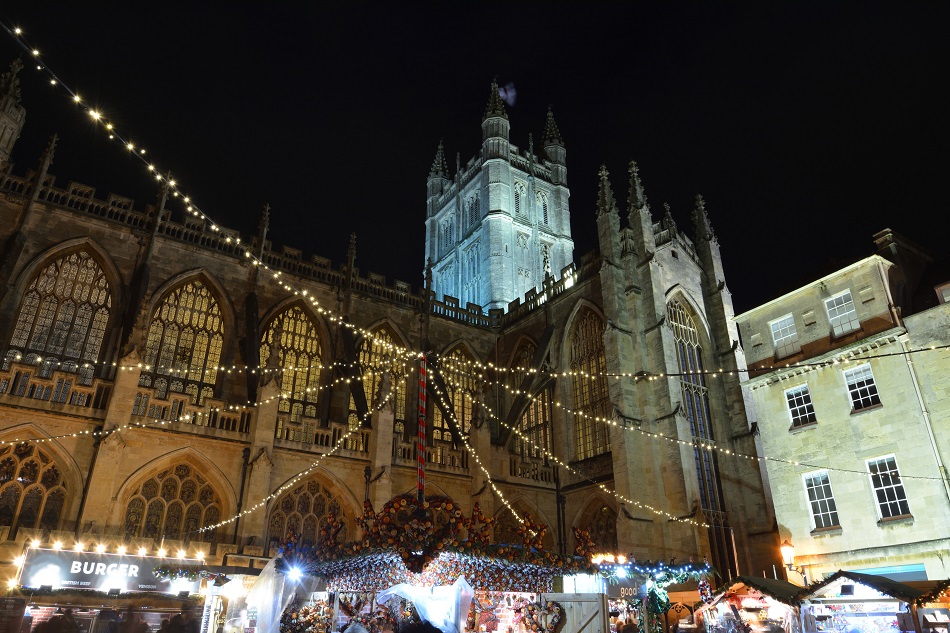 When the sun goes down, the market lights up. Against a backdrop of lovely, historic buildings, the city comes to life with holiday cheer.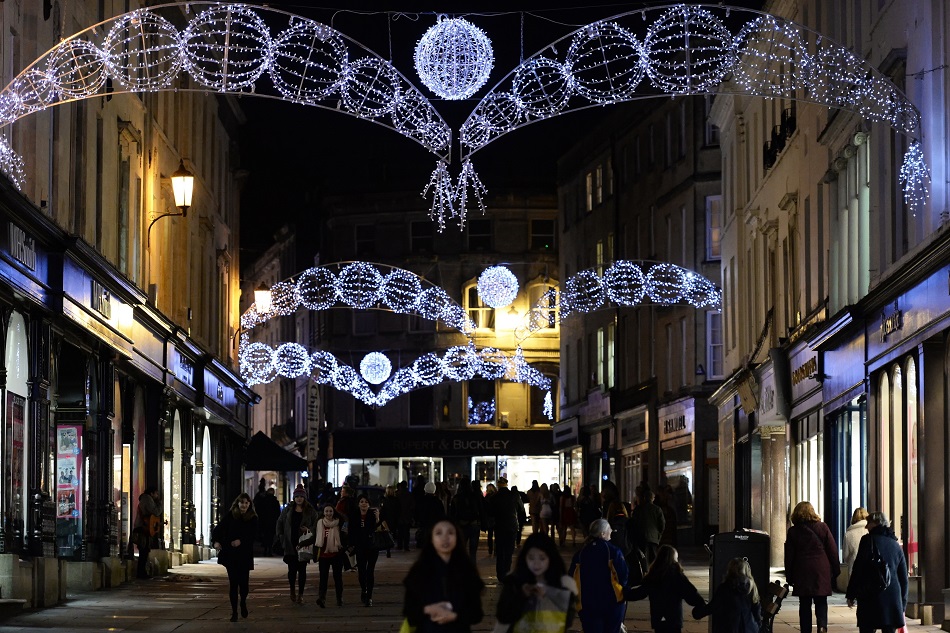 Nearby, streets full of shops are lines with Christmas lights.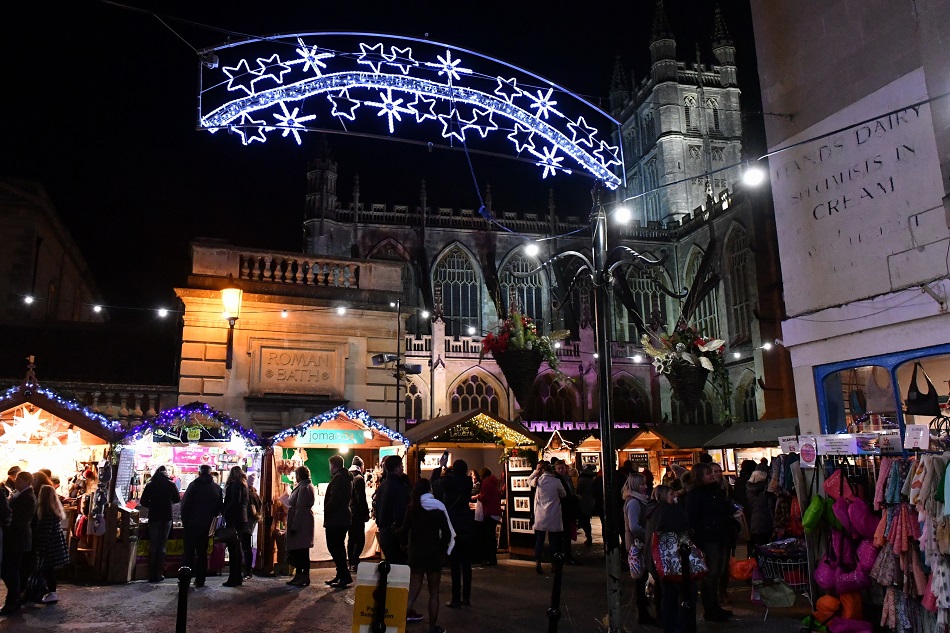 The normally dramatic Roman Bath looks positively subdued in comparison to its festive surroundings.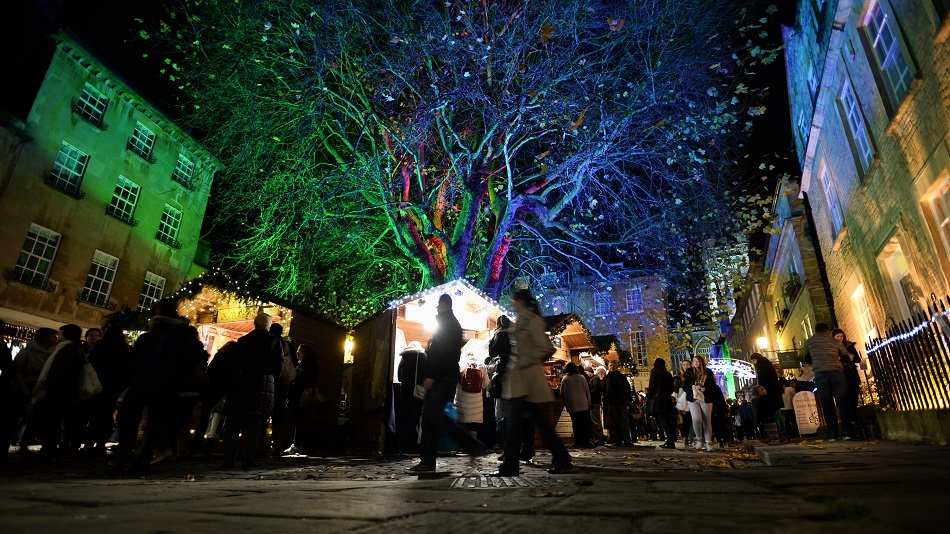 No matter what you do or buy or eat, the Bath Christmas Market is a magical celebration of the season, and one you won't soon forget (unless perhaps you're a jaded Bath native who's lost all sense of wonder about the lovely city you live in).
Want to See More of the Bath Christmas Market?
Why stop at photos? Below, we've embedded a couple of videos that show you around the market and let you look at more of the stalls. The footage isn't always great (some of it can be a bit shaky), but if you can't be there in person, it's the next best thing.
Grab a glass of mulled wine, get seated somewhere comfortable, and enjoy! Oh, and appreciate the one good thing about not being there in person – you're probably not freezing 🙂
Want More Christmas Market Posts Like This?
Let us know if you enjoyed this post – we can certainly put together more if we know people enjoy them.
Save it to Pinterest!