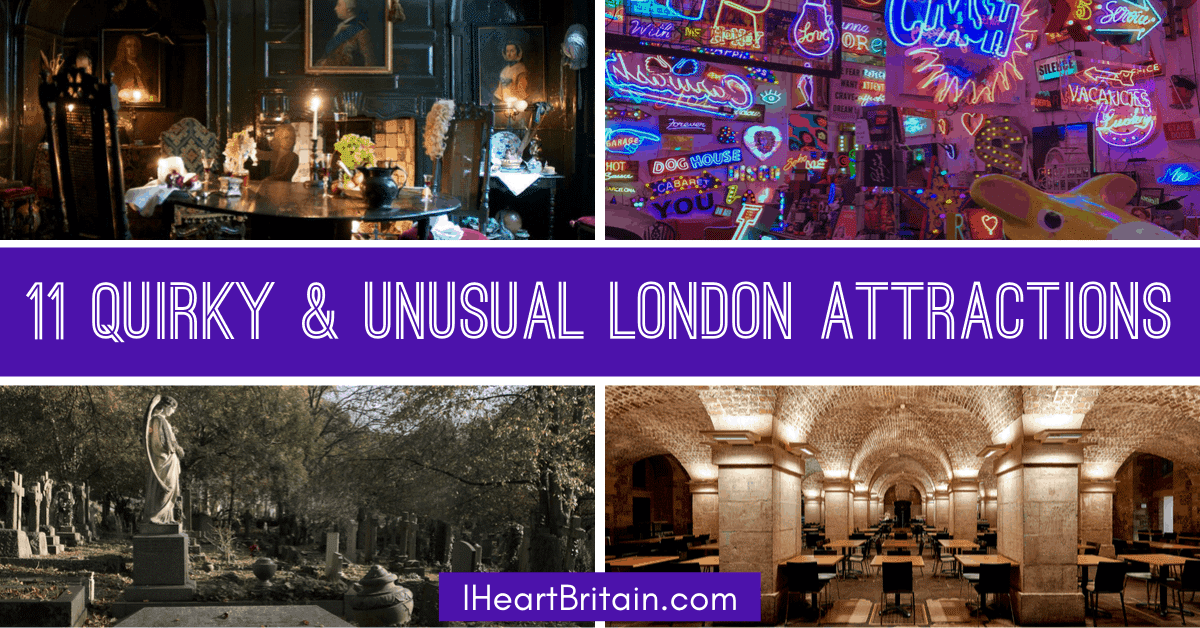 Whether you've been to London dozens of times before and you need something fresh, or it's your first trip and you don't feel like visiting Big Ben and the London Eye, there are plenty of interesting and unusual attractions in London. The best part is that when you're doing something off the "tourist trail", you generally find it's less crowded, more enjoyable, and you meet a lot of great, quirky people.
So, without further ado, let's get to the list…
11 Offbeat Activities & Attractions in London, England
1 | The Dennis Severs' House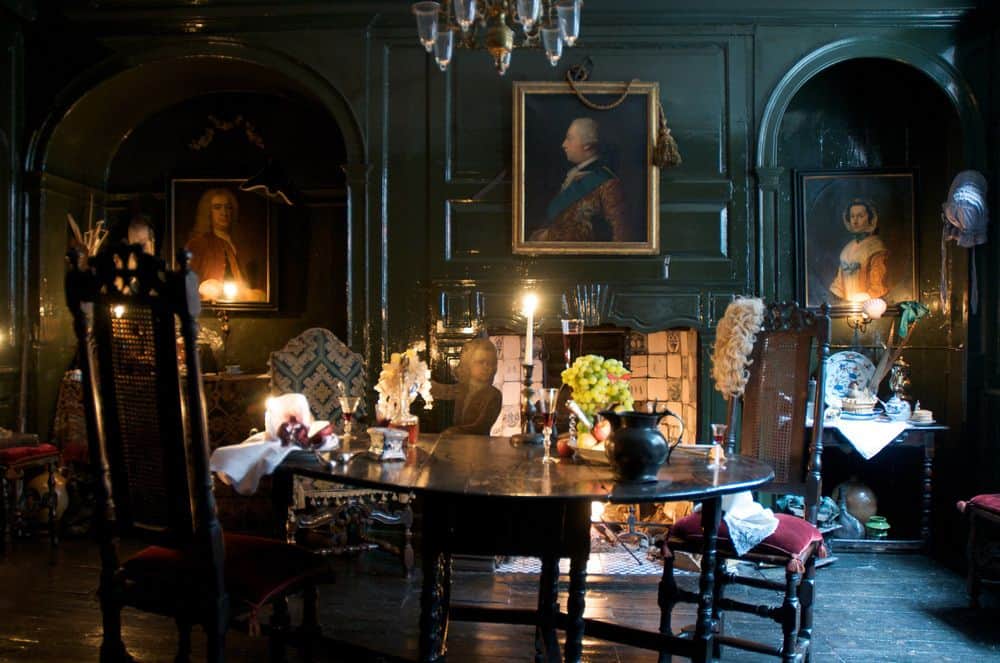 This unusual home calls itself a "still-life drama", and its a historical re-imagining of what life would have been like for a family of Huguenot silk weavers between 1724 and the dawn of the 20th century.
Your ticket buys you a mesmerising walk through a home that seems as though its inhabitants have only just left. Some reviewers call it "the closest thing to time travel". It's a fully immersive experience that engages nearly all of your senses.
One caution – be sure to book ahead online. It's the only way to guarantee your slot, and it will save you loads of time waiting or possibly getting turned away.
Website: Dennis Severs' House
2 | Visit Highgate Cemetery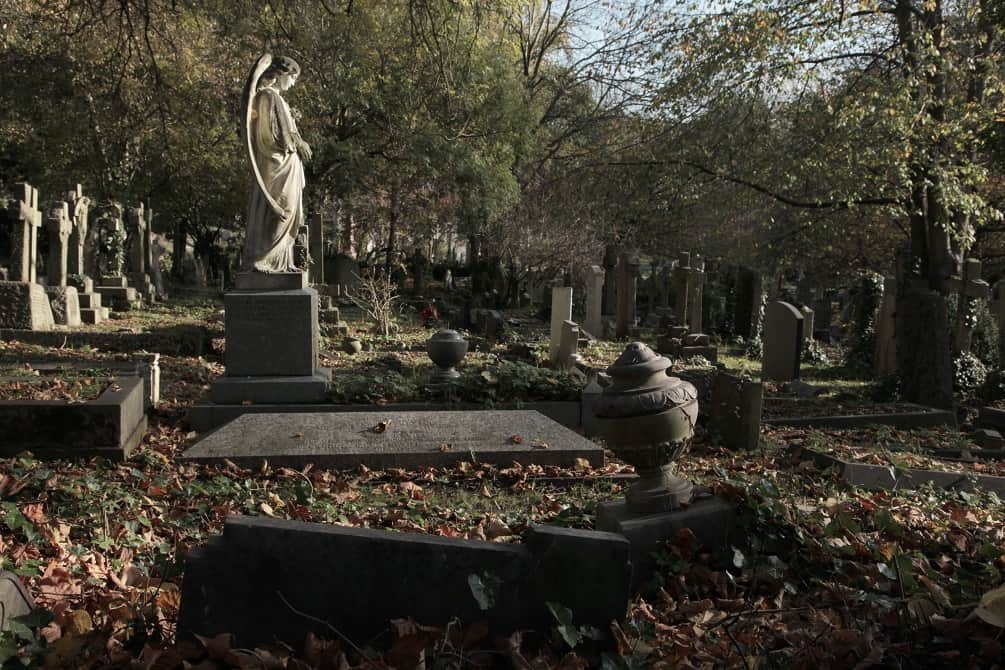 Highgate Cemetery is the eternal resting place of more than a few famous people – Douglas Adams, Karl Marx, Michael Faraday, and George Eliot, among others. It's also a beautiful, overgrown, historic oasis just outside the City of London. At one point, it was said to be home to at least one vampire.
Highgate is part of the Magnificent Seven, a group of cemeteries created in 1832 in an effort to move burials out of the increasingly crowded city center. The others are Kensal Green, West Norwood, Abney Park, Nunhead, Brompton, and Tower Hamlets. All are worth a visit if you're a lover of old cemeteries and you have the time to spare – but if you can only visit one, make it Highgate.
Anyone can visit the East Cemetery (where Karl Marx is buried) for a small fee. Admission to the West Cemetery is only permitted on tours. You can book ahead on their website to guarantee your spot.
Website: Highgate Cemetery
3 | Visit God's Own Junkyard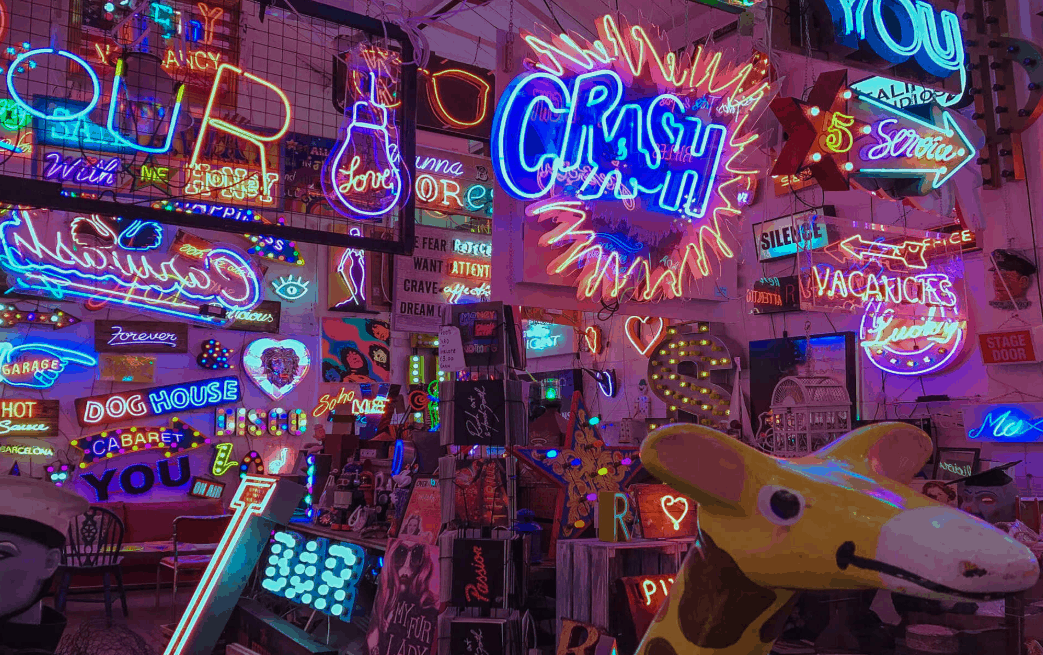 Yorkshire may be God's Own Country, but apparently, his junkyard is in London. This brings up so many opportunities for jokes, but we'll restrain ourselves. London and Yorkshire are both wonderful in their own, very different ways.
Anyway, if you find yourself in London with a bit of time to spare, head over to Walthamstow on the northeastern fringe of London. Here, you'll find God's Own Junkyard, a surreal outpost in a fairly drab, increasingly gentrified neighborhood. If you're American, you may have been struck by the relative dearth of bright signs and neon in the UK. I'm pretty sure that's because it's all here in God's Own Junkyard. It looks like something you'd find in a dusty storage unit on the outskirts of Las Vegas.
If you decide to visit, please note it's only open to the public on weekends, and there's a cafe on site for snacks, coffee, and adult beverages. Their website includes walking directions from the nearest tube station.
Website: God's Own Junkyard
4 | Visit the 300-Year-Old Twinings Tea Shop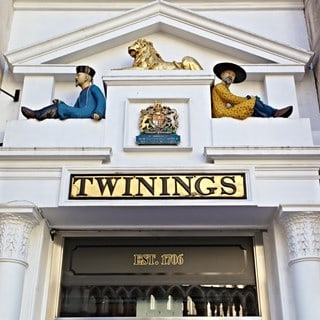 Though I'm more of a Taylor's of Harrogate girl myself, I can't deny there's something magical about buying tea in a shop that's sold tea for the last three centuries. Founded in 1706, the company's simple gold sign hasn't changed with time.
Twinings was granted a royal warrant back in 1837 by Queen Victoria, and just think of all the people who could have purchased tea there over the years – Charles Dickens, Daniel Defoe, Isaac Newton…even Jack the Ripper could have been sipping a nice Earl Grey before heading out to kill some fallen women.
Website: Twinings
5 | Afternoon Tea with Cats at Lady Dinah's Cat Emporium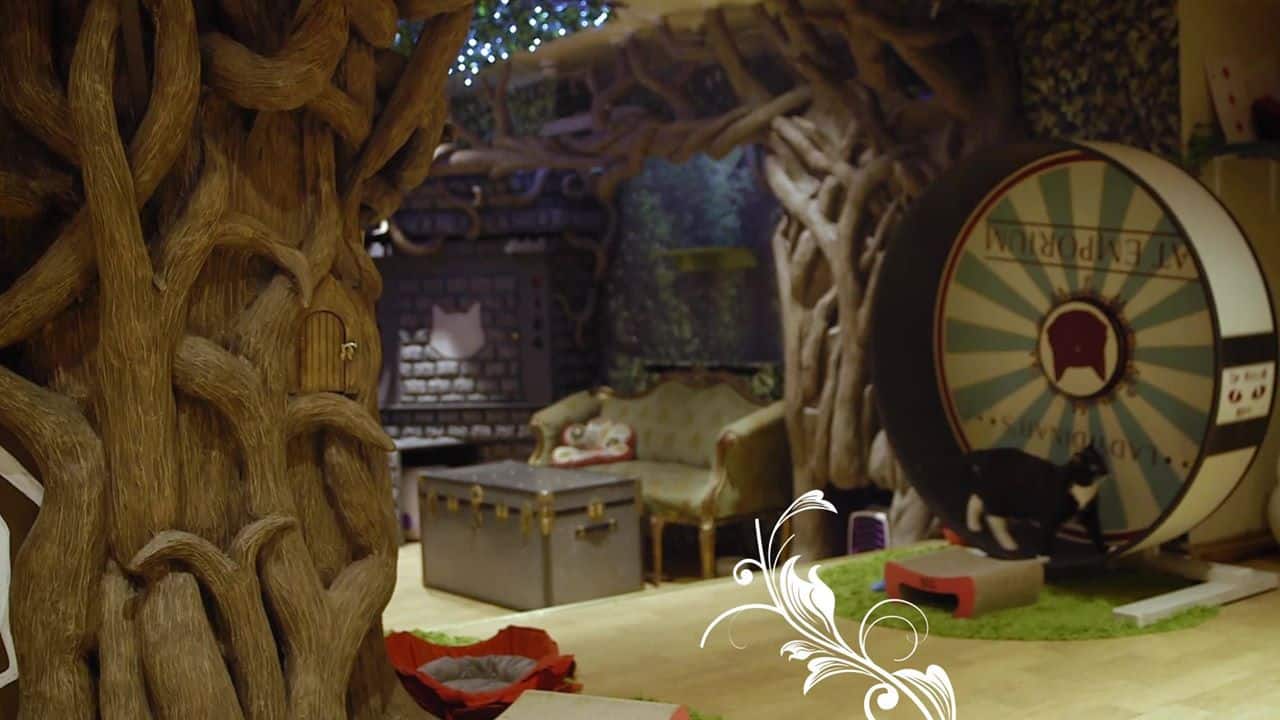 If Twinings is a bit too ordinary for you, no worries. You can crank up the odd factor by heading over to Lady Dinah's Cat Emporium, where you can enjoy a traditional afternoon tea…with cats. It's also a great way for traveling cat lovers to get their kitty fix while missing their own (though somehow, I always manage to meet at least a dozen street cats any time I'm traveling around the UK).
As you might expect of an pro-animal establishment, Lady Dinah's can accommodate both vegetarian and vegan diets, along with gluten-free options. If you want the full afternoon tea experience, be sure to book ahead. Otherwise, you'll be limited to the a la carte menu. Also, be sure to read the rules ahead of time. They're there to ensure the best possible experience for both you AND the cats.
Website: Lady Dinah's Cat Emporium
6 | Visit the Viktor Wynd Museum of Curiosities, Fine Art, & Natural History
Better known as the Last Tuesday Society shop, this is England's only museum of curiosities (which is actually kind of surprising). Exhibits have included things like taxidermied animals, two-headed kittens, erotica (we'll just leave it at that), fairy tale creatures, and pop art.
Full price admission includes a cup of tea upon request, but you can just as easily buy yourself a cocktail in their bar if you prefer. As one might expect, their offerings DO include absinthe. If you're headed over on a Saturday, be sure to get your ticket in advance, and make a reservation for the cocktail bar if you wish to imbibe. It's their most crowded day.
Website: Last Tuesday Society
7 | Take in the Magic Circle Museum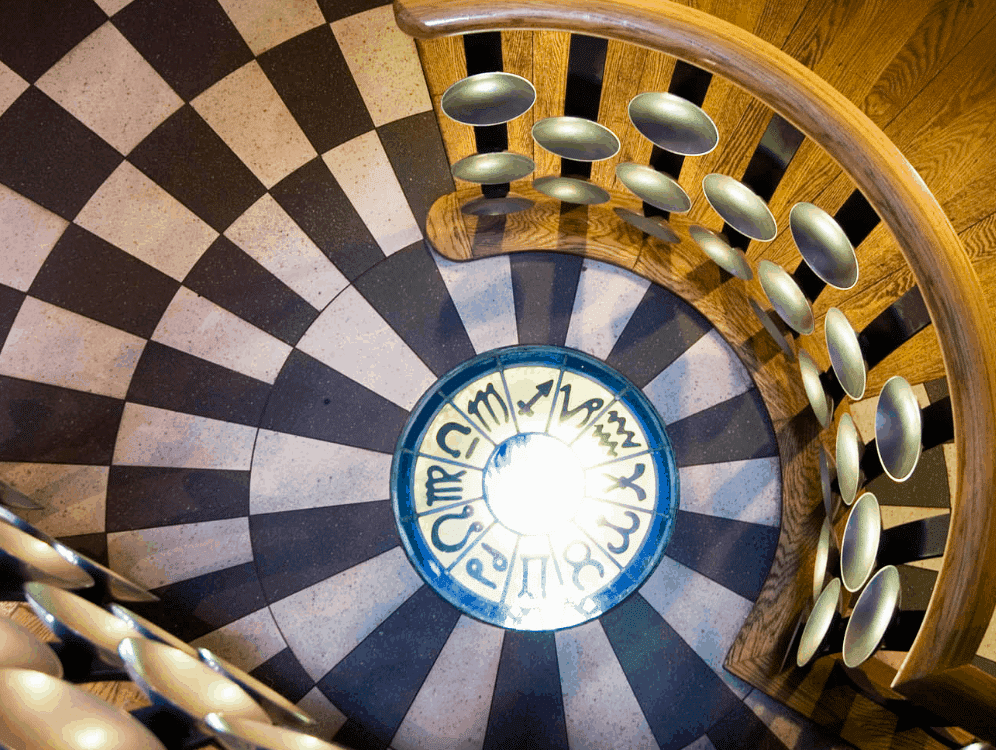 If you enjoyed Harry Potter or Jonathan Strange & Mr. Norrell, put this on your next London trip list. Britain's Magic Circle is a secretive group of illusionists founded back in 1905 – and Prince Charles was accepted into their ranks back in 1975. Their museum and HQ, however, is only around 20 years old.
Here, you can watch shows in their theatre, view books about the art of illusion, or simply take in the museum and its array of unusual artifacts. Among their exhibits, you'll find pieces of Houdini's act and the cup and ball trick Prince Charles used in his application for admission.
Unfortunately, visiting the Magic Circle Museum is not as simple as just stopping in. Their facility is only open via their events programme, and you'll need to check the schedule and buy tickets ahead of time. If you're going to be in London around the holidays, check for their annual Christmas show dates.
Website: Magic Circle Museum
8 | Dine in a Crypt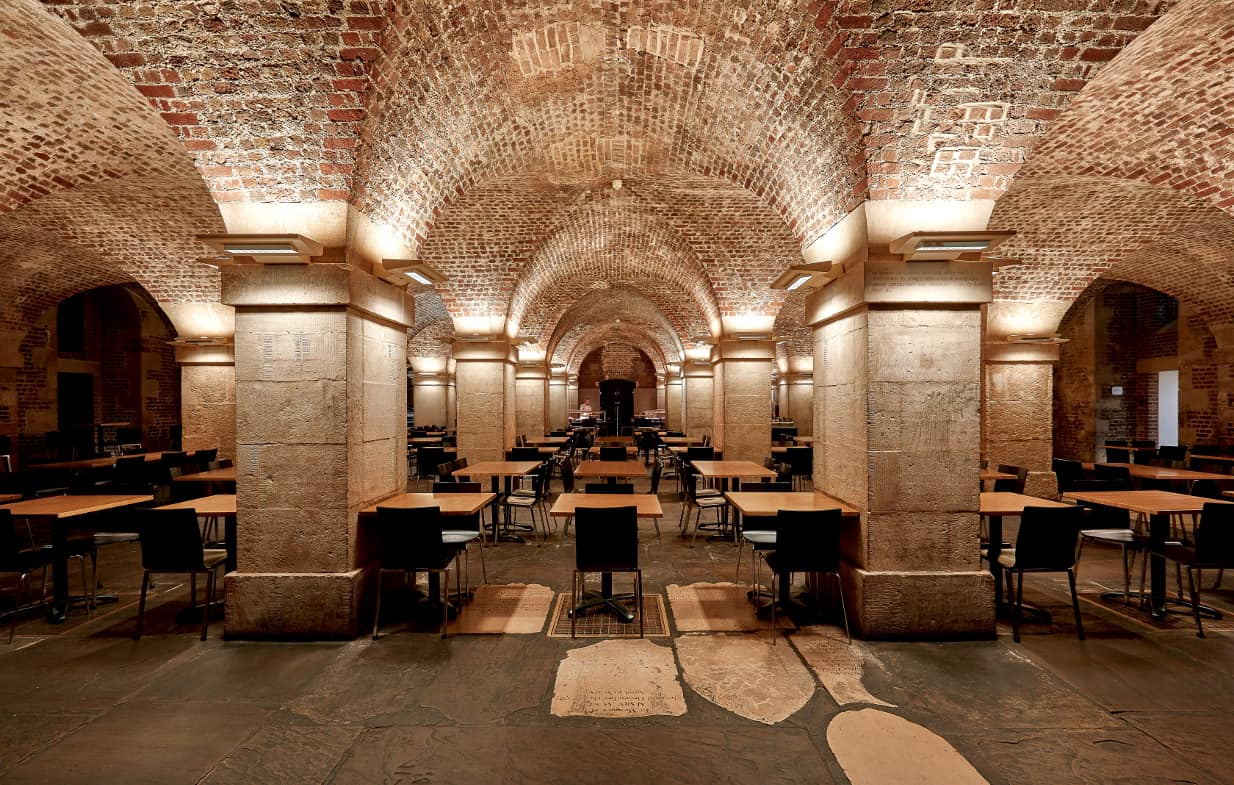 Most London tourists eventually make their way to Trafalgar Square, but only a handful find themselves in Cafe in the Crypt. This charming and unusual self-service cafe is located underground in a brick-vaulted church crypt, and it's a fun way to make your Trafalgar stop a bit more interesting.
The crypt is located in St. Martin-in-the-Fields, and all profits go to support their work. The offer a variety of home-cooked food, and prices are actually quite reasonable for London. Their afternoon tea is one of the cheapest I've ever seen, at just 10.95 GBP (+5 to add a glass of sparkling wine). It won't have the luxury of tea at the Ritz (they can get VERY busy), but it's a great way to enjoy an afternoon in London.
Website: Cafe in the Crypt
9 | Stock Up at Hoxton Street Monster Supplies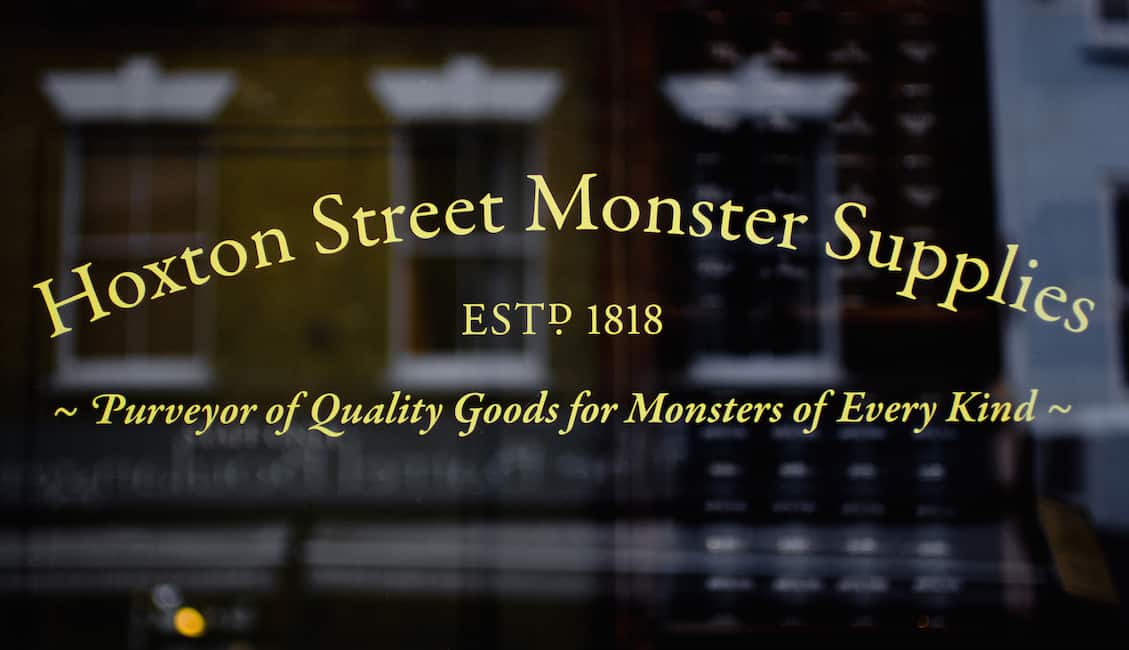 Though fun for all ages, this one's a particularly good stop if you'll be traveling with kids in tow. They sell all sorts of playful goodies, including cubed ear wax, fang floss, dragon treats, toasted bone chunks, petrified mice, and tins of fear. If you can't make it in person, they also have an online shop.
All profits go to the Ministry of Stories, a creative writing charity for kids. Who knows – by stopping in and making a purchase, you might be helping to fund the education of the next J.K. Rowling.
Website: Hoxton Street Monster Supplies
10 | Sleep on a Yacht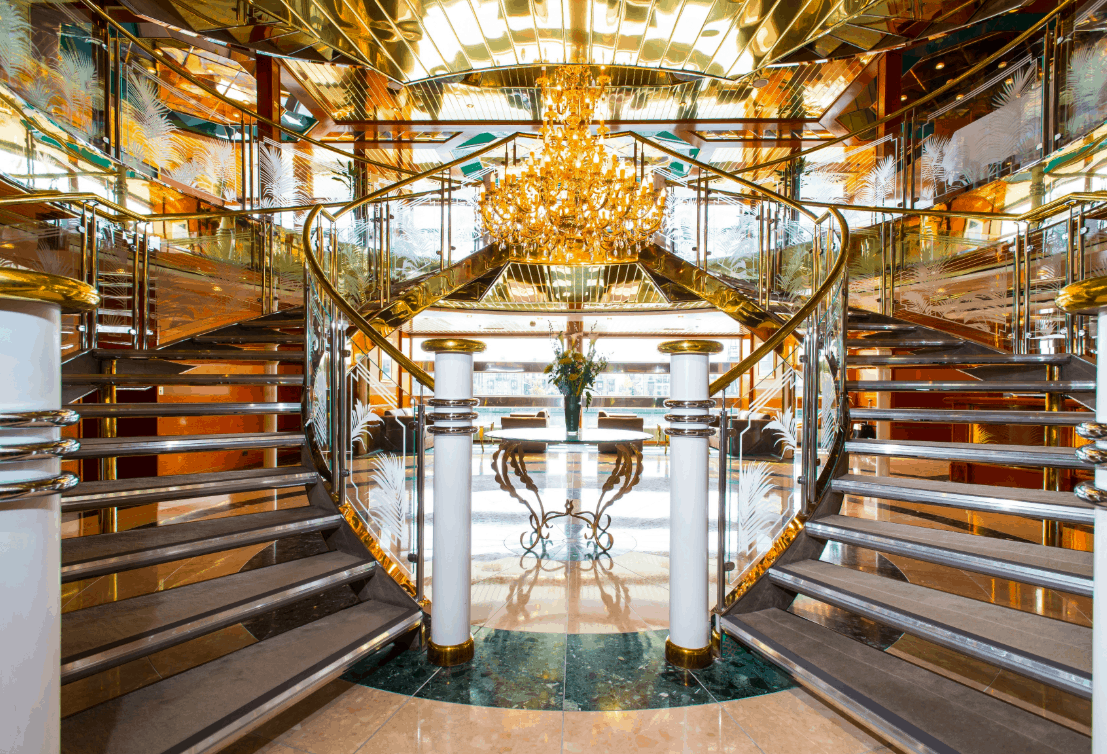 An unusual trip to London deserves some unusual lodgings, and that's exactly what the Sunborn Hotel in London provides. This luxurious yacht hotel is located in the London docklands, and they offer a level of luxury that's on par with many land-based luxury hotels.
If you're not so sure about sleeping on a yacht, you could also just stop in for afternoon tea, dinner, or a visit to their champagne and cigar lounge. Bear in mind, it's not the kind of place you'd go in a ball cap and trainers – I'd recommend at least smart casual.
Website: Sunborn Hotel London
11 | Stop by 221B Baker Street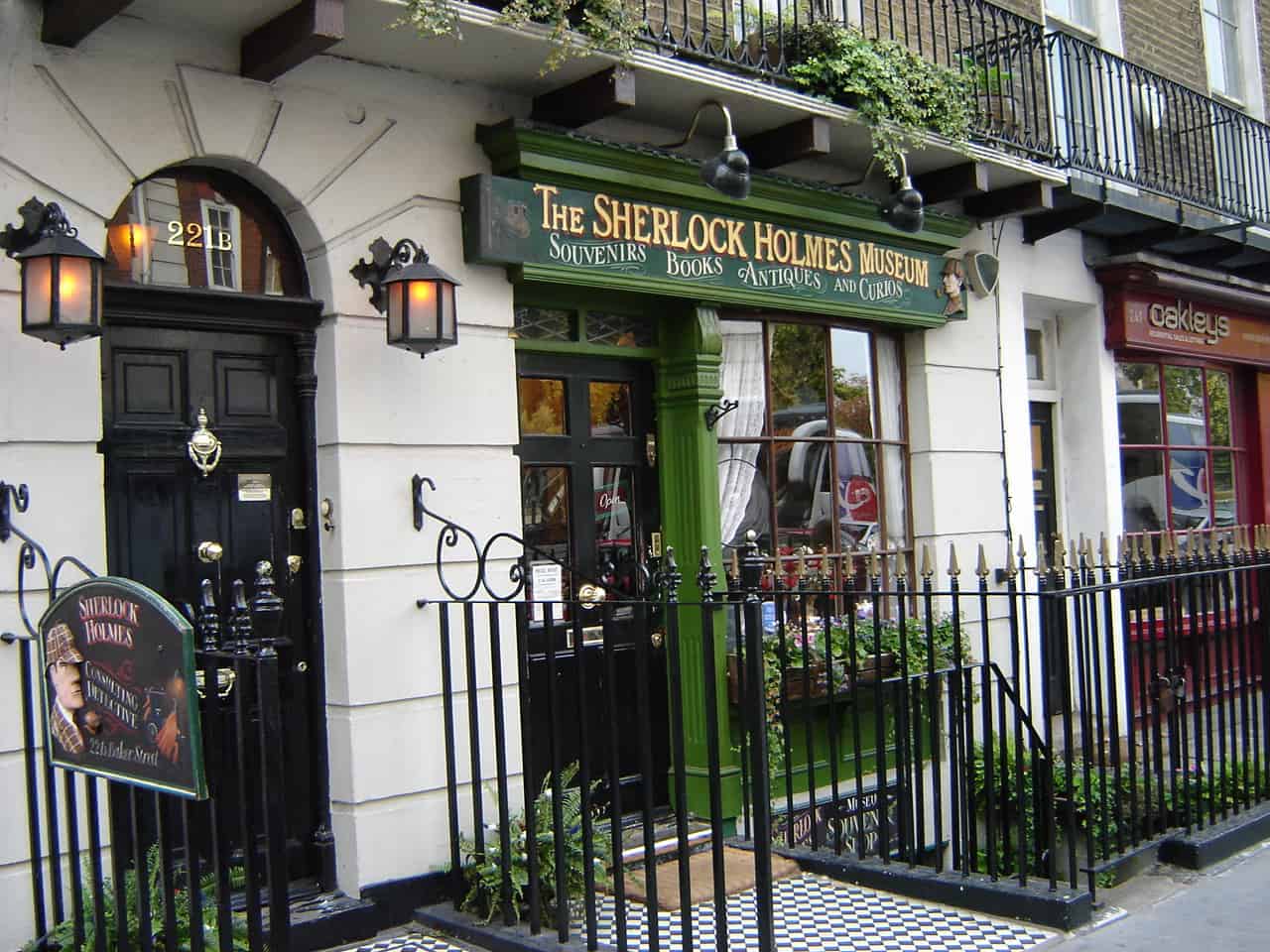 Back when Sir Arthur Conan Doyle was writing his Sherlock Holmes stories, there was no 221B Baker street. It's assumed he didn't want to put a real address into his stories and cause trouble for the owners of the address. By the 1930s, however, Baker Street had been extended and it was home to the Abbey National Building Society. They received enough fan mail and misguided requests for assistance that they actually hired someone to handle the correspondence.
In 1990, the Sherlock Holmes Museum opened up a few doors down from the real 221B Baker Street. Though they were actually located at 237-241 Baker Street, they were soon granted the 221B address by the Westminster City Council. It caused a bit of chaos for the 15 years when both the Abbey National and the museum were in operation, but in 2005, Abbey National left their building and the museum was granted sole rights to the number. It's the only street in London where you'll find a building number out of order.
Though it wasn't always the case, the popularity of the Benedict Cumberbatch adaptation of Sherlock has made this attraction fairly popular. It's not Big Ben and Tower of London popular, but you may still have a bit of a wait, especially during busy tourist months.
Website: Sherlock Holmes Museum
What's Your Favourite Offbeat or Unusual Attraction in London?
In a city the size of London, there are dozens, if not hundreds of unusual activities and attractions to keep a person busy. This is just the tip of the iceberg.
Save it on Pinterest!