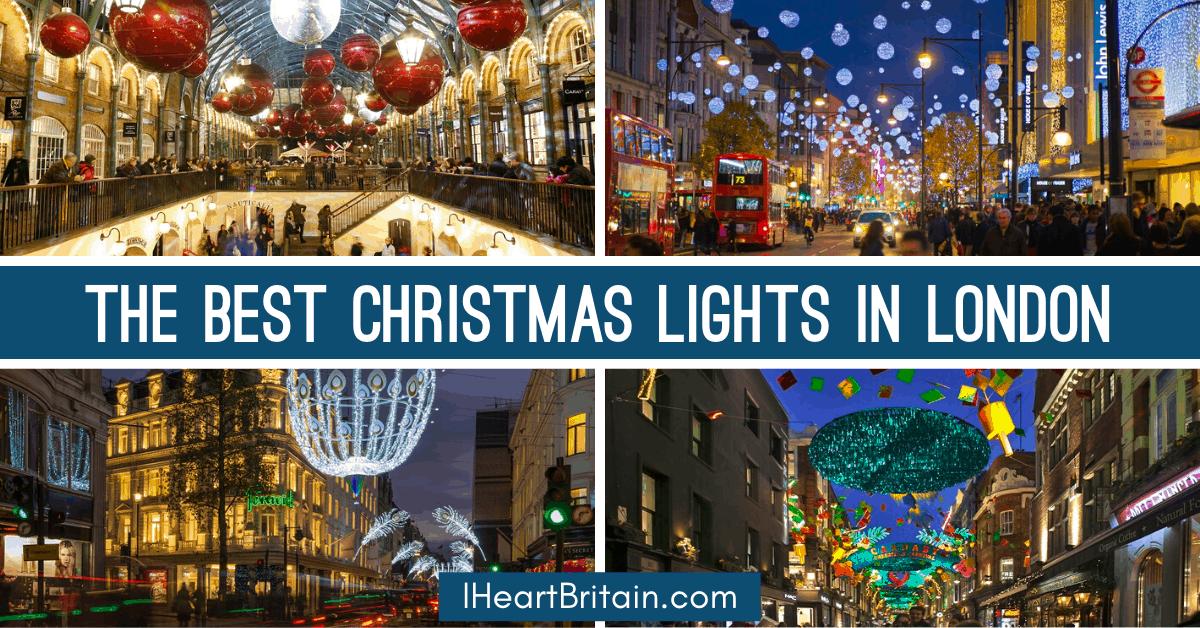 Though most people prefer to travel to the UK during spring, summer, and autumn, there are a number of distinct advantages to traveling in the winter. Many traditional tourist attractions (like museums) are less crowded, airfare tends to be cheaper, and you'll often spend less on hotels.
The best part of visiting the UK in winter, though, is Christmas. If you visit between late November and Christmas Day, you'll be treated to festive store displays, a plethora of Christmas markets, and in London, you'll find incredible light displays all over the city.
Whether you're heading to London this year or you just want to look at the pretty lights and dream, we've gathered up some of the best Christmas light displays in London for your viewing pleasure.
The Best Places to See Christmas Lights in London
To make your Christmas lights viewing extra special, check out the Lights & Sights Tour from the London Transport Museum. For a small fee, you can ride in one of their heritage buses (not heated, so bundle up) and tour the lights of spots like Regent Street, Covent Garden and Piccadilly Circus. You can check out a short promotional video for their tour below:
Oxford Street Christmas Lights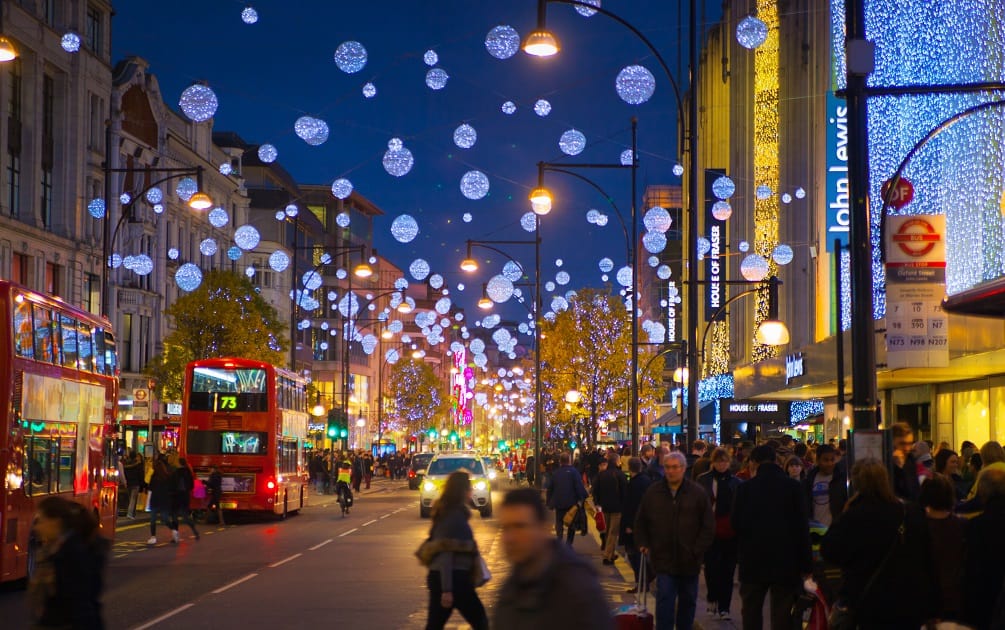 London's Oxford Street is a particularly magical place during the holidays. Their lights display is world-famous, and the buzz on Oxford Street is almost palpable as shoppers squeeze past one another in search of the perfect gift.
We've not yet seen an official "on" date for the Oxford Street Christmas Lights, but it's generally in early November. They're nearly always the first major display to go on.
Covent Garden Christmas Lights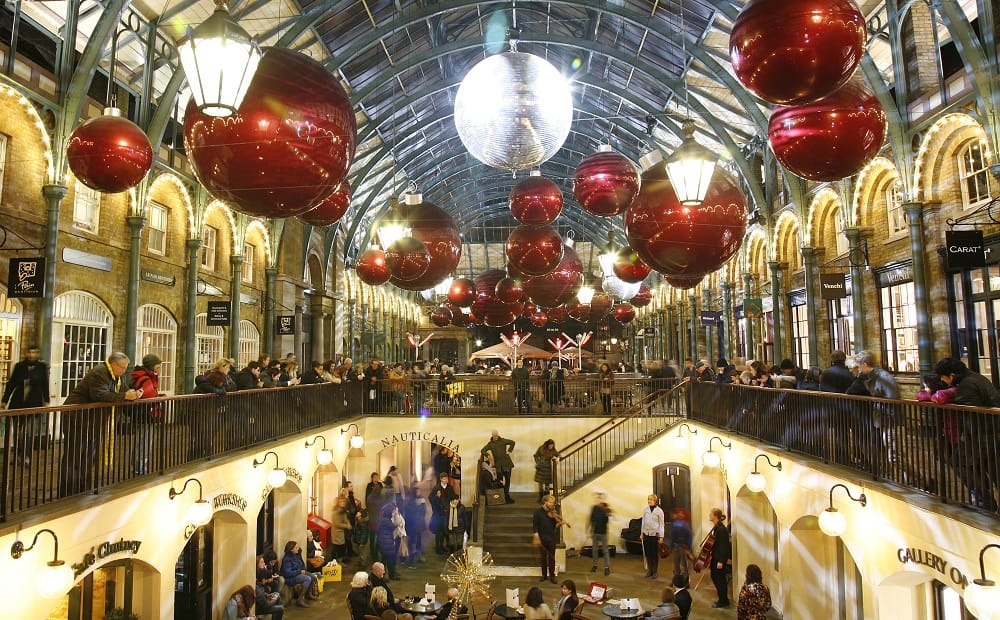 This year, Covent Garden will turn on its holiday lights on Tuesday, the 12th of November at 5:30pm. If you're traveling with a sweetheart, I definitely recommend a stop – the place will be festooned with more than 40 mistletoe chandeliers, along with more than 320 metres of garlands and roughly 100,000 pea lights inside the historic Market Building. Outside, Covent Garden's world-famous Piazza will again be home to London'slargest hand-picked Christmas tree.
Carnaby Street Christmas Lights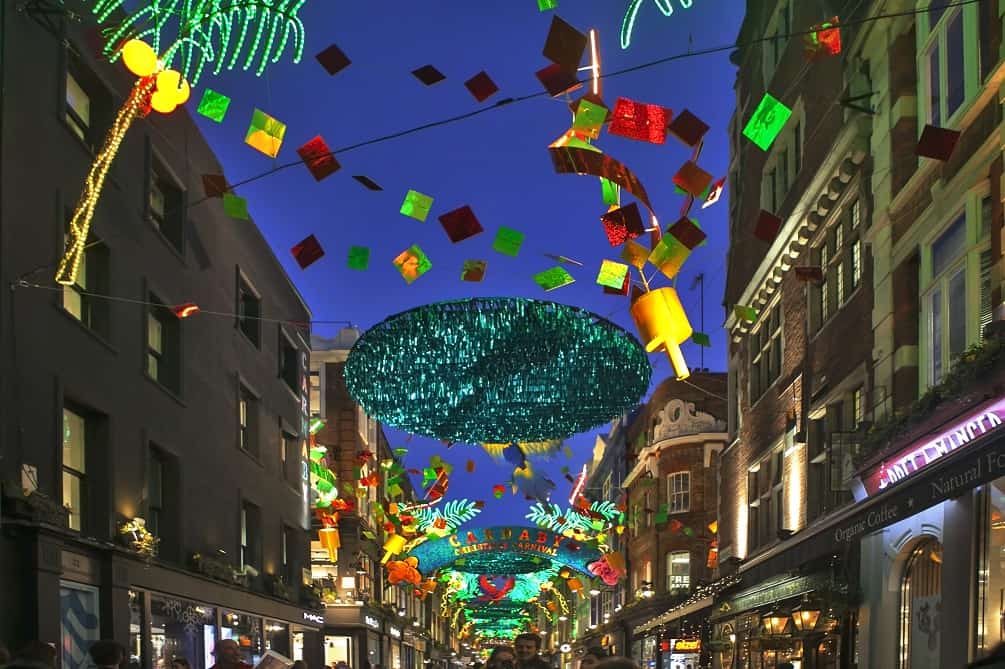 Carnaby Street has a reputation for hosting some of London's wildest Christmas light displays, with past displays including tropical themes and even a neon display inspired by Queen's Bohemian Rhapsody.
For 2019, Carnaby Street has partnered with ocean conservation charity Project 0 to create a sustainable display. Expect sparkling underwater scenes, a floating kelp forest, bright pink coral, a 5-metre long whale that blows bubbles, giant clusters of jellyfish and 200 illuminated vampire squid. This year's display has been created using recycled and reusable materials that include re-purposed fishing nets, 500m of used bubble wrap and more than 1,500 recycled plastic bottles.
The switch-on will happen at 6pm on Thursday November 7th.
Bond Street Christmas Lights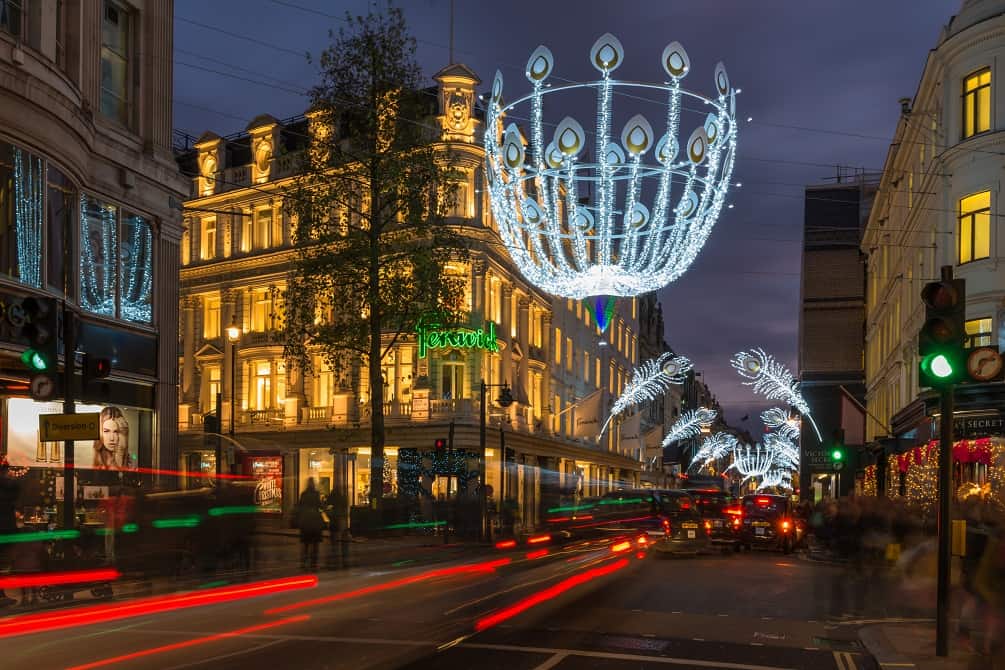 Bond Street's 2018 display was a vibrant, fun display of peacock feathers, mimicking the stylish men of the past who used to fill the street. There's no official date for 2019 just yet, but we'll keep looking. They usually go on in mid-November.
The Seven Dials Christmas Lights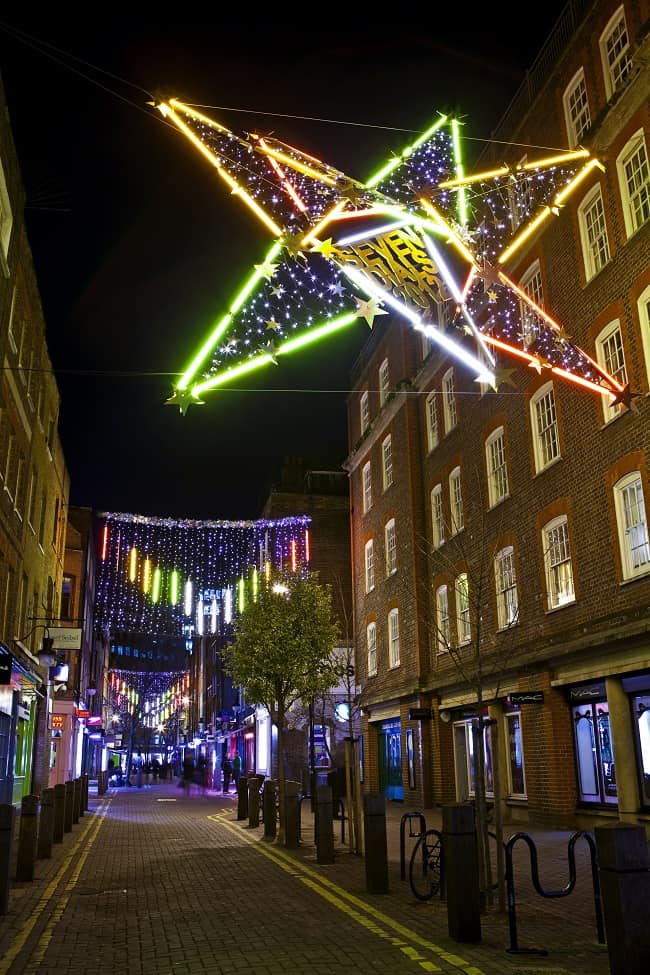 On November 14th, the seven streets of The Seven Dials will light up, starting at 6:30pm. The surrounding streets will be traffic free for the night.
Regent Street Christmas Lights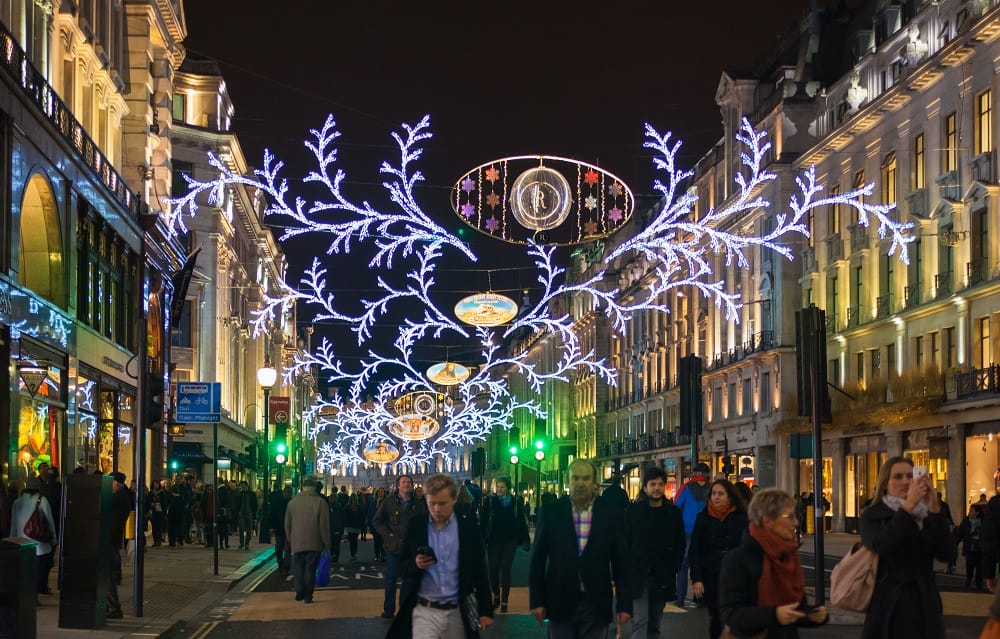 Roughly a mile from The Seven Dials, Regent Street will also be turning on its lights on the 14th of November. Regent Street is where the over-the-top Christmas lights tradition started back in 1954, and their famed angel display will be returning again in 2019. It's expected the street will again be closed to cars during the switch-on festivities.
https://www.instagram.com/p/BrlcdSjnGnm/
Chelsea Christmas Lights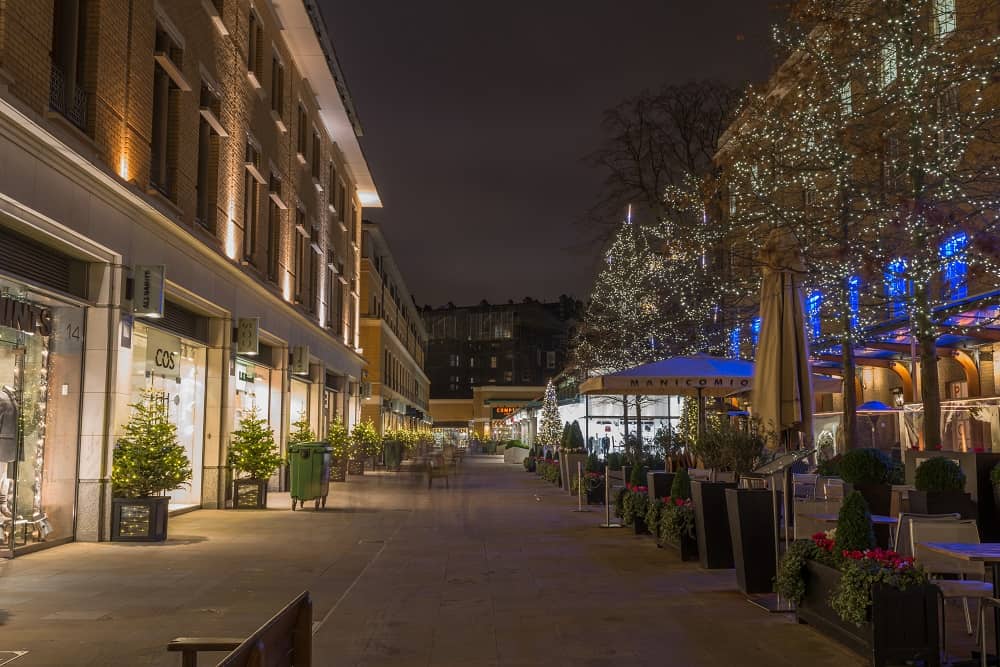 Chelsea is getting a new light display this year, with brand new gateway displays to  be unveiled on King's Road, consisting of lights inspired by the crown of King Charles II, for whom the road was originally built.
The Chelsea switch-on is happening Saturday 23 November, and there will be carol singers, performers and other free festive entertainment around the area starting at 2pm.
Will You be Visiting Any London Christmas Lights this Winter?
Are you going to be in London for the holidays? Will you check out any of the lights displays? And if so, let us know which ones are most calling to you!
Save it to Pinterest!