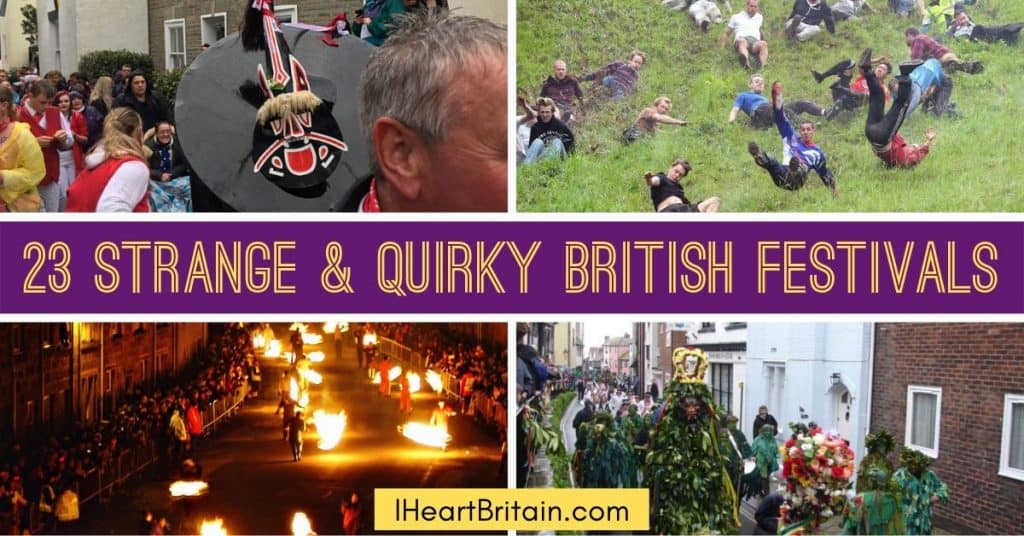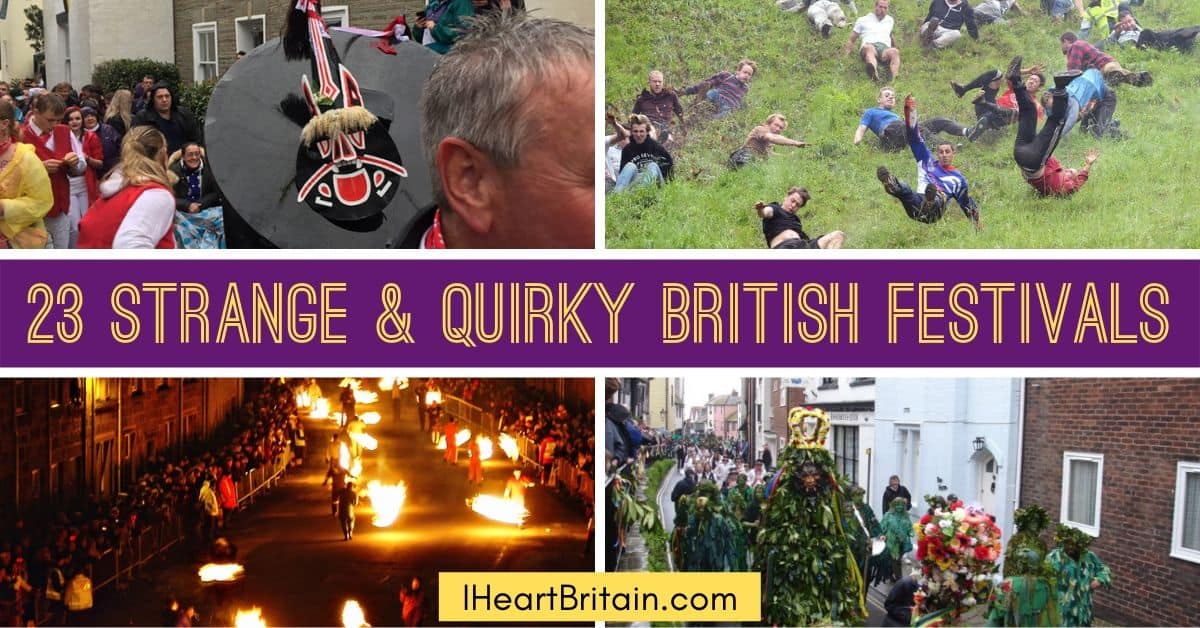 Maybe it's all the rainy days, or maybe it's the fact that the UK is a nation of islanders, but they really do know how to make life interesting. The United Kingdom is home to some of the world's quirkiest festivals, and each year you'll find hundreds, even thousands of excited Brits chasing cheese down hills, toe wrestling, and running around with sacks of wool – among other things.
Below, we've gathered up 23 of the strangest British festivals. Should you find yourself near one on a future trip, we highly recommend working it into your itinerary. It doesn't even matter which one – they're all strange and delightful in their own way, and there's not a one we wouldn't wholeheartedly recommend.
JORVIK Viking Festival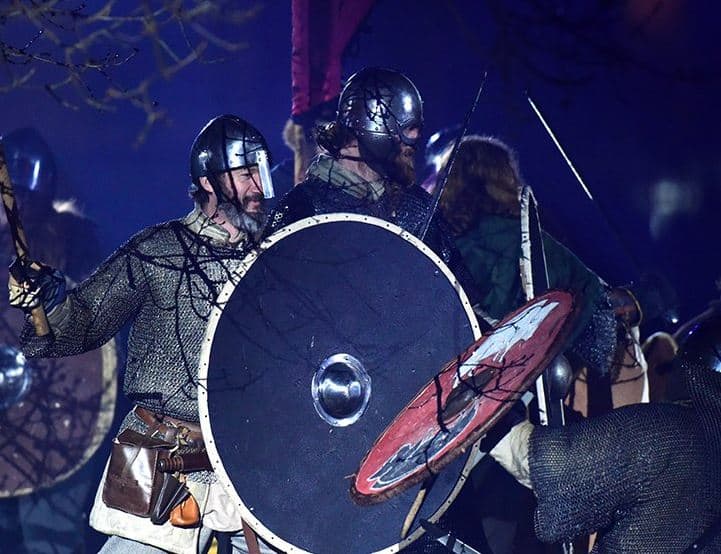 Where: York, North Yorkshire, England
When: Annually in February
This annual festival of York's Viking heritage features a variety of living history encampments, markets, talks, combat performances, and tours around the city. While York's historic centre always has a pretty strong Viking vibe, this February celebration takes it from its usual level of, say, 8…and pushes it up to at least a 12 out of 10. If you've ever wanted to feel like you're inside a brutal historic drama, put this festival on your travel bucket list.
Clovelly Seaweed Festival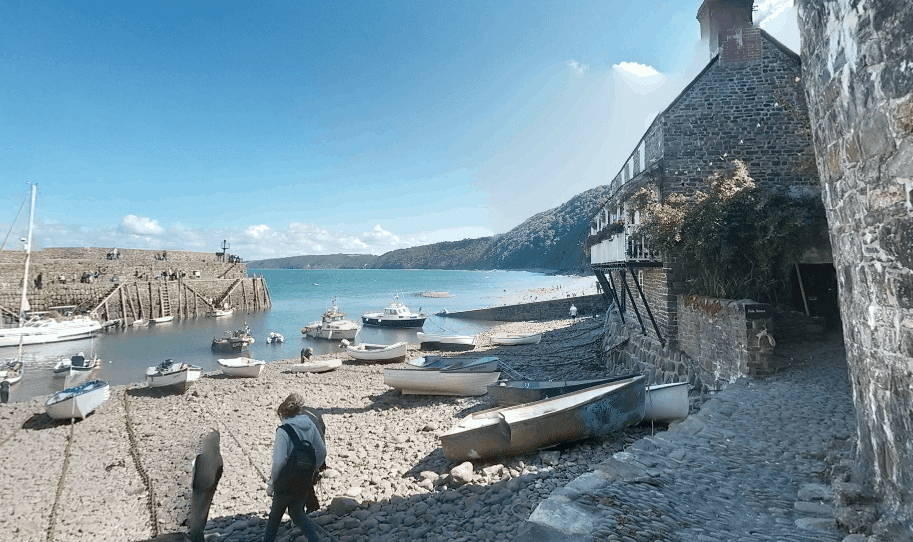 Where: Clovelly, Devon, England
When: Late May
If you've watched many British travel shows, you've almost definitely seen the incredible seaside village of Clovelly. This north Devon coastal village features a steep pedestrianised cobblestone street, donkeys and sleds to takes things up and down, and a fee for tourist entry. It remains privately-owned to this day, and you can't buy a home there unless you actually intend to live in it.
Though Clovelly gets a steady stream of tourists, that spikes in late May when they hold the annual seaweed festival. The festival not only celebrates seaweed as a nutritious food, but also a versatile product that can be used in arts and crafts. Even if you're not a fan of eating seaweed, it's worth a day out for the scenery, sea air, and all the crafts, music, and workshops on offer. The festival is put on in aid of the North Devon Hospice, so you're also helping a good cause.
World Stinging Nettle Eating Championship
https://www.instagram.com/p/ByYHyE1J_pO/
Where: Marshwood, Dorset, England
When: The Saturday before summer solstice in June
If you eat stinging nettles without boiling away the mildly poisonous hairs that cover the plant, your tongue will swell up and blacken. Parts of your body that come into contact with the hairs can develop an itchy rash.  So of course, the Brits decided to make a festival where you try to strip and eat as many stinging nettle leaves as possible.
At the World Stinging Nettle Eating Championships, the 2018 male champion Phil Thorne (perfect name, btw) consumed 104 feet of stinging nettles, while the female champions Mel Long and Rachel Woods each ate around 61 feet of the painful plants.
The Whittlesea Straw Bear Festival
Where: Whittlesea, Cambridgeshire, England
When: The Tuesday following Plough Monday (the first Monday after the twelfth night of January)
This three-day Cambridgeshire harvest festival includes Mummers plays, street performances, costumed Morris dancers, and people wearing giant piles of hay – along with a giant "bear burning".
Many unfamiliar with British festivals will be startled to see that a good number of the revelers use blackface makeup as part of their costumes. Though often considered highly racist in modern industrialized cultures, the tradition is said to originate with impoverished 16th-century farm workers who used black paint to disguise themselves when they had to go out begging during harsh winters (though some scholars have offered less innocent explanations). If you're curious, you can read more in this Independent article about the tradition.
The Padstow 'Obby 'Oss
https://www.instagram.com/p/BiPr7hvnnl6/?utm_source=ig_web_copy_link
Where: Padstow, Cornwall, England
When: May Day
Nearly 200 years ago, C.S. Gilbert (not to be confused with W.S. Gilbert of the famed duo, Gilbert and Sullivan) wrote about an annual May 1st jubilee in Padstow, known as the Hobby Horse. Though the tradition has evolved a bit, it continues on today, starting at midnight each April 30th. They start by singing to the landlord of the Golden Lion Inn, then carry on around the town until the wee hours of the morning.
Throughout the next day, people display flowers and tree branches around the town, and festivities continue all through the day until ending around the maypole at midnight. The main identifying feature of the festival is the obby oss, of which there are two. It's a bit difficult to explain these unusual horse costumes, but you can see one of them in the photo above. They dance and parade around the town, and people take turns teasing the oss.
World Bog Snorkeling Championships
https://www.instagram.com/p/BJr6Q53jKJb/
Where: Llanwrtyd Wells, Wales
When: Each August bank holiday since 1985
When most people think about places to snorkel, they imagine tropical beaches and brightly-coloured fish. In the UK, however, there's a set of people who go straight for the nearest peat bog.
Each year, Wales is home to the World Bog Snorkeling Championship, and event that sees its participants don snorkels and flippers to complete two consecutive lengths of a trench cut through a peat bog. Llanwrtyd Wells, Wales is recognized as the origin point for bog snorkeling, dreamt up during a pub conversation back in 1976. Since then, it's spread to countries like Australia, Ireland, and Sweden – enough places that I suppose it makes sense to have a "World Championship".
Stonehaven Fireballs
Where: Stonehaven, Aberdeenshire, Scotland
When: Hogmanay (New Year's Eve)
All over Scotland, New Year's Eve is celebrated in a different and dramatic fashion. For starters, it's not "New Year's Eve" in Scotland. It's Hogmanay. Fire is a chief component of many celebrations, but Stonehaven kicks it up a notch.
At midnight in the coastal town of Stonehaven, dozens of Scots move through the High Street, whirling balls of fire as they go. Bagpipes, drums, shouting, and sparks flying about – what could be a better way to ring in the new year?
The Yorkshire Pudding Boat Race
Where: Brawby, North Yorkshire, England
When: Varies, but it's mostly annual and in the summer (it appears there was no race this year)
The Yorkshire Pudding Boat Race is another one of those strange festivals dreamt up in a pub. Brawby artist Simon Thackray thought it might be fun to sail down a river in a giant Yorkshire pudding, so he chatted with a local baker and make it happen.
The boats used in this race are real Yorkshire puddings of flour, water, and eggs, but they're coated in yacht varnish to make them seaworthy.
The World Gravy Wrestling Championships
Where: Rossendale, Lancashire, England at The Rose 'N' Bowl
When: Annually in August
For more than a decade now, this event has been held at the Rose 'N' Bowl in Rossendale to benefit the East Lancashire Hospice (along with a number of competitor-selected charities). Contestants wrestle in a pool full of Lancashire gravy for two minutes, with points awarded for fancy dress, entertainment factor, and overall wrestling ability. Alongside the main event, you'll also find a variety of food stalls, performances, vendors, and kid activities.
Events occur throughout the day, and the local fire brigade helps to hose down wrestlers in between rounds.
The Egg Throwing World Championships

Where: Swaton, Lincolnshire
When: On Swaton Vintage Day, typically late June
The World Egg Throwing Championship is hosted annually during Swaton Vintage Day, a festival originally intended to showcase a variety of vintage vehicles. Though its vintage country show still occurs, the egg throwing activities have gained some prominence, overshadowing the old cars, tractors, and motorbikes just a bit.
In addition to the vintage vehicles and thrown eggs, the Swaton Vintage Day events also feature a novelty dog show (with categories like waggiest tail and "dog most like owner"), aviation demonstrations, a tea tent, a variety of vendors, and plenty of activities for kids and families.
Cooper's Hill Cheese Rolling
W
Where: Cooper's Hill, Brockworth, Gloucester, England
When: Annually, on the spring bank holiday
It's a simple event, really. A 7-9 pound wheel of Double Gloucester cheese is sent rolling down a hill, then people chase after it. The first person to reach the bottom wins the cheese. In recent years, the cheese has actually been replaced by a styrofoam replica, as the real cheese would build up a dangerous amount of momentum at 70 mph, occasionally threatening the safety of spectators.
What started out as a quirky little event for the village of Brockworth has now transformed into an international media circus. It's even been mentioned in shows like ER and the Gilmore Girls.
International Festival of Wormcharming
Where: Blackawton, Devon, England
When: Annually in early May
In 1983, Dave Kelland and a mate were having a drink in The Normandy Arms pub on miserable, wet day. On the way home, Dave relieved himself on the ground and saw worms surface. Somehow, these things led him to believe it would be a good idea to hold an event to see who can charm the most worms out of the ground. Though it started as more of an adult event in 1984, it has  since become fun for the whole family.
How does it work? Everyone gets a 1 metre x 1 yard plot, and you get 5 minutes for the "worming up" phase, where you're allowed to do whatever you feel will get worms to come out (short of digging, forking, or pouring hazardous liquids onto the ground). From there, each team gets 15 minutes to get as many worms as possible before judging and returning them safely to the ground.
In addition to the main event, they also have a fancy dress competition, novelty dog competition, and loads of food and entertainment. You can view the official event website HERE.
Summer/Winter Solstice at Stonehenge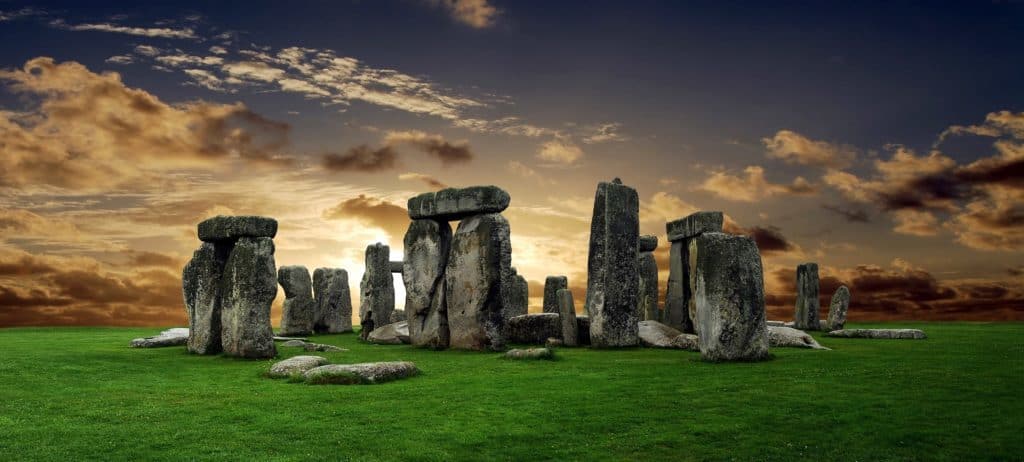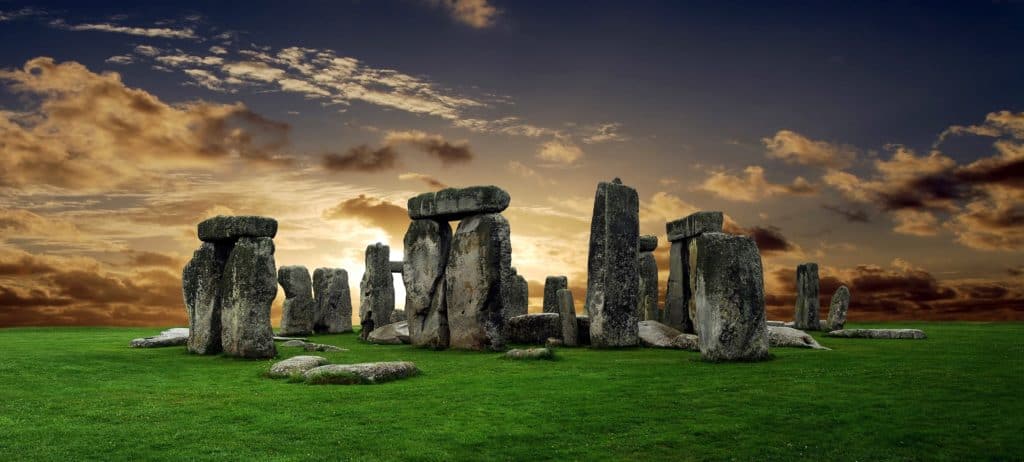 Where: Stonehenge, near Amesbury, Wiltshire, England
When: Solstice dates
It's believed our ancestors built Stonehenge to align with the movements of the sun, guiding their year and framing important celestial events – the midwinter sunset at the winter solstice and the midsummer sunrise at the summer solstice.
Today, thousands of make the trek to Stonehenge on these dates. For some, it's a religious experience. For others, it's a chance to share an experience with people long dead. Some just enjoy the energy of the crowd or the chance to be out in nature. Regardless, a solstice at Stonehenge is an incredible event – and the only time people are allowed to stay out all night among the stones.
World Toe Wrestling Championship

Where: Ashbourne, Derbyshire, England
When: Annually, early summer
At the World Toe Wrestling Championships, competitors sit with their bare feet in a square ring, then lock big toes and attempt to wrestle the other person's foot to the sideboard of the designated area. It's a strange event, and it's perhaps the only sport where nurses inspector the toes of competitors for fungus and hidden weapons. It's part skill, part strength, and part psychological warfare.
Oh, and you need to be willing to strain your back and break a few toes while you're at it. If you're still interested after hearing all that, you can learn more HERE.
Kettlewell Scarecrow Festival

Where: Kettlewell, North Yorkshire
When: Annually in mid-August
Once each year, scarecrows take over the small village of Kettlewell in North Yorkshire (not far from the market town of Skipton). There are themed trails with clues, activities for kids and families, and more food than you could ever possibly hope to eat – but mostly, there are scarecrows. Lots and lots of scarecrows.
Jack-in-the-Green Celebration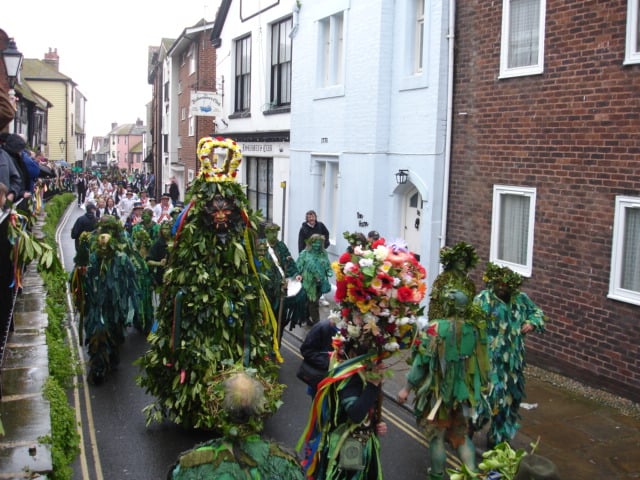 Where: Hastings, East Sussex, England
When: May Day
If you're a Jethro Tull fan, you've probably heard of Jack-in-the-Green. You may not know where the phrase comes from, though. Jack-in-the-Green started back in the 18th century as a part of May Day celebrations, ushering in the summer season. Originally, it was quite a bawdy affair, with a Lord and Lady of the May carrying out practical jokes, and everyone generally having a wild time. Eventually, a pretty May Queen replaced the Lord and Lady, and the whole thing became much more subdued.
In the 1970s and 80s, though, the tradition was brought back to life. Most notably, 1983 brought the Jack-in-the-Green Celebration to Hastings. Jack marches through the city, covered in leaves and twigs and generally looking like some kind of humanoid shrub. In some places, he's accompanied by attendants representing Robin Hood and Maid Marion. In Hastings, he's accompanied by Bogeys (Bogeymen) disguised in green rags, vegetation, and green-face.
At the end of the procession, Jack is slain to release the spirit of summer.
Hunting of the Earl of Rone

Where: Combe Martin, Devon, England
When: Annually during the May bank holiday weekend
Each year, the residents of Combe Martin spent a weekend "hunting" the Earl of Rone, who isn't found until Monday. On Monday, the Earl is paraded around on a donkey, then shot, then revived, then shot again and revived, and so on – until sunset, when he's chucked into the sea as the sun sets.
If you think that sounds completely mental, you're not alone – and that's before you add in the hobby horse and drums. It's all in good fun, though, and any surplus funds donated during the event go to good causes in the area.
Nutters' Dance

Where: Bacup, Lancashire
When: Annually on Easter
Perhaps the most misunderstood and controversial entry on this list is the Britannia Coco-Nutters dance troupe. These Lancastrian clog dancers go out each Easter and dance 7 miles across the town of Bacup. The dancers don blackface, often attributed to the Cornish miners who came to the area – though some sources say it was a disguise to ward off evil spirits. Some consider them to be quite inappropriate in this day and age, but others are glad to see they're carrying on the tradition in spite of those who misinterpret their intentions.
Tichborne Dole

Where: Tichborne, Hampshire, England
When: Annually on March 25th
Many years ago in the village of Tichborne, sometime around 1150, a wealthy old woman on her deathbed stipulated that a donation of farm produce should be shared with the poor each year. That lady was Mabella Tichborne. Supposedly, her husband didn't approve and said the dole would only consist of land she could encircle on her own while carrying a burning torch. Though in poor health, she crawled around a 23-acre field which is now known as "the crawls".
Old Lady Tichborne is said to have put a curse on the family and the dole, stating that if the dole ever stopped, the family would have seven sons, and then the next generation would have seven daughters – leading to the end of the family name and title. The dole continued from the 12th century up until 1796, when local officials ordered the dole to stop. It was attracting all manner of undesirables for freebies, and they didn't like it.
Sure enough, bad things started to happen. Part of the house crumbled. Then came seven sons, followed by a generation of seven daughters. Though the dole was reinstated, bad things continued to happen. Eventually, the last male hair to the title died off in the 1960s.
The dole continues today, but now they hand out flour instead of bread.
Up Helly Aa

Where: Lerwick, Shetland, Scotland
When: The last Tuesday of January
Up Helly AA is a fire festival held annually in Shetland, and though it's often associated with Lerwick, it actually occurs in a number of locations throughout the Shetlands. The current festival grew out of an old tradition of young men dragging flaming tarred barrels around, getting drunk and causing mischief – and the current celebration is actually not too far from it.
If you can brave the long trip and cold, windy weather, it's not to be missed.
Twelfth Night

Where: Bankside, London, England
When: Approximately January 6th, annually
This festival occurs on the Twelfth Night, though the exact day can vary based on day of the week. A Holly Man (winter version of the Green Man) bedecked in greenery comes in over the Millennium Bridge, accompanied by mummers and wassailers. They perform a traditional play featuring St. George, and then cake is handed out. The individuals who find the concealed King bean and Queen pea in their cakes are crowned King and Queen for the day, and then everyone heads for the George Inn for more revelry.
The event is free, and it occurs no matter what the weather is like.
Whitby Goth Weekend

Where: Whitby, North Yorkshire, England
When: Twice yearly in April and October/November
Whitby Goth Weekend is a festival of music and weirdness that converges on the town of Whitby twice annually. Goths and steampunks and other unconventional types flood the town that inspired Bram Stoker to write Dracula. There's music, food, and plenty of unusual shopping – not to mention stunning seaside scenery and a sense of camaraderie among oddballs.
Tetbury Woolsack Races

Where: Tetbury, Gloucestershire (in the Cotswolds)
When: Annually, in late May
In the small Cotswold town of Tetbury, there's an annual race to carry a 60-pound wool sack while racing up a relatively steep hill (35-pounds for women). The annual tradition is rooted in the town's history as an important wool market between Oxford and Bristol, and while the wool trade is no longer what it once was, they still honour their past with this quirky race.
Each year, people gather in Tetbury to drink, run with wool sacks, and generally have a good time. There's often a celebrity guest, and there are loads of stalls and activities for spectators. Like many, if not most of these types of events, the proceeds benefit nearby charities.
Which Strange British Festival Would You Most Like to Attend?
Let us know in the comments – and if we've missed any, feel free to add them!
Save it to Pinterest