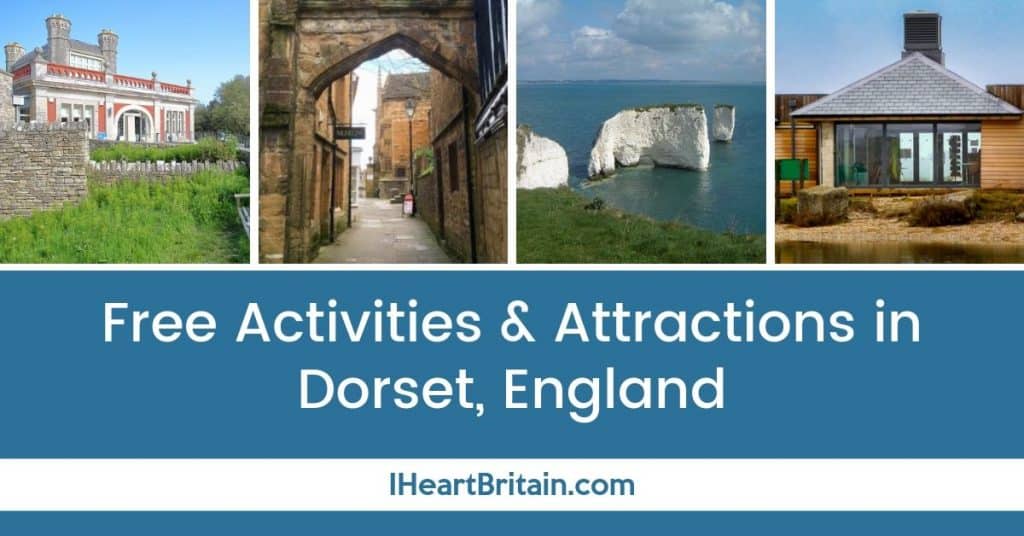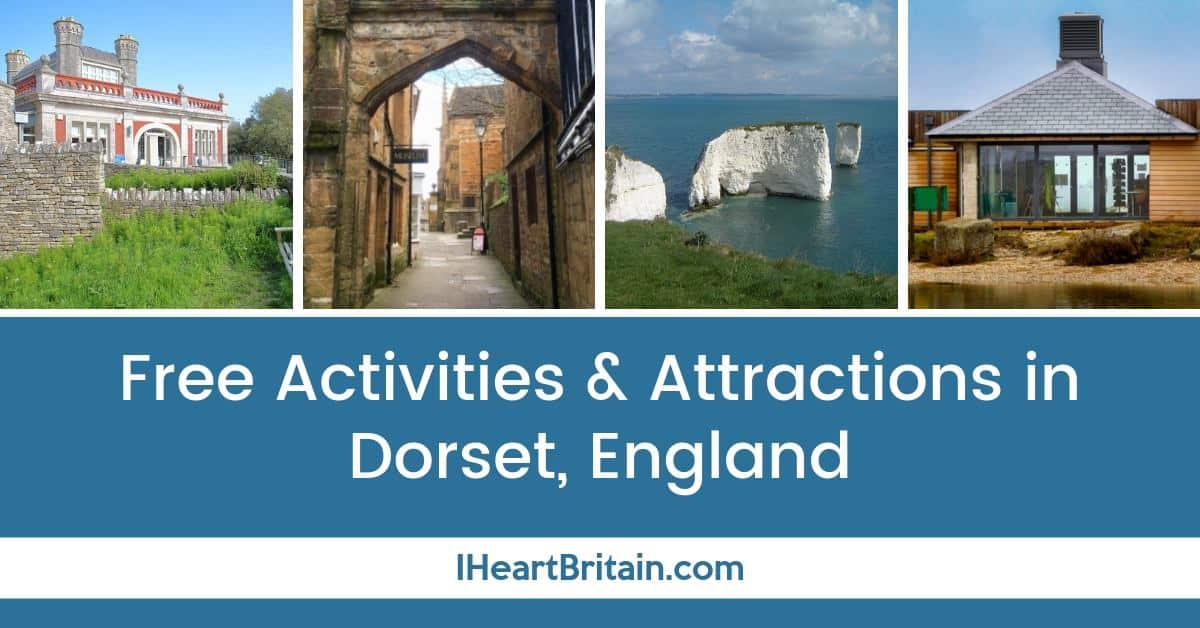 The United Kingdom can be an expensive place to travel, but it doesn't always have to be. If you enjoy history and nature, it's totally possible to plan loads of free activities all over the country. It's true you'll miss out on some of the most impressive stately homes or tourist traps or fancy afternoon teas – but you really don't HAVE to do those things to have a wonderful time.
While we'll eventually have guides for free activities in every county in England, we're looking at Dorset today. This gorgeous coastal county has more than its fair share of sea air and incredible scenery, along with plenty of free attractions and activities to keep you busy.
Wherever possible, we've included accessibility information for those readers who are concerned about getting around.
Dorset is also the location for the TV series Broadchurch, so you might also enjoy checking out some of the filming locations for Broadchurch.
Looking for more free activities around England?
13 Free Things to do in Dorset, England
Christchurch Castle & Norman House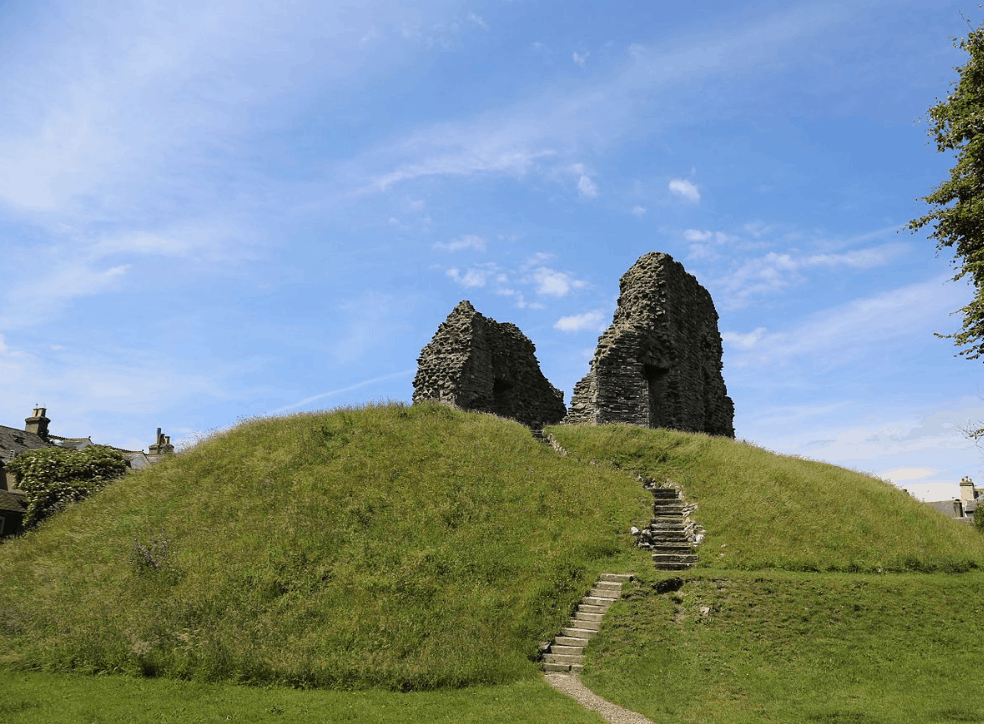 Christchurch Castle is believed to stand on the site of a wooden fort dating back to 924 AD, which was later adapted and fortified until it became a less-ruined version of the structure we see today. Today, the site features the ruins of some of the keep walls  and a rectangular moat.
Also on the site is the old Norman Constable's House, built around 1160 AD. It features the oldest Norman chimney in England, one of only 5 remaining.
The site is maintained by English Heritage.
Hours: Open any reasonable time during daylight hours
Address: High Street, Christchurch, Dorset, BH23 1AS
Accessibility: Partial. There is a dirt path around the base of the keep, suitable for buggies and wheelchairs. There is a climb for those who wish to get closer, and that is not handicap accessible.
Website: https://www.english-heritage.org.uk/visit/places/christchurch-castle-and-norman-house/
Maiden Castle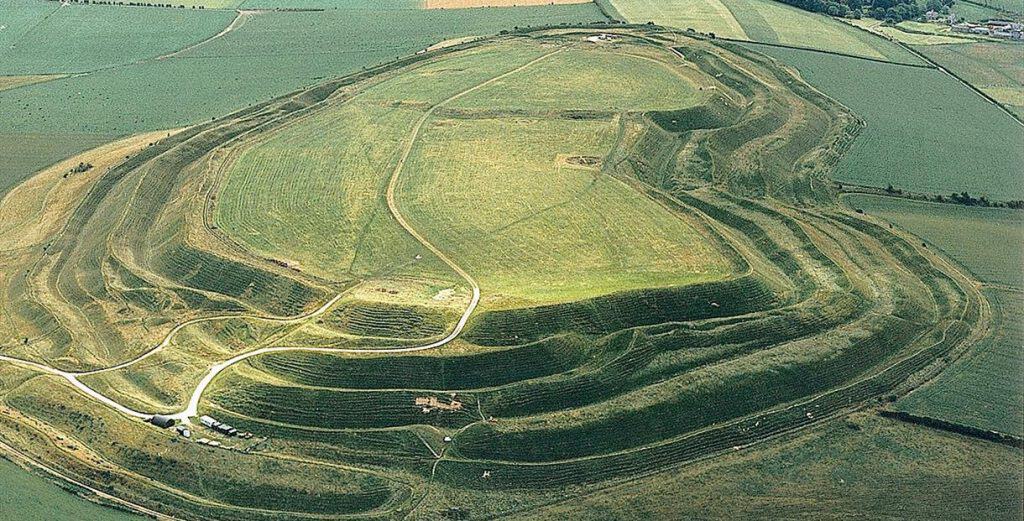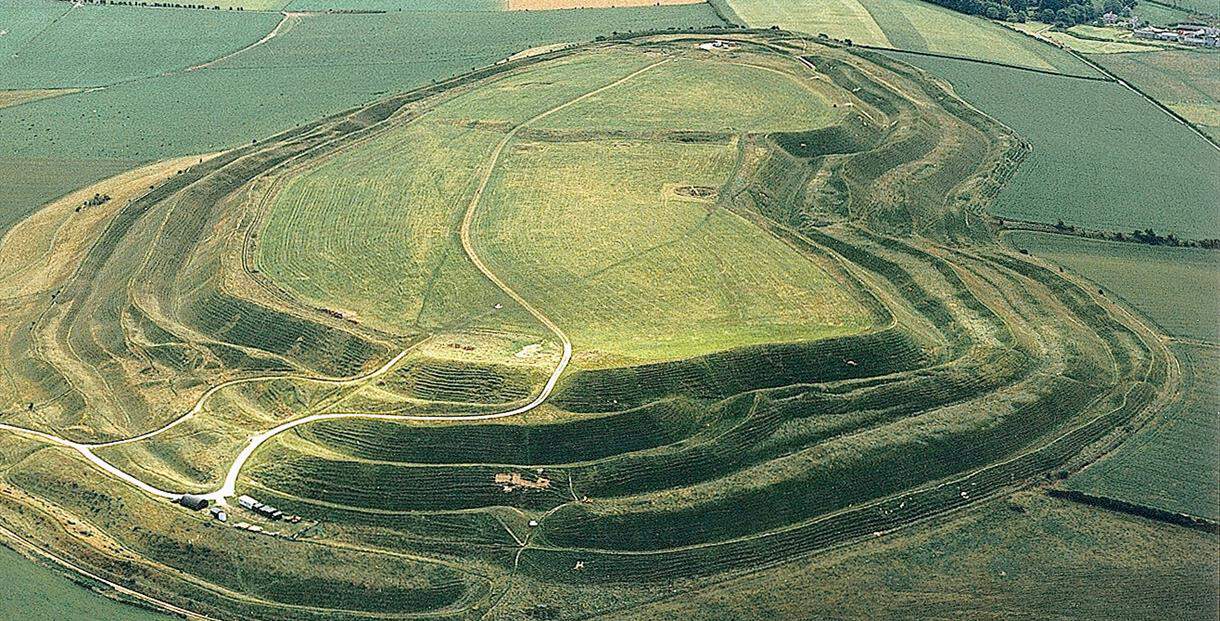 Maiden Castle is a large and complex Iron Age hillfort – roughly the size of 50 football pitches (soccer fields for those in the US).  The site's founding has been estimated at approximately 600 BCE, but excavations have uncovered evidence of a Neolithic enclosure dating back to 3500 BCE. It's said to have inspired works of composer John Ireland and authors Thomas Hardy and John Cowper Powys.
The site is maintained by English Heritage.
Hours: Open any reasonable time during daylight hours
Address: Winterborne Monkton, Dorchester, Dorset, DT2 9EY
Accessibility: Not suitable for wheelchairs
Website: https://www.english-heritage.org.uk/visit/places/maiden-castle/
Knowlton Church & Earthworks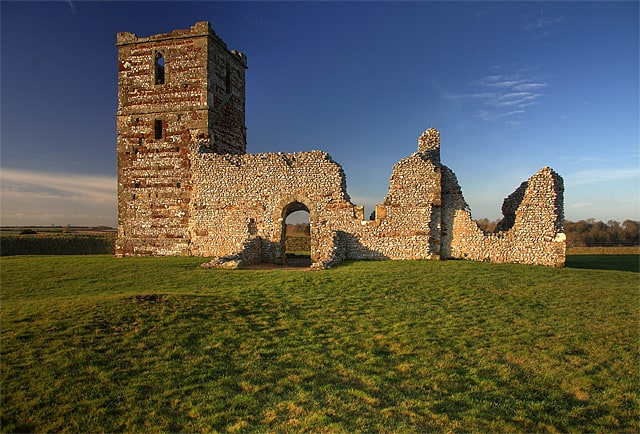 This 12th-century Norman church is located in the middle of a Neolithic henge earthwork. This atypical pairing suggests a period of transition from pagan to Christian worship. Though originally dedicated in the 12th-century, the ruined church also features additions and alterations from the 15th and 18th centuries.
Recent work here has uncovered some buried stones, quite possibly standing stones that were toppled and buried as the church took over the site. Many who have visited describe a sense of melancholy that hangs over the site, and some claim it to be haunted. Common sightings include a weeping nun and phantom horse and rider.
The site is maintained by English Heritage.
Hours: Open any reasonable time during daylight hours
Address: Knowlton, Wimborne, Dorset, BH21 5A
Accessibility: Minimal to none. Uneven terrain, largely covered in grass. A wheelchair-bound visitor would be restricted to viewing from the outer edges of the site.
Website: https://www.english-heritage.org.uk/visit/places/knowlton-church-and-earthworks/
Old Harry Rocks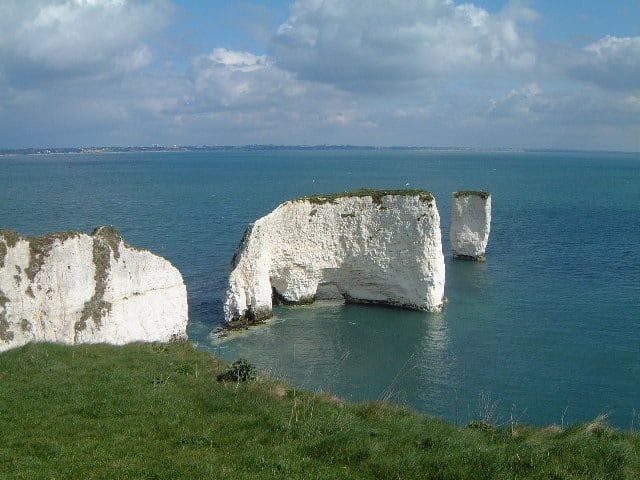 The chalk-lined Old Harry Rocks are a popular fixture of the Jurassic Coast, and National Trust has outlined a 3.5 mile walking route that is accessible and rated as "easy". The route is circular, and begins and ends in the village of Studland. It includes easy access to public toilets and pubs.
Some say the rocks were named because the devil once took a nap on the summit. Others claim it was named for Harry Paye, a 14th-century pirate who terrorized the English Channel and hid behind the rocks to steal from unsuspecting ships.
Parking is free to National Trust members.
Hours: Any time
Address: Handfast Point, Studland, Dorset, BH19 3AX
Accessibility: The path outlined by the National Trust is wheelchair accessible.
Website: https://www.nationaltrust.org.uk/purbeck-countryside/trails/old-harry-rocks-walk
St. Peter's Church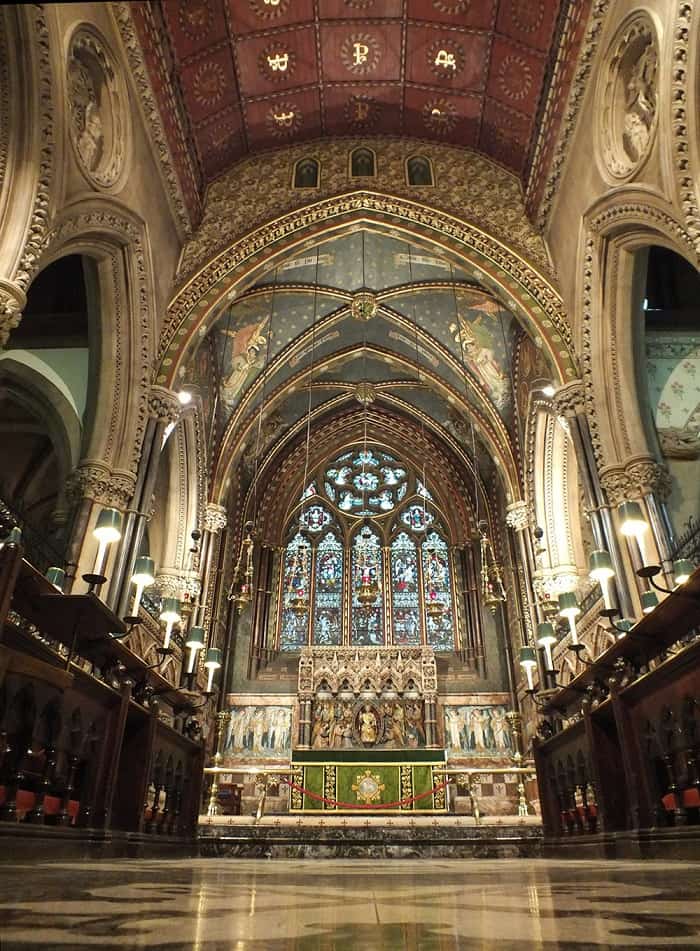 St. Peter's Church is housed in a Grade 1-listed Gothic Revival building erected in 1879, and no matter where you are in Bournemouth, its 202-foot spire is hard to miss. Visit on a sunny day for the best views of the incredible stained glass inside.
Hours: Daily, 9am – 5pm. Please be respectful of services.
Address: Hinton Rd, Bournemouth, Dorset BH1 2EE
Accessibility: Wheelchair accessible.
Website: https://www.stpetersbournemouth.org.uk/
Sherborne Museum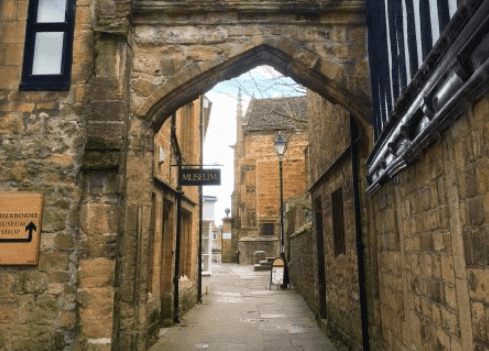 Sherborne Museum is a volunteer-run, registered charity museum focusing on the region's local history. Their collections include photographs and artwork, historic tiles, a 17th-century puzzle-lock strongbox, and a collection of antique dollhouses. They also have some historic items you can touch. Admission is free but donations are always appreciated.
Hours: Tuesday – Saturday, 10:30am – 4:30pm
Address: Church Lane, Sherborne, Dorset DT9 3BP
Accessibility: Main door is 33 inches wide, and the ground floor is accessible to wheelchairs. Due to listed building status, there is no lift – but there is a DVD screen available for virtual tours. Service dogs are welcome, and a sensory trail is under development to benefit those who are helped by tactile, sensorimotor and proprioceptive experiences. Caretakers of children with autism can arrange special early morning tours between 8:30-10:30am.
Website: https://www.sherbornemuseum.co.uk/
Sherborne Abbey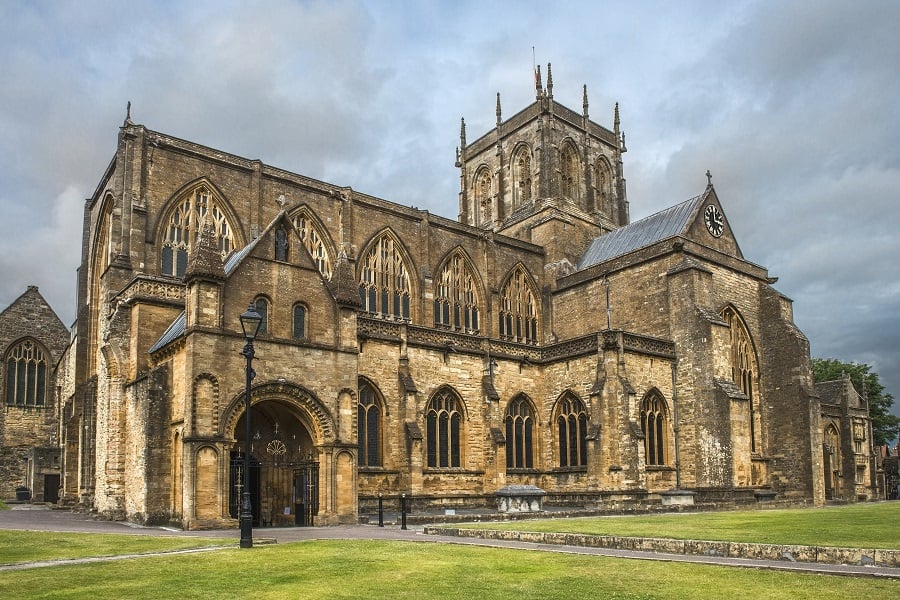 As long as you're stopping by Sherborne Museum, why not stop by the Abbey and see its incredible fan vaulted ceiling, too. The majority of the church was built during the 15th century, and it's known for having the heaviest ring of 8 bells in the world. Admission is free but donations are always appreciated.
Hours: Summer: Daily from 8am – 6pm. Winter: Daily from 8am – 4pm. Guided tours available Tuesdays at 10:30 and Fridays at 2:30pm. Private tours can be arranged by contacting the parish office.
Address: Abbey Cl, Sherborne DT9 3LQ, UK
Accessibility: From their website: "The Abbey is, for the most part, disabled friendly the entrance has no steps and is wheelchair friendly. There are, however, some areas on different levels and a disabled visitor may find access to the Lady Chapel difficult. Whilst we do not allow dogs, Guide Dogs and Assistance dogs are welcome. The Abbey does not have any public accessible lavatories."
A disabled public toilet is located approximately 200 metres away in Digby Road.
Website: https://www.sherbornemuseum.co.uk/
Tyneham Village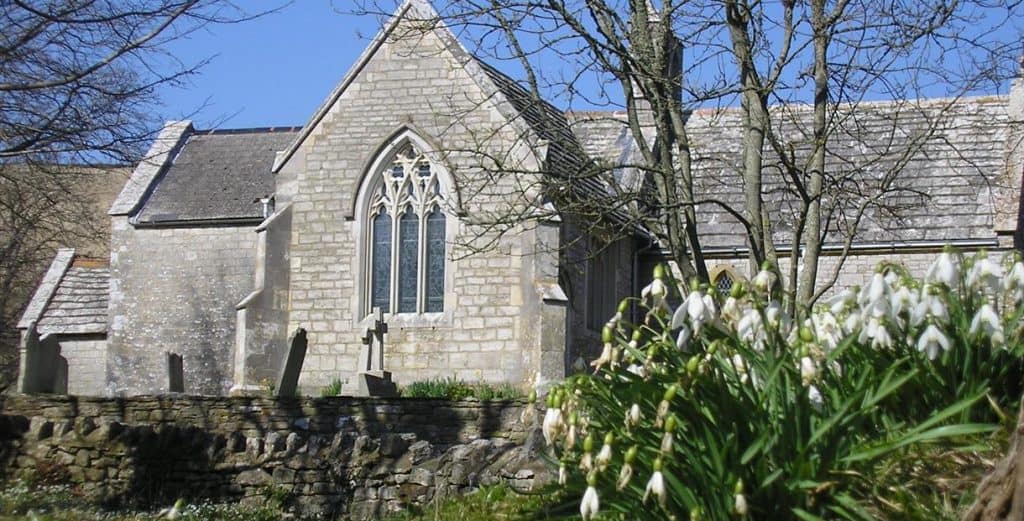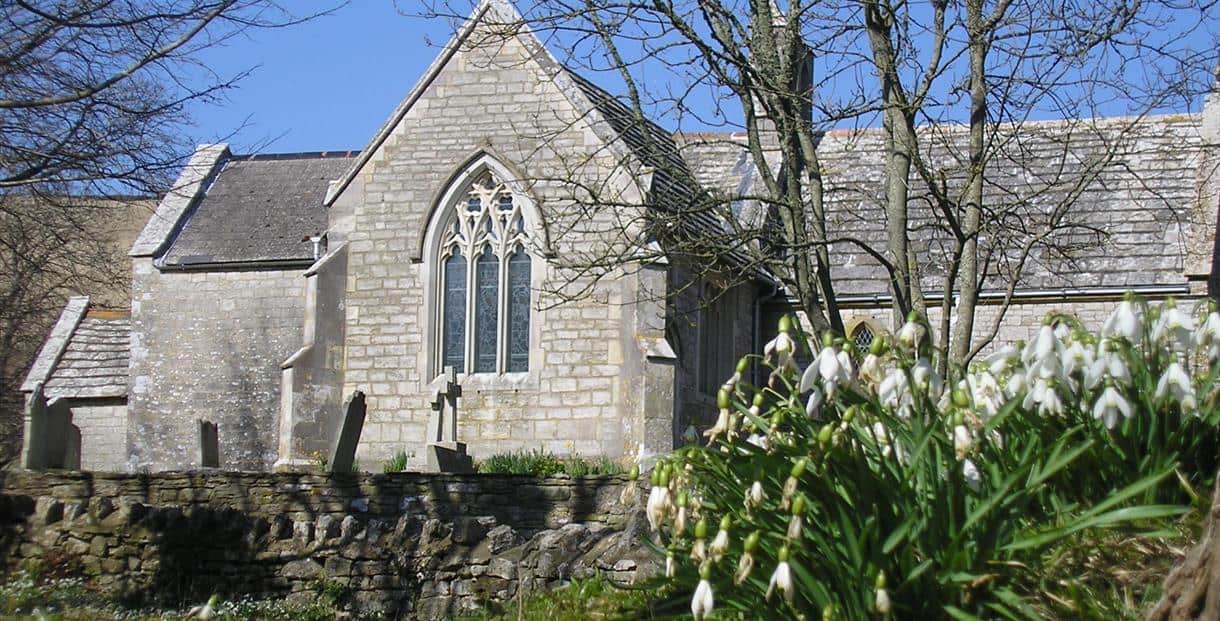 Tyneham Village is a ghost village on the Isle of Purbeck in South Dorset. It was evacuated in 1943 during WWII, and the military took ownership of the area after the war for use as a training ground. It was reopened to the public in 2008, but the area remains uninhabited. Note that the isle of Purbeck is actually a peninsula, and you don't need to cross over water to reach it.
There is no café or shop, and no drinking water, but there are restrooms (including accessible restrooms).
Hours: Most weekends and bank holidays, plus weekdays during the summer. Please verify on the website (listed below) before planning your trip, as dates vary from year to year.
Address: MOD Ranges, East Lulworth, Wareham, Dorset, BH20 5QF
Accessibility: The area is wheelchair accessible, and there are restroom and parking facilities for the disabled. Guide dogs are allowed, but care is recommended when crossing fields with farm animals.
Website: https://www.tynehamopc.org.uk/
Kingston Russell Stone Circle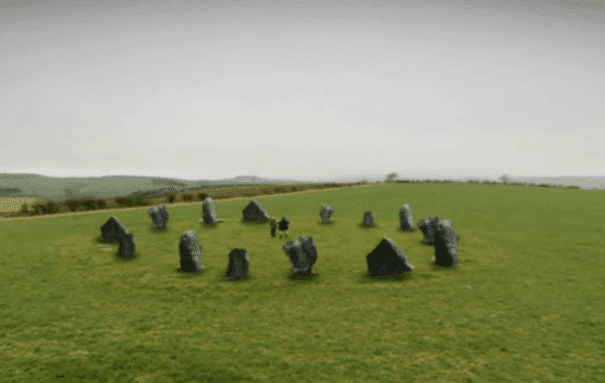 Also known as the Gorwell Circle, this circle of 18 fallen stones sits on a hill overlooking Abbotsbury and the sea. It is believed to date to the Neolithic or early Bronze Age times. The circle is on privately owned land, but is accessible to the public.  As many of the stones are smaller and turned over, viewing can be impaired when the lawn hasn't been trimmed recently. In all honesty, you might find this one a bit underwhelming – but it IS free and historic.
This site is managed by English Heritage, and has not been excavated or heavily studied.
Hours: Any reasonable daylight hours.
Address: Abbotsbury, Weymouth, Dorset, DT3 4JX
Accessibility: Accessible to walkers, but not wheelchairs.
Website: https://www.english-heritage.org.uk/visit/places/kingston-russell-stone-circle/
Durlston Country Park & National Nature Reserve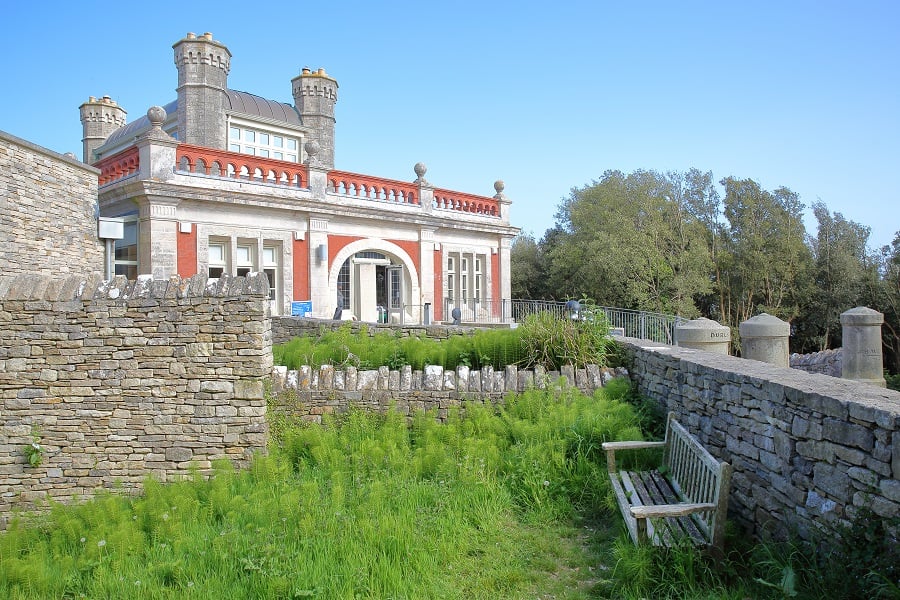 This 280-acre coastal park and nature preserve is part of the Jurassic Coast World Heritage Site, and is mostly open access. The varied habitats in the park are home to 33 species of breeding butterflies, over 250 recorded bird species, more than 500 types of moths, and numerous other species.
Facilities include a visitor centre, cafe, shop walking trails, and public toilets.
Hours: Year-round, sunrise to sunset
Address: Abbotsbury, Weymouth, Dorset, DT3 4JX
Accessibility: The park has an "access for all" goal, and their website outlines all the options in much greater detail than this guide. If you have trouble getting from the car park to the castle, you can phone ahead to arrange assistance, or use the intercoms to call for help. They offer induction loops, large print guides, and guide dogs are welcome everywhere on site. Buildings are wheelchair accessible, and for a small donation/membership you can arrange to borrow off-road wheelchairs or battery operated "tramper" vehicles. See CountrysideMobility.org for more details.
Website: https://www.durlston.co.uk
Fine Foundation Chesil Beach Centre


Chesil Beach is an 18-mile, 180 billion pebble beach in southern Dorset, and both the beach and Fine Foundation Chesil Beach Centre are free to the public. Behind the beach lies the fleet, a wildlife-rich lagoon.
Hours: Easter through September, daily from 10am – 5pm, September through Easter, daily 10am – 4pm
Address: Ferrybridge, Beach Road, Portland DT4 9XE
Accessibility: The Centre is wheelchair accessible, but the bank, fleet, and harbour are not.
Website: https://www.dorsetwildlifetrust.org.uk/chesilbeach.html
Keates Quarry Dinosaur Footprints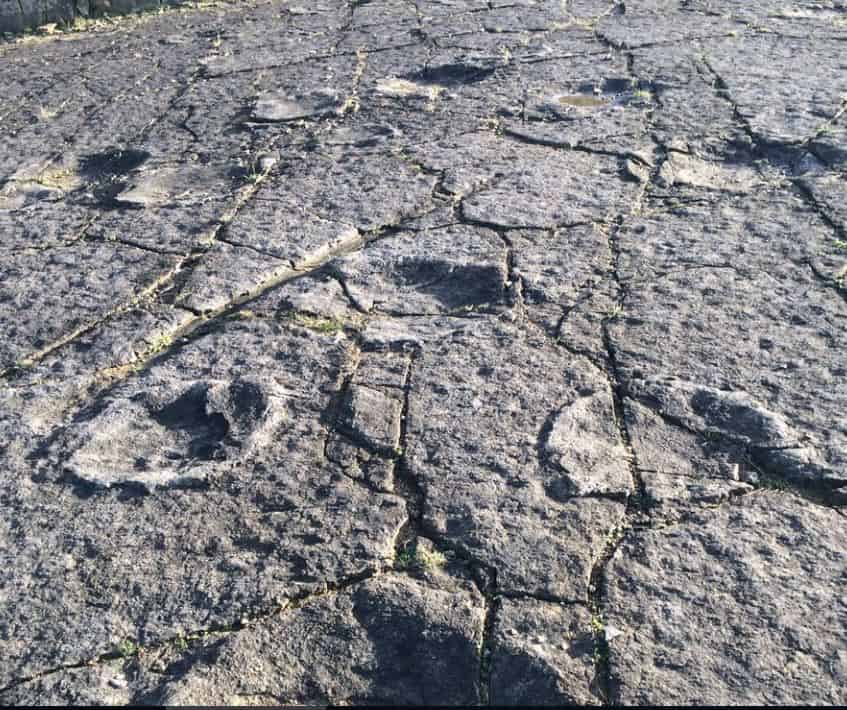 At Keates Quarry, more than 100 dinosaur footprints are preserved in a layer of rock. They were discovered in 1997 and opened to the public in 2016 with a sign offering some explanation of their significance. The site itself is free, but if you're prefer a guided walk, you can purchase tickets here (free for children, 6 GBP for adults as of 7/2019).
Hours: Sunrise to sunset
Address: Near Spyway, Durnford Drove, Langton Matravers, Swanage, Dorset
Accessibility: Poor/unknown
Website: https://www.nationaltrust.org.uk/spyway/features/the-keates-quarry-dinosaur-footprints
St. Catherine's Chapel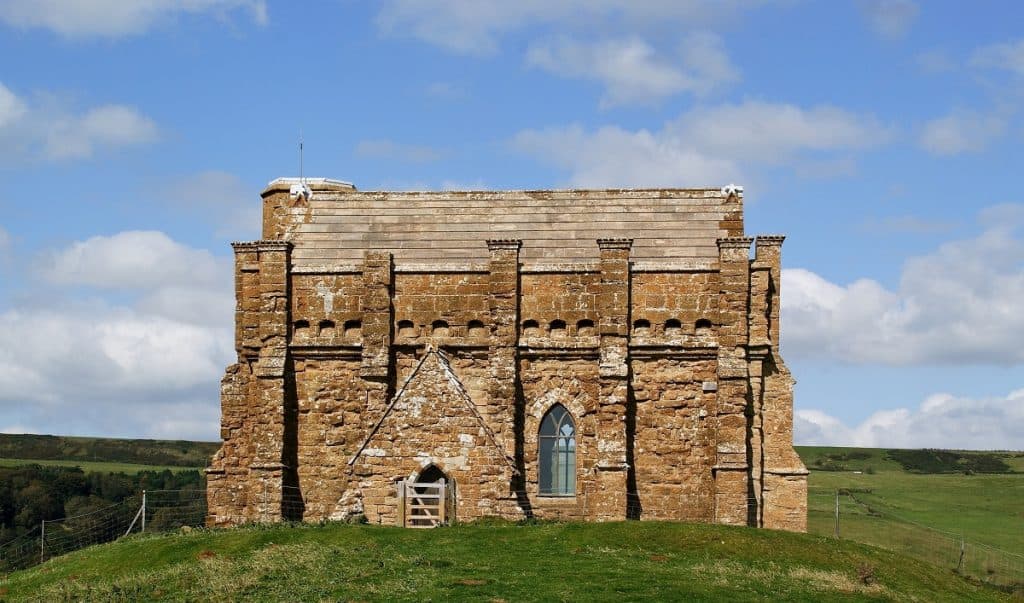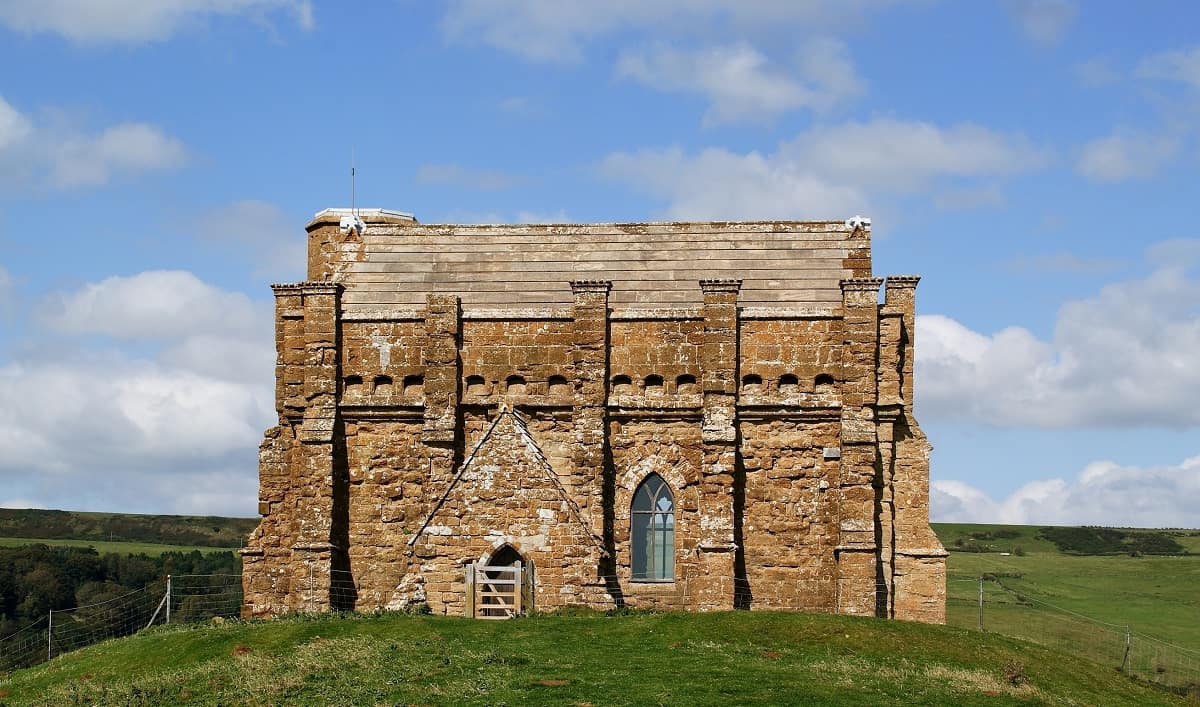 This barrel-vaulted 14th-century chapel sits high on a hillside overlooking Chesil Beach. The chapel is in relatively good condition, and even holds some services in the latter half of the year.
St. Catherine is the patron saint of spinsters and virgins, and until the late 19th century, many women would visit the site to pray to St. Catherine that she might help them find a husband.
Hours: Reasonable daylight hours
Address: Chapel Hill, Abbotsbury, Weymouth, Dorset, DT3 4JH
Accessibility: Poor. Reached by foot, steep incline over roughly 1/2 mile. The path goes through land grazed by livestock, so take special care with guide animals.
Website: https://www.english-heritage.org.uk/visit/places/abbotsbury-st-catherines-chapel/
What Are Your Favourite Activities in Dorset?
Have you been to Dorset? Feel free to share some of your favorite (free OR paid) attractions and activities in the comments.
Save it on Pinterest!