One of the most common misconceptions I hear about UK travel is that idea that if you venture outside of London or Edinburgh, you have to rent a car. Renting a car in the UK comes with a host of issues many travelers would prefer to avoid – driving on the opposite side of the road, paying relatively high prices for petrol, finding parking, learning the rules and symbols, and being very, very careful about speeding due to the strict speed enforcement tactics in some areas. As a result, many people just stick with London-only trips or package tours.
The good news is that it's not at all true. The UK has an incredible rail network, and while there ARE plenty of destinations that aren't easily reached by rail, there are many that are.
Today, I wanted to highlight some of the market towns in North Yorkshire that you can reach easily by car. If you're going from London to Edinburgh by train, it's very easy to stop off for a couple days in York (roughly halfway between the two) and visit one or more of these market towns as a day trip.
Skipton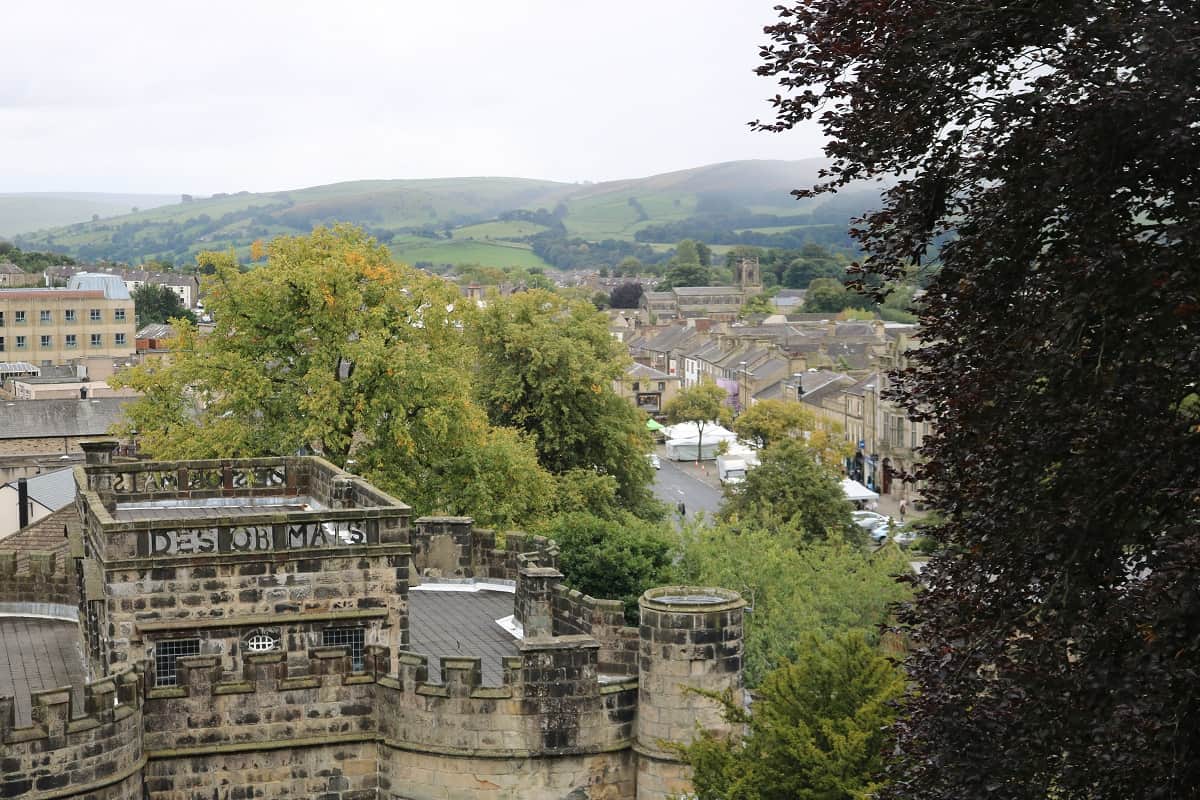 On my last trip to the UK, I stayed in York for 4 nights. I had seen some great photos of Skipton Castle Woods, and for some reason that was enough to persuade me to visit. The trip was a little over an hour, with a quick stop in Leeds to change trains. I think I paid around 25 GBP for the ticket.
Skipton is a great little town, both in terms of scenery and activities. If it's raining, you can hide out in a cozy pub, enjoy a bookshop, visit Skipton Castle, or check out Craven Court Shopping Centre.
The Craven Museum also offers a look at the area's past, if you're interested in that sort of thing. One of their exhibits is an Amethyst Intaglio – a gemstone with a carved image on the flat side, designed so the image shows through the stone. Amethyst was believed to prevent its owner from getting drunk – which leads me to believe that stone could tell some interesting stories if it could talk.
The best part of Skipton, though, is the scenery. The view from the top of the castle is lovely, and the canal walk is not to be missed. A path winds along behind the castle, and it feels like you're a million miles away from everything. The sound of the running water drowns out the town noises, and the path takes you back to Skipton Castle Woods, should you want a longer walk. Bear in mind, you'll probably want to bring or buy some Wellies in case of rain. It can get quite wet and muddy back in the woods. The canal walk is paved, though, and totally fine for a rainy day.
Things to See & Do in Skipton, North Yorkshire
Knaresborough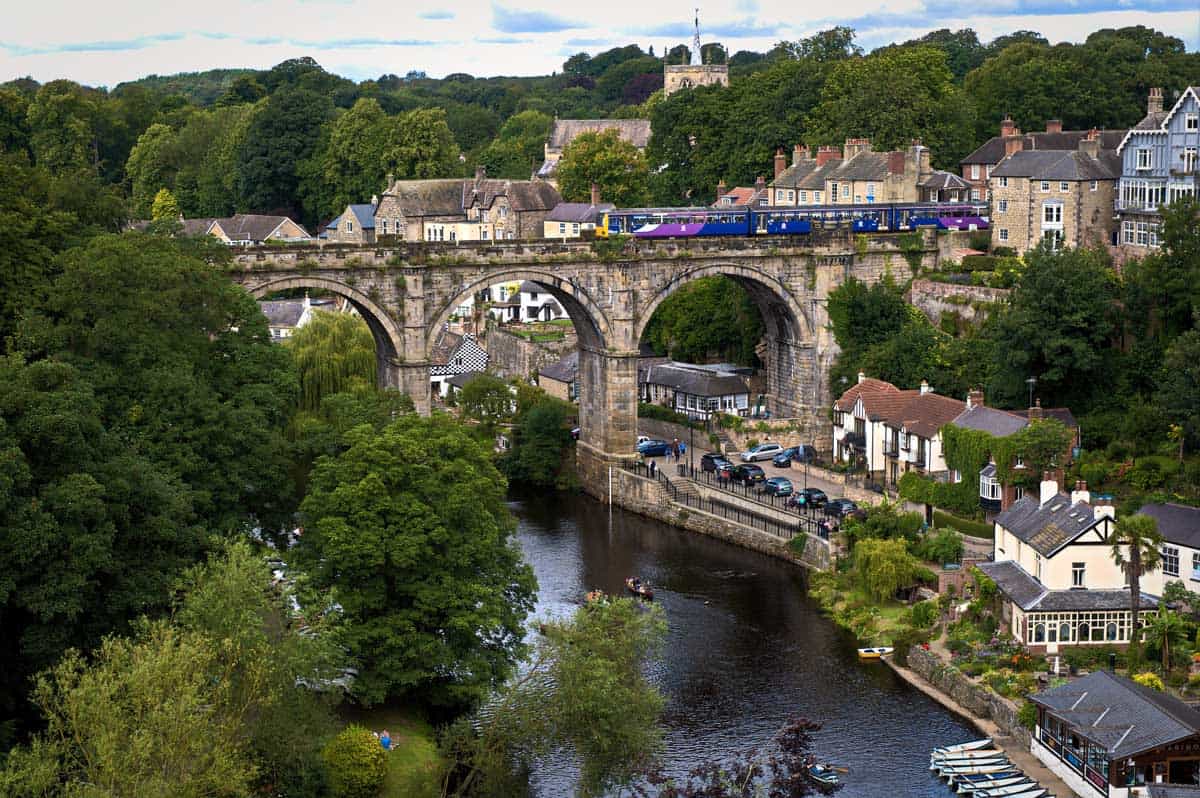 Knaresborough is a quick 25-minute train ride from York, and as of April 2018, you can buy a ticket between the two destinations for less than 10 GBP. It's about 4 miles east of Harrogate, too, so a quick 11 minute train ride (roughly 3 GBP) can take you there, too.
Why visit Knaresborough? In spite of its small population (roughly 15,000), Knaresborough has some great attractions. One of the most notable is Mother Shipton's Cave, one of England's oldest and quirkiest tourist attractions. Mother Shipton was a witch-like prophetess who predicted the Great Fire of London, the fates of many rulers, and the end of the world. She was born in the cave that bears her name, and it features a well with water that petrifies anything left there (due to high mineral content).
Speaking of Knaresborough caves, you can also visit the cave of St. Robert, a 12th century hermit. He wandered the area and attracted both followers and the annoyance of local authorities – but eventually, they bowed to public pressure and gave him a cave to live in. For the young battling high UK housing prices, this might be a strategy to consider. St. Robert's cave is a slightly longer walk, roughly 1.3 miles from the train station.
If you're not in the mood to walk that much, you could also check out Knaresborough Castle and Museum. It's less than half a mile from the train station, by way of a gorgeous walk along the River Nidd.
The Knaresborough High Street is not as lovely as some, but it more than makes up for it in quirkiness and the riverside scenery.
Things to See & Do in Knaresborough, North Yorkshire
Malton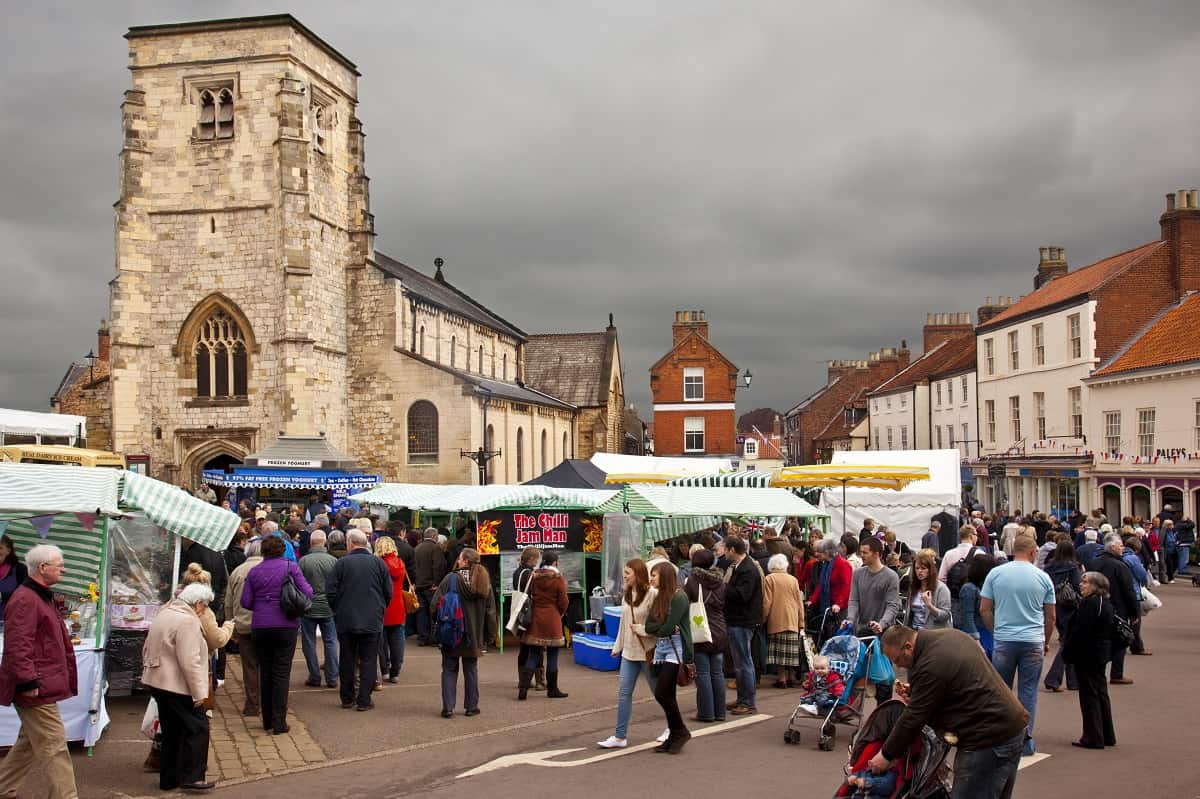 Malton is a market town of around 13,000 people, and it's probably best known as the struggling little market town that turned itself into a foodie hotspot. While some market towns have rolled over and allowed themselves to die off, Malton developed and supported the growth of restaurants, tours, farms, and even a cookery school. Throughout the year, the town plays host to a food markets, beer and gin festivals, and street food days.
The train station is less than half a mile from most of the food hotspots – including the Talbot Yard Food Court, The Groovy Moo ice cream shop, and the area where they hold the food festivals and markets.
What should you do in Malton if you don't like food? Aside from perhaps skipping it in favor of a different town, I hear they have a goat-hair sock shop.
A love letter to Malton | Yorkshire's Food Capital from Aberration on Vimeo.
Things to See & Do in Malton, North Yorkshire
Northallerton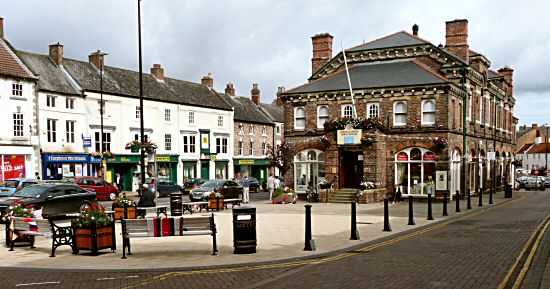 Northallerton is a good-sized market town, with a population of roughly 16,000 at the last census. It's about 30 miles from York, with a busy High Street and plenty of independent shops. The town centre is roughly half a mile from the train station, so it's not a terribly long walk.
Northallerton differs from some of the other locations on this list because unlike most, there isn't one central theme or attraction that dominates the town. It's a great place for a quiet escape.
If you've been in York or Harrogate and had difficulty securing a reservation for tea at Betty's, you'll be delighted to know Northallerton has a Betty's location, too. You might have better luck there than in a more crowded city.
If you don't mind taking a taxi outside the main town area, you can also visit Mount Grace Priory, considered to be the best-preserved Carthusian house in England. For those who don't know what that means, the Carthusians were an order of Catholic monks and nuns. The priory is roughly 8 miles outside of town, so you'll need to call up a local taxi company and arrange for arrival and pickup.
Things to See & Do in Northallerton, North Yorkshire
Settle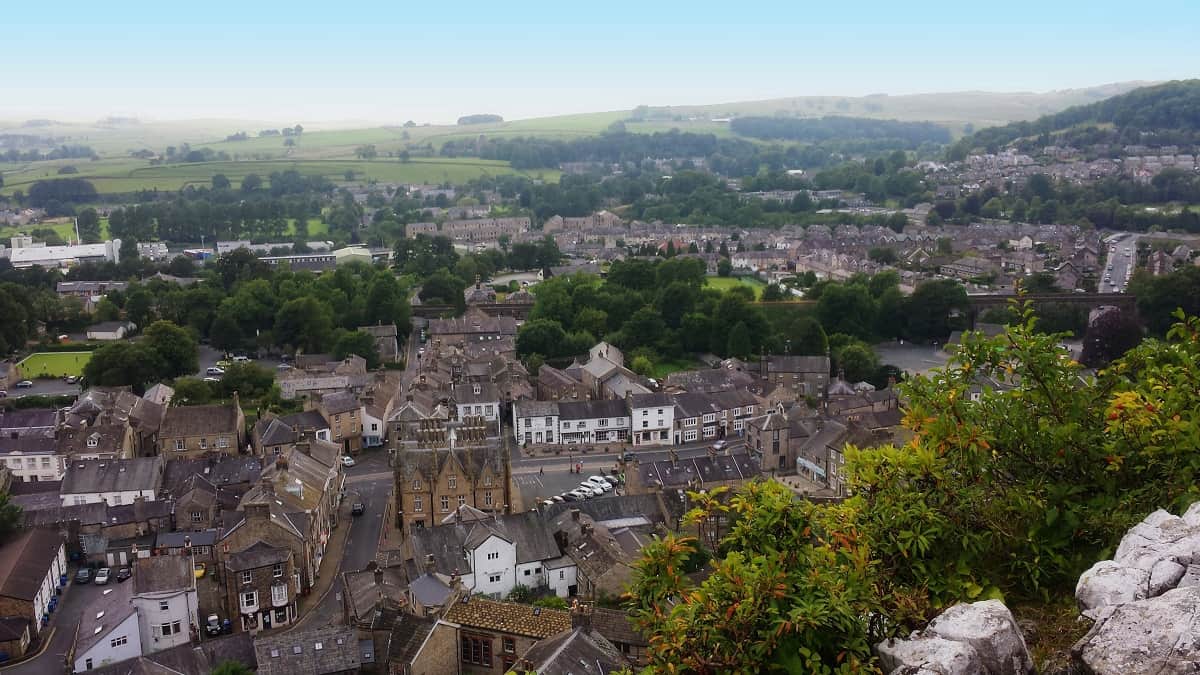 The smallest of the market towns on this list, Settle has a population of just 2500 or so at the last census. The town is located in the Yorkshire Dales, and it's a don't-miss spot for any nature enthusiast.
Settle is a very small town, and the walk from the train station to the High Street is around a quarter of a mile. Although the biggest attractions are just outside the town, they do have a 17th century Grade I listed building called The Folly that has a coffee house,  museum, and artisans gallery.
For those who aren't sure what to do, there's a helpful tourist centre in town to help you get started off in the right direction. The most popular attractions here are each around 8 miles from the town – Gordale Scar, and Ingleborough Cave.
Gordale Scar is a giant limestone ravine with two waterfalls and overhanging cliffs. It's believed to have been formed by either melting glaciers or a cavern collapse.
Ingleborough Cave is a bit more commercial, offering guided tours through a well-lit show cave. It's worth noting that this cave has well-paved paths and no stairs, so it is considered pushchair accessible.
Things to See & Do in Settle, North Yorkshire
Thirsk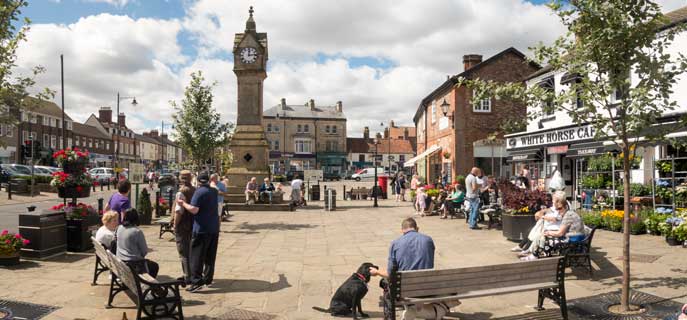 Thirsk is one of the smaller market towns on our list, with just 5000 residents at the last census. In spite of that, it's a popular tourist spot – partially due to its proximity to the Yorkshire Dales and North York Moors.
Fans of All Creatures Great and Small may know Thirsk as the hometown of veterinary surgeon and author James Herriot. His practice was previously located at 23 Kirkgate, a site that now houses The World of James Herriot Museum.
Less than a block away, you can also visit the Thirsk Museum. It's a free attraction that features local history and artifacts. If that's not enough to keep you busy, you'll find a surprisingly large number of pubs and restaurants, along with a tourist information center.
As a fair warning to those visiting Thirsk, the main town is a bit over a mile from the train station. It's a leisurely 25-30 minute walk, but if you get tired easily, you might wish to call a taxi. There's no taxi rank at the station, so call ahead or prepare to wait a little while at the station after you call for a ride. Quite a few companies service the area.
A taxi also opens up another great possibility in Thirsk – the Thirsk Birds of Prey Centre. They offer three flying displays daily, along with opportunities to get up close and personal after each one (at no extra charge). Those who want to spend more time with the birds can purchase any one of several packages designed to give you a more personalized encounter.
Things to See & Do in Thirsk, North Yorkshire
Which North Yorkshire Market Town Would You Choose?
In our opinion, all the market towns above are worth a visit. However, we know that in real life, holidays are almost always limited by either time or budget. Which market town would you choose?