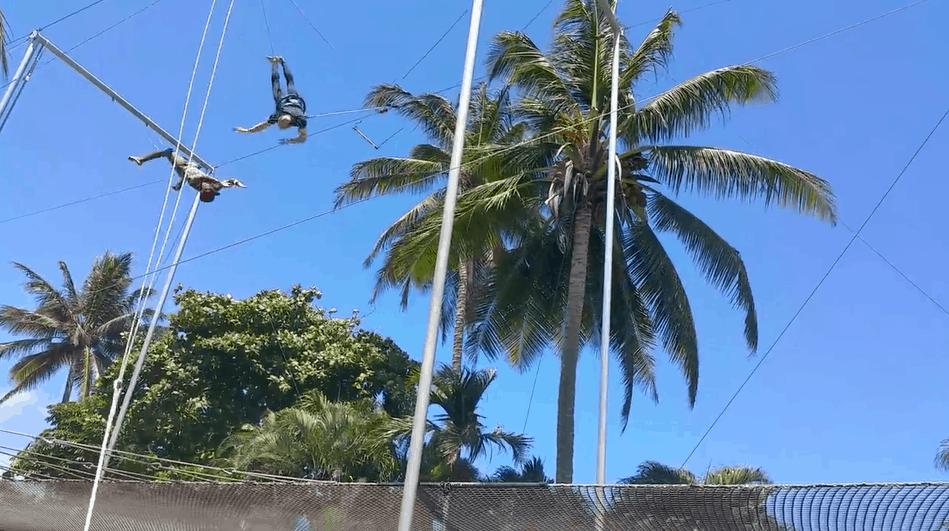 When you think of the quintessential British eccentric, you probably imagine something like an old lady with a dog in a pram, or some fellow in a flat cap who knows the name of every steam train ever to roll through the British railway system – or maybe even a gongoozler. What you probably don't picture is Ian Chodera.
Ian is a special brand of British eccentric. I had the pleasure of meeting him a few years ago at a circus camp in the Dominican Republic, which should give you a clue that he's not your average sort of guy. In addition to his flying trapeze habit, he's been an extra on a number of British TV shows and he was a contestant on Ninja Warrior UK.
Ian takes his flying trapeze very seriously. While myself and some others at camp were content with one session daily (doing it for hours every day is hard on your hands), he would simply wrap his hands and get back up the ladder. Last year, he even made the news when he wanted to put a trapeze rig in his garden. Apparently, the neighbors didn't care for that idea. As I see it, it could have been worse – he could have gone full Tom and Barbara Good on them.
As of this summer, he's managed to make his dream come true without making enemies of his neighbors. He recently opened All Bars Flying Trapeze Club for its first season, and if you find yourself in the area, you can have the great pleasure of flying with Ian and his team.
Where is All Bars Flying Trapeze Club?
While the precise location changes every month or so, all the locations are in Cheltenham. For those whose British geography knowledge is weak, it's in the southern half of England, a couple hours west of London, and near the western edge of the Cotswolds.
Who Can Try Flying Trapeze?
It's much, much less restrictive than you might think. If you can fit into the safety belt and you're willing to sign a waiver, you can fly. While it's certainly true that more athletic people will have an easier time with advanced tricks, almost anyone can hold onto the bar, jump off the platform, and experience the incredible rush that comes with flying. Can you hang by your arms for 10 seconds? If you can, that's enough to work with. And remember, there's always someone on safety lines in case you fall.
I've seen 4-year-old kids, 90-year-old women, and just about everything in between. I've even been caught by a 70-something man. And hey – if you try it once and decide it's not for you, you can still walk away holding your head high, knowing you did something most people will never attempt.
How Do I Get to All Bars Flying Trapeze Club?
If you've got a car, it's simple – just plug the current rig location into your phone or satnav and you're off. If you're arriving by train to Cheltenham Spa, you'll find it an easy trip from Bristol or Worcester, and only slightly more complicated (1 change) if you're coming from somewhere like Moreton-on-Marsh. Once you arrive in Cheltenham, you can get a taxi over to the rig and take down their number to arrange a ride back when done.
Are You Sure About This?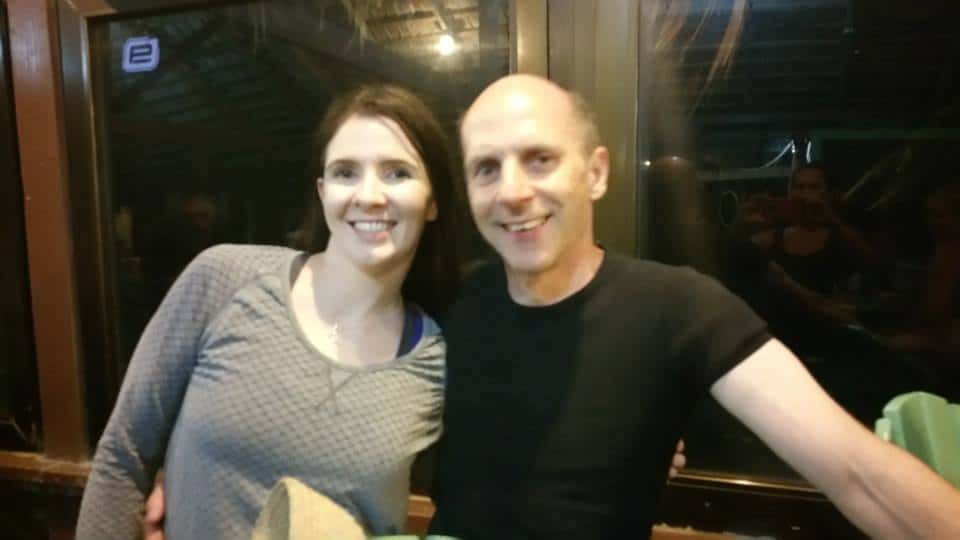 Having flown with Ian in the past, I can wholeheartedly recommend All Bars Flying Trapeze Club –  whether you just want to try it once, or you live nearby and want a new regular spot (there are discounts for locals). Aside from being an all-around delightful person, Ian is a great teacher who's really eager to share his love of flying trapeze with more people.
He's also in his mid-50s, having come to the sport in his 40s. This isn't one of those things where you're going to be surrounded by nothing but super elite 20-something acrobats who make you feel like an elephant attempting ballet. All sorts of people do flying trapeze, and circus people are some of the most accepting and encouraging you'll ever meet.
If even a tiny part of you wants to try, I encourage you to go for it. I've never known someone to regret trying, but I've seen more than a few who chickened out and later wished they hadn't. Learn more HERE at All Bars Flying Trapeze Club.