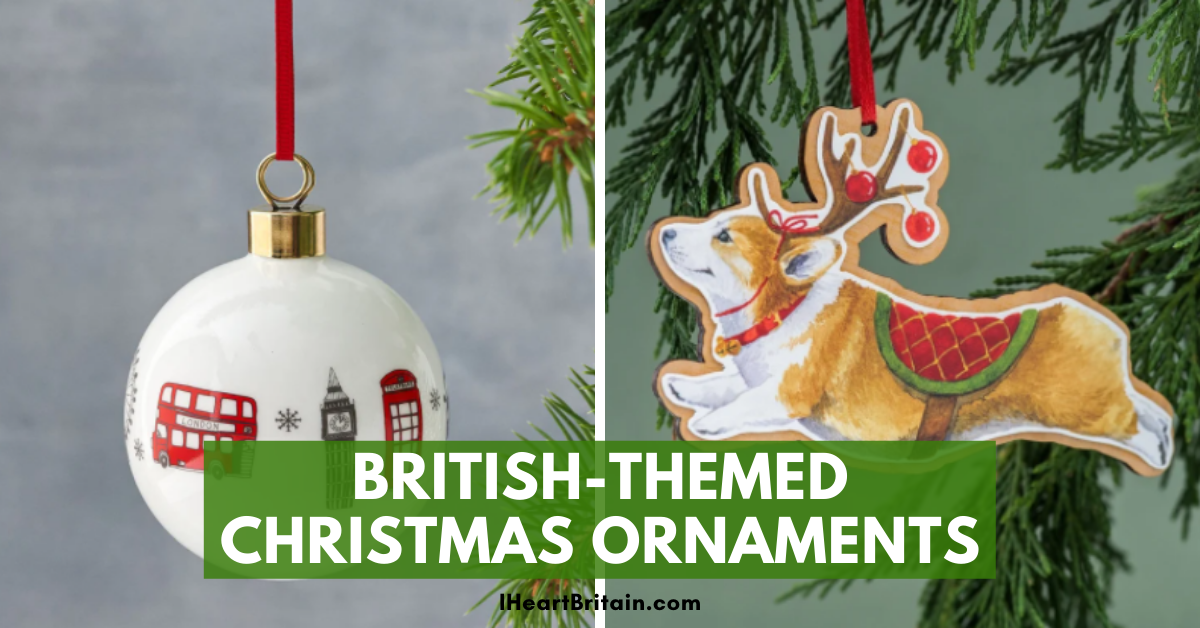 The UK is a special place for many of us, so it makes sense that we might want to give it a nod when decorating our Christmas trees – whether they're in the UK, the US, Canada, Australia, or somewhere else entirely. To help you find just the right British Christmas ornament for your tree(s), we've gathered some of our favorites below.
The Classic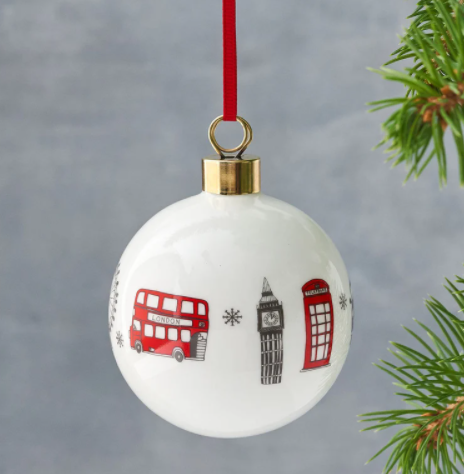 With the London Skyline Christmas Ornament, your Christmas tree will be filled with London charm! No matter where you are in the world, this London Christmas ornament will remind you of all the things you love about London. Get it HERE
The Downton Abbey Christmas Ornament
It's been a great year for Downton Abbey fans, what with a second film coming out in 2022. Though this one might get a bit annoying if your spouse decides to use it as a call bell, we think this would look great on any Christmas tree. Get it HERE

British Taxi Hackney Carriage Ornament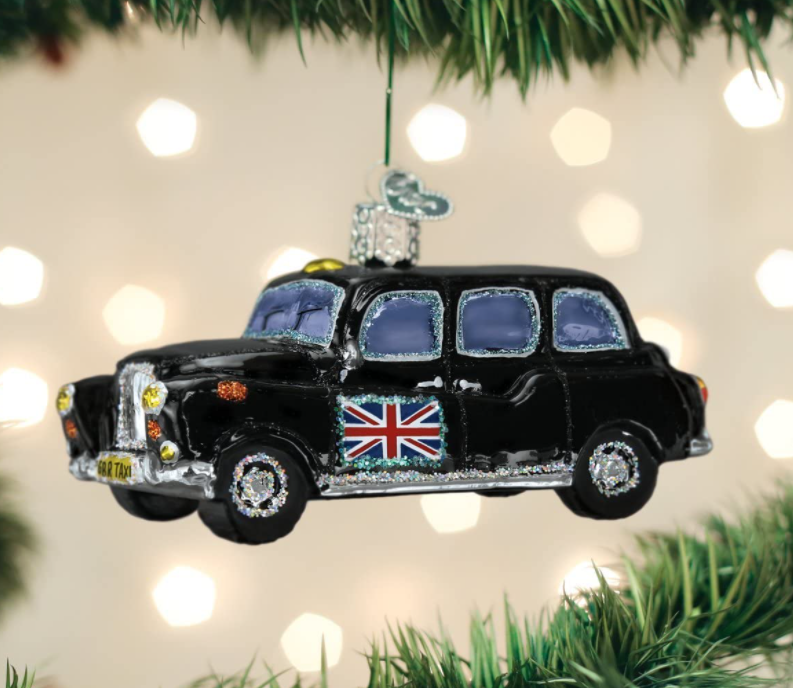 You can hardly go to England without seeing one of these famous taxis. Called a hackney, or hackney carriage, these taxis are well known through the United Kingdom. This hand-crafted glass-blown ornament will fit in nicely with almost any Christmas tree. Get it HERE
The British Phone Box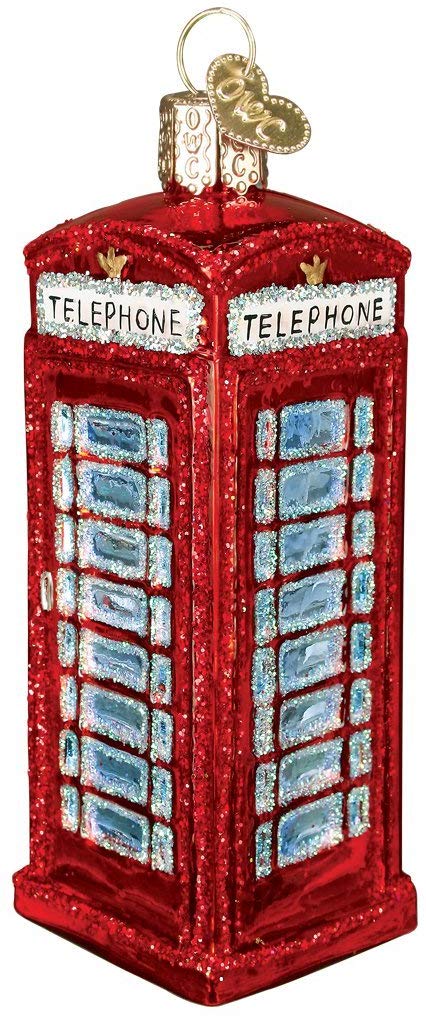 While they're not as common as they once were, these red phone boxes are still one of the most popular symbols associated with Great Britain. Alongside some of the other ornaments, this would be a lovely addition to a UK-themed Christmas tree. Get it HERE
A Nod to The Royals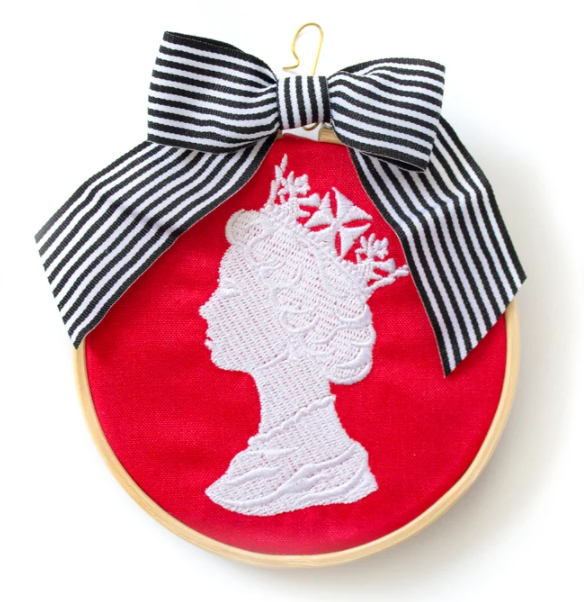 In need of British-themed ornaments that won't shatter when dropped? This lovely embroidered keepsake might fit the bill. This holiday ornament features a silhouette of the Queen embroidered on white fabric inside a 4″ wooden hoop frame. Get it HERE
The Hairy Coo Ornament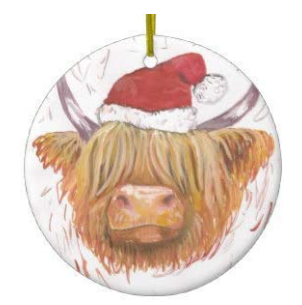 Highland cattle are a breed that originated in the Scottish Highlands. They've become quite the internet sensation due to their adorable shaggy coats. This ornament is a great way to celebrate your Scottish ancestry or just admire a cute hairy coo. Get it HERE
Where Would We Be Without Tea?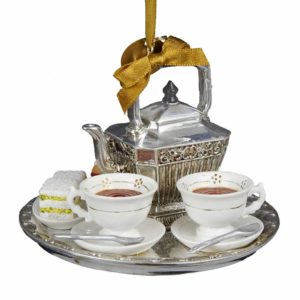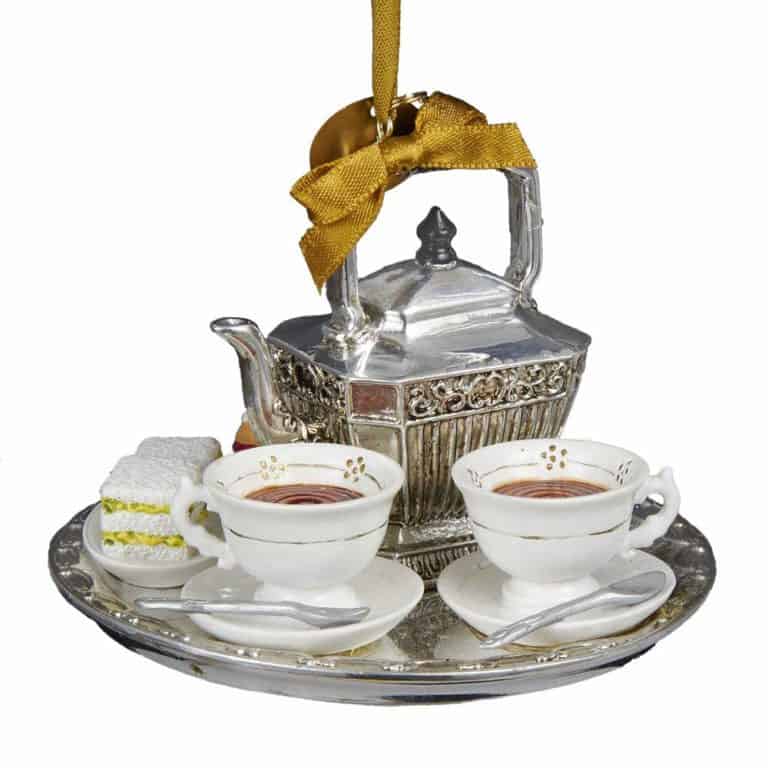 Gilbert O'Sullivan (the talented songwriter of "Where Would We Be Without Tea?") certainly knows the importance of tea – and you can highlight it on your Christmas tree with this lovely Kurt Adler Downton Abbey-inspired ornament. Get it HERE
The Gingerbread Tardis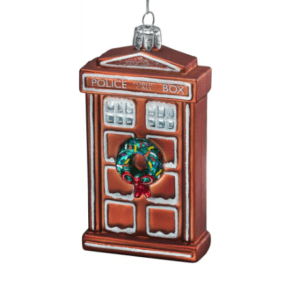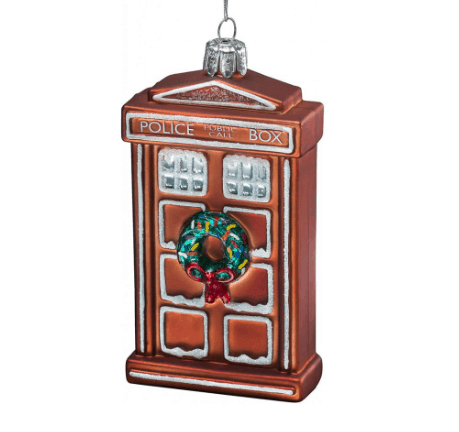 If a traditional blue Tardis ornament isn't quite festive enough, you can get a Gingerbread Tardis instead. While we'd love it if it were a little bit less flat, we're sure it's bigger on the inside. Get it HERE
Pack Your Bags for Scotland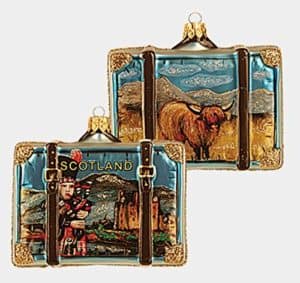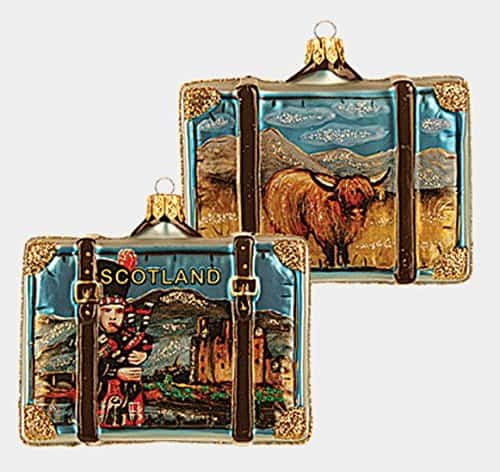 While this pair of ornaments is a bit pricey, they're also stunningly beautiful reminders of a country so many of us love. Shaped like suitcases, one features a Highland coo, while the other has a bagpiper and castle. Get it HERE
A Serious Case of Anglophilia…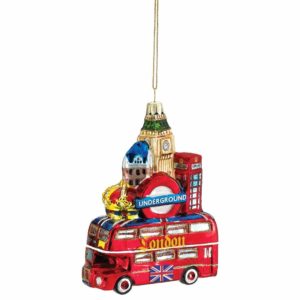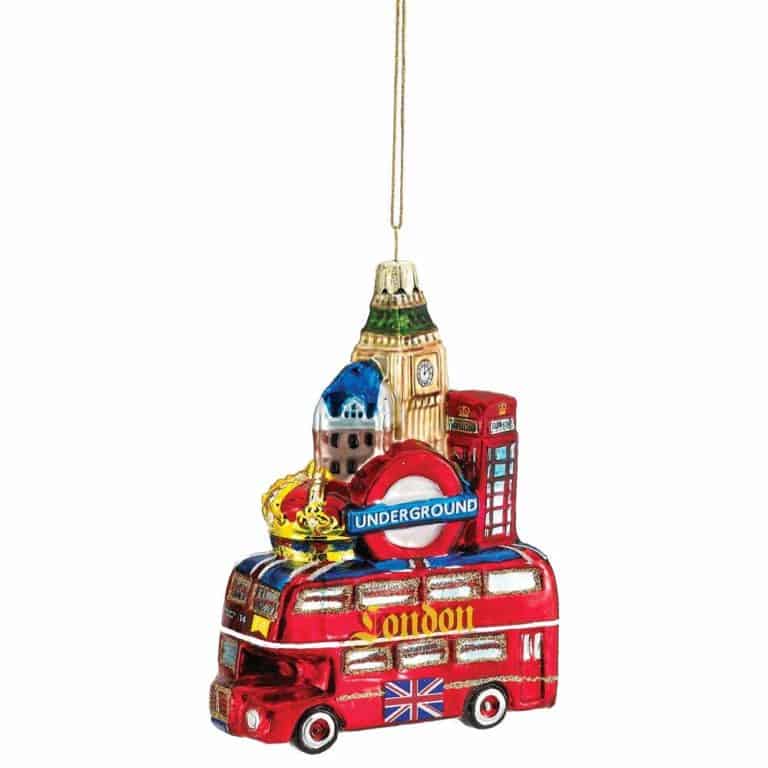 This Kurt Adler London ornament is fairly well vomiting British pride (and we love it). This might be the most British-y British ornament ever, and we're not sure how we've lived without it for so long. Get it HERE
Celebrating Tartan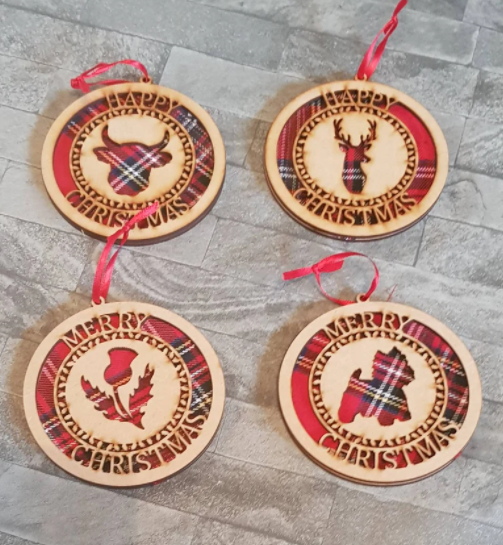 These classic tartan ornaments are sure to evoke fond memories of trips to Scotland. There are 4 designs to choose from including Scottish thistle, stag, Scottie dog, and highland cow. Get it HERE
Doctor Who Christmas Ornaments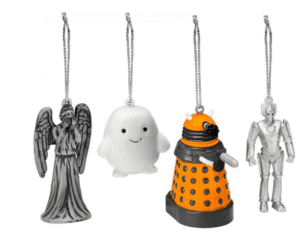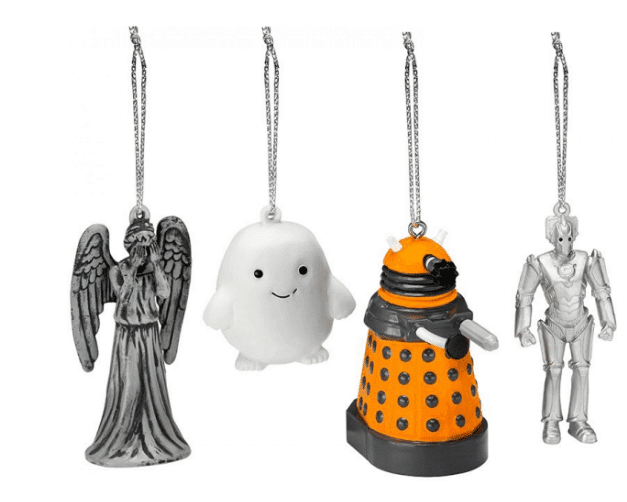 The Tardis ornaments are great, but if you want a full Doctor Who tree, you're going to need a little more than that! This set of Adipose, Weeping Angel, Dalek, and Cyberman is perfect for any Doctor Who fan. Add a little blue and white tinsel and you've got the perfect geeky Anglophile tree. Get it HERE
The Big Ben Ornament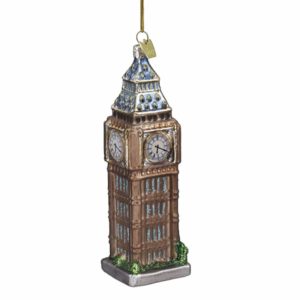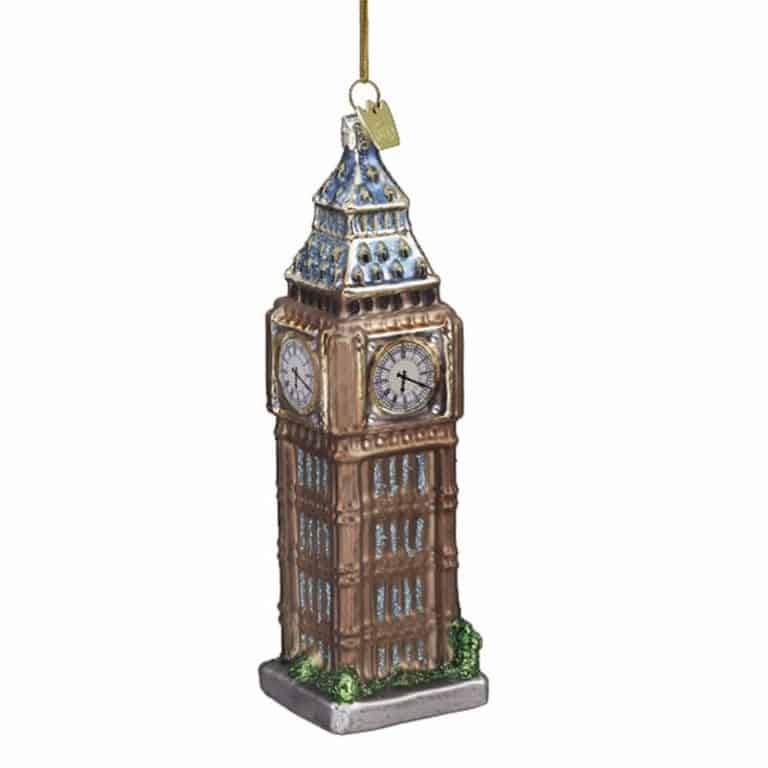 This Big Ben Christmas ornament is a wonderful reminder of time spent in London, but it also offers a nice muted tone for those who don't necessarily appreciate the bright, garish colors of most Christmas decor. Get it HERE
Mrs. Tiggywinkle on the Tree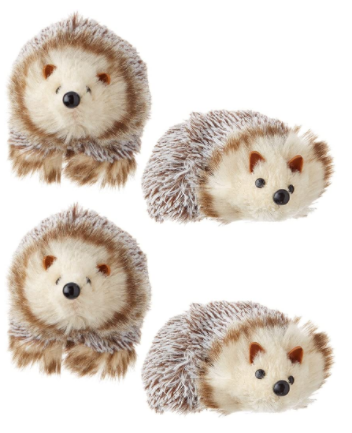 This isn't an official Beatrix Potter ornament, but her character Mrs. Tiggywinkle was a hedgehog, and Brits do love their hedgehogs (just Google "hedgehog highway" and you'll see what I mean). This Kurt Adler hedgehog ornament duo would make a great addition to any Christmas tree, and there's no chance of it shattering if a cat falls in love with it. Get it HERE
Drop a Few Hints…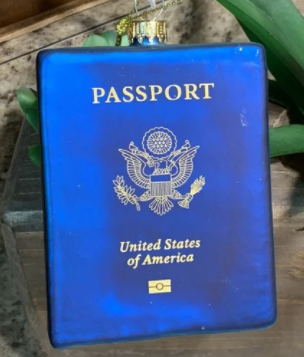 If you're trying to drop hints that what you REALLY want is a trip to England, this passport ornament + a few of the others on our list will go a long way towards getting the point across. Get it HERE
The Queen's Corgis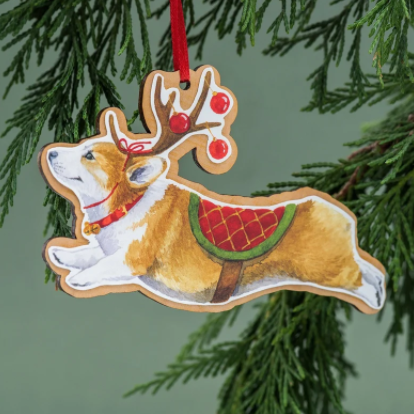 Queen Elizabeth may not be getting any more corgis due to her age, but that doesn't mean you can't appreciate them as adorable creatures and symbols of a long and peaceful period in English history. This one looks like he's ready to lead Santa's sleigh for Her Majesty. Get it HERE
Don't Forget the Bagpipes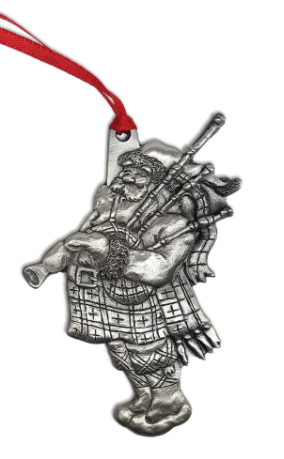 Nothing says Scottish louder than bagpipes. This pewter ornament shows Santa in a festive kilt with bagpipes. Get it HERE
Which Christmas Ornament is Your Favourite?
Which of the ornaments is your favourite? Do you have any British-themed ornaments already?