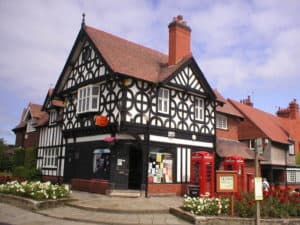 Around the United Kingdom, you'll occasionally encounter the curious phenomenon of model villages. And no, I don't mean something like the miniaturized version of Bourton-on-the-Water you can find in the Cotswolds. A model village was a largely self-contained community designed for the workers and families of a given employer, usually some kind of factory or similarly industrial operation. Around 30 of them remain in one form or another throughout England.
Port Sunlight is a particularly fine example of the model village concept, and is said to represent the finest surviving specimen of early urban planning in Britain. Today, the entire 130-acre village is a conservation area, and you can find it just across the River Mersey from Liverpool.
Port Sunlight was built starting in 1888 by the Lever Brothers to house workers in their soap factory. The community was named after their popular Sunlight laundry soap, and it featured garden allotments and numerous public buildings including a cottage hospital, the Lady Lever Art Gallery, schools, a concert hall, a community swimming pool, church, and temperance hotel. William Lever personally oversaw the development of the village and the introduction of welfare programs to bring education and culture to the employees and their families. Lever had always wanted to be an architect, and his great wealth allowed him to indulge that passion through the development of Port Sunlight.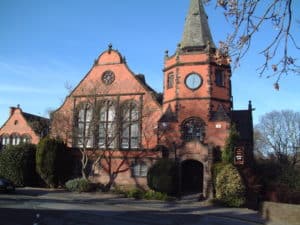 Though it might seem presumptuous and condescending for an industrialist to build a community and provide only those things he feels the people need, it's worth noting that current UK wages and housing prices mean that many of Lever's families were likely enjoying a higher standard of living than many modern workers (particularly the younger generations faced with housing and education prices that have vastly outpaced inflation for quite some time now).
Port Sunlight is frequently cited for its influence on the Garden City Movement wherein elements of country life and city life are brought together in carefully planned communities.
Visit Port Sunlight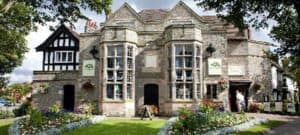 Today, Port Sunlight is well-protected and preserved for current and future generations to enjoy. As of the 2001 census, roughly 1450 people still live there, and many more tourists come through each year.
Any visit to Port Sunlight should start at the museum, where you can get an overview of the community and the various goings on during your stay. As of 2017, they've also added an Edwardian worker's cottage which you can tour to see how a typical Port Sunlight resident would have lived. You can also take in a bit of tea or lunch here, though you may prefer to hold out for a visit to the nearby Tudor Rose Tea Room after some wandering.
The grand Leverhulme Hotel is another location not to be missed. Though a stay or dinner may be out of reach for many budgets, they offer an exquisite afternoon tea service for £20 per person (including vegetarian sandwich options). Failing that, there's much to be said for dressing the part and simply wandering about the premises as if you belong.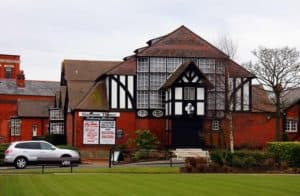 Gladstone Theatre continues to offer a wide variety of productions for area residents and visitors alike, and the majority of shows are less than £20/person (with many closer to £10). Aside from a fine time, you'll also enjoy the incredible barrel-ceilings and art nouveau details.
If the weather's nice and you fancy a bit of exercise, you'll be able to get a great view of the community by following either of the two village walking paths (in addition to the regular self-guided walking tour). You can pick up maps for all three of these options at the museum. The walking trail maps carry a small fee.
Finally, if your interests run a bit toward the dark side of things, check out the Hidden Wirral page before your visit. They've offered haunted tours of the area, including some Port Sunlight locations, in the past. You might get lucky and find availability (or a willing private tour guide) for your visit. Even if you don't, they have plenty of interesting tours in the area that might be of interest.
So – if you ever find yourself in Liverpool, take a cue from Gerry and the Pacemakers and "Ferry 'cross the Mersey" to check out Port Sunlight.