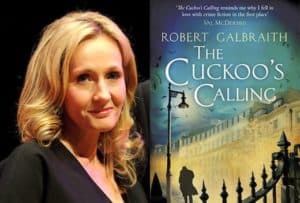 When you're as famous and successful as JK Rowling, it can be hard to move in a new direction. The lackluster response to her first published adult novel, Casual Vacancy, is a great example of that. Many brought their Harry Potter expectations to the table, and found the novel wanting in light of her past work.
Rowling herself said that when she set out to write the first Cormoran Strike novel, The Cuckoo's Calling, she did so because she wanted to get "totally unvarnished feedback" and a fresh start in her new genre. Regardless, we think the novels are great fun.
The series features two main characters – private investigator Cormoran Strike, and his highly competent assistant Robin Ellacott. Strike is an amputee as a result of his time in Afghanistan, and while he's a little rough around the edges, he's extremely clever and a genuinely decent person at his core. In between the individual mysteries, Rowling/Galbraith has woven in personal stories of the two characters. Strike, like nearly all the great detectives, has a troubled past – family issues, lingering trauma from his time in the military, and relationship troubles. Robin, which much more conventional, is still dealing with an unsupportive significant other and big decisions about her career. To say anything more would be to offer spoilers, and we certainly don't want to do that.
At the moment, there are three Cormoran Strike novels, but another one is expected any day now. We've included descriptions of each below, though we definitely recommend reading them in order for maximum enjoyment.
Buy the Cormoran Strike Novels
In the first Cormoran Strike novel, Strike is hired by the adoptive brother of a famous supermodel to investigate her supposed suicide. Robin arrives to act as his temporary secretary, and together, the two investigate the unlikely case. As the first novel in a series, it's a little heavy on backstory compared to some of the others, but it's still very well-written and engrossing. Get it on Amazon here
In the Silkworm, Strike and Robin take on the gruesome and ritualistic murder of literary rebel Owen Quine. This is certainly a book where you'll be grateful for the lack of corresponding images, but the exceptionally gross nature of the crime scene doesn't detract from the quality of the overall novel. One of the most enjoyable parts of the novel is that it forces Strike to mix with London's literary elite, along with many other powerful people. He's a bit rough around the edges, but we see plenty of signs that he's completely capable of holding his own. Get it on Amazon here
Career of Evil starts off quite explosively, with Robin receiving a package that contains a woman's severed leg. A note accompanying the leg leads Strike to believe it was sent by someone from his past, and the chase begins. In addition to not being a paying case, the publicity surrounding the case causes problems for Strike with his existing clients, and puts added pressure on Robin about her decision to continue working with Strike. The book was an enjoyable read, and offered a good bit of progress in the personal stories of Strike and Robin. Get it on Amazon here
Strike BBC Television Show
Earlier in 2017, the BBC announced that they were filming a TV show based on the Cormoran Strike novels. It will star Tom Burke and Holliday Grainger, with Logan Kerr playing the role of Robin's fiancé.
Today, it has been announced that the British premiere date for the series will be Sunday the 27th of August at 9pm on BBC1, with the second episode airing the same time the next day. The next three episodes will air on September 3rd, 10th, and 17th. The Cuckoo's Calling was adapted into three one-hour episodes, and The Silkworm was adapted into a two-part story. The third novel, Career of Evil, will bring the total to seven episodes (though we haven't seen dates for this one).
Although no US/Canada premiere date has been set, this is still great news because it means we're getting closer. Hardcore fans can always subscribe to a service like UKTV Everywhere if they absolutely can't wait (it allows you to watch things live or up to 30 days after they've aired in the UK), but otherwise, there's no easy way to see it when it premieres.