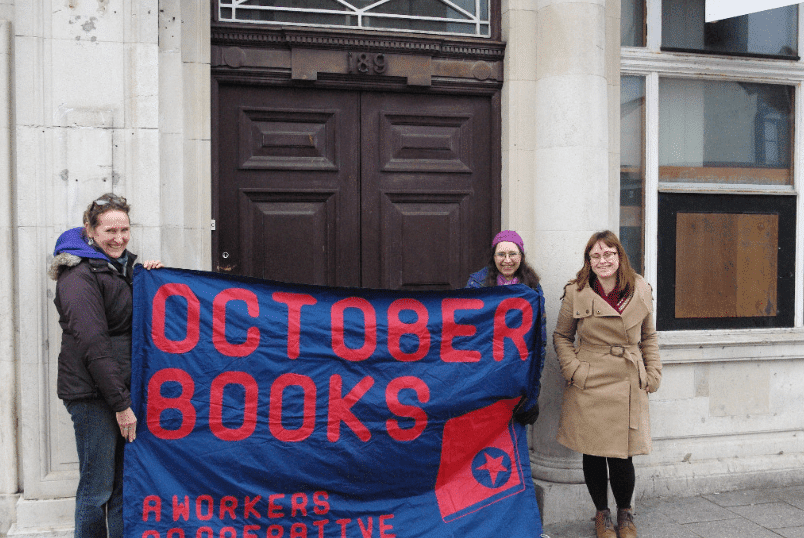 One of the loveliest things about British culture is that for all the friendly arguments and name-calling, most people are happy to pitch in when someone needs a little help – and that's exactly what was needed at one Southampton bookshop this week.
After a rent increase left them unable to afford their old digs, October Books put out a call for help in relocating their stock the 150 metres to the new location. On the big day, over 200 friends and nearby residents showed up and helped pass roughly 2000 books hand-to-hand in a human chain. A tweet from the bookshop showed scenes from the day:
One hour. 200+ people. One stock room, emptied. THAT is community, friends pic.twitter.com/LbgeAUMa3y

— OctoberBooks (@OctoberBooks) October 28, 2018
October Books is an independent, nonprofit co-operative, and it's something of an institution in the small port city of Southampton. Life has gotten increasingly difficult for independent bookshops in recent years, what with the popularity of Amazon, Kindle, Waterstones, and borderline illiteracy – so it's wonderful to see a community so embracing theirs. In 2017, the Bookseller's Association counted 867 independent bookshop members in the UK. 2014 was the first year the number of UK independent bookshops dipped below 1000 in all the time they've kept records
One Google reviewer, Emma Nichols, said of October Books:
They have a really good range of books in store and they also order books in. They managed to source a series of books for me that has been out of print for 10 years and two thirds the price online. Forget Amazon, go October.
In addition to books, October Books also stocks a small section of organic, fair-trade, and generally eco-friendly products.
Perhaps the best thing about this effort is that you can see folks of all ages and walks of life pitching in. It shows us the best of what happens when people remember we're all in this together, and give up a little of their time and energy to benefit someone else.
The New Home of October Books
Not long not long not long not long – date for your diary folks, 3rd November THE GRAND OPENING of the new shop! pic.twitter.com/Q29BOKEiUW

— OctoberBooks (@OctoberBooks) October 22, 2018
Should you find yourself in Southampton and wish to visit, you can find them in their new home at 189 Portswood Road. Luckily, they won't be bothered by further rent increases. They were able to purchase the new location rather than rent it, owing to a combination of crowdfunding, donations, and loans. The new building is a former NatWest bank location, and it gives the shop a funky, offbeat vibe the previous location didn't have – so it seems things have all worked out for the best.
I'd link to their website, but in the aftermath of the local effort, it appears their website has collapsed under the sheer volume of traffic they're receiving.
How You Can Help Independent Bookshops in the UK & Elsewhere
Most readers love a good stroll through a quirky, independent bookshop. Unfortunately, many of us now read on our Kindles and shop large retailers for discounts. If you'd like to help preserve independent bookshops around the world, remember – you have to vote with your dollars! Here are some ways you can do that, even if you often prefer to read on electronic devices:
When gift-giving occasions roll around, remember that books make wonderful gifts. That goes double if you put a thoughtful note inside the cover.
Remember that books are the ultimate souvenir. Whenever I travel, I like to visit independent bookshops and I buy something at every single one of them – often a book by a local author, or something set in the area. I still have fond memories of reading the 44 Scotland Street books while taking the train through Scotland, and I always wait until I'm back in the country to check out the latest installment. Even if I don't find something I personally want (a rare occurrence), I can always get something for a friend.
Many independent bookshops serve tea, coffee, and light refreshments. You don't have to be book shopping to indulge and support a small business.
Leave favorable reviews on sites like Yelp and Google, and post about your visits on social media to help small shops get additional publicity, and to remind people to support their local independent booksellers.
Don't think of your small bookshop purchase as "losing out on a discount you could have gotten online". Think of it as a little extra payment for the experience, and some insurance towards keeping them around.
More photos from the big move…
https://www.instagram.com/p/Bpea4pbHg5W/
https://www.instagram.com/p/BpfVCO_BKsD/
https://www.instagram.com/p/BpjxB2HA_Ec/
Its all go in #Portswood as our Human Chain in moving books hand to hand from old shop to new. Over 175 people are part of it! pic.twitter.com/D7Mpew3UdY

— OctoberBooks (@OctoberBooks) October 28, 2018
One hour. 200+ people. One stock room, emptied. THAT is community, friends pic.twitter.com/LbgeAUMa3y

— OctoberBooks (@OctoberBooks) October 28, 2018
Our Investment Manager Ian is helping our recent lendees @OctoberBooks as their Human Chain moves books hand to hand from the old shop to the new one we've helped them buy. Over 175 people by 1140 – and it was only due to start at 1130! #community #southampton pic.twitter.com/HFE58jBEAl

— Co-op Finance (@coop_finance) October 28, 2018