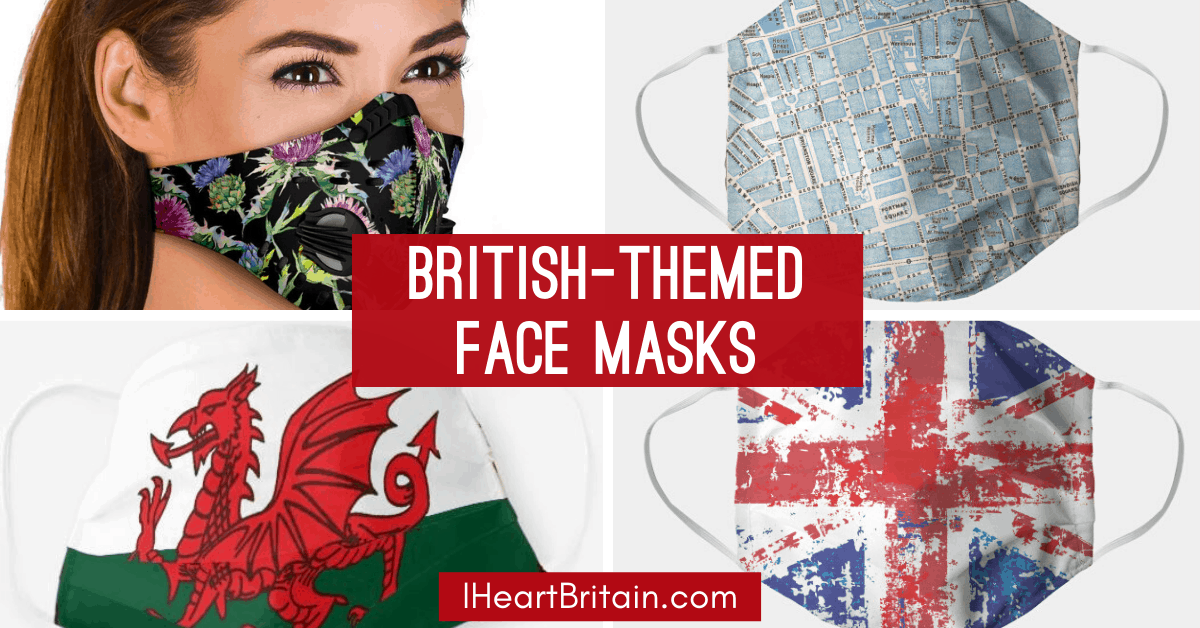 Now that many areas are enforcing mask wearing in public, we thought it would be a good time to take a look at fun and stylish options for people for Anglophiles and others who appreciate British culture and design. We've searched high and low, and our favourite British masks are below.
Please keep in mind that NONE of these masks are medical grade face masks. They're designed to minimise the spread of droplets, not completely prevent the spread of the virus. The medical grade supplies are best left to our medical professionals and other essential workers, but these are great for the rest of us.
If you need more information on masks, please refer to the WHO's advice on masks. We are not medical professionals, so we feel it best to defer to the experts on matters of health. We'll stick to matters of style!
Before we continue on with the masks, we just want to add an enormous THANK YOU to all medical workers and essential workers who may be reading this. I don't think there's any way society as a whole can ever properly thank you for your efforts, but please know that you're appreciated.
Note: ALL of these masks are available to ship to the US (and most ship FROM the US).
The Graffiti Union Jack Mask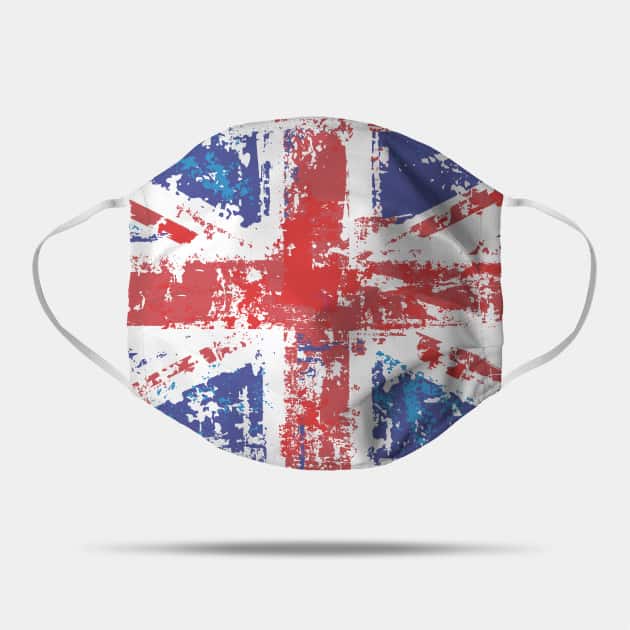 If you love the Union Jack (well technically, the Union Flag when it's not at sea) but you want something a little different from the standard design, this is a great option. It reminds me a bit of The Young Ones, actually (their DVD covers always include a rough-looking Union Flag).
Get it: TeePublic
If you prefer a surgical-style mask with this design, get it HERE instead.
Sherlock's Baker Street Vintage London Map Face Mask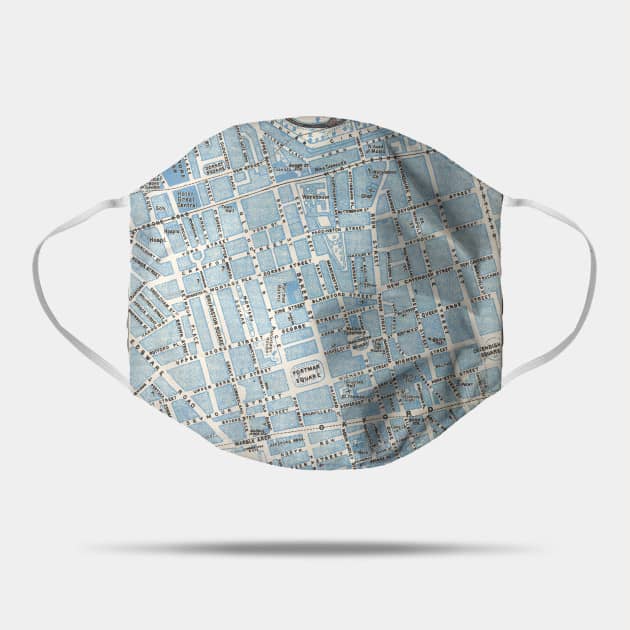 This face mask does double duty – covering your face AND offering directions to Baker Street. Most people here will know Baker Street as home to Sherlock Holmes. He resided at 221B Baker Street, an address that sits near the top of this London map.
Get it: TeePublic
Flower of Scotland: Scottish Thistle Face Mask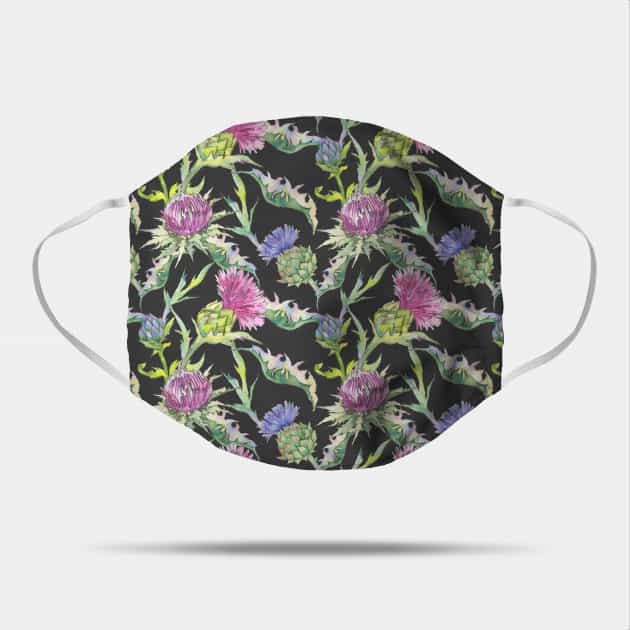 Thistle is the national flower of Scotland, and while there's some debate over which TYPE of thistle is the true symbol of the nation, I think we can all agree it's a very lovely weed (lovely enough that we had them engraved on the sides of my engagement ring).
If you love the design but prefer a style that doesn't pull on the back of your ears, check out the Premium Scottish Thistle Face Mask below.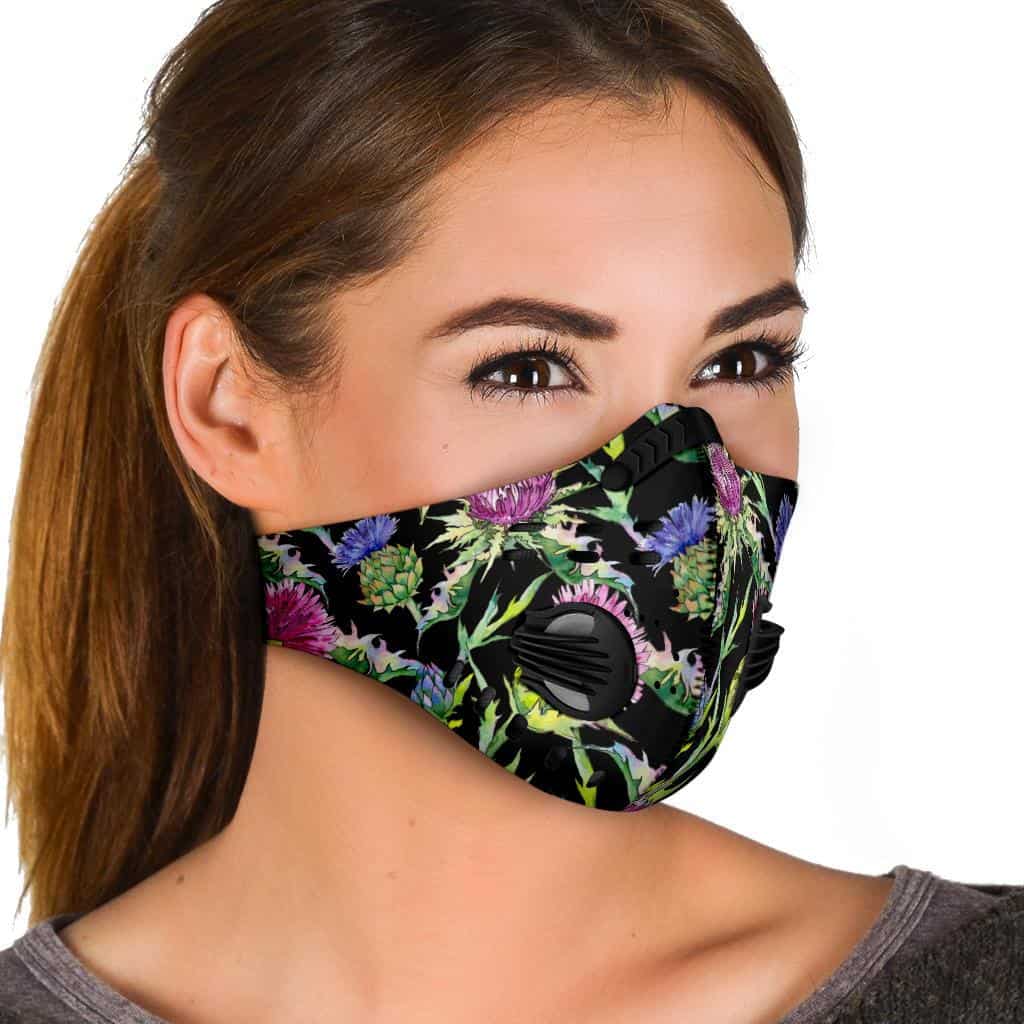 Get it: I Heart Britain Shop
The British Icons Face Mask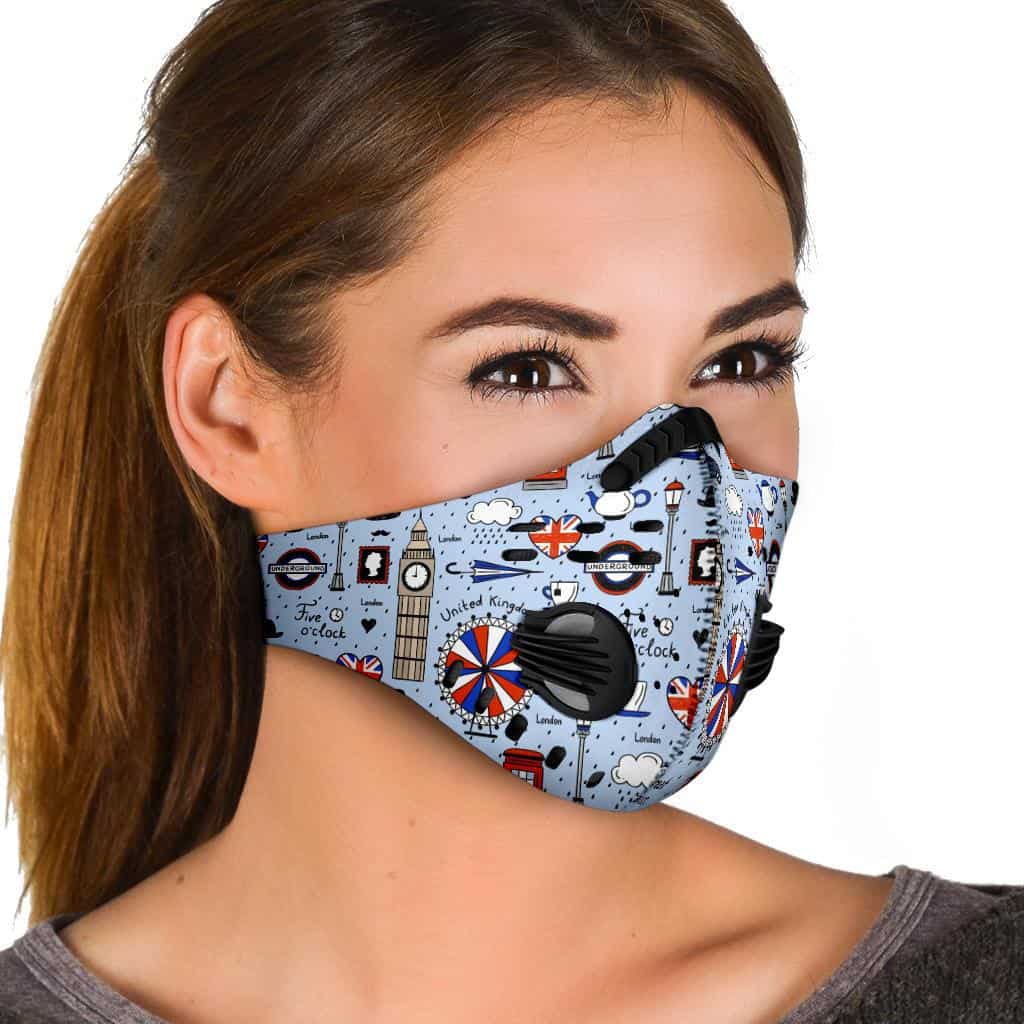 Big Ben, phone boxes, the London Eye, umbrellas…who here doesn't get just a little bit happier at the sight of those familiar icons? This is another one of our own premium masks, designed with nose clips, air vents, and adjustable Velcro closure for comfort.
Get it: I Heart Britain Shop
William Shakespeare Face Mask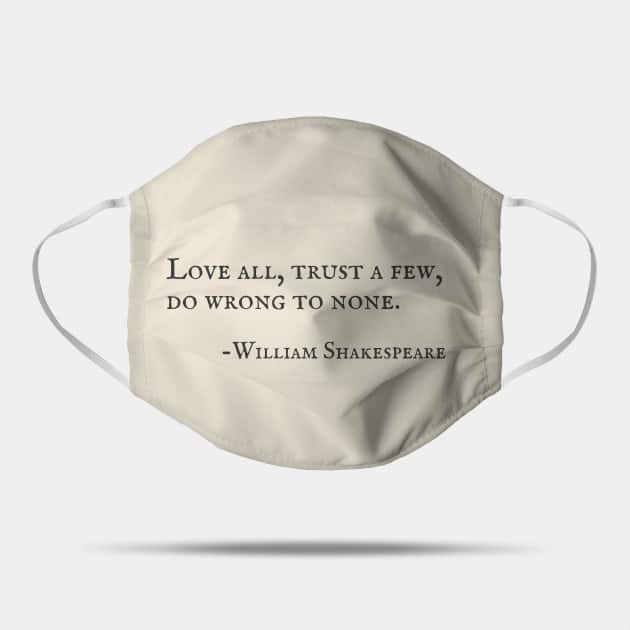 This Shakespeare quote may be hundreds of years old, but it feels especially timely right now, when we all need to be a little kinder to one another. This one is double-layered by default, but there's also a slightly more affordable single layer version on their site.
Get it: TeePublic
Stirling Castle-Inspired Scottish Unicorn Mask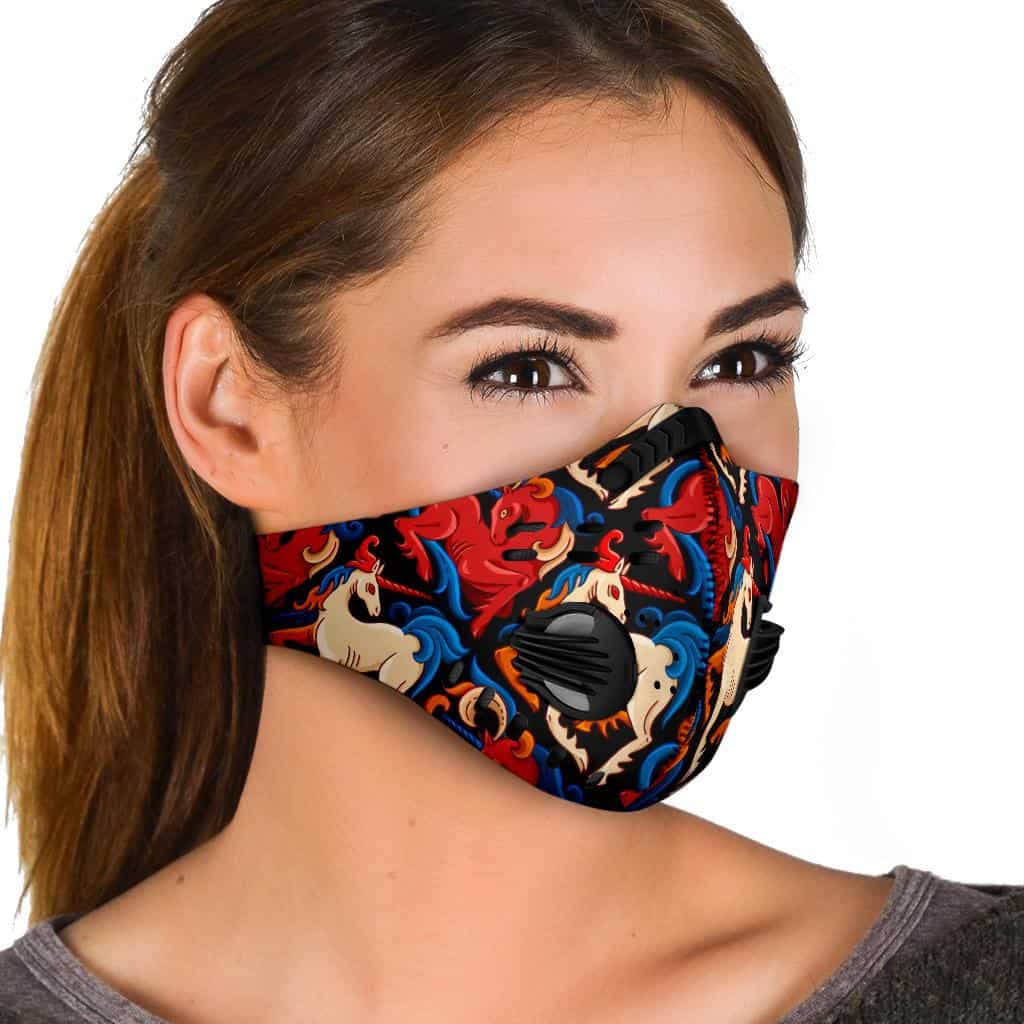 Did you know the national animal of Scotland is the unicorn? We promise we're not making that up!
If you've ever been lucky enough to visit Stirling Castle in Scotland, you'll know the place is crawling with unicorns (in the form of tapestries and other artwork, not real ones). This premium face mask is a fun, subtle nod to one of the best countries in the world.
Get it: I Heart Britain Shop
Welsh Flag Face Mask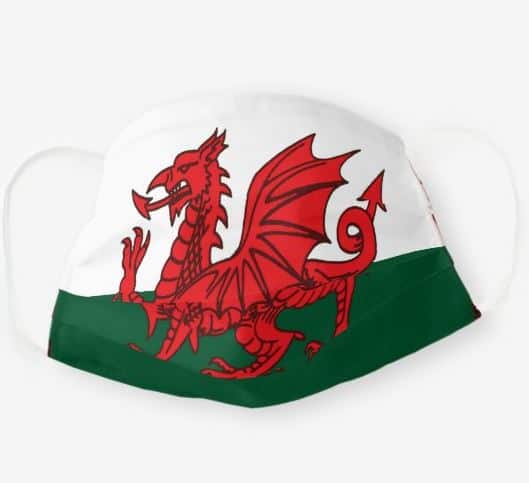 This is a mask we can easily picture on Nessa or Bryn from Gavin & Stacey. The mask features the Welsh flag with its iconic dragon, and it includes an insert slot if you wish to add extra layers of filter protection.
Get it: Zazzle
Scottish Flag (Saltire) Mask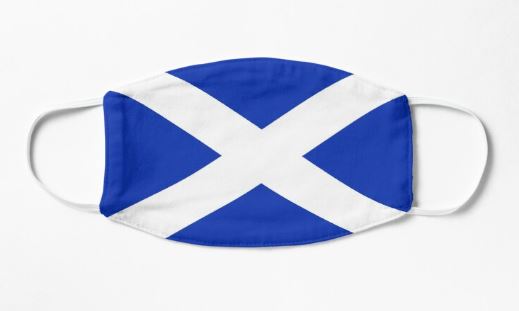 This list may be a bit heavy on Scottish-themed masks, but we can't very well leave out their flag. This simple, functional mask lets everyone know where your heart lies.
Get it: Red Bubble
Above All, Dear Readers, Stay Safe!
Whether you're using one of the lovely face masks above or an old t-shirt from around the house, we wish all our readers the very best during these trying times. We hope you're all safe and in good spirits. We'll leave you with the wise words of Queen Elizabeth II:
We should take comfort that while we may have more still to endure, better days will return. We will be with our friends again; we will be with our families again; we will meet again.
Save it to Pinterest!