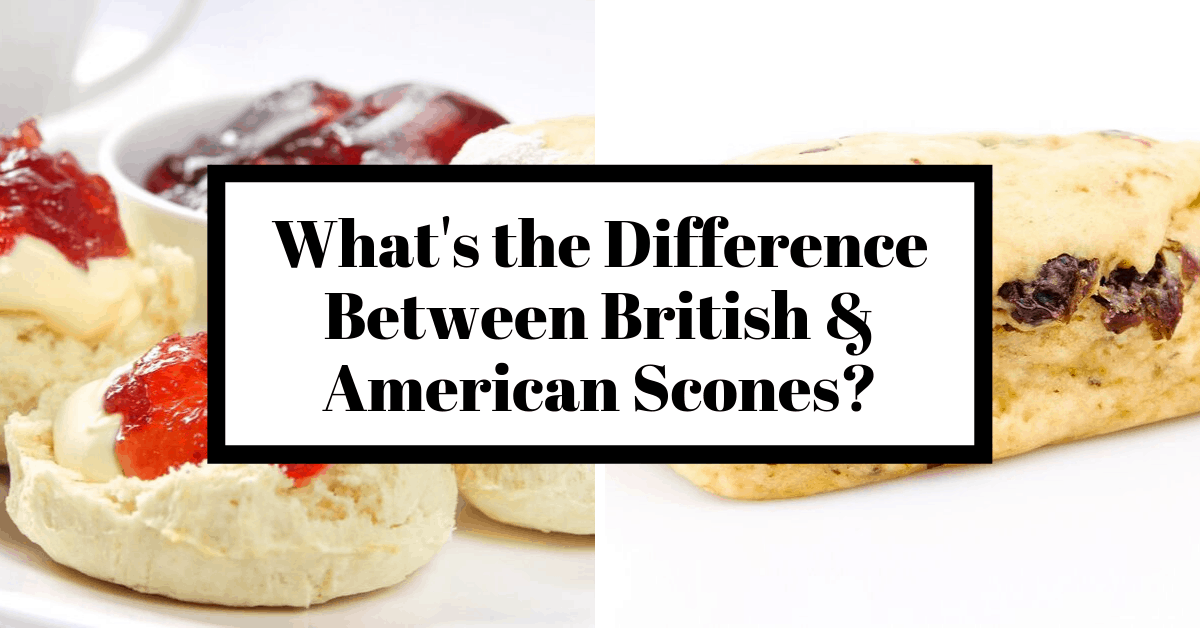 Not long ago, I saw an American baker post a photo of her scones in a British group, where she was quickly eviscerated. Why? Well, she had made an American-style scone, having no idea it wasn't the same kind of scone British people typically enjoy.
In the years we've been blogging about British TV and travel, we've come to realise many Americans don't know there's a difference between British and American scones. Many do, of course, but we've encountered enough who don't that we thought this article might be useful – or at the very least, save someone a bit of social media trouble.
What's the Difference Between British & American Scones?
For all their similarities, British and American scones are actually quite different. British scones are simpler, with fewer ingredients and not a lot of flavour on their own. American scones come in a million different flavours, and they're much more likely to be fruit-stuffed or fruit-flavored.
Though it's not unheard of for British scones to contain fruit, it's usually some kind of dried fruit like raisins, sultanas (golden raisins), or currants. Mrs. McCarthy's award-winning strawberry scones from Father Brown may seem like an exception, but if you pause and look closely, you'll notice the scones themselves don't appear to contain strawberries – they're placed in the middle with the cream.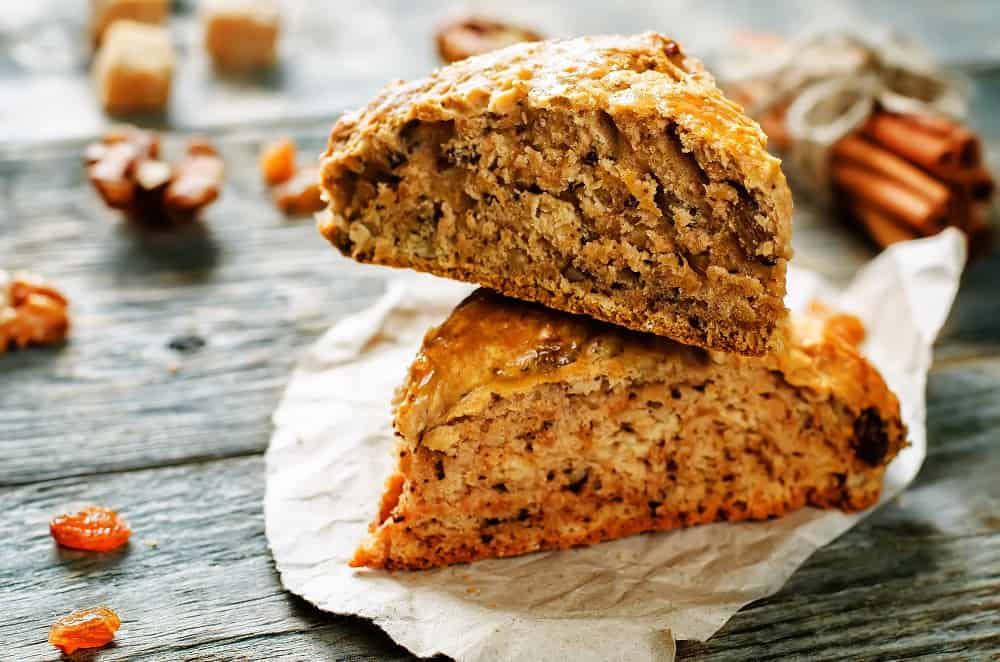 One thing I've never seen anywhere in the UK is a pumpkin scone – but come autumn, they're all over the place in the US. Just as peanut butter is relatively unpopular among Brits, sweet pumpkin dishes are also quite rare. If you find a pumpkin dish in the UK, it's very likely to be savoury.
Slight diversion: I did come across a 17th-century pumpkin pie recipe from England, but it's not at all like modern "custard in a pie shell" pies we see today.
American scones are usually designed to be eaten unadorned, though a drizzle of frosting on top is not uncommon. They generally have a lot "going on" without adding jam or other toppings.
British scones have a much plainer flavour profile, and are designed to be topped with things like clotted cream, butter, lemon curd, and/or preserves. Eating one plain would just be odd.
American scones are often dense wedges or triangles, while British scones are taller and usually round. British scones are reasonably dense, but not as dense as American scones (assuming they're fresh). They look a bit like tall American biscuits, but they're sweeter and fluffier (though I've had some American biscuits that were much denser than British scones, so that's not a universal truth).
American scones use much more butter than British scones, and they usually have quite a bit more sugar. The extra butter is what makes them so much more dense. It's not really a good or bad thing, as British scones pile on plenty of sugar (in the form of preserves/jam) and butter or clotted cream as toppings.
To better illustrate the differences, we've included two very basic recipes below – one for a typical British scone, and one for an American scone.
A Simple British Scone Recipe
The recipe below is just one of many possible options for making British scones. Since most of our readers are American, I've converted the measurements.
This particular scone recipe uses eggs, but there are just as many that don't use eggs (and, as with everything quintessentially British, there are some real oddballs who get quite heated about whether it's appropriate or not). Try it both ways and go with what you like best.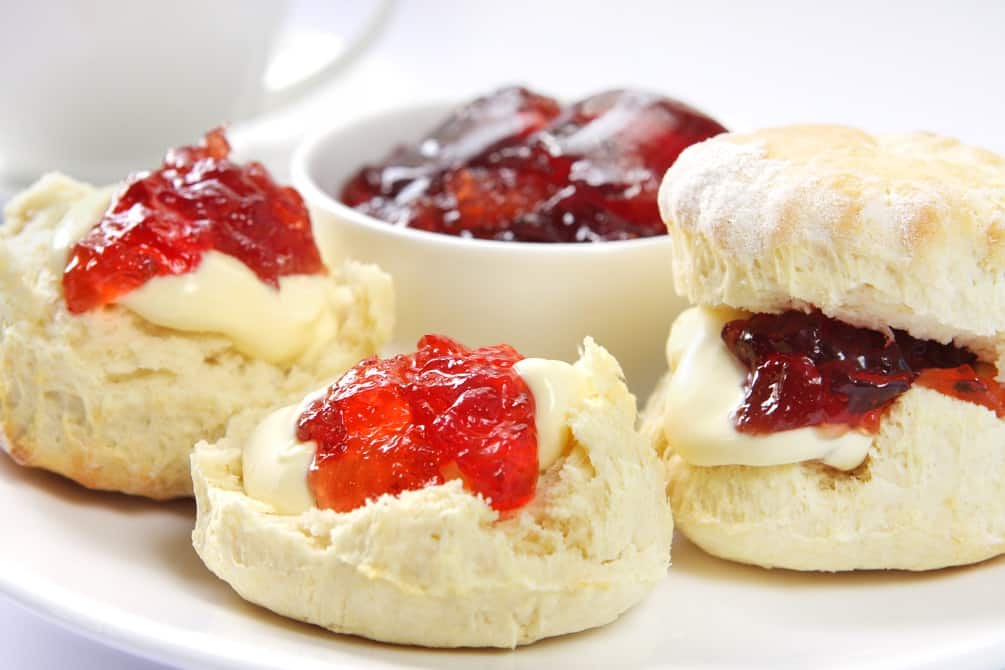 1 lb. self-raising flour
2 1/2 level teaspoons baking powder
3 ounces of butter (3/8 cup) at room temperature
2 ounces (1/4 cup) caster sugar (aka superfine sugar)
2 eggs
8 ounces (1 cup) of milk
Lightly grease two baking trays and pre-heat the oven to 425F (220 C).
Measure out flour and baking powder, then add in the butter and mix until it looks like breadcrumbs. You can use a food processor to speed up the process.
Add in sugar and mix.
Beat the eggs together and add in milk until you have a total of about 10 ounces. Take a couple tablespoons of the mixture away for later. Gradually add the remainder into the flour mixture, kneading it as you go. It's better to be too moist and sticky than too dry. Remember to avoid over-kneading. It's better to err on the side of handling your dough too little.
Once mixed, put the dough on a lightly floured surface. and use your hand or a rolling pin to flatten it down to about half to three-quarters of an inch high.
Use a 2 inch round cutter and press straight down as you cut the dough into individual scones (or 3 inch cutter for larger scones). Knead the excess dough as little as possible to recombine it and roll it out again to cut more.
Place the scones on a baking tray, and brush the tops with your extra egg and milk mixture.
Bake for 10-15 minutes until they rise nicely and achieve your desired shade of golden brown.
An American Blueberry Scone Recipe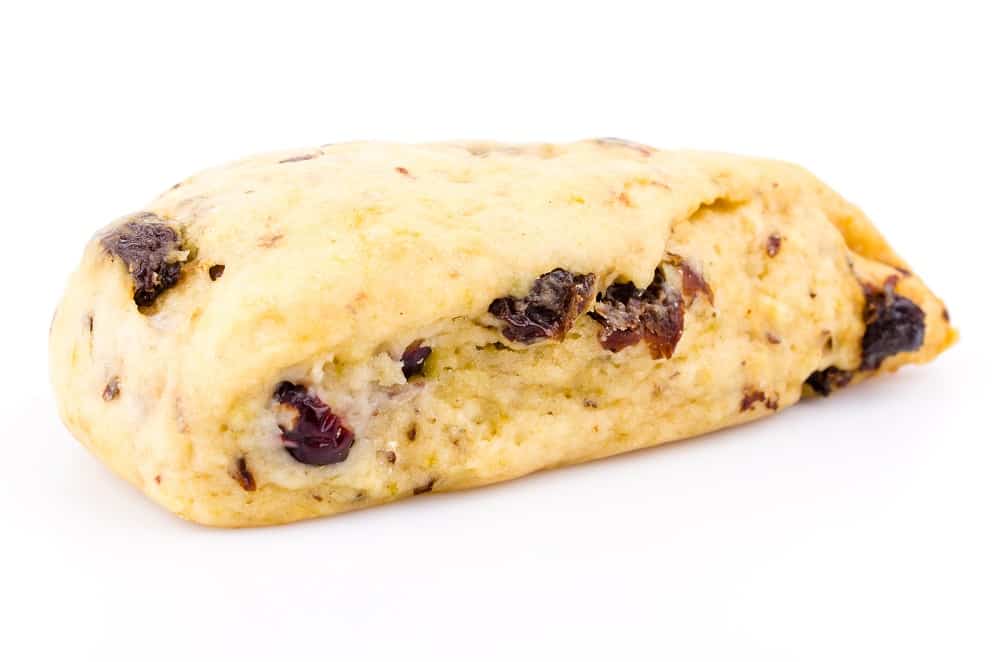 It's not easy to find a completely plain American scone, so we opted for a very simple blueberry scone recipe.
2 cups all-purpose flour
1/4 cup packed brown sugar
1 tablespoon baking powder
1/4 teaspoon salt (you can skip this if you use salted butter)
1/4 cup butter, chilled
1 cup fresh blueberries
3/4 cup half-and-half cream
Preheat oven to 375F (190C)
Mix flour, sugar, baking powder, and salt.
Cut in the butter. It should be crumbly.
Add blueberries and mix gently.
Beat cream and egg together, then slowly mix them into the dry ingredients. Stir gently until a dough forms, them knead only as much as you must to get it to come together.
Divide dough in half, then form a 6-inch round with each half. Cut into wedges and place them on a baking sheet.
Bake on an ungreased sheet for roughly 20 minutes.
The Cream First vs. Jam First Debate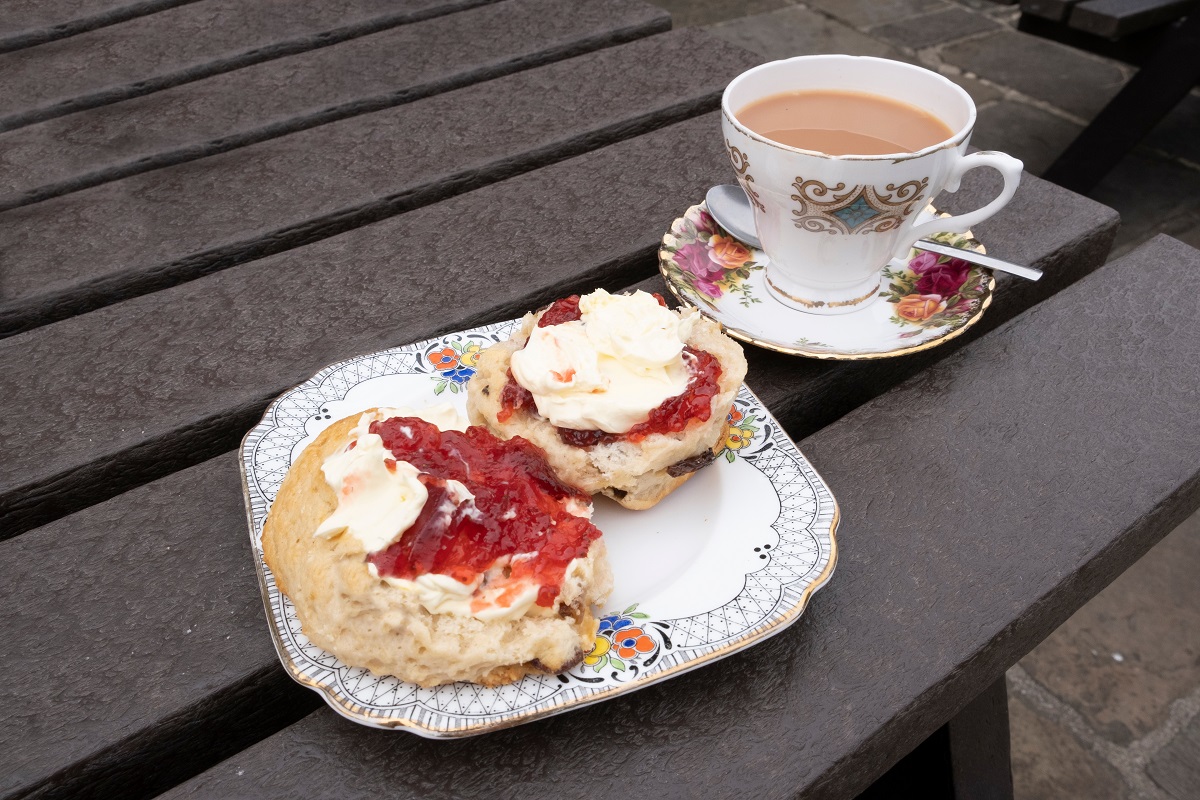 If you think the eggs vs. no-eggs debate is bad, just try asking a British person whether you should spread the cream first or the jam first. For bonus points, make that a person a resident of Devon or Cornwall. Then stand back.
Certain things tend to stir up fierce debate, and this is one of those topics. Many insist that there is only one right way, and it's the way they do it (and their mother did it, and their grandmother, and so on). As with all things, just figure out what YOU like and go with it. You won't be violating any rules.