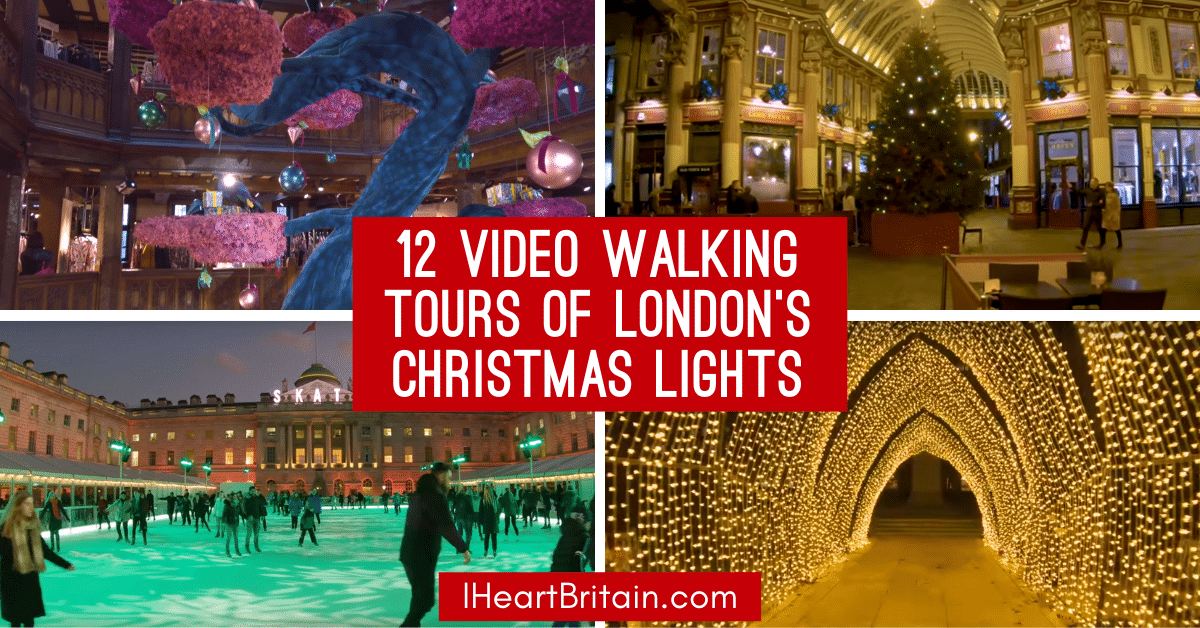 We recently posted about the best places to see Christmas lights in London, and while the post was popular, we saw a lot of social media comments from people who said they'd love to go, but it just wasn't in the cards for them. Some people were challenged by budget, others by family obligations, and a few said health problems made travel all but impossible.
While it's not a perfect substitute for being there, we scoured the internet for the best walking videos to show of the beautiful Christmas lights of London – skipping anything with excessively shaky footage, bad dubbed-over music, or a narrator.
The videos that follow will take you through the best Christmas lights displays of London, and you won't even have to wear gloves. Just grab your favourite beverage, fire up your TV or computer, and prepare to enjoy the holiday magic.
If you have a smart TV or Roku (or similar device), you can use the YouTube channel to watch these videos on your television. Depending on your computer and TV, you might also be able to use an HDMI cable to send it from your laptop to your television. Some smartphone and TV combinations also allow you to push YouTube videos from phone to TV.
Lastly, if you enjoy tours like this, you'll want to subscribe to "Watched Walker" on YouTube. You can check out all his videos HERE.
Need Even More British Christmas Sights?
Check out Christmas in England and Proper English Christmas on Amazon. Both are available on Prime Video at time of writing (December 2019).
A Christmas Lights Walk Through London, England
Oxford Street & Bond Street Christmas Lights
This walk takes us down Oxford Street and nearby Bond Street, offering a look at the incredible lights displays of the 2019 Christmas season. 2019 marks 60 years of lights on Oxford Street, making the display extra special this year.
Leadenhall Market Christmas Lights
This next walk takes us around Leadenhall Market (aka Diagon Alley in Harry Potter) and the surrounding area. While the nearby areas are not my favourite bit of London, the parts in Leadenhall are more than pretty enough to make up for it.
Liberty London Christmas Lights
In what might be my favourite of the bunch, this video takes you inside Liberty London to see their incredible "Tree of Liberty" Christmas display. The store itself is unlike any department store most people have ever been in, with a Tudor revival building filled with detail and character.
The tour finishes off in their Christmas gifts area, and if you see something you like, know that you CAN actually go and order much of it from their website (and much of it is on sale this late in the season). To go straight to the food section of their site, go HERE. We're still drooling over the selection of Christmas hampers and tea and chocolate and jam.
Baker Street & Grosvenor Square Christmas Lights
Next, we take a look at the walk from Baker Street to Grosvenor Square's Golden Archway – a magical display practically made for pretty social media photos.
Trafalgar Square Market, Somerset House, & The Fortnum's Lodge
This walk begins around dusk, so it's bright enough to appreciate the market vendors at Trafalgar Square. It then passes by the Savoy before heading to the ice skating rink at Somerset House and into Fortnum's Christmas-focused Lodge.
Regent Street Christmas Lights Switch-On
The Christmas lights of Regent Street are magical, but the only way I'd want any part of the lights switch-on is like this – on video. Due to the massive crowds, this one is almost more of a standing video than a walking video, but it does move around a bit. It just doesn't cover as much ground as some of the videos on this list.
Chelsea Christmas Lights Walking Tour
This walk moves from the Chelsea Christmas Lights Switch-On Event to a walk along Sloane Street and the surrounding area.
Kensington High Street Christmas Walk
This walk starts at Kensington Station and proceeds outward to check out the Christmas lights along the High Street. The walk ends at the festive Churchill Arms pub, completely covered in Christmas lights in celebration of the season.
Marylebone Village Christmas Lights
This walk explores the lights of St. Christopher's Place and the Marylebone High Street, darting down small lanes and coming out into larger squares filled with lights and elaborate decorations.
Seven Dials, Regent Street, & Carnaby Street Christmas Lights
Carnaby Street is home to some of the most unusual Christmas lights displays in London, and this year is no exception. This year, the display celebrates the oceans, promoting plastic reduction and pollution awareness with all sorts of illuminated sea creatures.
The video also moves through Seven Dials and Regent Street.
Harrods & The Natural History Museum Ice Rink Christmas Lights
This walk starts off around Harrods, checking out the window displays and holiday lights on the street. It then moves on to the ice rink at the Natural History Museum before ending at South Kensington Station.
Covent Garden Christmas Lights
We had hoped to find a good quality video without ill-fitting, dubbed-over stock music, but unfortunately, it just wasn't happening for this one. It's a short walk, though, so if you just want to see the lights, it's worth watching.
What's Your Favourite London Christmas Lights Display this Year?
Did you have a favourite Christmas lights display? Ours was a tossup between Chelsea and Liberty London, but we thought they were all magnificent. Let us know your favourites in the comments!
Save it to Pinterest!