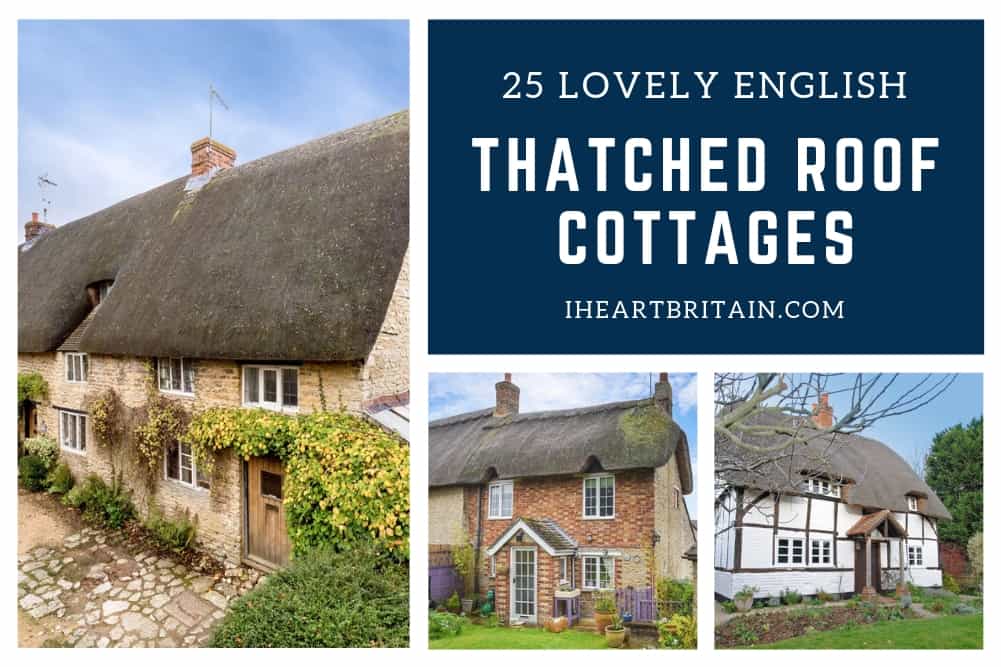 Most of us can immediately recognize a thatched roof cottage without any trouble, but few people realize just how long people have been building homes this way. The use of thatching in roofs is a tradition that dates back to at least the Bronze Age, and it was born out of the need for lightweight, nearby building materials. Many of the oldest buildings were not built in a way that allowed them to support heavy stone roofs, and even those that were sturdier may not have necessarily had easy access to the materials.
Thatched roofs can be made from a variety of materials, including straw, heather, flax, water reed, or sedge. In Southern England, thatch was most commonly made with wheat straw, while in East Anglia, reed was more common. In Scotland, heather was traditionally used.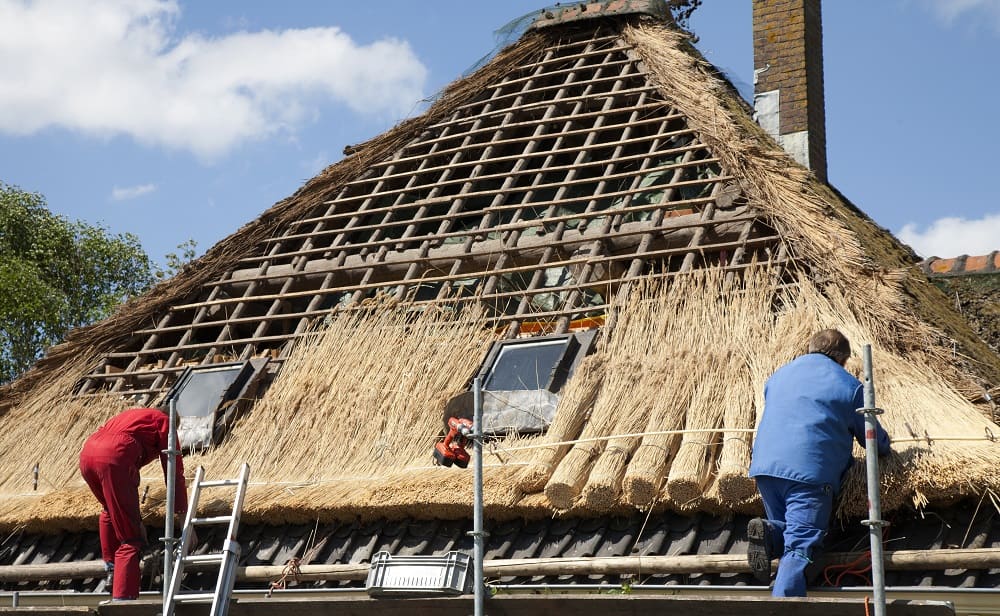 Many thatched roof fans will notice you don't see a lot of truly large, stately homes with thatched roofs. That's because it was a building material frequently used by the poor. Of course, that's a bit laughable now, given that attractive thatched roof homes in idyllic villages can easily sell for more than a million pounds.
One exception to the "used by the poor" rule would be Pevensey Castle, which is believed to have been at least partially thatched. Of course, it's now in a state of ruins, so it's hard to imagine what that might have looked like.
Many older churches also used thatching for their roofs, though there are only around 100 or so remaining. Most of them are in Norfolk and Suffolk, and if the topic interest you, you might enjoy Michael Billett's book on the topic: English Thatched Churches. Between fire, the cost of maintenance, and the improvement in access to other building materials, few thatched churches remain – but Billett's book is a fascinating look into the history of the topic.
Further Reading on Thatched Cottages & Other Thatch Roof Buildings:
25 Lovely English Thatched Roof Cottages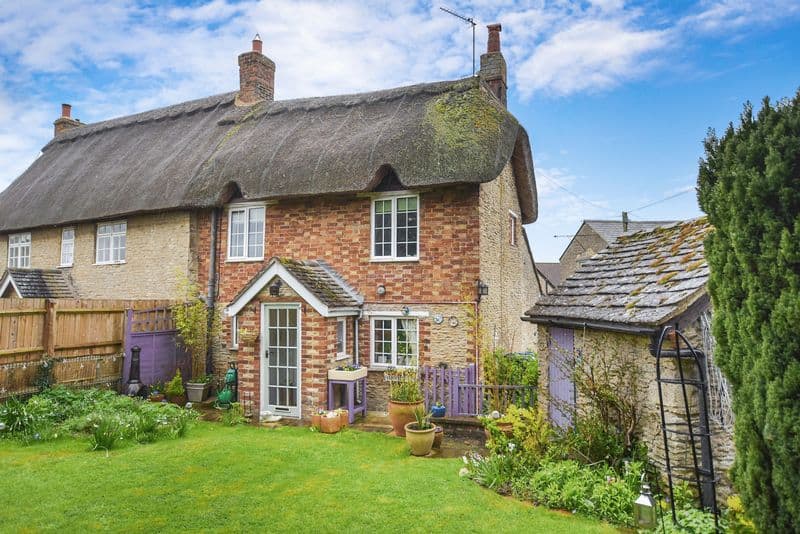 This impossibly quaint semi-detached thatch roof cottage is located in the small village of Wendlebury in Oxfordshire. Wouldn't it just be the perfect place for a summer in England or a writing holiday? A bit of tea, some scones, a good book…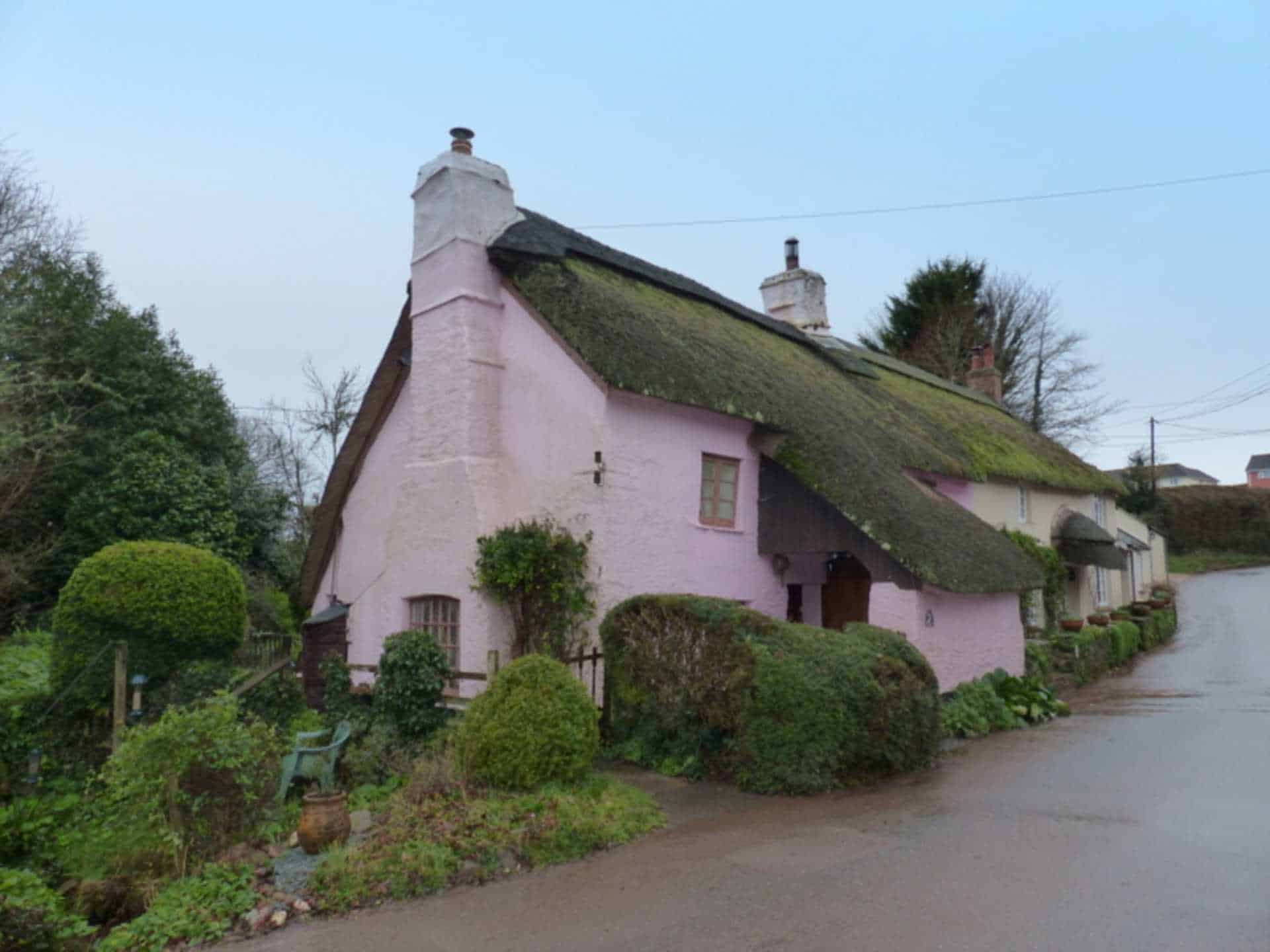 The thatched roof on this small Devon cottage reminds me a bit of those sloths with that green algae growing in their fur. You'll find this home in the village of Sherford, just a couple of miles from the south Devon coast.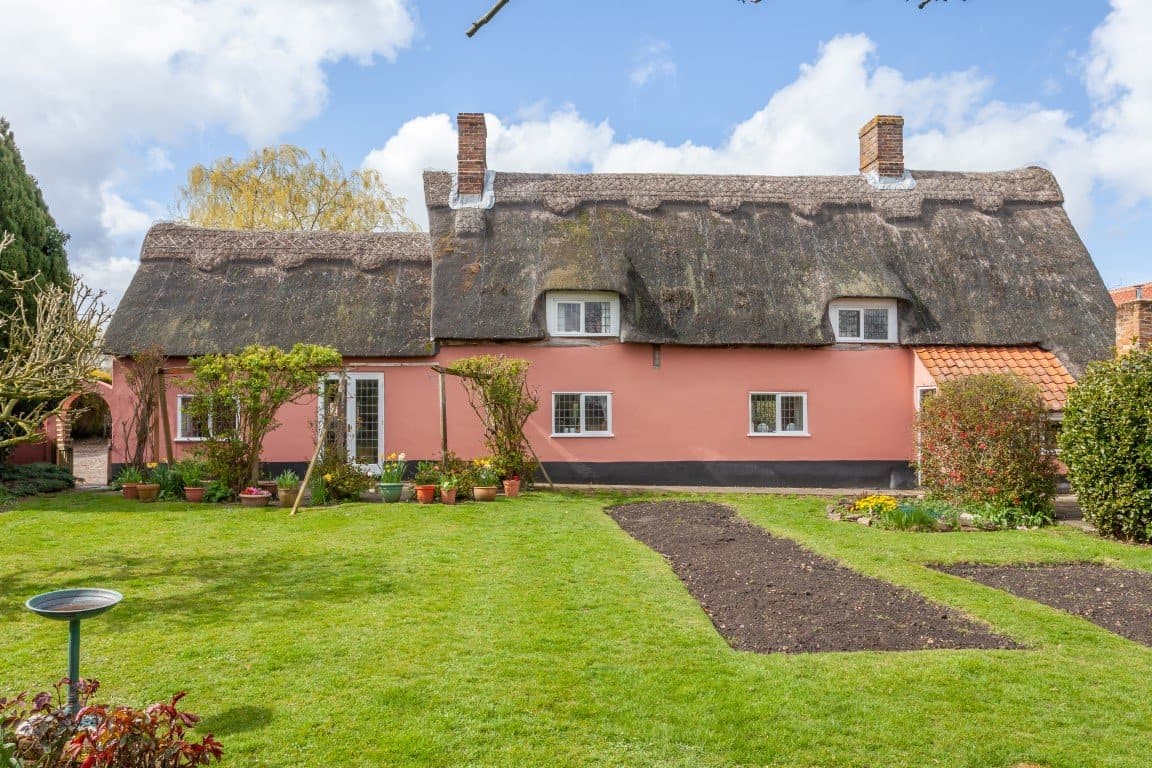 This chocolate box cottage is set back from the road in the village of Brisley in Norfolk, and at the time of writing, it was on offer at 475k GBP. For someone who appreciates traditional English country houses with thatched roofs, wooden beams, and small kitchens, this would make a delightful home.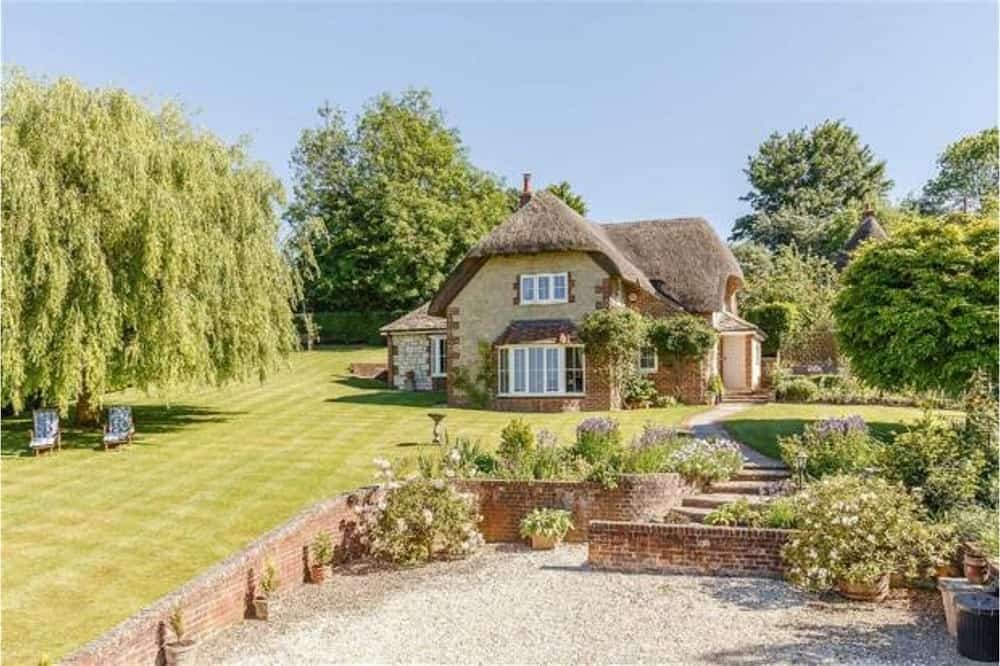 This beautiful property is a great example of both a traditional thatched roof and a traditional English garden. Located near Swindon and currently on the market for 665k GBP, most of us will have to be content with dreaming of how nice it would be to live here.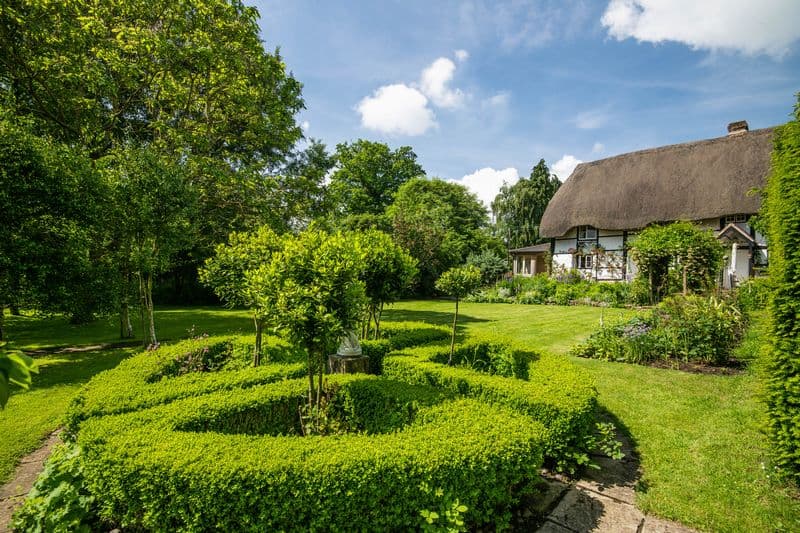 Not far from the city of Oxford, you'll find this lovely thatched roof home in the hamlet of Denton. At the time of writing, it was for sale for just under 900k GBP. Five bedrooms, a spacious garden, a pool, and a quaint country kitchen go along with that lovely thatched roof.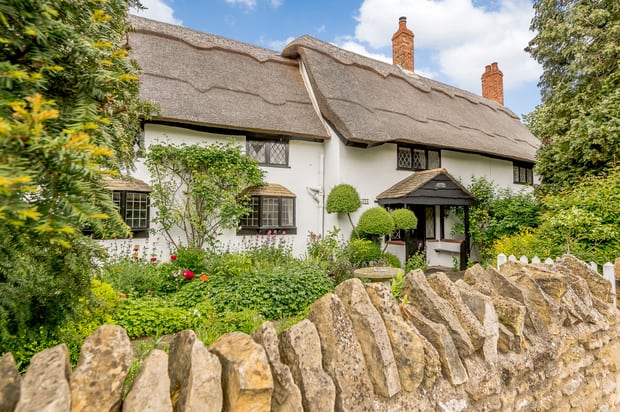 In the Cambridgeshire cathedral city of Peterborough, you'll find this incredibly well-maintained thatch roof cottage with 6 bedrooms and 5 reception rooms. Almost palatial by thatched cottage standards, it comes in at nearly 4000 square feet – and a hefty price tag of 850k GBP.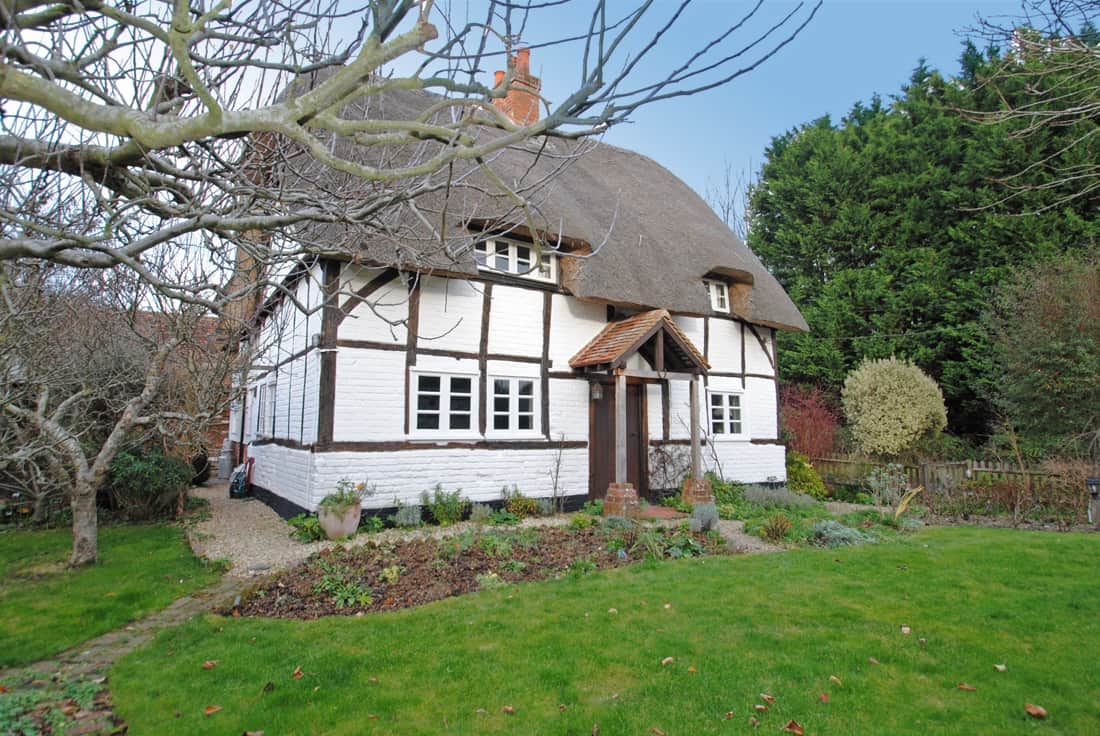 In gorgeous South Oxfordshire, you'll find the village of Brightwell-Cum-Sotwell – and in Brightwell-Cum-Sotwell, you'll find this thatched cottage. Could anything be more peaceful than life in a house like this?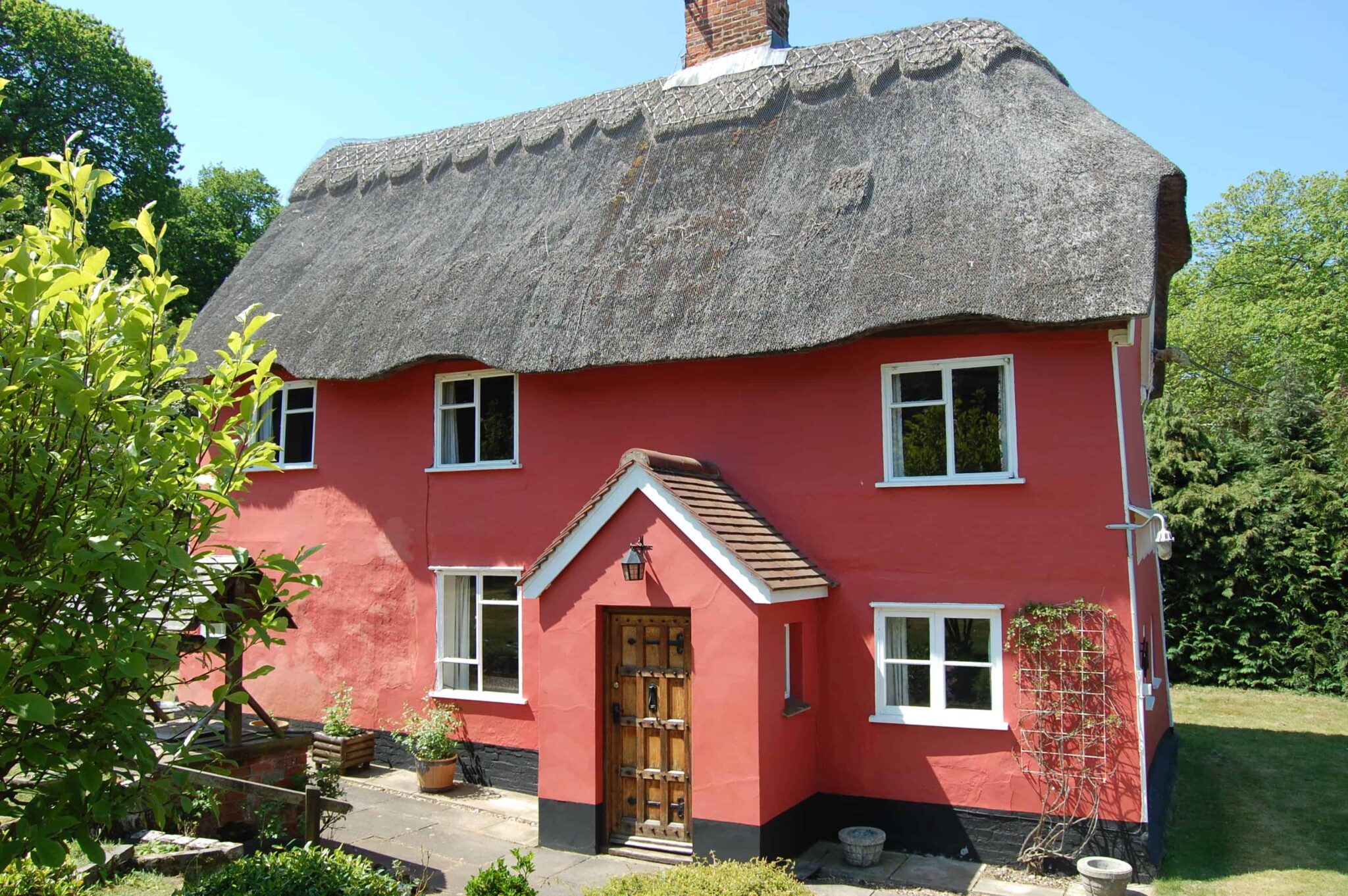 With a brightly-colored thatched cottage like this one, you'll never have to worry about gray English days. This Grade II listed character cottage is located in the tiny village of Ufford in Suffolk, England.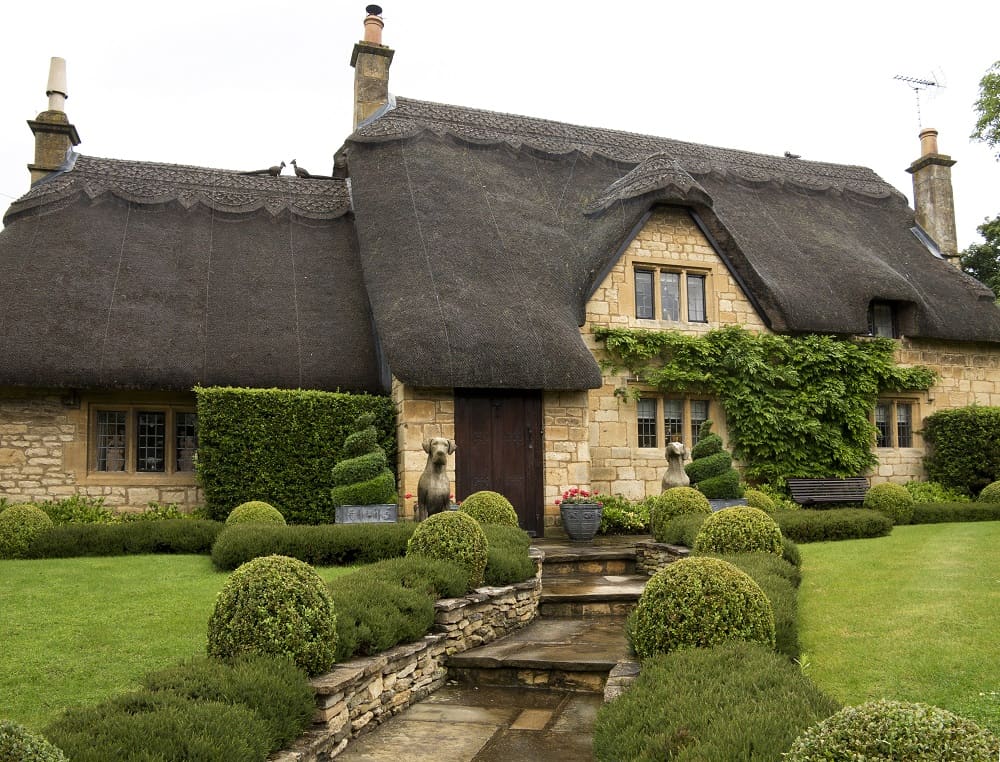 In the Cotswold village of Chipping Camden, you'll find this delightfully well-maintained thatched cottage with impeccable gardens. This home is an excellent example of the way many of the skilled thatch workers leave their own touch on the roof design.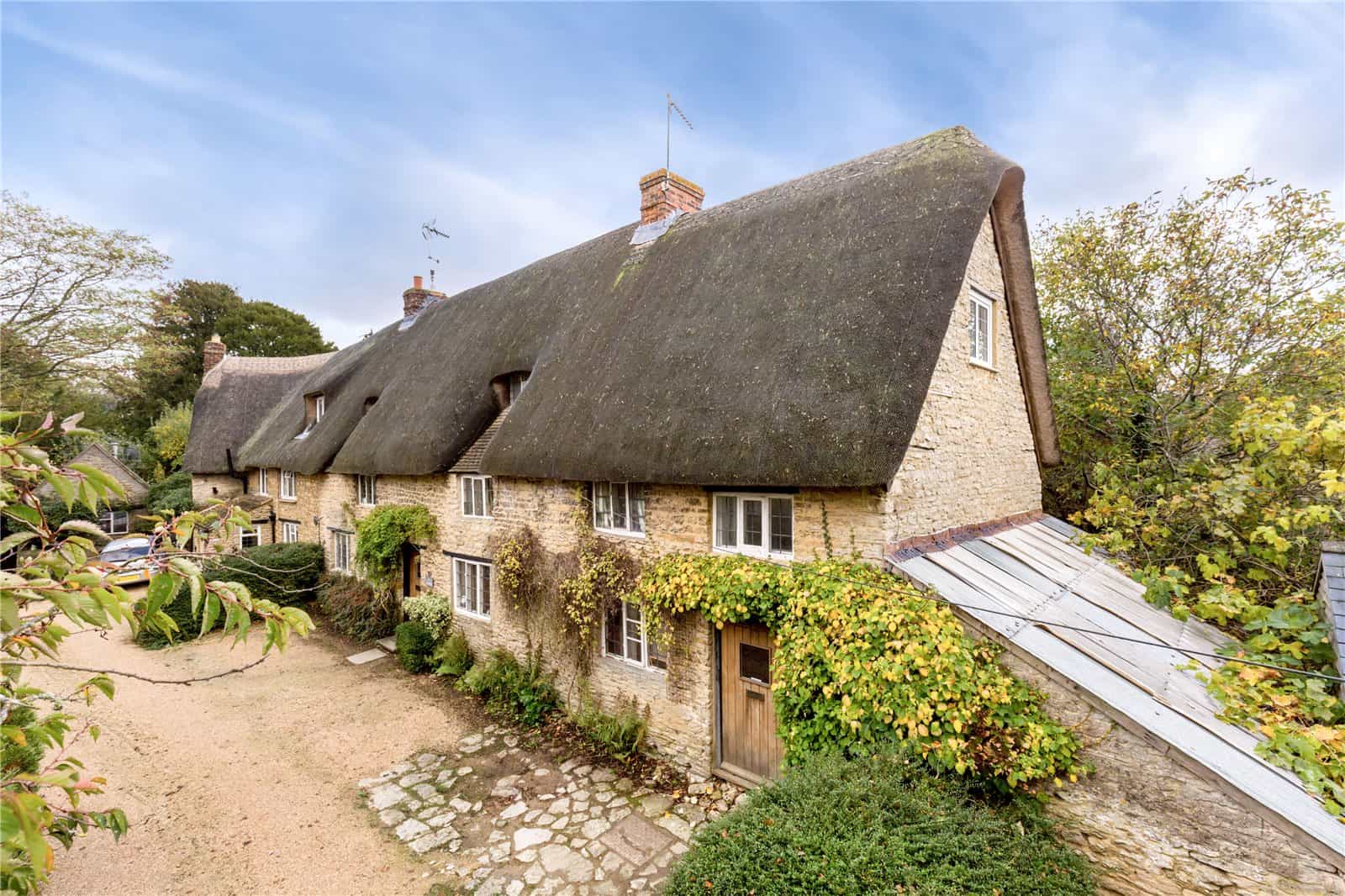 This picturesque 5 bedroom semi-detached thatched cottage is located near Banbury, the historic market town from the old children's rhyme.
Ride a cock-horse to Banbury Cross,
To see a fine lady upon a white horse;
Rings on her fingers and bells on her toes,
And she shall have music wherever she goes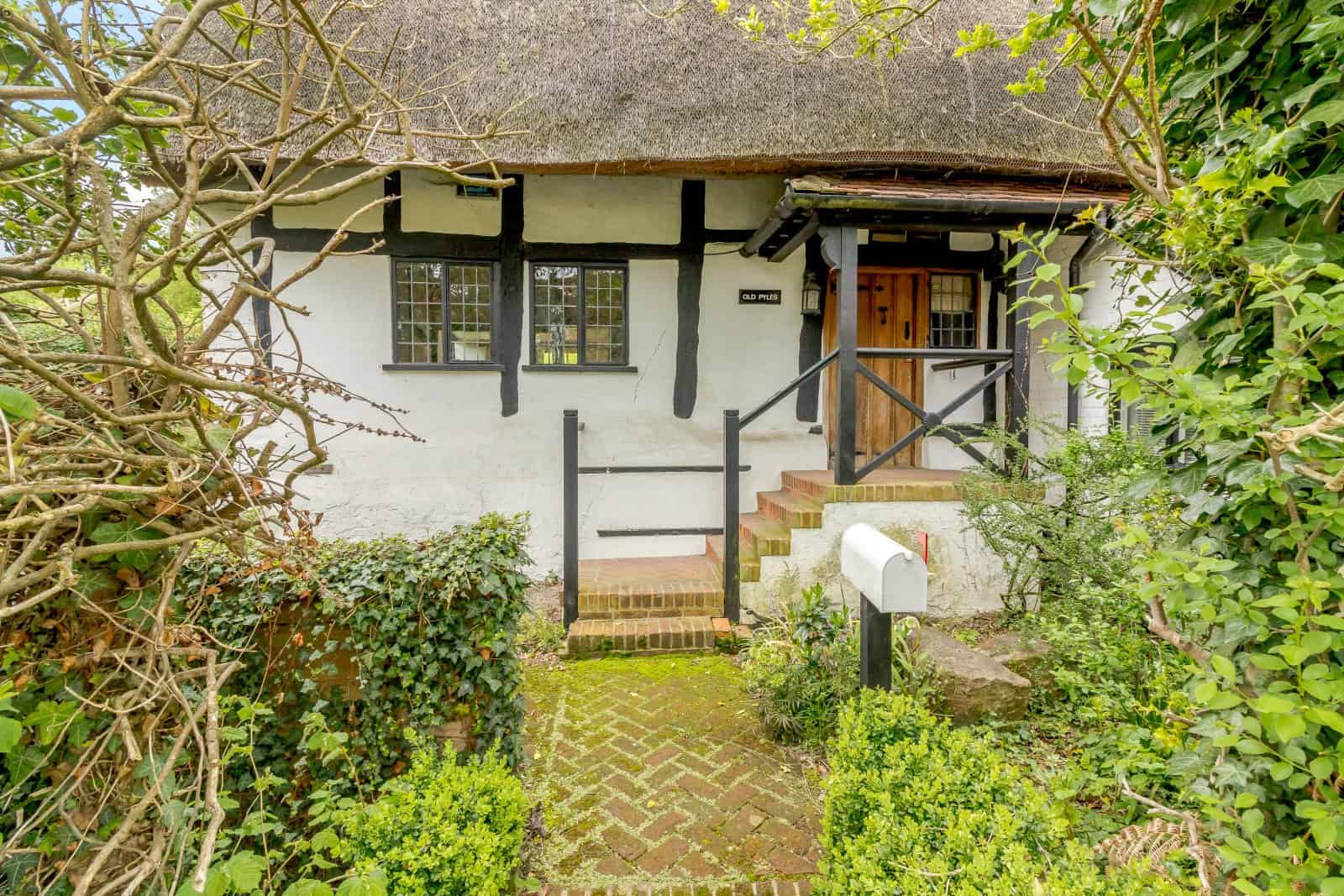 In the village of Aston Upthorpe in Oxfordshire near Didcot, one property has both a thatched main house and a thatched outbuilding. This is the outbuilding. Wouldn't that make for a lovely home office or hobby room?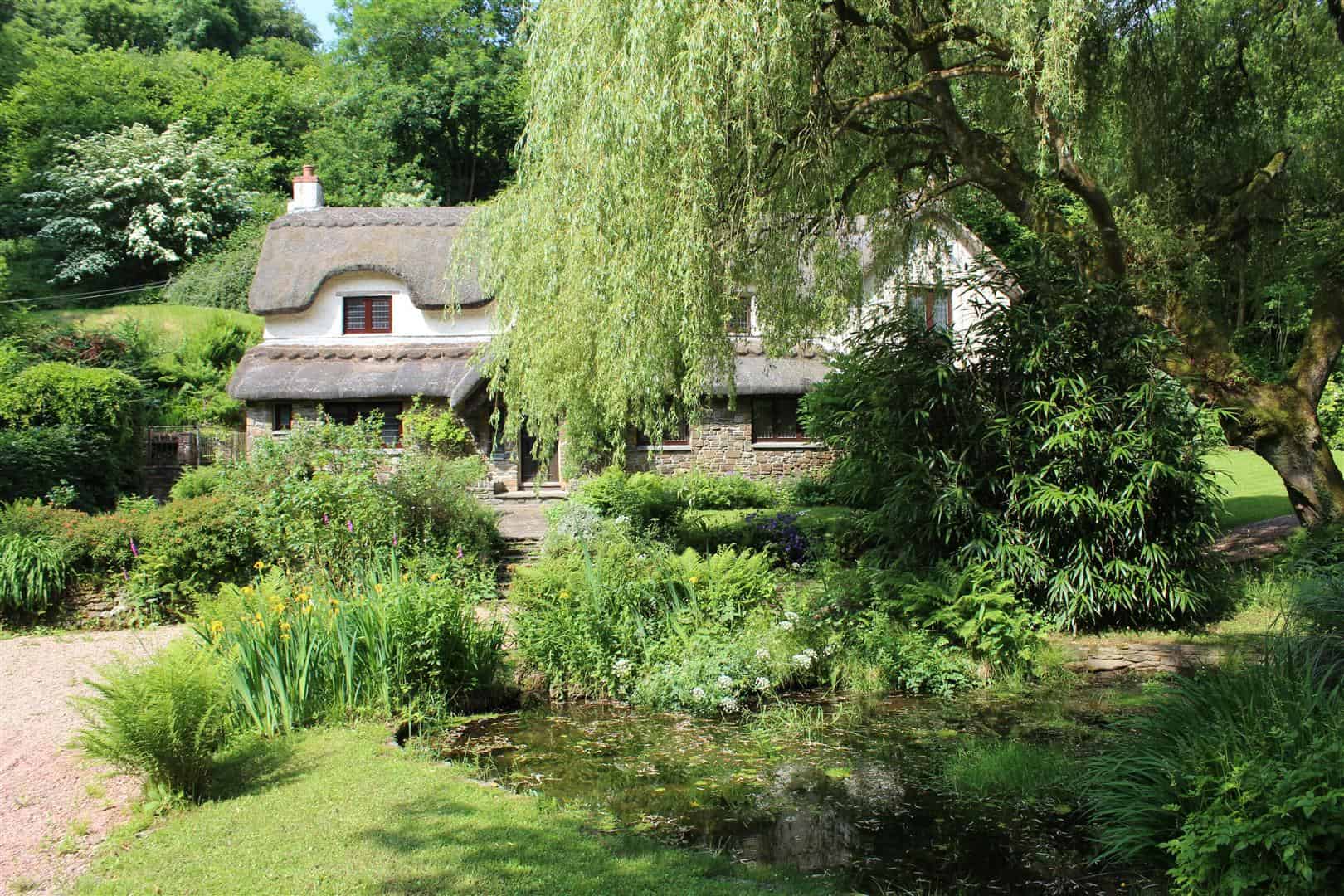 This thatched roof cottage almost looks like it's trying to be coy, hiding behind those tree fronds. With ten acres of partially wooded grounds covered in streams and ponds, however, it has no need to be coy. This is a house that has something to be proud of.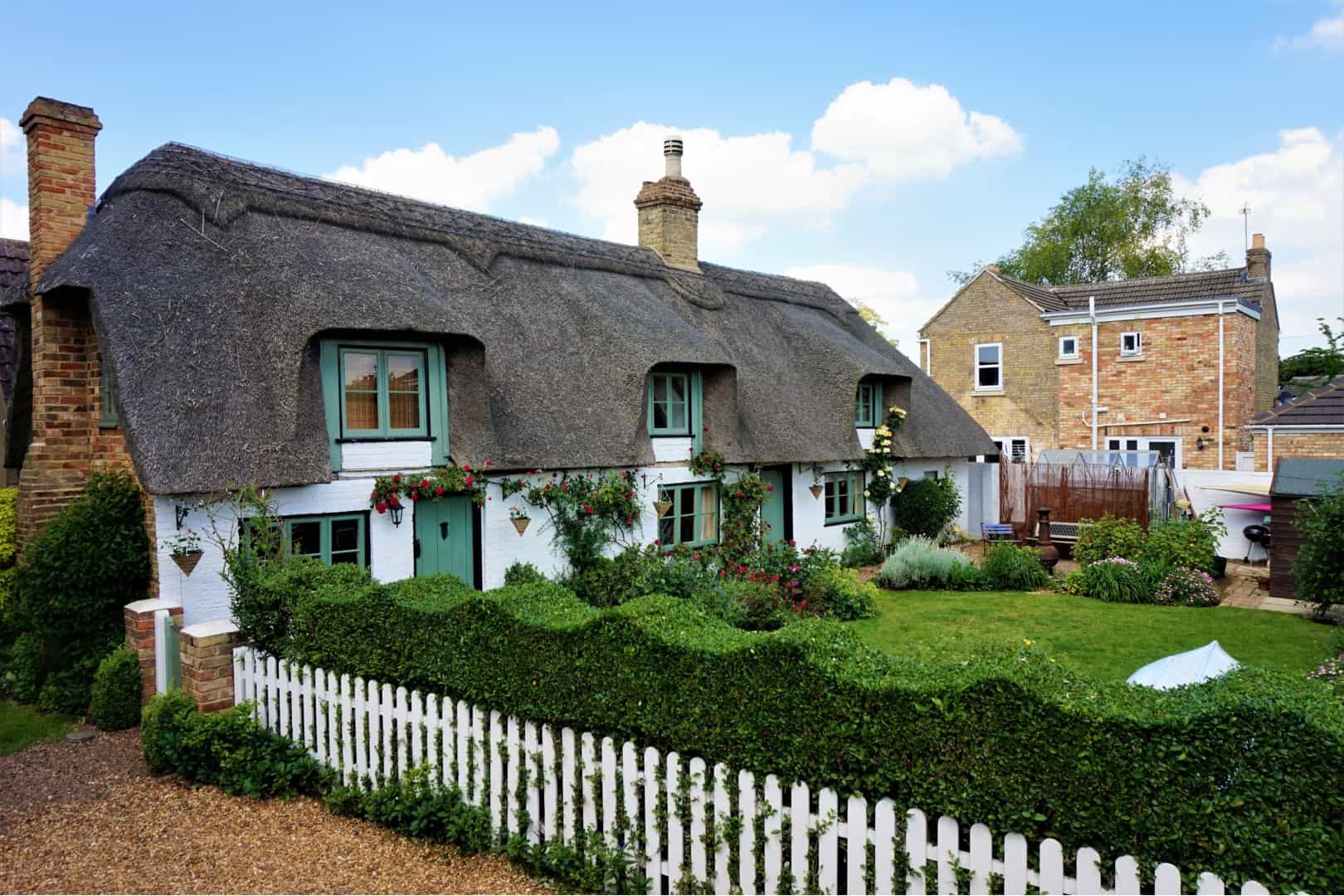 This two bedroom thatched cottage in the village of Coates shows immense pride of ownership. Every little detail appears to have been thought of, from the perfectly trimmed hedges to the freshly painted windows and gate, to the nicely trimmed roses winding around the doors and windows. Amazingly, this one's currently on the market for offers over 240k GBP.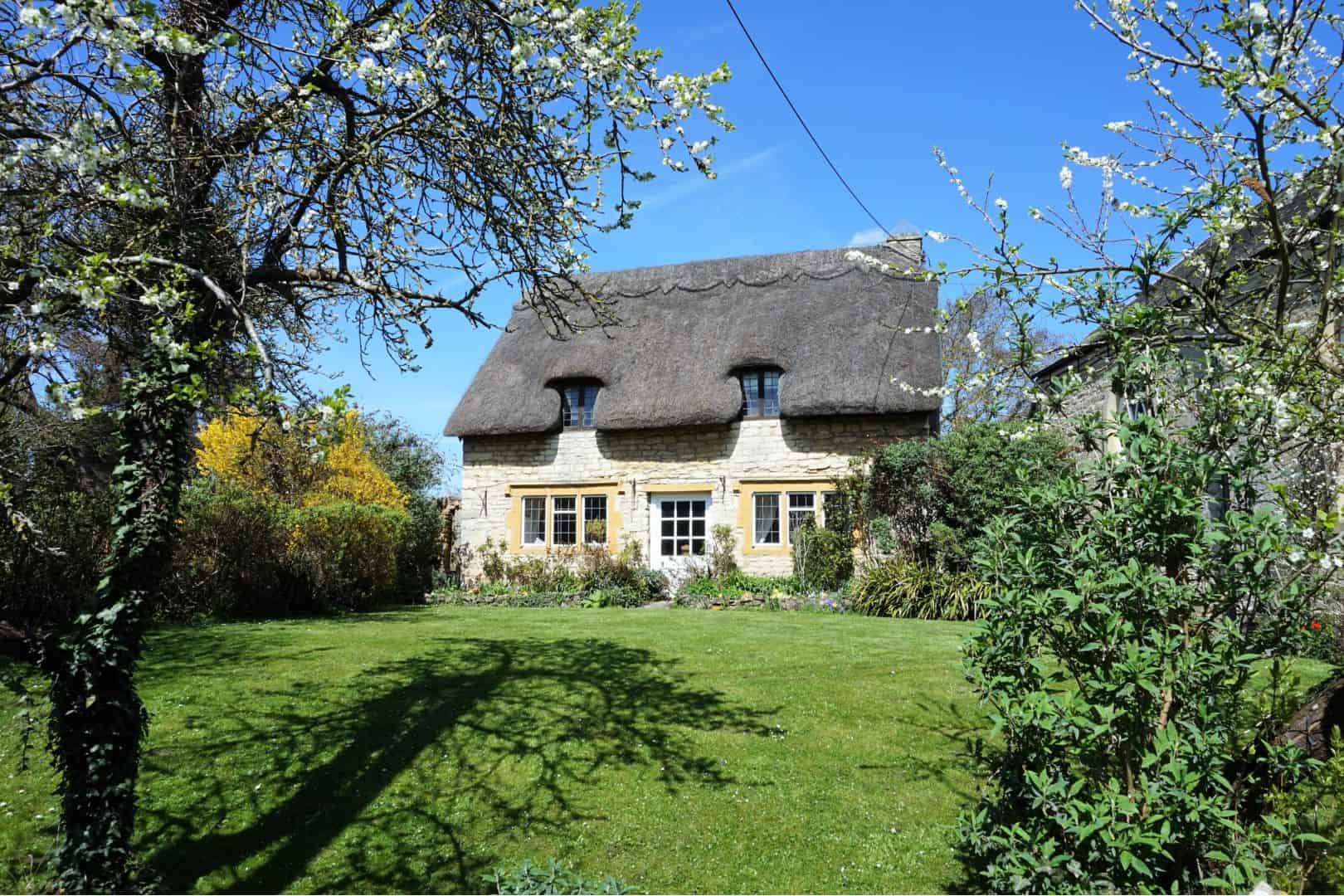 Not far from Cheltenham, you'll find this adorable thatched cottage with a large garden and old-fashioned Inglenook fireplace. Between the thatching and Cotswold stone and peaceful garden, it's the kind of home you might never want to leave.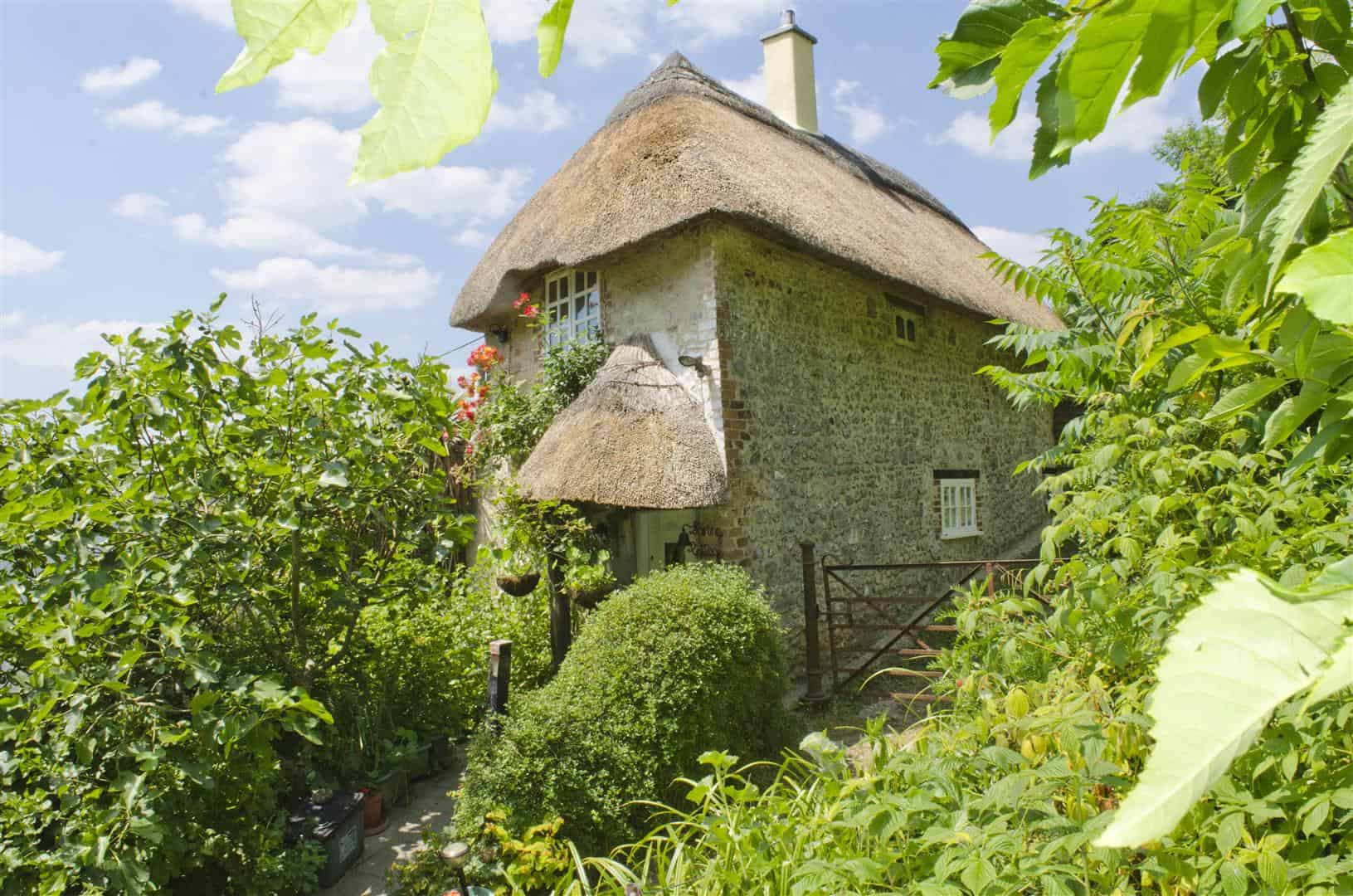 If you've ever dreamt of withdrawing from society and living alone in a tiny thatched cottage, this is the sort of place to do it in. This small and narrow cottage is just a wisp of a thing, but it's cute and private and roughly a mile from the southern coast of Devon.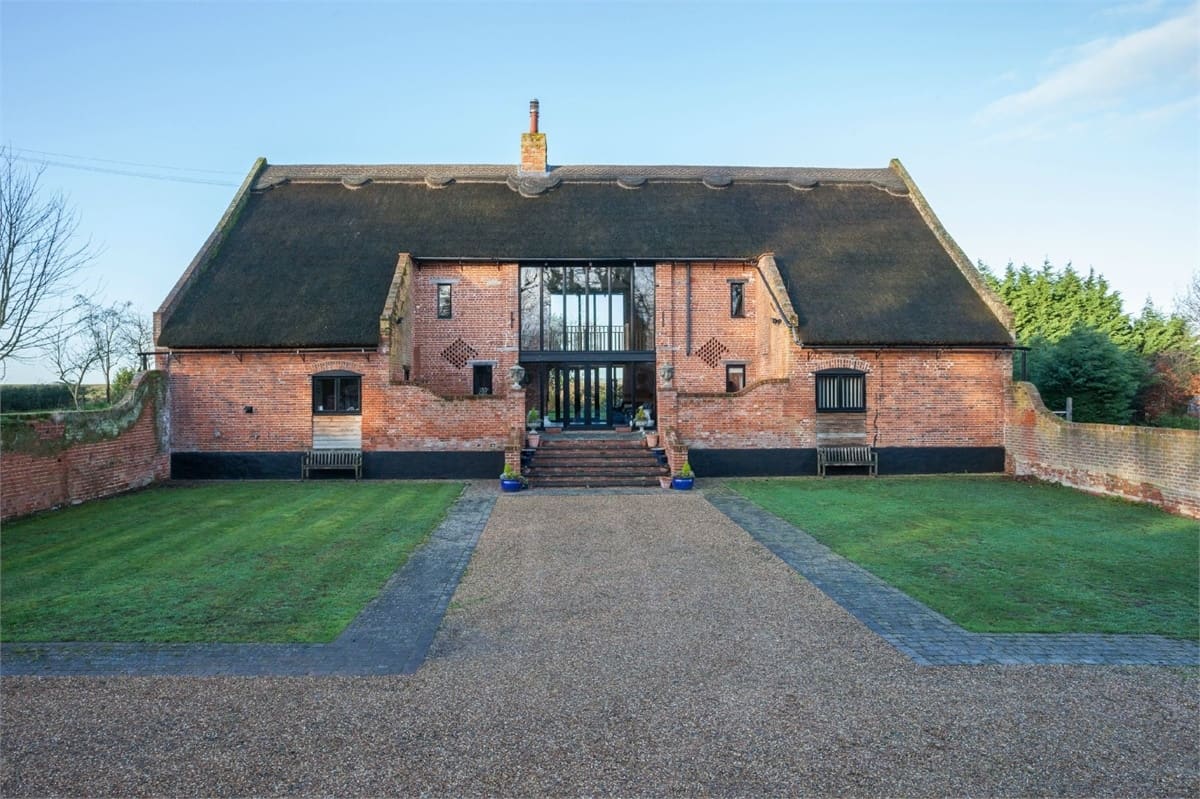 This Norfolk thatched barn conversion will surely be sacrilege to some, but they've certainly found an interesting way of combining the traditional thatch roofing with a functional modern interior. Set in the Norfolk village of Cantley, this one will set you back roughly 800k GBP at time of writing.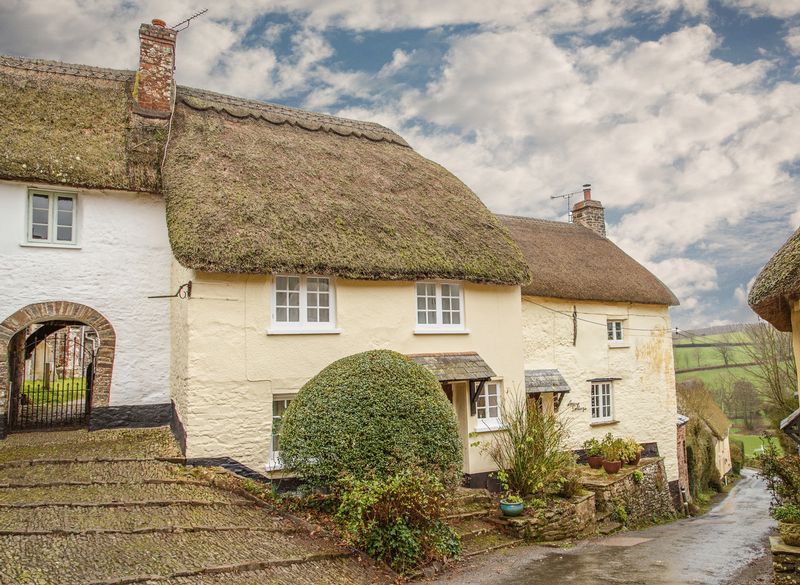 You won't find a lot of well-maintained thatched cottages under 200k GBP, but this delightfully scenic terrace house comes in at just under the mark (on sale at time of writing). It's located in the market town of Crediton in Devon, just a short drive away from the south coast of England.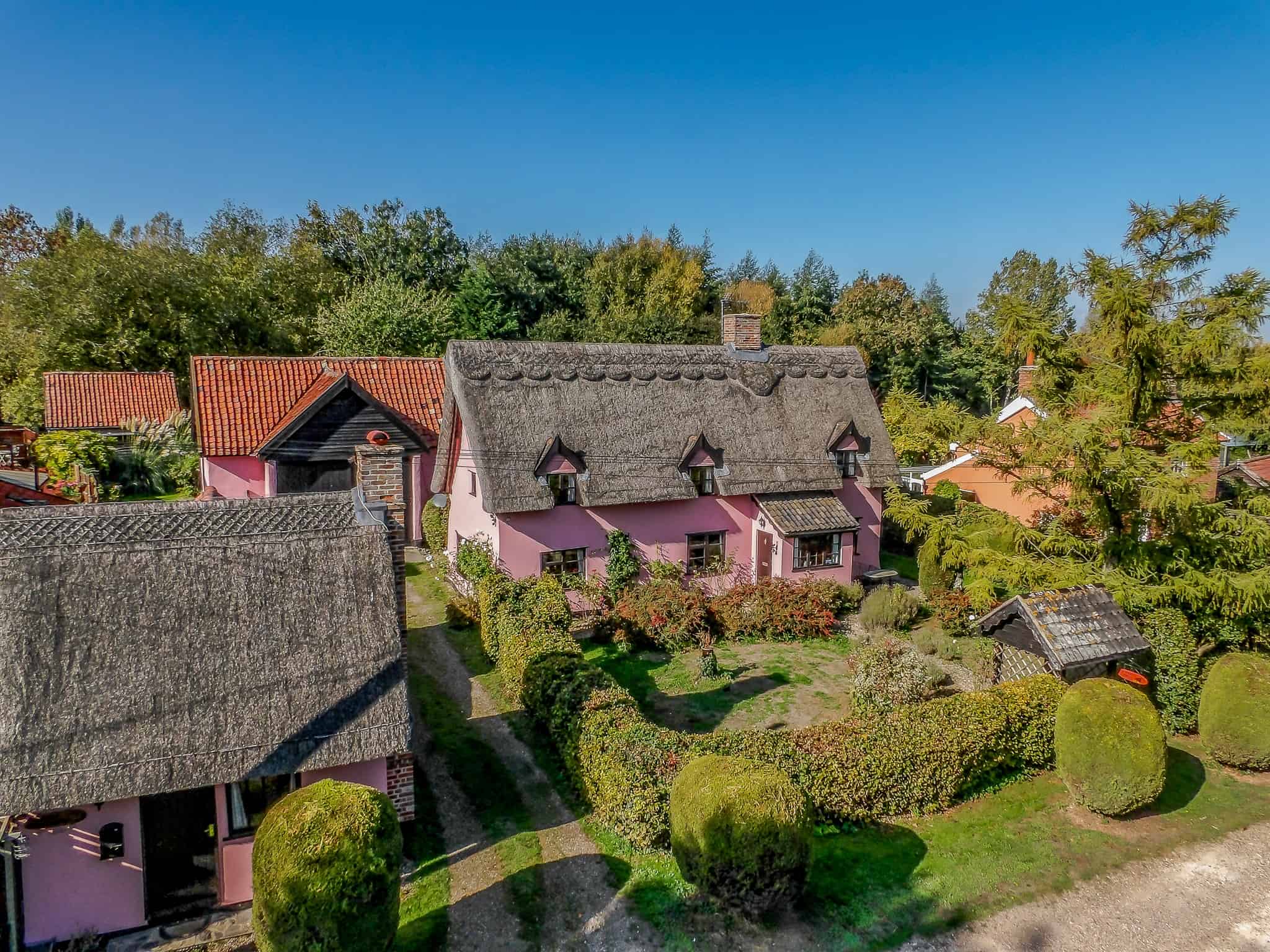 This pink thatched cottage looks so sweet it could almost be made of gingerbread. You'll find this one in the village of Stuston in Suffolk, not far from the Norfolk county border. At roughly 600k GBP, it'll set you back a pretty penny, but wouldn't that house and garden be worth it?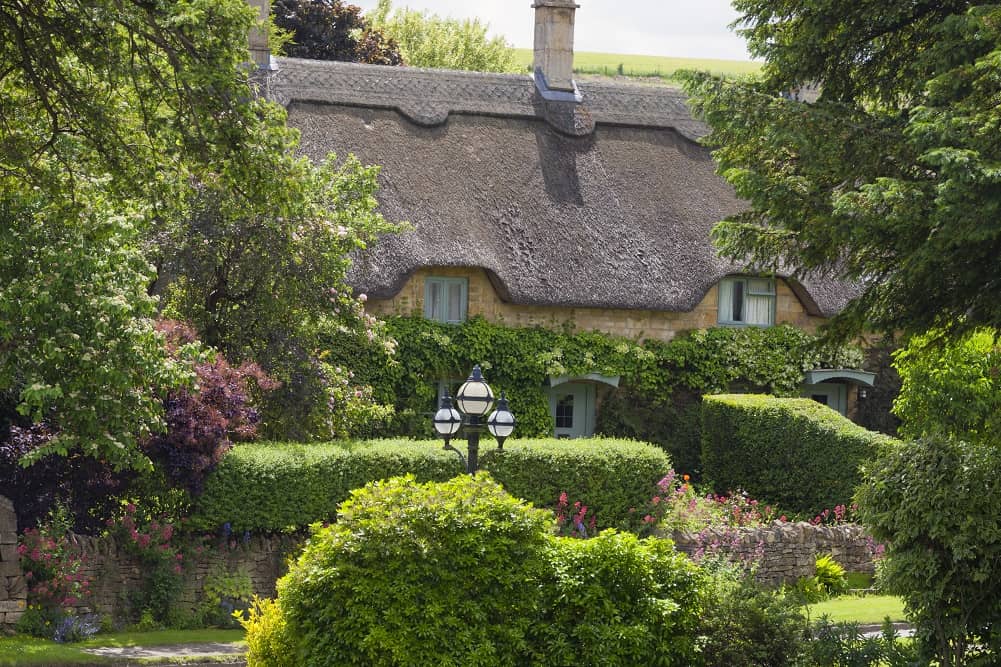 This thatched roof cottage isn't for sale, and that's probably a good thing. With a house like that in a setting like that, I'm not sure I want to know the price. It would be tough to imagine anything lovelier, wouldn't it?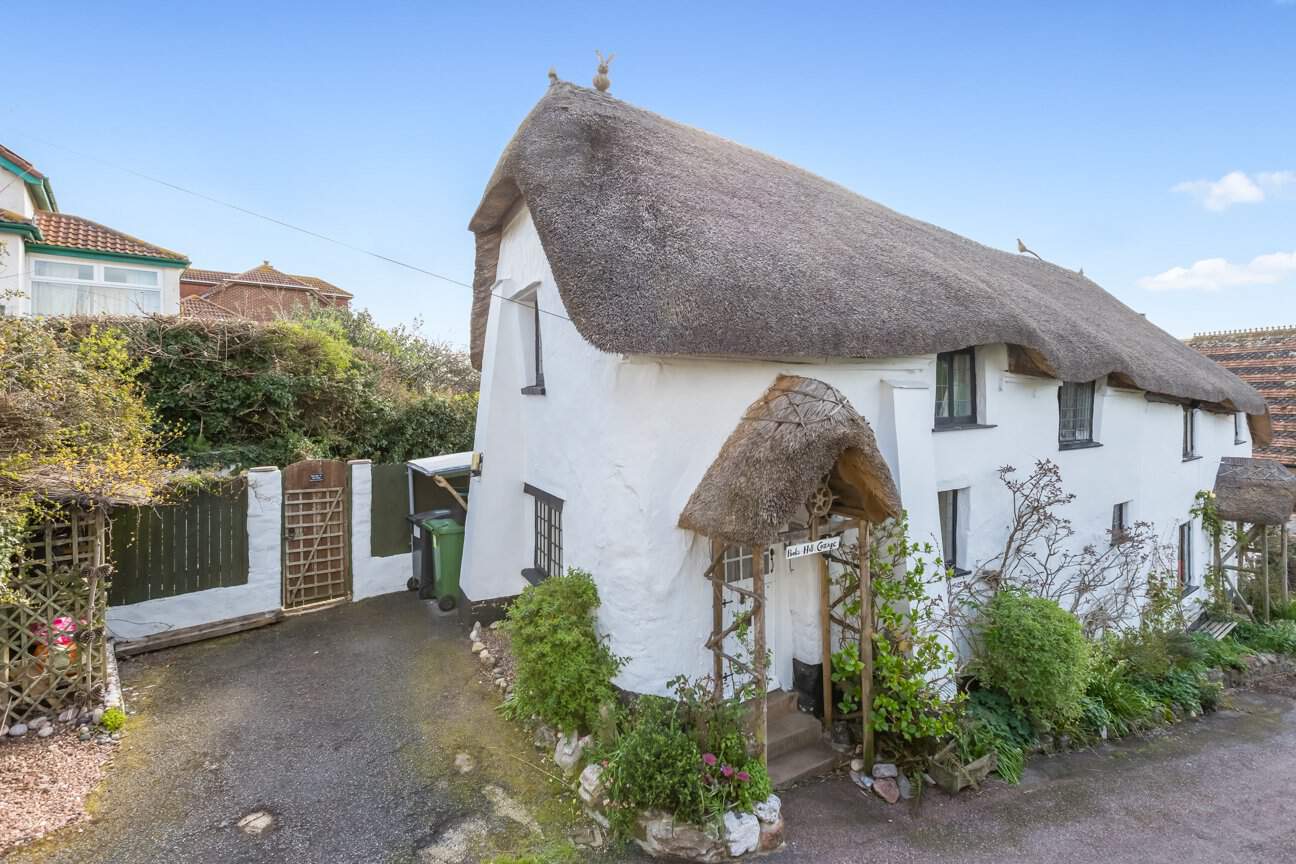 This adorable thatched cottage is as gnarled and irregular as the coastal terrain it sits on, but that only makes it more lovable. With just two bedrooms, it's not large – but at time of writing, it was on sale for roughly 280k GBP, which isn't completely insane for a home where you can walk to the sea or open your windows to let in salty sea air.
In the market town of Hinckley in Leicestershire, you'll find this lovely two-story thatched home on the market for roughly 1.5 million GBP (at time of writing). This property sits on roughly two acres, and includes six stables, multiple Inglenook fireplaces, and a plethora of exposed oak beams to go along with that pretty thatched roof.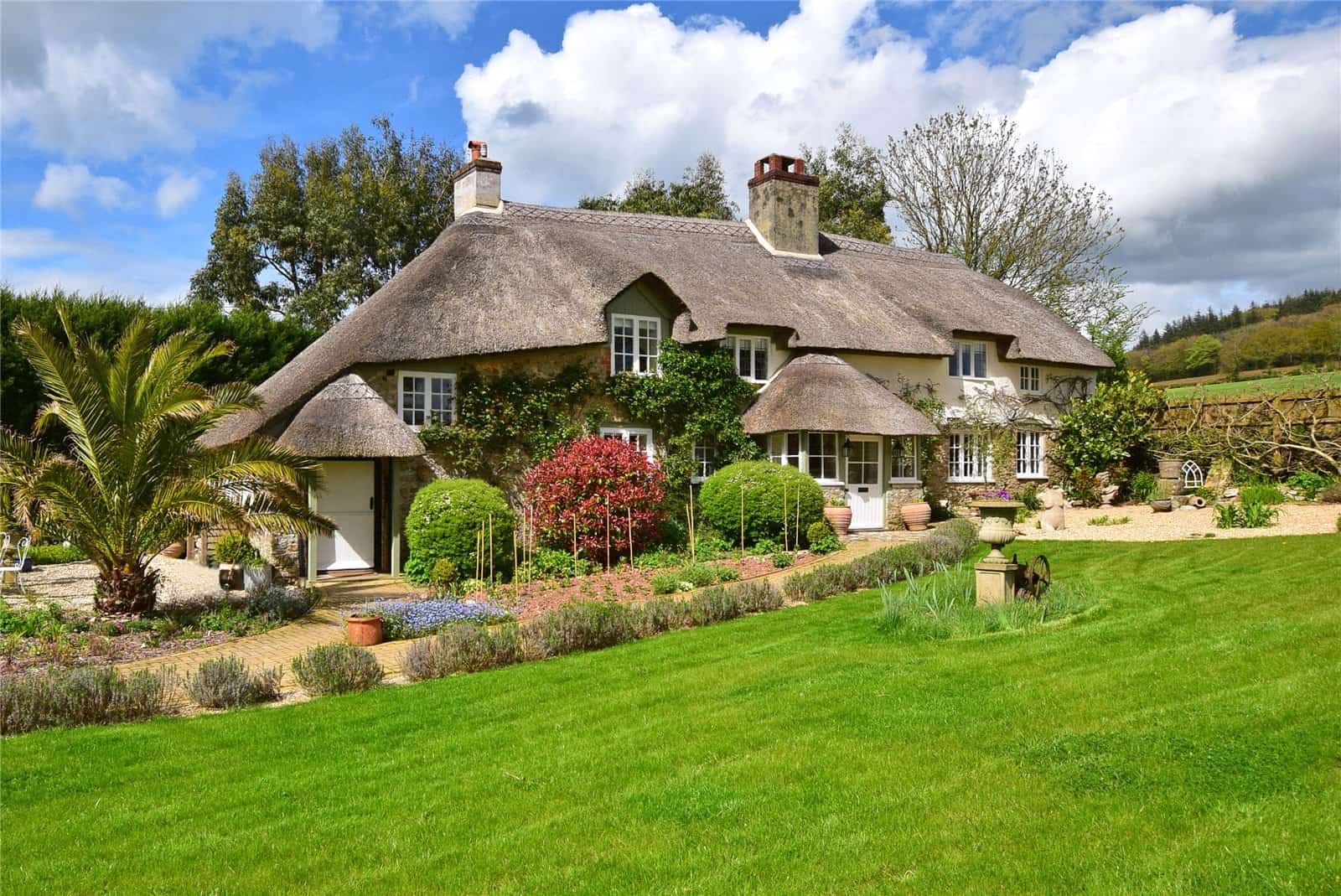 One doesn't normally think of palm trees and thatch roof cottages as going together, but that's exactly what you'll find with this home. It's situated in the village of Shute near the market town of Axminster in Devon. This one's just a few miles away from the coastal town of Lyme Regis, so it's just warm enough to keep that little palm tree happy.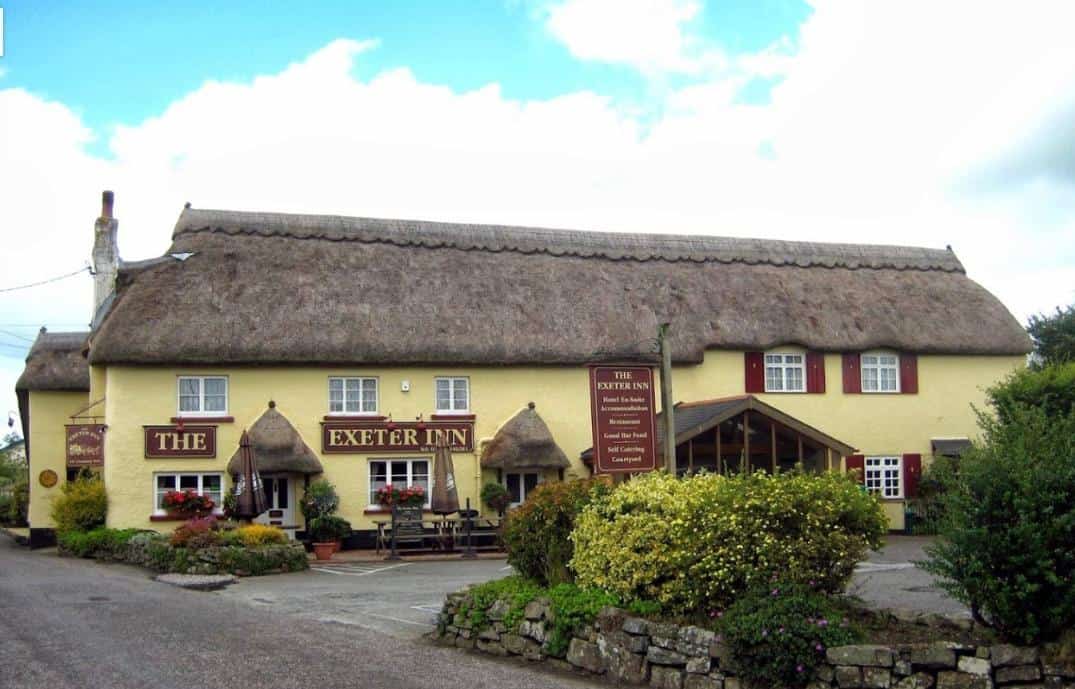 One could easily spend hundreds of thousands of pounds on a thatched roof cottage with no great income prospects, but for the truly entrepreneurial, this thatched inn and pub might be a better proposition. At just under 400k GBP, it's actually much more affordable than some of the homes on this list – but it gives you a business in the lovely county of Devon.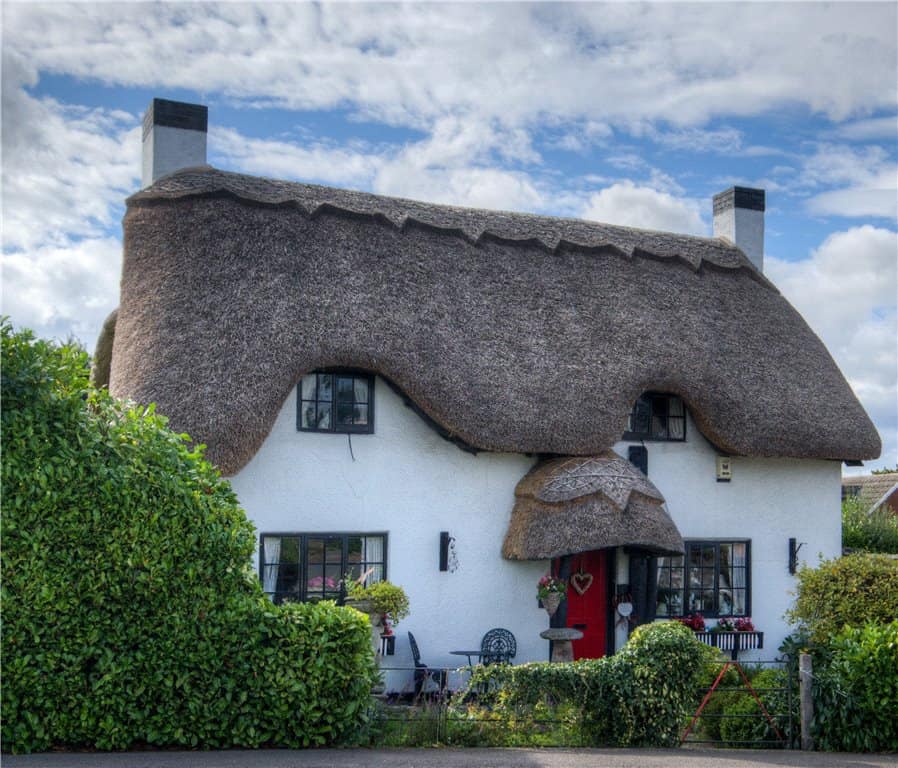 In the desirable village of Wolvey, you'll find this adorable whitewashed thatch cottage. The bright red door and thatched awning really set this property apart.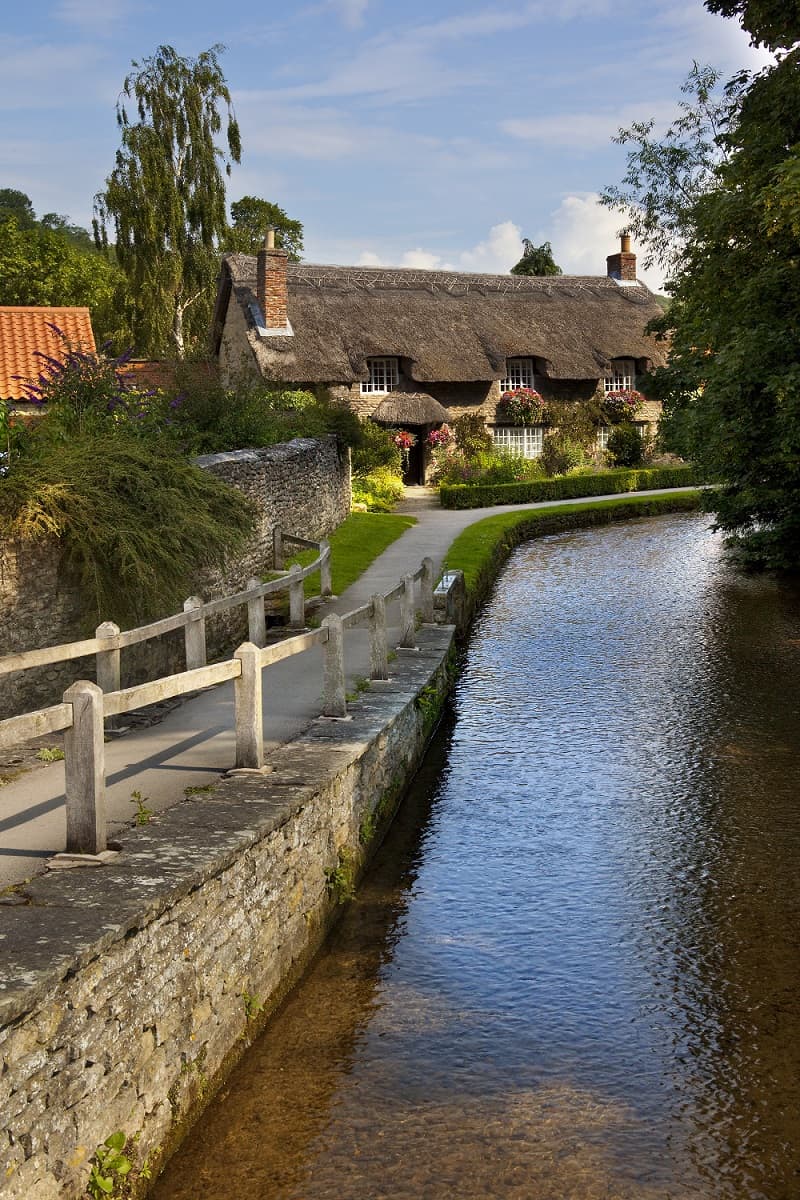 While we usually think of thatched cottages being in the south of England, the north is not exactly devoid of these lovely historic homes. This cottage is located in the villages of Thornton-le-Dale in North Yorkshire, just 15 miles from the gorgeous coastal town of Scarborough.
Which is Your Favorite English Thatched Cottage?
Which one of the homes above is your favorite? Also – note that if you're loving one of the homes above, you can click the "Source" link in the caption to view more images (in all cases except the ones we purchased from stock photo sites).