Given that most people won't get to go to England all that many times in their lives, we here at IHeartBritain.com are strong advocates of planning your own trip rather than buying an all-inclusive package tour. Package tours are generally pretty broad, and unless it's a specialty tour that caters to your interests, you're likely to waste a lot of precious vacation time seeing things you don't want to see, staying in hotels you wouldn't have chosen for yourself.
Still, planning a whole trip can be intimidating, and if you don't want to try driving on the opposite side of the road, there's a lot you might miss for lack of a car. That's especially true in and around the Cotswolds where the train and bus coverage can be a bit spotty.
To get around that, we strongly recommend picking a home base in a town along the train lines, like Oxford or Moreton-in-Marsh, and then filling in the gaps with shorter day tours that interest you. That way, you still get occasional guidance and transportation when you need it, but you also get the joy of wandering, choosing your own hotels, and building a trip that goes exactly where you want it to.
British TV fans are likely well aware of just how many shows and movies were filmed in the Cotswolds and surrounding areas (including Oxford). Although not every show has a dedicated tour, we found quite a few good options for those who want to walk in the footsteps of their favorite movie and TV characters.
Full disclaimer: We haven't yet had the opportunity to review any of these tours personally, so we can't vouch for the overall quality. If we do any of them in the future, we'll do an in-depth review and update this post with a link.
British TV & Movie Tours In or Near the Cotswolds
Hobbs of Henley Midsomer Cruise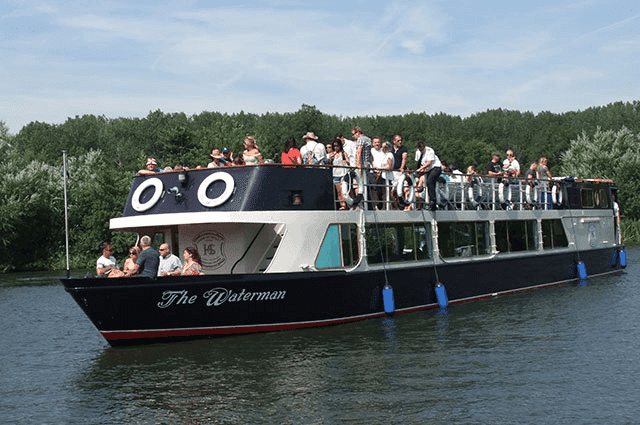 This delightful boat tour includes beautiful scenery and an afternoon tea. At just £31 for adults and £21 for children, this two-hour tour is quite reasonably priced (when you consider many afternoon teas cost as much without the tour). The tour includes locations from a number of episodes, including the world-famous Henley Royal Regatta course, which served as the chairman's murder site in "Dead in the Water".
Hobbs of Henley is located in the beautiful market town of Henley on Thames in Oxfordshire, and if you can't make one of their Midsomer tours, you can always take one of their regular tours. Click here for more information. You can get to Henley on Thames via rail, so it's an easy location to reach without a car.
Oxford to Bampton, the Cotswolds & Blenheim Palace
This 3-hour, £39 tour (£35 for seniors) covers a lot of ground. Die-hard Downton Abbey fans will know that Bampton served as the fictional village of Downton, and history buffs will recognize Blenheim Palace as Winston Churchill's birthplace. It also served as a filming location for productions as diverse as Inspector Morse, Gulliver's Travels, Harry Potter, and Transformers: The Last Knight. This tour also ventures into several Cotswolds villages like Burford (setting for the JK Rowling drama, A Casual Vacancy) and Bourton-on-the-Water.
This half-day trip begins and ends in Oxford, and you can get more information about booking here.
Jane Austen Tour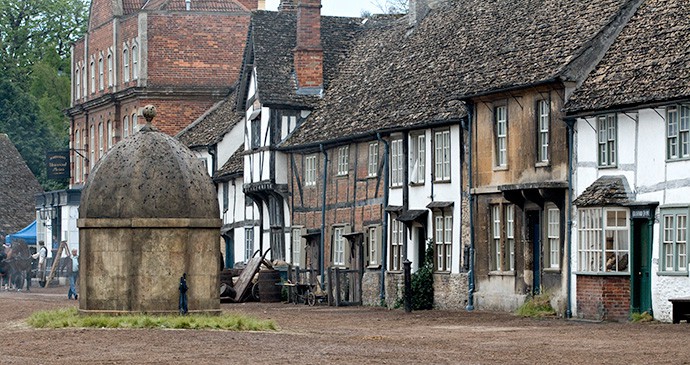 For those willing and able to spend a bit extra on luxury, this private chauffeured tour of Jane Austen's England will surely delight. Although the tour can be modified to suit your tastes and timeframe, the most notable stop is in the village of Lacock, where time stands still. The town's historic character has been preserved over the years, making it a favorite filming location for period dramas. Both Pride and Prejudice and Harry Potter filmed scenes there.
A price is not listed, but this doesn't look like a tour for the budget-conscious. Still, if you're looking for a truly magical experience and you want the tour to cater to your exact needs, this is worth looking into. You can get more information here. British Heritage Chauffeur Tours also offers tours for fans of Downton Abbey, Wolf Hall, Harry Potter, King Arthur, and Poldark.
Inspector Morse, Lewis and Endeavour Tour of Oxford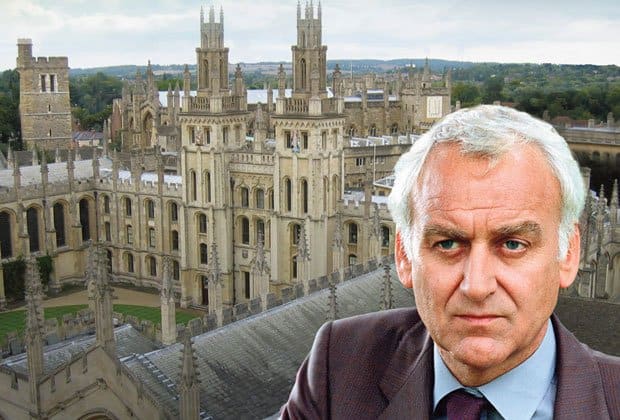 If you're in Oxford, you can take BritMovieTour's Inspector Morse, Lewis and Endeavor tour most days of the week, though there is some seasonal variance. The tour is 2 hours long and it's a walking tour, so if you're concerned about your ability to manage it, I'd recommend contacting them to find out about accessibility or private tour options. Cost is £19 for adults.
The wonderful part about this tour is that it captures both extremes of Oxford life – from the halls of learning to the gritty old pubs Inspector Morse so loved. BritMovieTours is a well-established tour company offering many different tours around the UK on a daily basis, so you're likely to get a well-researched, highly-polished tour experience with loads of interesting facts as you travel the city.
Click HERE to learn more.
Midsomer Walking Tour at the Argyll Public House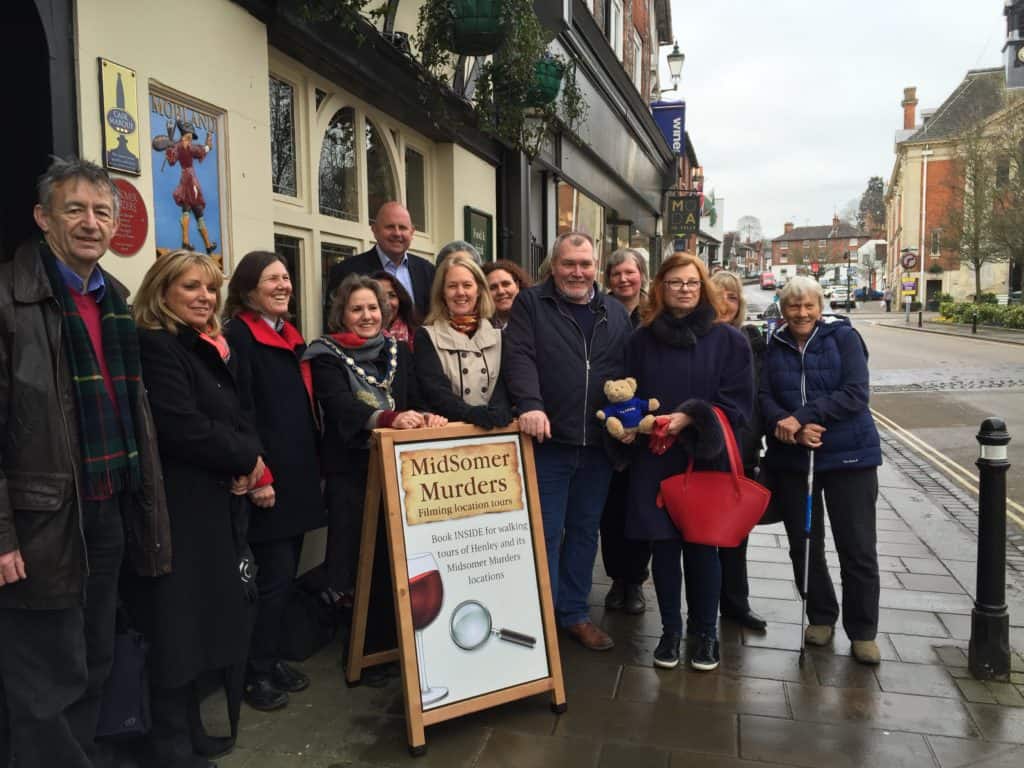 There are quite a lot of Midsomer Murders tours near the Cotswolds area (see this list if you don't believe me), but the one at Argyll Public House is particularly interesting because it departs from The Argyll Public House (pub) in Henley on Thames and focuses on the immediate surrounding area. Two episodes of Midsomer Murders were filmed at the pub, and it continues to operate as a food and ale pub with both traditional and vegetarian options.
The one hour hosted tours depart from the pub on Saturday mornings through late October of 2017 (no word yet on 2018). Cost is £10 for adults in advance, £5 for children. It goes to £12 and £6 on the day of. More information is available here, and the site also mentions that you can request Midsomer guided driving tours (well in advance) if you're interested. You can get to Henley on Thames via rail, so it's an easy location to reach without a car.
Hidden Villages Tour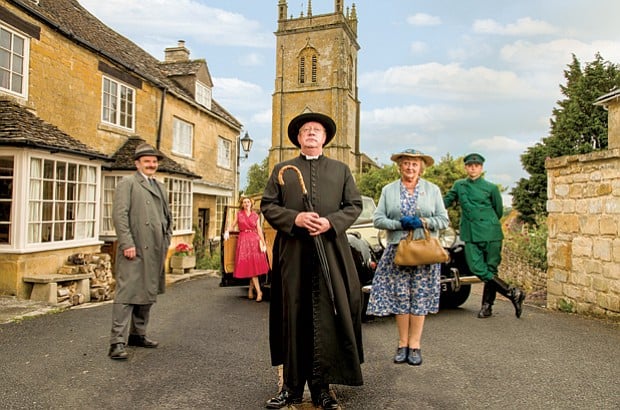 Although the Hidden Villages Tour isn't specifically marketed as a TV or movie tour, it certainly manages to hit some famous locations. The £45 tour includes Blockley, Snowshill, Broadway and Chipping Campden, along with "a few hidden gems" that aren't named. Snowshill was made famous in Bridget Jones' Diary, and Blockley serves as the fictional village of Kembleford in Father Brown. Chipping Camden served as the backdrop for the 2001 Andie MacDowell film Crush (which is not entirely British, but clearly has great scenery). It was also the backdrop for the 1987 TV movie, Agatha Christie's Miss Marple: Nemesis.
For more information about the Hidden Villages Tour, click here.
Harry Potter Tour of Oxford
This Harry Potter tour is a nearly 2 hour walking tour around the Oxford colleges seen in the various Harry Potter films. It's offered on weekends throughout most of the year, and the cost is £20 for adults and £19 for children (includes admission to 2 of the 3 major locations visited). Due to the nature of the old buildings, this tour is not wheelchair accessible.
Even if you're not a Harry Potter fan, this tour is a great way to check out the incredible architecture at Oxford and learn more about the university. You can get more information here.