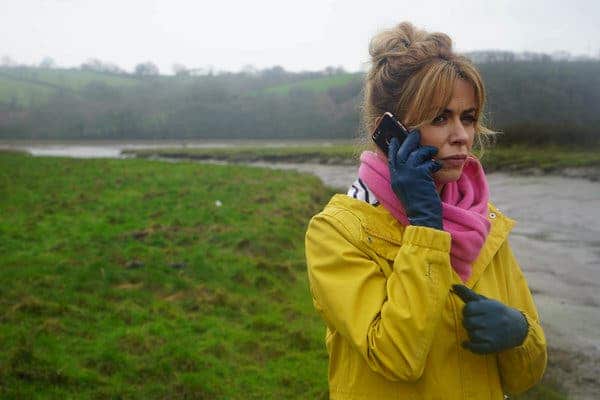 If you've watched the Welsh drama Keeping Faith over on Acorn TV, you've no doubt seen the bright yellow mac (waterproof coat) Eve Myles wears as Faith Howells. It's almost like a character in its own right.
Side Note: If you haven't already seen it, Season 2 of Keeping Faith is now available.
It's safe to say the costume folks made a great choice with the jacket. People loved it so much that someone actually made a Twitter account FOR THE COAT. Even crazier, it has more than 700 followers.
On a dreary, rainy day, there's really nothing better than a pop of colour – and for those who want their own Keeping Faith rain jacket, we've tracked down the retailer that makes this delightful ray of sunshine.
It should come as no surprise that it's a British retailer, because of course, rain coats are a big part of British fashion. Luckily for our readers Stateside, they have an American e-commerce arm, too.
Where to Buy the Keeping Faith Rain Jacket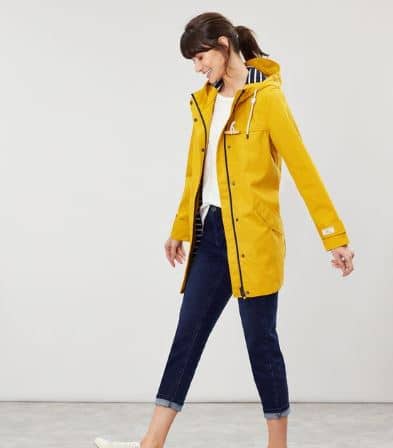 The bright yellow rain jacket comes from one of my favourite high street retailers, Joules. Though I can't quite think of an American equivalent, it's the kind of shop frequented by the same sort of people who would go to Target and Whole Foods in the US. When she's not wearing designer labels, the Duchess of Cambridge has been seen with Joules clothing and accessories.
The jacket Eve Myles wears in Keeping Faith is the Coast Mid Waterproof Jacket, which you can get HERE (link goes to their US site since that's where most of our readers are). There's also a shorter version at a slightly lower price point, which you can get HERE.
Both version of the coat are waterproof with a pretty, navy blue-striped cotton lining. The lining, along with the wooden toggles, are what really make the jacket (in my opinion, anyway). They're nice little touches that elevate it from "ordinary rain jacket" to "rain jacket with its own Twitter account and 700 followers".
In case you're one of those people who just can't wear yellow, they also have it available in blue and red. Though I think the costume department was right to go with the yellow for Eve, I could definitely see how some people would look better in red or blue.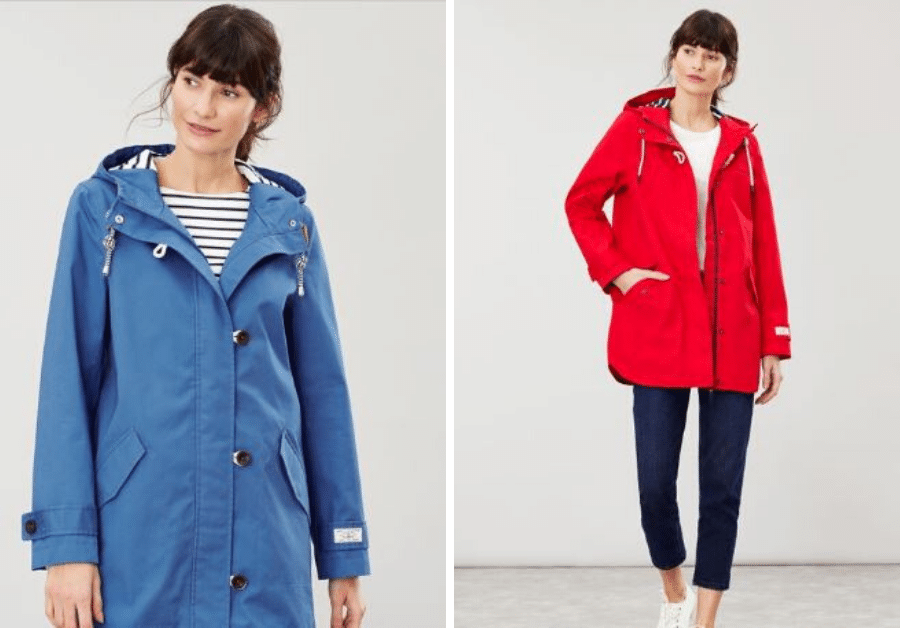 Joules is also known for their unique wellies, so if your wet weather wardrobe is in need of an overhaul, they've got you covered (literally).
What Do You Think About the Keeping Faith Rain Jacket?
Best part of the show? Can't see what all the fuss is about? Would you get one? Or are you one of those folks who were so annoyed by the music that you couldn't get far enough to see the rain jacket?